Sep 22, 2014
Boycotting the U.N. climate summit
Awareness grows that faulty science would keep millions in the dark
By Willie Soon and Christopher Monckton - - Thursday, September 18, 2014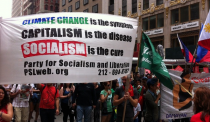 Indian Prime Minister Narendra Modi has sensibly declined to attend yet another climate summit - this time called by Ban Ki-moon for Tuesday in New York under the auspices of the United Nations - which profits handsomely from much-exaggerated climate scares. Chinese President Xi Jinping and German Chancellor Angela Merkel likewise intend to skip the event.
Environmentalists have complained about Mr. Modi's decision. They say rising atmospheric carbon dioxide will cause droughts, melt Himalayan ice, and poison lakes and waterways in the Indian subcontinent.
However, the U.N. Intergovernmental Panel on Climate Change has already had to backtrack on earlier assertions that Himalayan glaciers would be gone within 25 years, and the most comprehensive review of drought trends worldwide shows the global land area under drought has decreased throughout the past 30 years.
The spiritual yet down-to-earth Mr. Modi knows that 300 million Indians still have no electricity. His priority is to turn on the lights all over India. In Bihar, four homes in five are still lit by kerosene.
Electric power is the quickest, surest, cheapest way to lift people out of poverty, disease, subsistence agriculture and childhood death - thereby stabilizing India's population, which may soon overtake China's.
The world's governing elites, however, no longer care about poverty. Climate change is their new focus.
For instance, in late August, the Asian Development Bank predicted that warmer weather would cut rice production, rising seas would engulf Mumbai and other coastal megacities, and rainfall would decline by 10 percent to 40 percent across in many Indian provinces.
Garbage in, gospel out. In truth, rice production has risen steadily, sea level is barely rising, and even the U.N.'s climate panel has twice been compelled to admit that there is no evidence of a worldwide change in rainfall.
Subtropical India will not warm by much. Advection would take most of any additional heat poleward. Besides, globally there has been little or no warming for almost two decades. Climate models did not predict that, casting doubt on all of the U.N. climate panel's "projections." The panel, on our advice, has recently all but halved its central estimate of near-term warming.
Sea level is rising no faster than for the past 150 years. From 2004 to 2012, the Envisat satellite reported a rise of one-tenth of an inch. From 2003 to 2009, gravity satellites actually showed sea level falling. Results like these have not hitherto been reported in the mainstream news media.
More than two centuries of scientific research have failed to make the duration or magnitude of monsoons predictable. Monsoons depend on sea and surface temperatures and wind conditions in the Indian and Western Pacific oceans, the timing of El Ninos in the equatorial Pacific, variations in Eurasian and Himalayan winter snow cover, and even wind direction in the equatorial stratosphere.
In 1906, forecasts depended on 28 unknowns. By 2007, scientists from the Indian Institute of Tropical Meteorology were using 73. So insisting that just one variable - atmospheric carbon-dioxide levels - will drive future monsoons is unscientific.
IPCC climate models said monsoons would become more intense. Instead, they have weakened for 50 years.
Models also failed to replicate the 60-year and 200-year cycles in monsoon rainfall linked to solar cycles that are reflected in studies of ocean sediments from the Arabian Sea.
A new study led by K.M. Hiremath of the Indian Institute of Astrophysics shows a strong, possibly causative correlation between variations in solar activity and in monsoon rainfall.
Governments also overlook a key conclusion from the world's modelers, led by Fred Kucharski of the Abdus Salam International Centre for Theoretical Physics: "The increase of greenhouse gases in the 20th century has not significantly contributed to the observed decadal Indian monsoonal rainfall variability."
Not one climate model predicted the severe Indian drought of 2009, followed by the prolonged rains the next year - a one-year increase of 40 percent in most regions. These natural variations are not new. They have happened for tens of thousands of years.
A paper for the scientific journal Climate Dynamics co-authored by B.N. Goswami, recently retired director of the Indian Institute of Tropical Meteorology, shows why the models relied upon by the U.N. climate panel's recent assessments predict monsoons inaccurately.
All 16 models examined have the same fatal flaw: They predict rain too easily, by artificially elevating air and water masses in the atmosphere.
Models are not ready to predict the climate. Misusing computers to spew out multiple "what-if" scenarios is unscientific. This approach simply means "if all our unproven assumptions are correct, this could happen."
Most of the fundamental problems in our still immature understanding of climate have remained unresolved for decades. Some cannot be resolved at all. The U.N.'s climate panel admitted in 2001 what has been known for 50 years: Because climate is a "coupled, non-linear, chaotic object," reliable long-term climate prediction is impossible.
Misuse of climate models as false prophets of doom is costly in lives as well as treasure.
To condemn the poorest of India's poor to continuing poverty is to condemn many to an untimely death. Mr. Modi is right to have no more to do with such murderous nonsense. It is time to put an end to climate summits. On the evidence, they are not needed.
Willie Soon is a solar physicist and climate scientist based in Cambridge, Mass. Lord Monckton is a former expert reviewer for the Fifth Assessment Report of the U.N. Intergovernmental Panel on Climate Change (2013) of the U.N.'s climate panel.
Sep 18, 2014
Real problem is monstrous government programs that perpetuate poverty, disease and death
Intro by Paul Driessen
Leonardo DiCaprio's new movie Carbon claims we face a "climate crisis." The film wails that our world is threatened by a "carbon monster", that coal, oil and natural gas are causing dangerous climate change and must be shut off as soon as possible. Not so. As Tom Harris and Bob Carter explain in this compelling article, Mr. DiCaprio is blaming the wrong monster.
The real monster - the real threat to civilization - is the climate scare: about global warming that is not occurring, accelerated sea level rise that is not occurring, and increased extreme weather that is not occurring.
This constant fear-mongering is being used to justify spending countless billions of dollars on alarmist global warming research...shutting down abundant, reliable, affordable carbon-based energy… trying to run our economy on expensive, subsidized, intermittent wind, solar and biofuel "alternatives"...and let millions of people die every year in developing countries because they are still being denied the countless health and economic blessings that fossil fuels could bring.
DiCaprio film magnifies the real climate change 'monster' - Real problem is monstrous government programs that perpetuate poverty, disease and death
Tom Harris and Bob Carter
In Carbon, Leonardo DiCaprio's new film about the "climate crisis," we are told the world is threatened by a "carbon monster". Coal, oil, natural gas and other carbon based forms of energy are causing dangerous climate change and must be turned off as soon as possible, DiCaprio insists.
But he has identified the wrong monster. The real one is the climate scare, something DiCaprio promotes with his sensationalist, error-riddled movie. That is the real threat to civilization.
Carbon is the first of four films that DiCaprio planned to release in the weeks prior to the United Nations' Climate Summit 2014, to be held in New York City September 23. If Carbon is any indication of what the rest of the series will be like, the public needs to brace itself against still more mind-numbing global warming propaganda.
DiCaprio repeatedly uses the "carbon pollution" and "carbon poison" misnomers, when he's really talking about carbon dioxide (CO2), the plant-fertilizing gas that is essential for all life on Earth. But in addition to that deception, DiCaprio's film is based on a myth: that CO2 from human activities is causing catastrophic climate change.
The Nongovernmental International Panel on Climate Change (NIPCC) lists thousands of scientific papers that either debunk or cast serious doubt on this popular though misguided notion.
Oregon-based physicist Dr. Gordon Fulks explains that the climate scare has "become a sort of societal pathogen that virulently spreads misinformation in tiny packages like a virus. CO2 is said to be responsible for global warming that is not occurring, for accelerated sea level rise that is not occurring, for net glacial and sea ice melt that is not occurring, for ocean acidification that is not occurring, and for increasing extreme weather that is not occurring."
Fulks is right. DiCaprio's film is just another vector for spreading the virus.
According to NASA satellites and ground-based temperature measurements, global warming ceased in the late 1990s, some 18 years ago. And yet, CO2 levels have risen almost 10% since 1997, a figure that represents an astonishing 30% of all human-related emissions since the industrial revolution began. These facts contradict all CO2-based climate models, upon which nearly all global warming concerns are founded. Similarly:
* Rates of sea-level rise remain small and are even decelerating; over recent decades they have averaged about 1 mm/year as measured by tide gauges and 2-3 mm/year as inferred from "adjusted" satellite data. That works out to a mere 4 to 12 inches per century, which is hardly a cause for alarm.
* Satellites also show a greater expanse of Antarctic sea ice now than at any time since space-based measurements began in 1979. During this period, Arctic sea ice has remained well within historic bounds and fluctuations, dating back centuries. It is up 45% since 2012 at the summer minimum. This is the year Al Gore promised it would be gone.
* The NIPCC's March 2014 Biological Impacts report explains that the minute decline in alkalinity of the oceans projected by the UN Intergovernmental Panel on Climate Change's speculative computer models is small compared with the daily and seasonal changes that marine organisms already experience. Neither the IPCC nor the NIPCC forecasts that human CO2 emissions will cause oceans to become acidic in the coming centuries. They have become ever so slightly less alkaline over recent decades, but they are still very far from becoming acidic.
* A 2012 IPCC report concluded that there has been no significant increase in either the frequency or the intensity of extreme weather events in the modern era. The NIPCC 2013 report concluded the same. For the United States, the eight and one-half years since a category 3-5 hurricane made landfall is the longest such period since at least 1900.
The costs of feeding the climate change monster are staggering. According to the Congressional Research Service, between 2001 and 2014 the US Government spent $131 billion on human-caused climate change projects. They also allowed tax breaks for anti-CO2 energy initiatives totaling $176 billion.
Federal government spending on climate change and renewable energy is now running at $11 billion a year, and tax breaks at about $20 billion a year - for a total of more than double the total value of all wheat produced in the United States in 2013 ($14.4 billion).
Dr. Bjorn Lomborg, director of the Copenhagen Consensus Center, calculates that the European Union's goal of a 20% reduction in CO2 emissions below 1990 levels by 2020 will cost almost $100 billion annually by 2020 or more than $7 trillion over the course of this century.
That is currently the most severe target in the world. It has caused EU energy prices to rise ominously, costing numerous jobs, sending millions of families into "fuel poverty," and resulting in thousands of mostly elderly people dying from hypothermia, because they could not afford to heat their homes properly during cold winter months.
Lomborg, a supporter of the UN's climate science, asserts, "After spending all that money, we would not even be able to tell the difference" between global temperatures a century from now with a 20% reduction in EU carbon dioxide emissions by 2020, or without it.
So, Al Gore was right in one respect. Climate change is indeed a moral issue.
There is nothing quite so immoral as wealthy, well-fed, well-housed Westerners like Messrs. Gore and DiCaprio promoting the waste of huge amounts of money on futile anti-global warming policies - money that could instead be spent improving living standards and saving lives in developing countries.
Billions of people in those poor nations lack adequate lights, refrigeration, sanitation, schooling, clean water and proper health services. Tens of millions of them suffer needlessly from malnutrition and horrible diseases of poverty, and millions of them die prematurely every year.
Denying them the finances to build inexpensive hydrocarbon-fired power stations has been aptly described as technological genocide. That is where the moral outrage should lie.
Perhaps Mr DiCaprio would like to make a film about this - the real climate monster.
-------
Tom Harris is Executive Director of the Ottawa-based International Climate Science Coalition. Dr Bob Carter is former professor and head of the School of Earth Sciences at James Cook University in Australia.

Sep 16, 2014
Report - emails reveal 'collusion' with green activist groups over EPA climate agenda
NEW REPORT: FOI'd Emails show outside 'green' lobby groups staffed up, collude with Obama EPA, calling rules' legality into question
For Immediate Release:September 15, 2014 |
Obama's EPA in collusion with "green" lobby groups - Report details the conflicts of interest, "unalterably closed minds", internal activism and influence of outside interest groups on the Obama Administration EPA. Documents raise questions re EPA rules legality
Washington, D.C. The Energy & Environment Legal Institute (E&E Legal) released a report today revealing and piecing together dozens of emails obtained under the Freedom of Information Act (FOIA), which lay out in detail EPA's collusion with senior activists within environmentalist pressure groups, and proving the real thinking about the intent behind and impact of EPA's "climate" regulations.
Far from the required recusing to avoid the appearance of a conflict, EPA filled its senior political ranks with green pressure group activists, continuing their life's work and coordinating with former colleagues from their new positions in government. These emails show the groups sharing jokes about EPA assurances that it isn't waging a war on coal, and gloating about the courts serially siding with EPA as it rewrites federal environmental law. More important, they show the special role and undue influence these relationships provided, the very sort of influence the Obama Administration once disavowed.
"EPA is permitted to regulate; but, not these people, not this way," said E&E Legal's Chris Horner who filed the FOIA requests and related litigation which produced most of the emails set forth in the report, which also includes and discusses many emails extracted from EPA by the Competitive Enterprise Institute (CEI) adding context to E&E Legal's findings.
The report details many instances of lobbyists for "green" special interest groups helping steer EPA regulations and permitting decisions, and providing advocacy materials for use by former colleagues now inside the EPA who then dutifully circulate the advocacy materials to colleagues. The collusion ranges from orchestrating public hearings, the EPA and Sierra Club teaming to write a U.S. Senator's public statement on the shared agenda, and even specifically targeting individual power plants which green groups wanted to prevent under any new EPA standards.
"It's disturbing," said Dr. David Schnare, a lawyer and a scientist with decades of experience as an EPA employee, now E&E Legal's general counsel. "There needs to be a clear line between special interests and government. Current EPA officials are ignoring that line entirely," he added.
Released emails show the orchestration of EPA's "climate" agenda, plainly predetermined despite the requirement of open-minded review, including its "endangerment" finding.
E&E Legal's report singles out dozens of emails, of which it has even more equally illustrative exemplars, from many thousands of documents. These were obtained pursuant to FOIA requests which the report also details EPA delayed and stonewalled until E&E Legal had to litigate to force disclosure, however bridging and often heavily redacted.
These show the improperly close collaboration between certain environmental groups and senior EPA officials, many of whom came to EPA from just such groups. The relationship between Michael Goo, recently head of the EPA Office of Policy and a former Natural Resources Defense Council (NRDC) lobbyist, and John Coequyt, a top Sierra Club lobbyist, is particularly close, to the point that Coequyt worked to ensure Goo participation in meetings important to Sierra, while Goo ensured his colleagues paid particular attention to Sierra's concerns and materials.
The emails discussed in the report demonstrate how Coequyt supplied research and advocacy materials directly to individual activists within EPA, even helping EPA keep a score for "internal use" of coal plants to shut down. He advised EPA officials to ensure "zombie" coal plants, i.e. plants that had been planned and may one day be built, remain shelved avoided creating complete logs of their interactions through various means, including, e.g., meeting with Goo at the nearby Marriott Hotel near the EPA headquarters (circumventing detailing their discussions in EPA's visitor logs, where people most logically would look), and when he was otherwise in the building including for numerous meetings with senior officials Goo facilitated had such a direct pipeline into the Agency that when he was on vacation his Sierra Club team would plead with EPA friends for updates.
In another case, EPA press staff collaborated with a Sierra Club lobbyist to write Sen. Jeanne Shaheen's (D-NH) statement on the "climate" agenda for a "roundtable" event EPA, Sierra Club, and Sen. Shaheen participated in.
In multiple instances, green lobbyists provided EPA with their polling on the shared priorities, were directly involved in deciding where EPA would hold public hearings, and ensuring supportive crowds. Further, EPA repeatedly gave green groups a leg up in preparing comments intended for the administrative record on important regulations. This meant the green groups were able to submit comments ahead of any members of the general public, or other interested parties, even though the comments in question were submitted before the record was open for comment by the general public. EPA employees also submitted special interest group comments directly if those groups failed to do so themselves.
The special relationship goes all the way to the top. Lisa Jackson, aka "Richard Windsor", used her private Verizon account to email directly, impermissibly off the record, with green lobbyists like Sierra Club Michael Brune, which the public only now knows because she clumsily instructed one lobbyist to contact her there, and forwarded a Brune email to EPA colleagues seeking to "amplify" Brune's work.
There is evidence of substantial correspondence between current EPA Administrator Gina McCarthy and green group leaders, which she references in emails that were obtained, though what she references have not been produced even though they were clearly responsive to E&E Legal's FOIA requests. Still, it is clear from what has been obtained that she gives green lobby groups a "heads up" to save them from "embarrassment."
"The exclusion of voices from the process other than those already predisposed to agree with and promote EPA's agenda, its leadership's former compatriots in 'green' lobbying groups, is the precise and illegal opposite of good governmental practices," said Craig Richardson, E&E Legal's Executive Director, "These people are not allowed to regulate this way".
The report extensively documents these and many more abuses by current EPA leadership and calls for a new process, free from conflicts of interest, worthy of public confidence and legal legitimacy, giving all stakeholders an equal voice in the process. Until that occurs, the EPA regulatory process faces legal challenges and deserves only public distrust.
-------
The Energy & Environment Legal Institute (E&E Legal) is a 501(c)(3) organization engaged in strategic litigation, policy research, and public education on important energy and environmental issues. Primarily through its petition litigation and transparency practice areas, E&E Legal seeks to correct onerous federal and state policies that hinder the economy, increase the cost of energy, eliminate jobs, and do little or nothing to improve the environment.