Nov 18, 2019
Growing Season Challenges from Start to Finish
By Joseph D'Aleo, CCM, AMS Fellow, Co-chief Meteorologist Weatherbell.com
On average, it has been a cold year in the prime central growing areas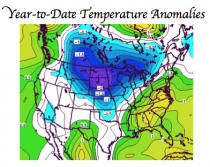 Growing degree days ran well behind normal.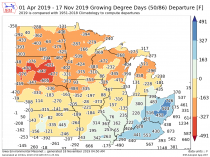 The last 30 days were very cold with many record lows.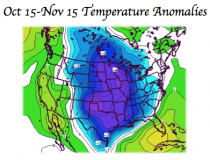 We have had 4,700 record lows the last 30 days, 17,190 this year-to-date, 17,870 the last 365 days (NOAA NCEI Record)



It was a very wet year in the central areas.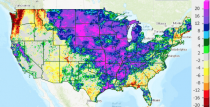 NWS Year-to-Date Precipitation Anomalies (inches)
See the departures in rainfall (inches) since April 1 when normally farmers are in the fields to prepare for planting or actually putting seed into the ground.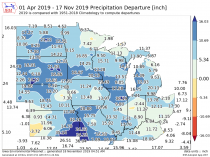 The average maximum temperatures in the primary corn and bean belt were below normal Note the century trend is flat.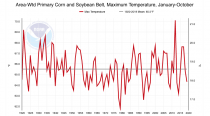 As expected, corn yield forecasts are down, the first year below the trend line in 6 years.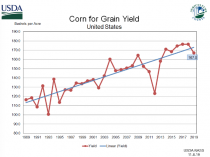 Corn production is down and may fall further.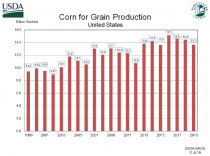 Soybean production was down below trend line and production was down more than corn.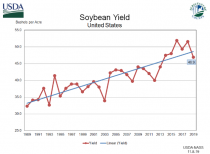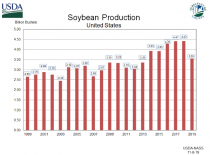 There is still grain in the field. As of November 10, sixty-six percent of the 2019 acreage was harvested by week's end, 17 percentage points behind last year and 19 points behind the 5-year average pace. Harvest progress was behind the average pace by 13 percentage points or more in ten of the 18 estimating states. Soybean harvest across the nation was 85 percent complete, 2 percentage points behind last year and 7 points behind the 5-year average.
Early snowcover slowed or stopped harvest.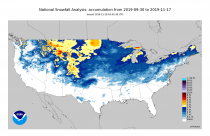 A window has opened with warming after the killer cold for harvest in the central where there is something worth harvesting.
The next 5 days are warmer than normal.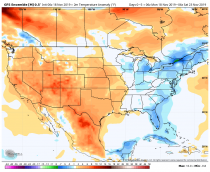 It begins cooling days 5 to 10 and more so days 10 to 15.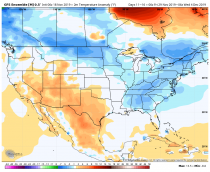 It is wetter and snow will return across the northern states.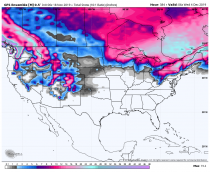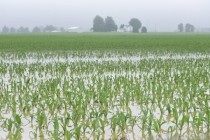 Flooded fields Illinois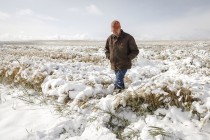 Snow in Southern Canada on small grains (similar story into the
northern Plains on grains and field crops)