Nov 28, 2017
Climate models fail on seasonal and long term basis - should not be used for decision making
By Joseph D'Aleo, CCM, AMS Fellow
CLIMATE MODELS
Climate models used operationally for monthly and seasonal forecasts and for long term climate forecasts have a serious warm bias that make them not trustworthy.
MONTHLY/SEASONAL CLIMATE MODELS
These are models or model ensembles that are run monthly or in some cases even updated multiple times a day that look at upcoming months and 3-month seasons as far as 15 months into the future. Unlike the operational models used by forecasters for the daily forecasts out a week or two, these models are coupled atmospheric/oceanic models which mean they allow the ocean anomalies to change as the atmosphere does and vice versa. The operational shorter range models don't need to do that as the ocean changes slowly on those time ranges. The new NNME model is an 8 model blend of forecasts by month and seasons.


Enlarged
Here are what the component models and the blend looked like for November from October.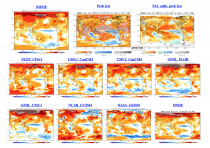 Enlarged
This was a close up look at the blended forecast for November from October. For land, there is only a small speck (the size of Queens) that is below normal in east central Africa.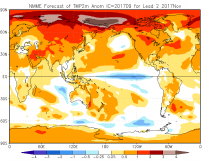 Enlarged
Here is the actual November anomalies (with two days to go). Cold covers most of South America, Africa, eastern Australia, northern India, eastern Asia, Europe and central North America.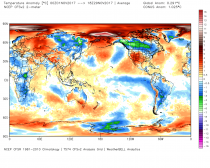 Enlarged
Here is a forecast from WeatherBELL's Pioneer statistical model with 24 inputs (solar, ENSO other oceanic and atmospheric) for November. It is not perfect but had the right idea most places.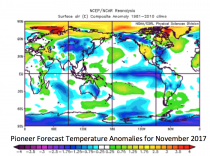 Enlarged
We hear that all the climate modelers need is faster computers so they can run the models in higher resolution. I think that just will produce higher resolution garbage until they do a better job including natural factors and oscillations etc.
BTW, here is what our statistical model suggest for this winter: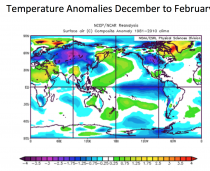 Enlarged
Here is what the NNME blend says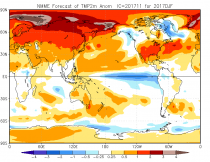 Enlarged
--------
ULTRA LONG TERM CLIMATE MODELS
These models run out many decades into the future and have a strong input from greenhouse gases but do not properly account for solar and natural ocean cycles.
John Christy writes about these models in testimony to congress.
"When the "scientific method" is applied to the output from climate models of the IPCC AR5, specifically the bulk atmospheric temperature trends since 1979 (a key variable with a strong and obvious theoretical response to increasing GHGs in this period), it can be demonstrated that the consensus of the models fails the test to match the real-world observations by a significant margin. As such, the average of the models is considered to be untruthful in representing the recent decades of climate variation and change, and thus would be inappropriate for use in predicting future changes in the climate or for related policy decisions.
The IPCC inadvertently provided information that supports this conclusion by (a) showing that the tropical trends of climate models with extra greenhouse gases failed to match actual trends and (b) showing that climate models without extra greenhouse gases agreed with actual trends. A report of which I was a co-author demonstrates that a statistical model that uses only natural influences on the climate also explains the variations and trends since 1979 without the need of extra greenhouse gases. While such a model (or any climate model) cannot "prove" the causes of variations, the fact that its result is not rejected by the scientific method indicates it should be considered when trying to understand why the climate does what it does. Deliberate consideration of the major influences by natural variability on the climate has been conspicuously absent in the current explanations of climate change by the well-funded climate science industry." U.S. House Committee on Science, Space & Technology 29 Mar 2017 Testimony of John R. Christy
When greenhouse climate models fail, there is no effort to rethink the theory. Instead agencies responsible for the data, search for and often find reasons to adjust the data to fit model projections.
All data today is adjusted with models with a goal of addressing data errors, changes in location or instrumentation or addressing changing distribution or to fill in for missing data or station closures. Once you start this adjustment process, it becomes increasingly possible to the find ways to mine from the data the desired results.
With the climate models there is an increasingly large divergence with balloon, satellite and surface reanalysis data sets the last 20 years. The one model that follows best the temperature is a Russian model that has roughly half the greenhouse forcing and improved ocean modeling.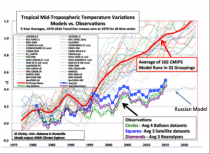 Enlarged

John Christy 2017 has shown models without extra greenhouse warming agreed perfectly with atmospheric (tropical) observations.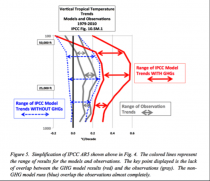 Enlarged
John Christy noted: "Incredibly, what figure 5 shows is that the bulk tropical atmospheric temperature change is modeled best when no extra GHGs are included - a direct contradiction to the IPCC conclusion that observed changes could only be modeled if extra GHGs were included.
See Tim Ball and Tom Harris's piece on "Would you bet your paycheck on a weather forecast?" - UN climate forecasts are consistently high… consistently wrong ... and used to drive policy