Jan 05, 2018
Failed Amstrup polar bear predictions have climate change community in a panic
Polar bear experts who falsely predicted that roughly 17,300 polar bears would be dead by now (given sea ice conditions since 2007) have realized their failure has not only kicked their own credibility to the curb, it has taken with it the reputations of their climate change colleagues. This has left many folks unhappy about the toppling of this important global warming icon but ironically, consensus polar bear experts and climate scientists (and their supporters) were the ones who set up the polar bear as a proxy for AGW in the first place.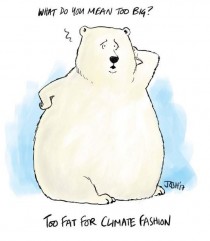 Cover image_Twenty Reasons_polarbearscience
I published my professional criticisms on the failed predictions of the polar bear conservation community in a professional online scientific preprint journal, which has now been downloaded almost 2,000 times (Crockford 2017; Crockford and Geist 2017).

Crockford 2017_Slide 12 screencap
My paper demonstrates that the polar bear/sea ice decline hypothesis, particularly the one developed by Steven Amstrup, is a failure. I'm not the only one who thinks so, as emails obtained from the US Fish and Wildlife Service show. The argument the paper lays out and the facts it presents have not been challenged by any one of the consensus polar bear experts who object to it so strenuously. Instead, they have chosen to misrepresent my work, and publicly belittle my credentials and scientific integrity in the published literature (Harvey et al. 2017) and online.
Harvey and colleagues suggest in their paper that I and others use polar bears as a proxy for AGW as part of a deliberate plan to undermine the public's confidence in global warming.
Harvey et al. state:
"...the main strategy of denier blogs is therefore to focus on topics that are showy and in which it is therefore easy to generate public interest. These topics are used as "proxies" for AGW in general; in other words, they represent keystone dominoes that are strategically placed in front of many hundreds of others, each representing a separate line of evidence for AGW. By appearing to knock over the keystone domino, audiences targeted by the communication may assume all other dominoes are toppled in a form of "dismissal by association." [my bold]
I do not recall ever stating or implying that if polar bear predictions of doom were wrong, then general climate change models must also be wrong. But if any other bloggers have done so, they can hardly be blamed.
A bit of reflection shows it was the climate science community itself - in collaboration with Arctic researchers and the media - who by the year 2000 (below) set the polar bear up as an icon for catastrophic global warming. They made the polar bear a proxy for AGW.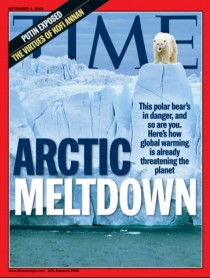 TIME Magazine Cover_ Arctic Meltdown September 2000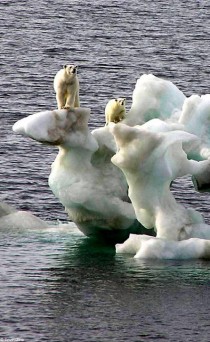 polarbrs iceberg Daily Mail 010207_468x762
Al Gore used the polar bears on an ice flow image (above) to seal global warming icon status for the polar bear in his 2007 movie, An Inconvenient Truth (see National Post March 2007 article
here).
As Harvey et al. co-author Michael Mann said only a few years ago (24 March 2014):
"We are now the polar bear".
A clear association was made between polar bear survival and AGW, time and time again, as recently as last February (2017):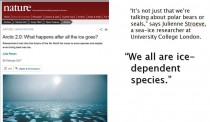 Stroeve 2017 we are all ice dependent species
So, when the polar bears failed to die by the thousands as polar bear models predicted, after years of lower summer ice than any sea ice models predicted (see graphic below), some people may have logically stated or implied that perhaps general climate models are similarly flawed.
In essence, Mann's "we are now the polar bear" statement came back to bite him and his colleagues in the ass, Amstrup and Ian Stirling included. Predictably, they would like to blame someone else for their failure and embarrassment, so they wrote a sloppy tandrum paper that pretends my polar bear/sea ice decline document doesn't exist.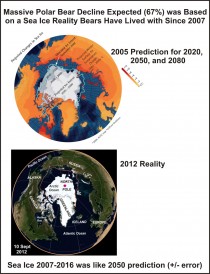 Fig 3 Sea ice prediction vs reality 2012
I guess we all should have seen it coming.
Predicted sea ice changes (based on 2004 data) at 2020, 2050, and 2080 that were used in 2007 to predict a 67% decline in global polar bear numbers vs. an example of the sea ice extent reality experienced since 2007 (shown is 2012). See Crockford 2017 for details.
REFERENCES
Crockford, S.J. and Geist, V. 2018. Conservation Fiasco. Range Magazine, Winter 2017/2018, pg. 26-27. Pdf here.
Crockford, S.J. 2017. Testing the hypothesis that routine sea ice coverage of 3-5 mkm2 results in a greater than 30% decline in population size of polar bears (Ursus maritimus). PeerJ Preprints 2 March 2017. Doi: 10.7287/peerj.preprints.2737v3 Open access. h
Harvey, J.A., van den Berg, D., Ellers, J., Kampen, R., Crowther, T.W., Roessingh, P., Verheggen, B., Nuijten, R. J. M., Post, E., Lewandowsky, S., Stirling, I., Balgopal, M., Amstrup, S.C., and Mann, M.E. 2017. Internet blogs, polar bears, and climate-change denial by proxy. Bioscience. DOI: 10.1093/biosci/bix133
Dec 23, 2017
Delingpole: Christmas Is Here, Everyone! EPA Officials Are 'Leaving in Droves'
by JAMES DELINGPOLE 22 Dec 20178,211
Environmental Protection Agency officials are "leaving in droves", reports the New York Times.
More than 700 people have left the Environmental Protection Agency since President Trump took office, a wave of departures that puts the administration nearly a quarter of the way toward its goal of shrinking the agency to levels last seen during the Reagan administration.
What marvelous news to ease us all into the festive Christmas spirit, eh readers?
Why, it's like the final scene in A Christmas Carol where Scrooge repents of all his miserliness, his nephew Fred gets a big fat turkey, Bob Cratchit gets a pay rise and Tiny Tim declares "God bless us, every one!"
Not, of course, that this is quite the way the New York Times sees it. It wants us to believe that this is an attack on both science and the environment.
Within the agency, science in particular is taking a hard hit. More than 27 percent of those who left this year were scientists, including 34 biologists and microbiologists; 19 chemists; 81 environmental engineers and environmental scientists; and more than a dozen toxicologists, life scientists and geologists. Employees say the exodus has left the agency depleted of decades of knowledge about protecting the nation's air and water. Many also said they saw the departures as part of a more worrisome trend of muting government scientists, cutting research budgets and making it more difficult for academic scientists to serve on advisory boards.
Actually, though, what it really is is #winning.
EPA administrator Scott Pruitt is achieving what President Trump appointed him to do. He is draining the swamp.
As I've argued before, the EPA has always had less to do with protecting the environment - Colorado gold mine, anyone? - than it does with killing business.
Essentially, it is a communist sleeper cell introduced to the heart of the U.S. government system by Richard Nixon in the mistaken belief that paying Danegeld to your enemies will make them leave you alone.
Previous Republican presidents - such as the Bushes - were far too squishy to dare reform it.
Democrat presidents, most notably Obama, used it as a way of bypassing Congress and imposing on the U.S. a United-Nations-driven globalist agenda almost entirely inimical to the interests of American citizens.
The most egregious example of this was the EPA's Endangerment Finding, which declared carbon dioxide - and various other harmless trace gases - to be a threat to "the public health and welfare of current and future generations."
This was a political decision, not a scientific one, forced through by Obama's hatchetwoman Lisa Jackson.
As Dennis Ambler argued at the time in this Science and Public Policy paper:
The EPA is effectively no longer under the control of the US Congress; its allegiance is to the UN and implementation of the policies of Sustainable Development via Agenda 21. It has considerable involvement in the IPCC reports and claims the UN body as a peer reviewed authority, in pursuing ever more rigorous controls of "CO2 pollution", to bring about the realisation of "environmental governance".
Whilst Lisa Jackson is currently the face on the box at the EPA, she is simply carrying out the tasks expected of her by the globalist movement in setting the scene for more international control, under the leadership of the United Nations.
Most of the EPA authors of the Endangerment Technical Support Document were economists and environmental policy specialists with qualifications like Masters in International Affairs or Public Policy or Management. Those few that were scientists were bought and paid up members of the UN/IPCC establishment, with no interest in questioning the alarmist consensus.
The junk science of the Endangerment Finding was in turn responsible for Obama's monumentally destructive Clean Power Plan, which drove up energy prices, hit U.S. economic competitiveness and killed jobs.
Anyone who thinks it's sad that 700 EPA officials have lost their jobs should maybe consider the 50,000 workers in the U.S. coal industry alone who lost their jobs as a result the EPA-enforced Clean Power Plan.
Of all the many disastrous decisions made by the Obama administration, probably the most dishonest and damaging was the one whereby it branded the harmless trace gas which helps plants to grow as public enemy number one.
The EPA was an unaccountable agency promulgating a massive lie to the detriment of the American people, their freedoms and their livelihoods.
Donald Trump has given America a good many reasons to celebrate this Christmas. His defanging of the EPA might well be the greatest one of them all.
Dec 15, 2017
Weak Solar Activity And La Nina Forebode Cooling Temperatures For The Months Ahead
By P Gosselin on 13. December 2017
The Sun in November 2017
By Frank Bosse and Prof. Fritz Vahrenholt
(Translated and edited by P Gosselin)
In November the sun was unusually quiet with respect to activity. The observed sunspot number (SSN) was merely 5.7, which is only 14% of what is typically normal for month number 108 into the cycle. The current cycle number 24 began in December 2008. The sun was completely spotless 19 of 30 days in November.
At the end of the month some activity appeared, but only at a very low level. The following chart depicts the current cycle's activity: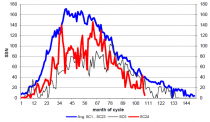 Figure 1: The monthly SSN values for the current solar cycle 24 (red) 108 months into the cycle, the curve for the mean of the previous 23 cycles (blue), and the similar solar cycle number 5 (black). Enlarged
The next chart shows a comparison of all observed solar cycles thus far: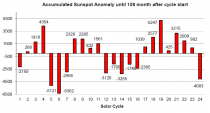 Figure 2: The monthly accumulated anomalies of the cycles up to 108 months into the cycle. Cycle number 24 has taken third place for the most inactive. Enlarged
Icecap Note: The ability with today's advanced technology to see the smallest spots or pores probably inflates the number of spots and diminishes the number of spotless days.
The situation thus remains unchanged: such a weak solar cycle has not been witnessed in 200 years. It is anticipated with quite high certainty that also the upcoming solar cycle number 25 will be about as weak, because the sun's polar fields are about as strong as they were during the minimum between cycle number 23 and cycle number 24.
The very weak solar north pole so far has recovered significantly over the past few months since June. What this means now and for the future can be seen graphically at the chart posted here. You can find the latest information at www.solen.info/solar.
LaNina is here
An update to our last post here is surely of interest. We were sure of a La Nina by the end of December, and in the meantime the Australian Bureau of Meteorology officially announced a La Nina in its most recent bulletin. The current model forecast shows continued falling sea surface temperatures along the equatorial eastern Pacific until about February, 2018: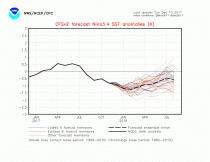 Figure 3: The model for El Nino/La Nina in the Pacific, Source: NOAA. All forecasts point to a moderately strong La Nina event until spring. A powerful La Nina such as the one observed in 2011/12 is currently not projected by the models (which incidentally did not even forecast a La Nina just a few months ago). Enlarged
The impacts on global temperatures lag behind by about 3 to 4 months, and so we should expect a La Nina dip by spring.