Oct 31, 2015
Global Warmers Want Just One Thing - Control - and jail for those that challenge them
By Walter Williams
I receive loads of mail in response to my weekly nationally syndicated column. Some recent mail has been quite disturbing. Here's a sample:
"Given your support of freedom on a great many issues, I wish to bring to your attention the following George Mason University staff who have formally called on the president to use RICO statutes to punish organizations and individuals who dispute the 'consensus' of the Intergovernmental Panel on Climate Change."
The writer goes on to say, "I am appalled that anyone associated with George Mason would so misuse the power of the federal government." The writer names 20 signatories, six of whom are GMU faculty members.
This letter writer's problem, like that of many others, is a misperception of George Mason University, where I am an economics professor.
We have a distinguished economics department that can boast of having had two homegrown Nobel Prize winners on our faculty. Plus, we have a worldwide reputation as a free-market economics department.
The university can also boast of a distinguished law school with professors who, in contrast with many other law schools, have respect for the United States Constitution and the rule of law. We can boast of the excellent Law & Economics Center, too.
With this kind of intellectual firepower at George Mason University, most people assume that it is, like its namesake, a libertarian or free-market university. Little could be further from the truth. My university, at which I've toiled for 35 years, has a political makeup like that of most other universities - middle of the road to liberal/progressive.
What distinguishes my liberal/progressive colleagues is that they are courteous and civilized, unlike many of those at universities such as the University of Massachusetts and the University of California, Berkeley.
So I investigated this call for the use of RICO, or the Racketeer Influenced and Corrupt Organizations Act. It turns out that Sen. Sheldon Whitehouse, D-R.I., has called for the criminal investigation of people and organizations who are seen as global warming deniers.
The investigation would include lawsuits against the coal and oil industries, certain think tanks and other organizations that question the global warming religion.
By the way, so that Whitehouse and his gang don't appear silly, they've changed their concern from global warming to climate change. That's stupid in and of itself, for when has the climate not been changing, even before mankind arrived?
It turns out that George Mason University meteorologist Jagadish Shukla is the lead signatory of the letter sent to the president and attorney general asking them to use RICO laws to prosecute "corporations and other organizations that have knowingly deceived the American people about the risks of climate change."
This GMU professor calling for the prosecution of climate skeptics has been recently revealed as a "climate profiteer." From 2012 to 2014, this leader of the RICO 20 climate scientists paid himself and his wife $1.5 million from government climate grants for part-time work.
The effort to suppress global warming dissidents is not new. Grist Magazine writer David Roberts said: "When we've finally gotten serious about global warming, when the impacts are really hitting us and we're in a full worldwide scramble to minimize the damage, we should have war crimes trials for these bastards - some sort of climate Nuremberg."
Professor Richard Parncutt has called for the execution of prominent "GW deniers." Climate Progress editor Joe Romm called for deniers to be strangled in their beds. James Hansen, who has headed NASA's Goddard Institute for Space Studies, has likewise called for trials of global warming deniers.
The global warming agenda is a desperate effort to gain greater control over our lives. Political commentator Henry Louis Mencken (1880-1956) explained, "The whole aim of practical politics is to keep the populace alarmed (and hence clamorous to be led to safety) by menacing it with an endless series of hobgoblins, all of them imaginary."
That's the political goal of the global warmers.
Read More At Investor's Business Daily.
GMU's Ed Maibach was commisioned by the AMS to help find out why broadcasters and forecasters were not buying the warmist position. He did surveys and advised on special indoctrination sessions for the AMS. See the story that suggests this RICO saga originating out of GMU may become the greatest scandal in science here.
See also here how one of the signatories Alan Betts, (who recently won an award from AMS for his alarmist works) doesn't believe the letter went far enough. What he neglected to mention, he has made millions from NSF and NASA grants the last 30 years. Betts appears to be the typical alarmist hypocrite - he blocked a debate in St Johnsbury with Tom Wysmuller and Dr. Larry Gould and did a one man show. The society had wanted a lively debate. He did the same with me on VPR when I was invited then uninvited at his insistence. He bashed Fred Singer using Wikipedia lies and denied claims the climate models were failing in that radio hour interview. He sees himself as Vermont's self annointed climate truth sayer.
Oct 30, 2015
Russia's Putin Says Global Warming Is 'A Fraud'
Michael Bastasch
Russian President Vladimir Putin believes global warming is a "fraud" - a plot to keep Russia from using its vast oil and natural gas reserves.
Putin believes "there is no global warming, that this is a fraud to restrain the industrial development of several countries, including Russia," Stanislav Belkovsky, a political analyst and Putin critic, told The New York Times.
"That is why this subject is not topical for the majority of the Russian mass media and society in general," Belkovsky said.
Putin has been casting doubt on man-made global warming since the early 2000s, according to the Times. In 2003, Putin told an international climate conference warming would allow Russians to "spend less on fur coats," adding that "agricultural specialists say our grain production will increase, and thank God for that."
Putin's comments likely came after his staff "did very, very extensive work trying to understand all sides of the climate debate," according to Andrey Illarionov, Putin's former senior economic adviser, who's now a senior fellow at the libertarian Cato Institute.
"We found that, while climate change does exist, it is cyclical, and the anthropogenic role is very limited," Illarionov said. "It became clear that the climate is a complicated system and that, so far, the evidence presented for the need to 'fight' global warming was rather unfounded."
The New York Times published an article on how the Russian media's skepticism of global warming is being driven by Putin's laissez faire attitude on the issue. The Times bashed the Russian autocrat for offering "only vague and modest pledges of emissions cuts ahead of December's U.N. climate summit in Paris."
Russia's largely state-run media has spent little to no time covering global warming despite huge fires raging across Siberia. Instead of blaming the fires on warming, Russian news outlets tended to focus on "locals who routinely but carelessly burn off tall grasses every year, and the sometimes incompetent crews struggling to put the fires out."
Such reasoning wasn't good enough for the Times, which argued that "Russian media continue to pay little attention to an issue that animates so much of the world."
Russian media leaders argue it's not just the tone being set by Putin, but a weak economy and unemployment woes are a top concern of the Russian public - they don't seem to care much about the weather.
?It is difficult to spend editorial resources on things that are now a low priority in the midst of the economic crisis," Galina Timchenko, who runs a news site, told the Times. "Unfortunately climate change is not very interesting to the public.""
Low oil prices have hampered Russia's economic growth, and spurred the Putin administration to take more action abroad, fomenting conflict in Ukraine and supporting the Assad regime in Syria. But at home, Russians are feeling the bite of cheap oil and western sanctions.

Oct 18, 2015
Prominent Liberal Physicist: GOP on the "Right Side" of Global Warming Debate
Philip Hodges
Freeman Dyson is a 91-year-old physicist who says he likes Obama and is "100% Democrat." But where he parts ways with the President and the rest of the Democratic party is the subject of global warming. Or climate change. Or whatever it's called this week.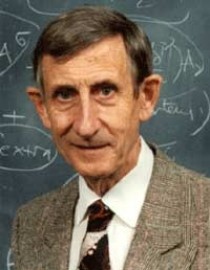 He said he's disappointed that not only the Democratic party, but also a whole generation of scientists, deny obvious scientific facts that stare them in the face.
Fox News reported:
"It's very sad that in this country, political opinion parted [people's views on climate change]," he said, in an interview with The Register. "I'm 100 percent Democrat myself, and I like Obama. But he took the wrong side on this issue, and the Republicans took the right side."
Now retired, Dyson was a professor of physics at the Institute for Advanced Study in Princeton between 1953 and 1994. Famed for his work in quantum electrodynamics and nuclear engineering, Dyson also worked on climate studies during his career.
Climate change, according to Freeman, "is not a scientific mystery but a human mystery. How does it happen that a whole generation of scientific experts is blind to obvious facts?"
The physicist and mathematician argues that pollution caused by fossil fuels has been conflated with climate change. "Coal is very unpleasant stuff, and there are problems with coal quite apart from climate," he said. "Pollution is quite separate to the climate problem: one can be solved, and the other cannot, and the public doesn't understand that."
During his interview with The Register Dyson noted shortcomings in climate models. "What has happened in the past 10 years is that the discrepancies between what's observed and what's predicted have become much stronger" he said. "It's clear now the models are wrong, but it wasn't so clear 10 years ago. I can't say if they'll always be wrong, but the observations are improving and so the models are becoming more verifiable."
Dyson also wrote a strong foreword to a report published Monday by The Global Warming Policy Foundation, which calls for a reassessment of carbon dioxide. "To any unprejudiced person reading this account, the facts should be obvious: that the non-climatic effects of carbon dioxide as a sustainer of wildlife and crop plants are enormously beneficial, that the possibly harmful climatic effects of carbon dioxide have been greatly exaggerated, and that the benefits clearly outweigh the possible damage," he wrote.
Liberal cheerleaders will likely chime in and claim that he's an old crank who's not even a climatologist. He's just a theoretical physicist and mathematician. And besides, he's retired. What does he know?
In order to be a "legitimate" manmade global warming denier in the eyes of liberals, you have to be an actual climatologist. That has to be your field of expertise, and you have to have been in that field for no less than 20 years. And not only that, but you have to have had many of your papers published in "reputable" scientific journals. Of course, even if you were to meet all those criteria, liberals would claim that if you still deny manmade global warming theory, then you don't deserve any of your credentials, and therefore, you're not a legitimate scientist.
The more profitable and easy route to take is to be a believer in manmade global warming. That belief in and of itself becomes a person's credentials, adequate enough to appear legitimate in the eyes of liberals. This is why someone like Bill Nye is looked on as an authority on the subject, even though his background is little more than a kids' TV show personality.
Sep 19, 2015
The Sun and the next 'Maunder Minimum' 2030-2040?
John Maunder
A new model of the Sun's interior is producing predictions of its behaviour with unprecedented accuracy; predictions with interesting consequences for Earth. Professor Valentina Zharkova of Northumbria University presented results for a new model of the Sun's interior dynamo in a talk at the Astronomical Society meeting last week.
The Sun has an approximately 11-year activity cycle. During peak periods, it exhibits lots of solar flares and sunspots. Magnetic bubbles of charged particles (coronal mass ejections) may burst from the surface during this period, streaming material into space. These ejections can affect satellites and power lines on Earth. However, during lull periods, such activity may almost stop altogether. But the 11-year cycle isn't quite able to predict all of the Sun's behaviour - which can seem erratic at times. Zharkova and her colleagues (Professor Simon Shepherd of Bradford University, Dr Helen Popova of Lomonosov Moscow State University, and Dr Sergei Zarkhov of Hull University) have found a way to account for the discrepancies called a 'double dynamo' system.
The Sun, like all stars, is a large nuclear fusion reactor that generates powerful magnetic fields, similar to a dynamo. The model developed by Kharkov's team suggests there are two dynamos at work in the Sun; one close to the surface and one deep within the convection zone. They found this dual dynamo system could explain aspects of the solar cycle with much greater accuracy than before - possibly leading to enhanced predictions of future solar behaviour. "We found magnetic wave components appearing in pairs; originating in two different layers in the Sun's interior. They both have a frequency of approximately 11 years, although this frequency is slightly different [for both] and they are offset in time," says Zharkova. The two magnetic waves either reinforce one another to produce high activity or cancel out to create lull periods.
Professor Zharkova and her colleagues used magnetic field observations from the Wilcox Solar Observatory in California for three solar cycles, from the period of 1976 to 2008. In addition, they compared their predictions to average sunspot numbers - another strong marker of solar activity. All the predictions and observations matched closely. Their predictions using the model suggest an interesting longer-term trend beyond the 11-year cycle.
It shows that solar activity is expected to fall by 60 % during the 2030's, to conditions last seen during the 'Maunder Minimum[ of 1645-1715. "Over the cycle, the waves fluctuate between the Sun's northern and southern hemispheres. Combining both waves together and comparing to real data for the current solar cycle, we found that our predictions showed an accuracy of 97 %," says Zharkova.
The model predicts that the magnetic wave pairs will become increasingly offset during the Solar Cycle 25, which peaks in 2022. Then during Cycle 26, which covers the decade from 2030-2040, the two waves will become exactly out of synch, cancelling one another out. This will cause a significant reduction in solar activity. "In Cycle 26, the two waves exactly mirror each other, peaking at the same time but in opposite hemispheres of the Sun. We predict that this will lead to the properties of a 'Maunder minimum'," says Zharkova.
The sun was well observed during the period of the original "Maunder Minimum" and this lack of sunspots is well documented.This period of solar inactivity corresponded to a climatic period called the 'Little Ice Age' when in Europe rivers that were normally ice-free, froze and snow fields remained at low altitudes throughout the year. There is evidence the sun had similar periods of inactivity during the years 1100-1250 and 1460-1550.
The connection between solar activity and the earth's climate is an area of ongoing and sometimes controversial research.Time will tell whether the sun will once again go into another "Maunder Minimum" within the lifetime of the present generation, and what affect it will have on our climate.
Note: The "Maunder Minimum" is the name given to the period from 1650 to 1700 when the number of sunspots became almost zero. The period is named after the solar astronomer Edward Walter Maunder (1851-1928) who while working at The Royal Observatory, Greenwich discovered the dearth of sunspots during the 1650-1700 period.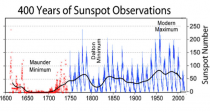 During one 30 year period within the Maunder Minimum there were only about 50 sunspots compared with a more typical 40,000. Maunder was a driving force in the foundation of the British Astronomical Association, and was a fellow of the Royal Astronomical Society.
Jul 23, 2015
Arctic Ice: Pausing More That Declining?
Dr David Whitehouse
The declining Arctic ice cover has been one of the most powerful images of climate change. Most people who follow the debate but who perhaps don't look at the data, would be excused for holding the opinion that it's been declining monotonically.
Hence the dire predictions that it will be gone in a few years, if it shouldn't have gone already. Several years ago I was heavily lambasted by some for daring to say that I didn't think it would be all gone by 2013!
The Arctic ice has been declining since satellite observations started in 1979 that clearly caught the decline already in progress and probably part of a multi-decadal change.
Now comes a suggestion that Arctic ice is more resilient that was believed. It's from a recent paper in Nature Geoscience by Tilling at el (2015) called "Increased Arctic sea ice volume after anomalously low melting in 2013." The headline is that the volume of Arctic sea ice increased by about a third after an unusually cool summer in 2013. Reports went on to say that the unusual growth continued in 2014 and more than compensated for the loss in the three previous tears. Overall it was concluded that changes in summer temperatures in the Arctic have a greater impact on the ice than was thought.
The key graph in Tilling et al (2015) is their figure showing the growth and decline of sea ice volume since 2011. Note that the maximum hardly changes at all over this period and that the minimum ice extent is increasing. Arctic sea ice increasing! This deserves a second look. Click here to enlarge.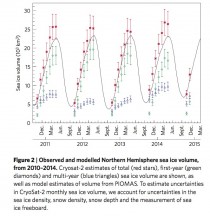 It has been noticed before that the minimum extent of Arctic ice extent hasn't been changing very much in the past few years leading some to speculate about a so-called ice pause. In fact, a close look at the Arctic ice extent shows that since 1998 it has been pausing more than it has been declining.
Here is the minimum extent since 2007 (millions of sq km) and it can be seen that the exceptionally cold year of 2013 mentioned by Tilling et al (2015) is not that exceptional in terms of ice extent.


Enlarged
It is 2012 that is exceptional which was due to an anomalous summer storm that compacted the ice. After the storm the ice returned to levels of a few years previously. There is no general decrease in minimal ice area 2007 - 2014. Things get more interesting when one considers the 1998 - 2014 period.


Enlarged
Clearly there has been a decline over this period but not a steady one. rather it has been a shift between two so-called ice pauses. Here is the 1998 - 2006 data.


Enlarged
Admittedly it is a relatively short period, only 17 years, but we only have satellite data since 1979 which provides an additional 19 years - a period comparable to that discussed above so one must take seriously both ways of looking at the data. I could speculate that it looks like the Arctic ice wants to be stable but that perturbations in 2007 and 2002 upset it.
The Tilling et al (2015) paper is very interesting in its discussion of interannual variation in Arctic ice parameters. There are clearly longer-term variations as well.
The so-called pause or hiatus in global surface temperature was first discussed after about eight years of unchanging data. The "pause" in minimal Arctic ice extent is now 17 years. Already some scientists are suggesting that it is a statistical figment, to be expected, and soon to disappear. The same thing was said about the global surface temperature hiatus. Is nature trying to tell us something?
---------
Ice conditions hold up resupply of Iqaluit, east Hudson Bay
Fuel tanker that reached Iqaluit still unable to unload
Ice conditions this year in the Arctic are making it difficult for ships to deliver the annual resupply of fuel and goods to some Nunavut and Nunavik communities.
Midway through July, only a single oil tanker, aided by a Coast Guard icebreaker, has been able to reach Iqaluit though the sea ice that remains in Frobisher Bay. "We had quite a bit of difficulty bringing it in," says Johnny Leclair, the Coast Guard's assistant commissioner.
Sealift ships are also behind schedule, with the MV Anna Desgagnes and the MV Qamutik now tentatively scheduled to arrive later this week. Contrary to predictions made earlier this year, Leclair said, the sea ice in the bay has not been melting.
That, in combination with southeasterly winds, has meant that Frobisher Bay has not been able to "flush" its remaining ice. Instead, a large compacted pan of thick, first-year and multiyear ice has formed in the bay. It's so thick that icebreakers and commercial ships alike have no choice but to skirt around it, which has led to delay
The same ice has also been blamed for bringing two polar bears into the community last week - a highly unusual event. The Havelstern tanker, laden with fuel destined for the city's tank farm, took several days to navigate Frobisher Bay with the help of the CCGS Pierre Radisson. Upon reaching the city, it's still been unable to unload.
"[The ship] cannot get to a secure anchorage to put its line out to fuel the community," Leclair said. Leclair is hopeful that the tanker will be offloaded later today. By the end of the week, he said, two more Coast Guard icebreakers will be headed north.
Three years ago, heavy ice damaged a sealift ship making its way to Iqaluit and stranded two others at the mouth of the bay.
Heavy ice in east Hudson Bay
The Canadian Coast Guard has also re-deployed its science and research icebreaker the CCGS Amundsen to assist with heavy ice conditions in eastern Hudson Bay. "We haven't seen these ice conditions in the eastern part of Hudson Bay this late in the season in, I'd say, two decades," Leclair said. "There is a large patch of ice that has not melted and is creating problems for shipping."
That could delay resupply of several communities in Northern Quebec. Sealift vessels heading for Inukjuak are currently at least a week behind schedule.
--------
UPDATE: Fruitcakes of the World Unite - this article was in the Times on Friday, and it's not April 1st:

THE TIMES JULY 25
Climate scientist fears murder by hitman
A Cambridge professor has said that assassins may have murdered scientists who were seeking to reveal how rapidly global warming was melting Arctic ice. Peter Wadhams, professor of ocean physics, said he believed that he had also been targeted but had a narrow escape after a driver of an unmarked lorry tried to push his car off the M25. Professor Wadhams faced criticism this week after a study contradicted his prediction that Arctic ice was melting so fast that it could all disappear this summer.
Asked by The Times for his response to the discovery that the total volume of ice grew 40 per cent in 2013, Professor Wadhams insisted that there was still an outside possibility of the Arctic being ice-free this year. He then said there were only four people in Britain who were "really leaders on ice thickness in the Arctic" and he was one. The others, he said, had died in early 2013. He said: "It seems to me to be too bizarre to be accidental but each individual incident looks accidental, which may mean it's been made to look accidental."
He named the three as Seymour Laxon of University College London, Katharine Giles, a climate change scientist who worked with Professor Laxon at UCL, and Tim Boyd of the Scottish Association for Marine Science. Professor Laxon died after falling downstairs at a New Year's Eve party in Essex; Dr Giles died in a collision with a lorry while cycling to work in London; and police said they believed that Dr Boyd was killed by lightning as he walked near a loch in Scotland.
Professor Wadhams said that about the same time he was driving on the M25 late at night when the lorry hit his car. "This guy showed definite evidence of malevolence. He was trying to run me right off the road." He said his car was damaged but he managed to get home and called the police the next day. He was told no action could be taken.
"I just thought what is going on here? Somebody is trying to do in people who are working on ice thickness in Britain." He said: "If it was some kind of death squad, you don't expect that with something like climate change. I know oil companies have been giving lots and lots of money to… climate change denialist organisations but you don't expect them to kill people."
Fiona Strawbridge, Professor Laxon's partner, said that she had seen similar claims by "ridiculous conspiracy theorists" on the internet but she was certain his death was an accident. She said that she knew Dr Giles and it was clear that her death was also an accident. Dr Strawbridge, who works at UCL, said: "The fact that two scientists in the same group die in the same year is an appalling tragedy and it's really not helped by these ludicrous theories." Professor Angela Hatton, a friend and colleague of Dr Boyd, said it was "a coincidence that we lost such a lot of good scientists in an area of science in such a short space of time".
Jun 12, 2015
Temperature Drives Atmospheric CO2 on All Time Scales
By Allan MacRae, Calgary, June 12, 2015
Temperature, among other factors, drives atmospheric CO2 much more than CO2 drives temperature. The rate of change dCO2/dt varies ~contemporaneously with temperature, which reflects the fact that the water cycle and the CO2 cycle are both driven primarily by changes in global temperatures (Veizer et al).
To my knowledge, I initiated in January 2008 the hypothesis that dCO2/dt varies with temperature (T) and therefore CO2 lags temperature by about 9 months in the modern data record, and so CO2 could not primarily drive temperature. Furthermore, atmospheric CO2 lags temperature at all measured time scales. See more including the referenced figures below here.
In my Figure 1 and 2, global dCO2/dt is closely correlated with global Lower Tropospheric Temperature (LT) and Surface Temperature (ST). The temperature and CO2 datasets are collected completely independently, and yet this close correlation exists.
After publishing this paper, I also demonstrated the same close correlation with different datasets, using Mauna Loa CO2 data and Hadcrut3 ST back to 1958. Later I examined the close correlation of LT measurements taken by satellite and those taken by radiosonde.
Earlier papers by Kuo (1990) and Keeling (1995) discussed the delay of CO2 after temperature, although neither appeared to notice the even closer correlation of dCO2/dt with temperature. This correlation is noted in my Figures 3 and 4.
My hypothesis received a hostile reaction from both sides of the fractious global warming debate. All the "global warming alarmists" and most "climate skeptics" rejected it. First I was just deemed wrong - the dCO2/dt vs T relationship was allegedly a "spurious correlation".
Later it was agreed that I was correct, but the resulting ~9 month CO2-after-T lag was dismissed as a "feedback effect". This remains the counter-argument of the global warming alarmists - apparently a faith-based rationalization to be consistent with their axiom "WE KNOW that CO2 drives temperature".
This subject has generated spirited discussion among scientists. Few now doubt the close correlation dCO2/dt vs T. Some say that humankind is not the primary cause of the current increase in atmospheric CO2 - that it is largely natural. Others rely on the "mass balance argument" to refute this claim.
The natural seasonal amplitude in atmospheric CO2 ranges up to ~16ppm in the far North (at Barrow Alaska) to ~1ppm at the South Pole, whereas the annual increase in atmospheric CO2 is only ~2ppm. This seasonal "CO2 sawtooth" is primarily driven by the Northern Hemisphere landmass, which has a much greater land area than the Southern Hemisphere. CO2 falls during the Northern Hemisphere summer, due primarily to land-based photosynthesis, and rises in the late fall, winter and early spring as biomass decomposes.
Significant temperature-driven CO2 solution and exsolution from the oceans also occurs. See the beautiful animation.
In this enormous CO2 equation, the only signal that is apparent is that dCO2/dt varies approximately contemporaneously with temperature, and CO2 clearly lags temperature.
CO2 also lags temperature by about 800 years in the ice core record, on a longer time scale. I suggest with confidence that the future cannot cause the past.
I suggest that temperature drives CO2 much more than CO2 drives temperature. This does not preclude other drivers of CO2 such as fossil fuel combustion, deforestation, etc.
My January 2008 hypothesis is gaining traction with the recent work of several researchers. Here is Murry Salby's address to the Sydney Institute in 2011:
See also this January 2013 paper from Norwegian researchers: The Phase Relation between Atmospheric Carbon Dioxide and Global Temperature Global and Planetary Change, Volume 100, January 2013 by Humlum, Stordahl, and Solheim
- Changes in global atmospheric CO2 are lagging 11-12 months behind changes in global sea surface temperature.
- Changes in global atmospheric CO2 are lagging 9.5-10 months behind changes in global air surface temperature.
- Changes in global atmospheric CO2 are lagging about 9 months behind changes in global lower troposphere temperature.
- Changes in ocean temperatures explain a substantial part of the observed changes in atmospheric CO2 since January 1980.
- Changes in atmospheric CO2 are not tracking changes in human emissions.
Observations and Conclusions:
1. Temperature, among other factors, drives atmospheric CO2 much more than CO2 drives temperature. The rate of change dCO2/dt is closely correlated with temperature and thus atmospheric CO2 LAGS temperature by ~9 months in the modern data record
2. CO2 also lags temperature by ~~800 years in the ice core record, on a longer time scale.
3. Atmospheric CO2 lags temperature at all measured time scales.
4. CO2 is the feedstock for carbon-based life on Earth, and Earth's atmosphere and oceans are clearly CO2-deficient. CO2 abatement and sequestration schemes are nonsense.
5. Based on the evidence, Earth's climate is insensitive to increased atmospheric CO2 - there is no global warming crisis.
6. Recent global warming was natural and irregularly cyclical - the next climate phase following the ~20 year pause will probably be global cooling, starting by ~2020 or sooner.
7. Adaptation is clearly the best approach to deal with the moderate global warming and cooling experienced in recent centuries.
8. Cool and cold weather kills many more people than warm or hot weather, even in warm climates. There are about 100,000 Excess Winter Deaths every year in the USA and about 10,000 in Canada.
9. Green energy schemes have needlessly driven up energy costs, reduced electrical grid reliability and contributed to increased winter mortality, which especially targets the elderly and the poor.
10. Cheap, abundant, reliable energy is the lifeblood of modern society. When politicians fool with energy systems, real people suffer and die. That is the tragic legacy of false global warming alarmism.
May 31, 2015
Including the 'Iris Effect' reduces warming in line with observations
From Judith Curry, H. Sterling Burnett
A new paper by researchers Thorsten Mauritsen and Bjorn Stevens in Nature Geoscience lends credence to climate scientist Richard Lindzen's speculation changes in cloud cover in the tropics in response to surface warming could act as a natural infrared iris, allowing increased infrared radiation to escape back into space, a kind of natural release valve to moderate temperatures.
In 2001, when Lindzen and his colleagues released their paper, it was largely dismissed, without any substantive analysis or further study, and deemed discredited by the climate alarmists who dominate the peer-review process and the media. As Judith Curry notes, pressure from the climate alarm industry meant Lindzen's theory essentially languished until Mauritsen and Stevens' paper. Curry quotes Andrew Dessler:
"By 2006, when I submitted an analysis of tropospheric water vapor that investigated whether there was an iris in that, one of the reviewers pointedly questioned why anyone was still working on this issue. I subsequently withdrew the paper. Nevertheless, just because Lindzen et al. did not convincingly demonstrate their case does not mean the iris hypothesis is wrong."
Curry summarizes,
So the "consensus enforcers" found it necessary to "discredit" the iris hypothesis, and by extension Lindzen himself, since the reduced sensitivity threatened the "consensus." You can see how this pernicious behavior discouraged scientists from investigating the iris hypothesis (I can only imagine how a grant proposal to investigate the iris hypothesis would have fared in peer review).
The observational record suggests climate sensitivity is lower than model predictions and indicates climate models underestimate changes in the water cycle. Those observations opened the door for Mauritsen and Stevens to investigate the possible existence of important feedbacks like the iris effect.
Running multiple iterations of the ECHAM6 general circulation climate model developed by Germany's Max Planck Institute, with a mathematical representation of the iris effect, Mauritsen and Stevens found the "inclusion of such an effect in a climate model moves the simulated responses of both temperature and the hydrological cycle to rising atmospheric greenhouse gas concentrations closer to observations."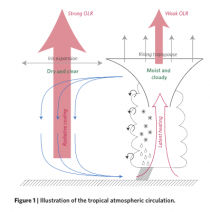 In other words, a widely used climate model, modified to account for Lindzen's iris effect, better reflects measured temperatures and changes in the water cycle than do climate models not accounting for the iris effect.
-- H. Sterling Burnett
SOURCES: Nature Geoscience and Climate Etc.
May 27, 2015
Words Matter- and So Does Honesty
By E. Calvin Beisner, Ph.D.
Some folks just don't play fair.
Instance?
Media Matters and ForecasttheFacts.org have just teamed up to pressure the media to not to characterize scientists who doubt claims of dangerous manmade global warming as "skeptics."
Their preferred term?
"Deniers."
Why?
Two reasons:
First, because skepticism is a scientific virtue, which they don't want to attribute to those who dare question them.
Second, because "denier" smacks of Holocaust denial, anti-Semitism, and Nazism and so is the perfect smear word.
As expressed in a petition ForecasttheFacts.org sent to the Associated Press (AP), they want the AP Stylebook (which many newspapers follow) to include "an entry that captures the following guideline: Don't use the term 'skeptic' to describe anyone who denies scientific facts (such as...man-made climate change)."
"Our country's top newspapers are still calling climate change deniers 'skeptics,'" ForecasttheFacts.org complains on its petition page, "and thereby lending them scientific legitimacy and confusing the public on climate change."
The problem? None of the thousands of scientists and other scholars who doubt dangerous manmade global warming deny climate change, or even manmade climate change. We just think its magnitude is less than alarmists claim - and on that, the scientific facts are solidly on our side.
As we pointed out in our Open Letter to Pope Francis on Climate Change (Read and sign it now!):
On average, [computer climate] models simulate more than twice the observed warming over the relevant period. Over 95% of the models simulate greater warming than has been observed, and only a tiny percentage come tolerably close. None simulated the complete absence of observed warming over approximately the last 16 (according to UAH satellite data) to 26 (according to RSS lower tropospheric data) years.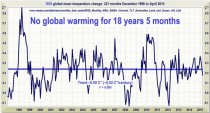 Nonetheless, ForecasttheFacts.org and Media Matters demand that the media mischaracterize skeptics.
And they claim a good response from New York Times Public Editor Margaret Sullivan, who on May 7 wrote, "readers are right to watch these choices carefully. The difference between skeptic and denier...may seem minor, but it's really not. Simply put, words matter."
Well, yes, words matter. "Skeptic" and "denier" aren't interchangeable. Not only is the first a term of honor for any scientist, and the second a term of scorn. But also, the first is accurate, and the second isn't.
We hope the Times, and the AP, will remember that.
Just who are Media Matters and ForecasttheFacts.org?
Media Matters for America is, as Byron York points out, "a left-wing media watchdog founded by former right-wing media star David Brock[,] ...part of a group of institutions - the Center for American Progress, MoveOn.org, and others - that have become increasingly important in Democratic politics."
The Center for American Progress, in turn, is a Left-wing organization run by Neera Tanden, formerly of the Clinton and Obama administrations and Hillary Clinton's campaign. And MoveOn.org is another Left-wing organization. Both are funded by self-proclaimed "stateless statesman" billionaire George Soros.
ForecasttheFacts.org is "a project launched ...in January 2012, by 350.org, created by notorious anti-corporation activist Bill McKibben (whom I debated in April in New Orleans), and Citizens Engagement Lab, itself a creation of MoveOn.org, a George Soros-funded appendage of the Democratic Party," as our friends at the Heartland Institute report.
Its aim is "to expose meteorologists blowing" what ForecasttheFacts.org calls "hot air." Their "hot air"? Climate facts that don't line up with the climate alarmist message.
So now you know. Those calling for the media to describe skeptics of dangerous manmade global warming as "deniers" are really just Left-wing, anti-industry, pro-Democratic Party shills.
And since they deny the scientific facts that recent warming has been less than half what the models predicted, and that indeed there's been no warming at all for at least the last 18 years and 5 months, maybe they should be called "deniers."