Dec 07, 2007
Tussle on Global Warming
By Brandon Larrabee, Savannah Morning News
Georgia lawmakers set up a meeting, which included members of the Senate Natural Resources and Environment Committee and the Regulated Industries and Utilities Committee, to hear testimony on whether cars, power plants and other human activities contribute to climate change by belching out greenhouse gases like carbon dioxide.
Sen. Mitch Seabaugh, R-Sharpsburg, questioned the scientific consensus that the Earth is warming. He pointed out that most scientists in Christopher Columbus' day believed the Earth was flat and that a squadron of fighter planes lost over Greenland in 1942 was found in the 1990s under 250 feet of ice, even as the world was reportedly getting warmer. Seabaugh said he believed the theory of man-made climate change was being pushed by industries that could benefit financially.
In a separate presentation, self-proclaimed global warming skeptic Harold Brown, an agricultural scientist and professor emeritus at the University of Georgia, said many were worried about "global cooling" as recently as the 1970s. He also said some of the direst effects of a warming world, such as an increase in the number of deaths because of heat-related illnesses, might not be as bad as some feared, even if climate change were to continue.
"Global warming is a wonderful environmental disease," he said sarcastically. "It has a thousand symptoms and a thousand cures and it has tens of thousands of practitioners with job security for decades to come unless the press and public opinion get tired of it." Read more here.
Dec 06, 2007
From Kyoto to Bali - Temperatures Cooled 0.05C
By Bruno De Wolf as comment in the Reference Frame
I took the RSS data and executed a simple linear regression in Excel over the last 10 years, from December 1997 to November 2007 (with tools --> data analysis --> regression). Temperatures are indicated in difference between the current month and the long term average. For instance: a temperature of +0.2°C means that month was 0.2°C warmer than the long term average.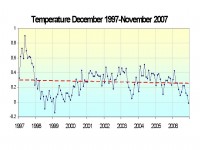 What do we see? The linear trend is going down with a rate of 0.05°C per decade. What's more, the last 8 months are situated below the trendline, so the negative trend is likely not going away in the next couple of months. Read more here.
Icecap Note: This satellite data used is for the region from 70S to 82.5N, where most all of civilization resides. Kyoto was at the start of the ten year period and Bali the end. During this period the alarmists are telling us the warming is reaching catastrophic proportions, the populated world has actually cooled slightly and the cooling is accelerating.

Dec 06, 2007
Scientists Beg for Climate Action
By Seth Borenstein, AP
For the first time, more than 200 of the world's leading climate scientists, losing their patience, urged government leaders to take radical action to slow global warming because "there is no time to lose." A petition from at least 215 climate scientists calls for the world to cut in half greenhouse gas emissions by 2050. It is directed at a conference of diplomats meeting in Bali, Indonesia, to negotiate the next global warming treaty. The petition, obtained by The Associated Press, is to be announced at a press conference there Wednesday night.
The appeal from scientists follows a petition last week from more than 150 global business leaders also demanding the 50 percent cut in greenhouse gases. That is the estimate that scientists calculate would hold future global warming to a little more than a 3-degree Fahrenheit increase and is in line with what the European Union has adopted. In the past, many of these scientists have avoided calls for action, leaving that to environmental advocacy groups.
The unprecedented petition includes scientists from more than 25 countries and shows that "the climate science community is essentially fed up," said signer Andrew Weaver of the University of Victoria in Canada. (Icecap note: one of the many modeler scientists who has benefited greatly from the global warming hype).
But Jerry Taylor, a senior fellow at the libertarian Cato Institute said "scientists are in no position to intelligently guide public policy on climate change." Scientists can lay out scenarios, but it is up to economists to weigh the costs and benefits and many of them say the costs of cutting emissions are higher than the benefits, he said. Read more here.
Dec 05, 2007
Skeptics Denied Press Credentials at UN Climate Meeting in Bali
By Noel Sheppard, Newsbusters
Want more proof of just how biased the United Nations is? A group of reporters representing the conservative newspaper Environment & Climate News were refused press credentials to attend the U.N.'s climate change meeting in Bali this week. UN press office coordinator Carrie Assheuer said the newspaper's representatives "do not meet the criteria for press accreditation." Environment & Climate News has been in continual publication for 10 years; is sent to more than 75,000 elected officials, opinion leaders, and environmental professionals in the United States; and is one of five newspapers published the by 23-year-old Heartland Institute. I guess only reporters that buy into the global warming myth are considered accredited. Read more here.
Meanwhile even the AP takes note in this story how ironically "Climate Change Meeting Adds to Emissions". Nobody denies this is an important event, but huge numbers of people are going, and their emissions are probably going to be greater than a small African country," said Chris Goodall, author of the book "How to Live a Low-Carbon Life."
Dec 03, 2007
"Gather Ye Rosebuds While Ye May…"
Commentary by Alan Siddons
It's so ironic. The "science" of global warming is only as strong as the evidence that supports it. Yet alarmists have shown themselves increasingly willing to discard that evidence in order to promote hysteria. Thus they knock the legs out from under their own advantage. It's perverse.
All four previous interglacial periods were as warm or warmer than the present. Were these brief periods catastrophic?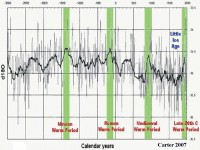 If so, then were the far longer periods of bitter cold somehow beneficial? Maybe they were for some species, but not for human beings, as even a microcosm within the present cycle shows.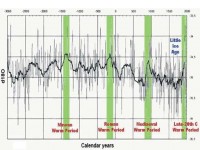 One can almost read the ups and downs as a tug of war between abundance and scarcity, with human civilization as the rope. We ought to be grateful for the summer we're living in. As was written in the Maunder Minimum: "Gather ye rosebuds while ye may, Old Time is still a-flying: And this same flower that smiles to-day, Tomorrow will be dying..." Yet rather than praise the gods for our present good fortune, in our selfishness we disparage it, expecting better, and even teach children to fear it. Read more here.

Dec 02, 2007
Fall in Weather Deaths Dents Climate Warnings
By David Smith, UK Sunday Times Online
Green scientists have been accused of overstating the dangers of climate change by researchers who found that the number of people killed each year by weather-related disasters is falling. Their report suggests that a central plank in the global warming argument – that it will result in a big increase in deaths from weather-related disasters – is undermined by the facts. It shows deaths in such disasters peaked in the 1920s and have been declining ever since.
Average annual deaths from weather-related events in the period 1990-2006 – considered by scientists to be when global warming has been most intense – were down by 87% on the 1900-89 average. The mortality rate from catastrophes, measured in deaths per million people, dropped by 93%. The report by the Civil Society Coalition on Climate Change, a grouping of 41 mainly free-market bodies, comes on the eve of an international meeting on climate change in Bali. Read more here.
Dec 01, 2007
Canadians Should Brace for Coldest Winter in Almost 15 Years
By Michael Oliveira, The Canadian Press
After years of warmer-than-normal winters that spurred constant talk of global warming, winter this year is expected to be the coldest in almost 15 years and should remind everyone of what real Canadian cold feels like, Environment Canada said Friday. With the exception of only small pockets of northern Canada and southwestern Ontario, this December through February is forecast to be one of the harshest winters in recent memory across the country, said senior climatologist David Phillips.
"It is somewhat remarkable that we're seeing the same situation from coast to coast to almost coast - from Vancouver Island to Bonavista, Nfld., we're showing the country as being colder than normal," Phillips said. "The last time Canada had a significantly cold winter was back in 1994, more than a decade ago, and this may very well rival that one in terms of coldness." Phillips said the forecast for cold weather is being triggered in part by La Nina, a period of lower than normal temperatures in the Pacific Ocean. See more here.
Dec 01, 2007
Al Gore, Global Warming and Convenient Untruths
By Deroy Murdock in Human Events.com
When Nobel laureate Albert Gore, Jr. collects his Peace Prize in Oslo on December 10, he should tell the gathered Norwegians exactly what he meant when he remarked about global warming: "I believe it is appropriate to have an over-representation of factual presentations on how dangerous it is, as a predicate for opening up the audience to listen to what the solutions are," Gore said in the May 9, 2006 Grist Magazine. "Over-representation?" Is that anything like misrepresentation? Gore's approach infects the debate and even the methodology of so-called "global warming." From the former vice-president to unseen academics, some who clamor for statist answers to this alleged climate crisis employ dodgy measurement techniques, while others embrace hype and fear-mongering to promote massive government intervention to combat an entirely questionable challenge. Worse yet, this applies to reputedly objective researchers, not just opinionated activists.
U.C. Santa Barbara emeritus professor Daniel Botkin recently lamented in the Wall Street Journal that some of his warming-oriented colleagues believe "the only way to get our society to change is to frighten people with the possibility of a catastrophe, and that therefore it is all right and even necessary for scientists to exaggerate…'Wolves deceive their prey, don't they?' one said to me recently."
Oslo's applause notwithstanding, egregious errors, distortions, and lies have no place in what is supposedly unbiased scientific inquiry regarding one of Earth's most controversial questions. Read more here.
Mr. Murdock, a New York-based commentator to HUMAN EVENTS, is a columnist with the Scripps Howard News Service and a media fellow with the Hoover Institution on War, Revolution and Peace at Stanford University.