Sep 21, 2012
Arctic v Antarctic Temperatures
Paul Homewood

Other commentators have pointed out recently that, while Arctic ice is at record low levels since 1979, Antarctic sea ice levels are at or close to record highs. I thought, therefore, that this might be a good time to look at satellite temperatures for the two poles.
UAH monitor temperatures from 60N to 85N in the Arctic, and 60S to 85S in the Antarctic. While not complete, these records, of course, go much closer to the poles, and in a much more comprehensive fashion, than surface temperatures do.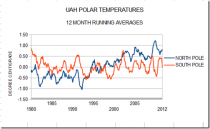 Figure 1
Figure 1 shows the UAH data, which is the anomaly from the 1981-2010 baseline, as a 12 month running average. This helps to smooth out the monthly and seasonal fluctuations and make the trend much clearer to see.

Two things stand out:-
1) Arctic temperatures were actually in decline during the 1980's, before falling further around 1993, presumably as a result of the Pinatubo eruption two years earlier.
2) Between 1980 and 2012, Arctic temperature anomalies have increased from -0.22C to 0.79C, an increase of 1.01C. During the same period, however, Antarctic anomalies have fallen by 0.87C.

Of course, 1980 might not be a representative place to start. What we really need to look at are the trends leading up to that year. So what do the GISS records tell us for the period leading up to 1980?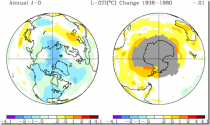 Figure 2

Although the Antarctic has a lot of missing data for 1938, (hence the grey), the temperature changes in the Arctic are quite clear, with most of the region about a degree colder in 1980 compared to 1938. So let's combine the two periods.



Better still, we can look at the graph of GISS anomalies for the two poles between 1938 and 1980.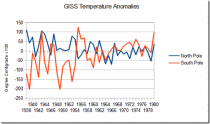 Enlarged

Conclusions?
1) Arctic temperatures are only slightly higher now than they were in the late 1930's.
2) While temperatures have increased in the Arctic since 1980, there have been similar decreases in the Antarctic.
3) The biggest increases occurred in the Antarctic before 1980, although the amount of missing data there in the 1930's and 1940's must place a question mark over the accuracy of GISS data.
Sep 10, 2012
NZ beaks give climate skeptics the bird
Warming records weren't cooked
By Richard Chirgwin
Posted in Science, 9th September 2012 23:46 GMT
Free report: Optimising your hybrid data centre
A group of climate skeptics that includes Australian Dr Bob Carter has failed in its bid to have New Zealand's High Court hear its complaint against that country's National Institute of Water and Atmospheric Research (NIWA).
Dr Carter lined up with retired journalist Terry Dunleavy and computer modeler Bob Dedekind under the auspices of the New Zealand Climate Science Education Trust to accuse NIWA of fudging New Zealand's climate record to present an alarmist picture of warming in New Zealand.
At issue was a data series first published in 1999 based on a series of seven weather stations ('7SS'

, showing a 1C warming trend in New Zealand over 100 years (which the Trust says is overstated), without applying a 1993 methodology developed by Rhoades and Salinger; that a later data set of eleven stations (11SS) was published in spite of what the Trust claimed were deficiencies in its data; and that the publication of 7SS "departed from recognized scientific opinion'.
In this 186-paragraph decision, High Court judge Geoffrey Venning rejected all grounds for the Trust's case, noting along the way that the High Court is not competent to rule on questions of science.
Justice Venning noted "This Court should not seek to determine or resolve scientific questions demanding the evaluation of contentious expert opinion."
A court can, however, resolve questions of evidence, and here, the judge had some harsh words for the NZ Climate Science Education Trust's witnesses. As a journalist, Dunleavy's status as an expert witness was dealt with sharply: "Mr Dunleavy has, in any event, failed to comply with High Court Rule 9.43, and could not be regarded as an impartial expert".
In a decision that has been seized on by bloggers such as Jo Nova, the judge also dismissed Dedekind's evidence, stating that his "general expertise in basic statistical techniques does not extend to any particular specialised experience or qualifications in the specific field of applying statistical techniques in the field of climate science."
Even Dr Carter's evidence, as the sole expert witness admitted by the High Court, didn't convince the judge. The Trust asked the court to find that NIWA had failed in its statutory duty, that its methodology was at fault, that it made errors of fact, and that publication of the climate data was unreasonable. The court dismissed all grounds for action
Sep 05, 2012
DNC Intelligensia favors banning corporate profits - Red Carpet for Solyndra Figure
See Jon Stewart make fun of the party of inclusion.
The democratic campaign rolled out the red carpet this week for a former top Energy Department official who was at the center of the ill-fated government loan to Solyndra, a California solar panel firm that wound up in bankruptcy.
Steven J. Spinner joined other top fundraisers for a VIP tour of the Democratic National Convention floor in Charlotte Monday evening, posing and waving for a photographer while standing behind the podium. When he saw ABC News cameras, however, he ran for the exit.
WATCH World News with Diane Sawyer Tonight for More on Spinner and the DNC here
Spinner was last in the headlines in October, when emails surfaced showing he had pushed for the Solyndra loan from his post in the Energy Department, apparently in an effort to score the loan as a political victory for President Obama.

Brian Ross Interviews Big-Money Romney Backers Watch Video
"How hard is this? What is he waiting for?" Spinner wrote in one of them. "I have OVP [the Office of the Vice President] and WH [the White House] breathing down my neck on this."
The fast-tracked Solyndra loan became the showpiece of the Obama administration's Green Energy loan program—a plan to give a jolt of federal aid to firms developing new forms of alternative energy. Solyndra, the program's inaugural loan recipient, received $535 million.
INTERACTIVE: Meet the 2012 Campaign Superdonors
But it fast became a symbol for Obama's Republican opponents, who have characterized the loan as a boondoggle. The company's bankruptcy led to a lengthy investigation by the Republican-led House Energy and Commerce Committee, which argued that the administration failed to heed warnings from budget analysts who believed the company was a bad bet.
White House officials have called the House investigation a waste of taxpayer money, noting that Republicans never uncovered any evidence to suggest the loan was granted as a result of political influence. week, Spinner has been attending a number of events organized for the campaign's top donors—members of the National Finance Committee. He is sporting a badge that identifies him as a "Finance Guest."
He appears also to be a top donor to the convention's host committee, which accepts up to $100,000 from individuals to help offset the cost of the three-day Charlotte event. The host committee organized the podium tour that Spinner attended.
ABC News made repeated attempts to interview Spinner as the Solyndra saga unfolded, and he declined. When he was approached by ABC News on the convention floor Monday, he bolted for an exit.
A DNC employee blocked ABC News reporters from following Spinner as he broke into a run.
"You can't follow people," the aide said, as he held up his arms to keep the camera from filming Spinner as he left the venue.
Neither the Obama campaign nor the White House responded to requests for comment about Spinner.
This is not Spinner's first foray into fundraising for Obama.
Spinner was awarded his high-ranking post with the Energy Department after raising more than $500,000 for Obama's 2008 campaign, according to data compiled by the Center for Responsive Politics.
After taking the job, Spinner had to sign a waiver saying he would not get involved in deliberations involving Solyndra, because his wife's law firm represented the company in certain legal matters. Press Secretary Jay Carney told reporters that Spinner "had no connection to overseeing the loan guarantee program."Spinner's wife also pledged not to take proceeds from her firm's work with companies that had applied for loans, and a spokesperson for Allison Spinner's firm said she had not been involved in any Solyndra business.
But when the White House turned over internal emails to Congress, the records showed that Steve Spinner figured prominently into the Energy Department's efforts to promote the loan politically. When the loan was set to be announced, he pushed for a "big event" with "golden shovels, bulldozers, hardhats, etc.," according to one email he wrote.
--------
Elizabeth Warren will present herself and introduce Bill Clinton at the convention. Who is Elizabeth Warren - she is running against Senator Brown in Massachusetts. She has been a college law professor at Harvard. From 2010 to 2011, Elizabeth Warren was named by Barach Obama as special consultant in charge of implementing the Consumer Financial Protection Bureau. In 2011 however, Warren was removed from the running for director after Obama administration officials became convinced she "could not overcome strong Republican opposition." She returned to Harvard.
Elizabeth Warren, who is a professor at Harvard with a specialty of policy work in bankruptcy and commercial law, has made high college tuition and burdensome student loans a centerpoint of her campaign for US Senate. She wants to be champion for the middle class.
Harvard has announced the 2012-2013 academic year term bill will be $54,496 -an increase of 3.5 percent, or $1,844, from $52,652 in the current year.
In percentage terms, this increase reflects a more moderate increase than that imposed during the recent past (a rise of $1,855, or 3.8 percent, from 2009-2010 to 2010-2011, and of $1,929, also 3.8 percent, in the subsequent year).
Inflation rate in 2010/11 averaged 2.4% and 2009/10 1.41%. This year the inflation rate is averaging 2.22%. So tuition increases continue to outpace inflation.
Back in 1990/91, the total fees were $20,655. Harvard today is 264% more expensive.
However, it seems instead of being a part of the solution, Warren is part of the problem. Warren earns $340,000 per year from Harvard for teaching a single course and gets a 0% interest home loan from the university as an incentive to relocate in the Boston area. I know many instructors and professors from other colleges in the northeast who earn a fraction of what professor Warren earns and teach multiple courses. It is the sweetheart deals like this that elitists professors are given that help push tuition out of the reach of all but the most affluent students.

Sep 04, 2012
CSAPR: What Will EPA Do Now?
By Lindsay Morris
On Aug. 21, the U.S. Court of Appeals for the D.C. Circuit ruled that the U.S. Environmental Protection Agency (EPA) violated the Clean Air Act in its Cross State Air Pollution Rule (CSAPR). In a 2-1 decision, a panel of judges said the rule, which aimed to set stricter limits on sulfur dioxide (SO2) and nitrogen oxide (NOX) emissions from power plants in 28 states, usurped states' responsibilities by issuing a Federal Implementation Plan (FIP).
Now, the EPA has until Oct. 5 to file a petition for rehearing with the three-judge panel that vacated CSAPR earlier this month. EPA's other option is to seek review "en banc," which would require the case to be heard before the full D.C. Circuit.
Jane Montgomery, partner at Schiff Hardin LLP, said that the court could choose to reconsider en banc if it recognizes that EPA took "the unusual FIP step" largely because of the D.C. Circuit's prior ruling about the Clean Air Interstate Rule (CAIR). However, the court could decide that EPA had seemingly ignored the prior court's ruling and subsequently allow the panel decision to stand.
If the court denies a rehearing, EPA may then appeal the decision to the Supreme Court. However, the risks of an adverse ruling agreeing with the current opinion are so high that it's unlikely EPA will appeal to the Supreme Court, Montgomery said.
"The most likely outcome will be that EPA will go back to the drawing board, using its current modeling but taking into account current state attainment designations, and will come up with a new SIP (State Implementation Plan) call, requesting states to implement a state NOX budget in a way that makes sense within each state," Montgomery said.
One challenge in the aftermath of CSAPR being vacated could come in the form of states filing petitions against individual upwind sources through Section 126 of the Clean Air Act.
:In the absence of a permanent, comprehensive federal interstate trading program, individual states are free to file Section 126 petitions against individual upwind sources that are alleged to be causing significant contribution to non-attainment areas within their borders," said Todd Palmer, partner with Michael Best & Friedrich LLP.
However, the Section 126 statute places the burden on the filing state to prove exactly how much of its air pollution is attributable to other states. Therefore, Montgomery said, the burden and cost of putting the petition together would be too great for states to pursue.
However, Section 126 has been used successfully in the past. In 2004, North Carolina pinpointed emissions from 13 states in a petition the EPA rejected. The state then sued EPA over its denial of the petition and won in 2009, leading the agency to reconsider its original filing.
When a Section 126 petition is filed, EPA has 60 days to respond. "It would appear that the vacature of CSAPR could result in an increase in these Section 126 filings," Palmer said.
Meanwhile, the D.C. Circuit has extended the effectiveness of CAIR while EPA crafts a permanent replacement rule. EPA will likely take its time in creating a new rule, Palmer said. "It is almost certain that any regulatory response will take years to develop."
The EPAis pushing the health care as the reason.
Aug 28, 2012
Sea Ice News - other sources show no record low Arctic ice extent
By Anthony Watts
See this comprehensive post on arctic ice disappearance in the middle 1900s.
Earlier today in part1, I posted about the new record low claimed by NSIDC: Sea Ice News - Volume 3 Number 11, part 1 new Arctic satellite extent record. The number given is 4.1 million square kilometers: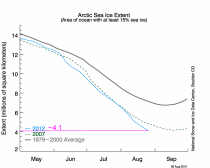 That of course is being trumpeted far and wide, new life has been given to Mark Serreeze's "Arctic death spiral" in the media. But, here's a curiosity, another NSIDC product, the new and improved "multi-sensor" MASIE product, shows no record low at 4.7 million square kilometers: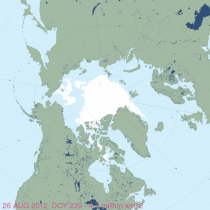 Note the label at the bottom of the image in red. NSIDC doesn't often mention this product in their press releases. They most certainly didn't mention it today.
Another product, NOAA's National Ice Center Interactive Multisensor Snow and Ice Mapping System (IMS) plot, also shows no reason for claiming a record at all: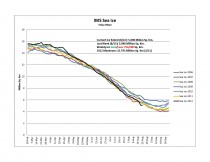 Their number is (for 8/22) - 5.1 million square kilometers. (NOTE: NSIDC's Dr. Walt Meir points out in comments that IMS and MASIE use the same base data, but that this one product from IMS only updates weekly, unlike all other sea ice plots which are daily. They should be in sync on the next update cycle, but right now MASIE and IMS should both be at 4.7 million sqkm. -A)
Another curiosity is here. On the NATICE interactive maps on demand page (click on Arctic Daily in the pulldown menu):
The numbers they give for 80% and marginal ice add up to an extent of 6,149,305 square kilometers.
So who to believe? It depends on the method, and who thinks their method is most representative of reality. Measuring sea ice via satellite, especially when you use a single passive sensor system that has been show in the past to have degradation problems and outright failure (which I was told weren't worth mentioning until they discovered I was right and pulled the plug) might be a case of putting all your eggs in one basket. I suspect that at some point, we'll see a new basket that maybe isn't so worn, but for now, the old basket provides a comfort for those who relish new records, even though those records may be virtual.
Note that we don't see media pronouncements from NOAA's NATICE center like "death spiral" and "the Arctic is screaming" like we get from its activist director, Mark Serreze. So I'd tend to take NSIDC's number with a grain of salt, particularly since they have not actively embraced the new IMS system when it comes to reporting totals. Clearly NSDIC knows the value of the media attention when they announce new lows, and director Serreze clearly knows how to make hay from it.
But this begs the question, why not move to the new system like NOAA's National Ice Center has done? Well, it is a lot like our July temperature records. We have a shiny new state of the art Climate Reference Network system that gives a national average that is lower for July than the old USHCN network and all of its problems, yet NCDC doesn't tell you about the July numbers that come from it. Those tasks were left to Dr. Roy Spencer and myself.
In fairness though, I asked Dr. Walt Meier of NSIDC what he thought about MASIE, and this is what he wrote to me today:
It can provide better detail, particularly in some regions, e.g., the Northwest Passage.
However, it's not as useful for looking at trends or year-to-year variations because it is produced from imagery of varying quantity and quality. So the analyses done in 2007 have different imagery sources than this year. And imagery varies even day to day. If skies are clear, MODIS can be used; if it's cloudy then MODIS is not useful. Another thing is that the imagery is then manually analyzed by ice analysts, so there is some subjectivity in the analysis - it may depend on the amount of time an analyst has in a given day.
Our data is from passive microwave imagery. It is not affected by clouds, it obtains complete data every data (except when there may be a sensor issue), it has only consistent, automated processes. So we have much more confidence in comparing different days, years, etc. in our passive microwave data than is possible using MASIE.
Finally, MASIE's mandate is to try to produce the best estimate they can of where there is any sea ice. So they may include even very low concentrations of ice <15%. In looking at visible imagery from MODIS, in the few cloud-free regions, there does appear to be some small concentration of ice where MASIE is mapping ice and our satellite data is not detecting ice. This is ice that is very sparse, likely quite thin. So it will probably melt out completely in the next week or two.
MASIE has tended to lag behind our data and then it catches up as the sparse ice that they map disappears. This year the difference between the two is a bit larger than we've seen in other years, because there is a larger area of sparse ice.
You can thank the big Arctic storm of August 4th-8th for that dispersal.
"The Great Arctic Cyclone of 2012" effect on Arctic sea ice is seen in this before and after image.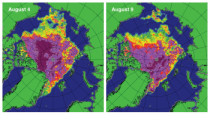 Figure 4. These maps of sea ice concentration from the Special Sensor Microwave Imager/Sounder (SSMIS) passive microwave sensor highlight the very rapid loss of ice in the western Arctic (northwest of Alaska) during the strong Arctic storm. Magenta and purple colors indicate ice concentration near 100%; yellow, green, and pale blue indicate 60% to 20% ice concentration. Credit: National Snow and Ice Data Center courtesy IUP Bremen High-resolution image
Trends -vs- records, just like July temperatures. One system might be better at trends, another might be better at absolutes used to determine records. In this case we have three other respected methods that show absolute values higher than that of NSIDC's older method which they have a high confidence in. I suppose these systems are like children. In a competition, you always root for your children over the children of the other parents, so it is no surprise that NSIDC would root for their own well known media star "child" over that of NATICE's IMS and NSIDC's own lesser known child, MASIE.
Oh, and then there's Antarctica, that other neglected ice child nobody talks about, with its above normal ice amounts right now.
No matter what though, its all just quibbling over just a little more than 30 years of satellite data, and it is important to remember that. It is also important to remember that MASIE wasn't around during the last record low in 2007, and IMS was just barely out of beta test from 2006. As measurement systems improve, we should include them in the discussion.
UPDATE: Andrew Revkin reports on the issue in his Dot Earth article. He's a bit skeptical of the sound byte hype coming from NSIDC writing:

That's one reason that, even with today's announcement that the sea ice reached a new low extent for the satellite era, I wouldn't bet that "the Arctic is all but certain to be virtually ice free within two decades," as some have proposed. I'd say fifty/fifty odds, at best...But is this a situation that is appropriately described as a "death spiral"? Not by my standards.
Revkin also takes Al Gore to task on Twitter: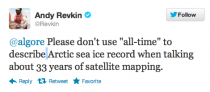 help him out, retweet this
UPDATE2: Commenter Ron C. provides this useful information in comments that helps explain some of the differences and issues:
The main point is that NIC works with images, while the others are microwave products.
"Polar orbiting satellites are the only source of a complete look at the polar areas of the earth, since their orbits cross near the poles approximately every two hours with 12 to 13 orbits a day of useful visible data. This visible imagery can then be analyzed to detect the snow and ice fields and the difference in reflectivity of the snow and ice. By analyzing these areas each day, areas of cloud cover over a particular area of snow and ice can be kept to a minimum to allow a cloud free look at these regions. This chart can then be useful as a measure of the extent of snow and ice for any day during the year and it can also be compared to previous years for climatic studies."
"NIC charts are produced through the analyses of available in situ, remote sensing, and model data sources. They are generated primarily for mission planning and safety of navigation. NIC charts generally show more ice than do passive microwave derived sea ice concentrations, particularly in the summer when passive microwave algorithms tend to underestimate ice concentration. The record of sea ice concentration from the NIC series is believed to be more accurate than that from passive microwave sensors, especially from the mid-1990s on (see references at the end of this documentation), but it lacks the consistency of some passive microwave time series." http://nsidc.org/data/g02172.html
Some have analyzed the underestimation by microwave products.
"We compare the ice chart data to ice concentrations from the NASA Team algorithm which, along with the Bootstrap algorithm [Comiso, 1995], has proved to be perhaps the most popular used for generating ice concentrations [Cavalieri et al.,1997]. We find a baseline difference in integrated ice concentration coverage north of 45N of 3.85% plus or minus 0.73% during November to May (ice chart concentrations are larger). In summer, the difference between the two sources of data rises to a maximum of 23% peaking in early August, equivalent to ice coverage the size of Greenland."
From Late twentieth century Northern Hemisphere sea-ice record from U.S. National Ice Center ice charts, Partington, Flynn, Lamb, Bertoia, and Dedrick
The differences are even greater for Canadian regions.
"More than 1380 regional Canadian weekly sea-ice charts for four Canadian regions and 839 hemispheric U.S. weekly sea-ice charts from 1979 to 1996 are compared with passive microwave sea-ice concentration estimates using the National Aeronautics and Space Administration (NASA) Team algorithm. Compared with the Canadian regional ice charts, the NASA Team algorithm underestimates the total ice-covered area by 20.4% to 33.5% during ice melt in the summer and by 7.6% to 43.5% during ice growth in the late fall."
From: The Use of Operational Ice Charts for Evaluating Passive Microwave Ice Concentration Data, Agnew and Howell


Aug 23, 2012
Manmade Contribution to Global Warming is NOT a Planetary Emergency
by Vaclav Klaus (President, Czech Republic) August 2012
Many thanks for the invitation to attend your conference and to speak here. I appreciate that a mere politician, a former economist, has been invited to address this well-known gathering of highly respected scientists. If I understand it correctly, this year's seminar is devoted to the discussion of the role of science and of "planetary emergencies".
To the first topic, I want to say very clearly that I don't see a special role for science which would be different from doing science. I have, of course, in mind "normal science", not a "post-normal science" whose ambitions are very often connected with political activism. The role of scientists is not in speculating on the probabilities of events that cannot be directly measured and tested, nor in promoting a pseudo-scientific "precautionary principle", nor in engaging in activities which are the proper function not of scientists but of risk managers.
To the second topic, I have to say that as a conservatively-minded person, I am unaware of any forthcoming "planetary emergency", with the exception of those potential situations which would be the consequences of human failures - of human fanaticism, of false pride, and of lack of modesty. But these are problems of political systems and of ideologies.
I have, of course, in mind "normal science", not a "post-normal science" whose ambitions are very often connected with political activism.
I am not a climatologist, but the IPCC and its leading spokespersons are not climatologists either.
This brings me to the topic of my speech. I will try to argue that current as well as realistically foreseeable global warming, and especially Man's contribution to it, is not a planetary emergency which should bother us.
I am not a climatologist, but the IPCC and it leading spokespersons are not climatologists either. I am content to be a consumer of climatology and its related scientific disciplines. In this respect, I am located in the economic jargon on the demand side of climatology, not on the supply side.
There are many distinguished scientists here, and some of them are on the other side. I have no intention to break into their fields of study. By expressing my doubts about a simple causal relationship between human CO2 emissions and climate, I do not have the slightest ambition to support one or another competing scientific hypothesis concerning the factors leading to global warming (or eventually cooling).
Nevertheless, my reading both of the available data and of conflicting scientific arguments and theories allows me to argue that it is not global warming caused by human activity that is threatening us. The real problem is not climate or global warming, but the Global Warming Doctrine and its consequences.
Believers in the global warming doctrine have not yet presented its authoritative text, its manifesto. One of the reasons is that no one wants to be explicitly connected with it.
My views about this issue have been expressed in a number of speeches and articles in the last couple of years all over the world. The book "Blue Planet in Green Shackles" has already been published in 18 languages, last month even in Indonesian. The subtitle of the book asks, "What is Endangered: Climate or Freedom?" The real problem is not climate or global warming, but the Global Warming Doctrine and its consequences. They may eventually bring us close to a real planetary emergency. Absolutely unnecessarily, without any connection with global temperature.
This doctrine, as a set of beliefs, is an ideology, if not a religion. It lives independently on the science of climatology. Its disputes are not about temperature, but are part of the +conflict of ideologies". Temperature is used and misused in these disputes. The politicians, the media and the public - misled by the very aggressive propaganda produced by the adherents of the global warming doctrine - do not see this. It is our task to help them to distinguish between what is science and what is ideology.
It comfortably dwells in the easy and self-protecting world of false interdisciplinarity which is really a non-disciplinarity, it is an absence of discipline. Believers in the global warming doctrine have not yet presented its authoritative text, its manifesto. One of the reasons is that no one wants to be explicitly connected with it. Another is that to put such a text together would be difficult because this doctrine is not a monolithic concept which can be easily summarized. Its subject-matter does not belong to any single science. It presents itself as a flexible, rather inconsistent, loosely connected cascade of arguments, which is why it has quite successfully escaped the scrutiny of science. It comfortably dwells in the easy and self-protecting world of false interdisciplinarity which is really a non- disciplinarity, it is an absence of discipline.
My reading of this new incarnation of environmentalism can be summarized in the following way:
1. It starts with the claim that there is an undisputed and undisputable, empirically confirmed, statistically significant, global, not local, warming;
2. It continues with the argument that the time series of global temperature exhibit a growing trend which dominates their cyclical and random components. This trend is supposed to be non-linear, perhaps exponential;
3. This trend is declared to be dangerous for the people (in the eyes of "soft" environmentalists) or for the planet (by "deep" environmentalists);
4. This temperature growth is postulated as a solely or chiefly man-made phenomenon attributable to growing emissions of CO2 from industrial activity and the
use of fossil fuels;
5. The sensitivity of global temperature to even small variations in CO2 concentration in the atmosphere is supposed to be very high;
6. Exponents of the global warming doctrine promise us a solution: the ongoing temperature increase can be reversed by radical reduction in CO2 emissions
7. They also know how to bring about their solution: they want to organize emissions reduction by means of the institutions of "global governance". They forget to tell us that this is not possible without undermining democracy, the independence of individual countries, human freedom, economic prosperity and a chance to eliminate poverty in the world;
8. They rely on the undefined and undefinable "precautionary principle". Cost-benefit analysis is not relevant to them.
Aug 14, 2012
125 years later, wind power still needs a subsidy
Thomas Pyle, Washington Examiner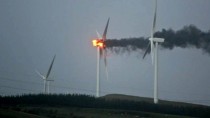 The Production Tax Credit (PTC) for wind energy is fast becoming the zombie of taxpayer nightmares. Every time you think this special interest giveaway is dead, Sen. Chuck Grassley, R-Iowa, and his alliance of subsidy hunting policymakers conduct a legislative seance and conjure it from the great beyond.
Just before recessing for the month of August, the Senate Finance Committee approved a plan extending tax incentives for wind and other renewables. Smarting from his recent challenge from a Tea Party backed insurgent, Utah Sen. Orrin Hatch seemed quick to forget its lesson as he supported the PTC extension. Now that he's safe, he's free to go back to his big-spending ways for another six years.
Congress has been supporting wind production since at least 1978 on the premise that wind is an infant industry that needs just a few more years of mother's milk - i.e. taxpayer handouts - to be cost-competitive with more affordable and reliable sources of energy.
But wind has to be one of the oldest infant industries on the planet. In 1882, Thomas Edison built the Pearl Street Station in New York City - a coal fired power plant. A mere 5 years later, a Scottish academic named James Blyth built a wind turbine to make electricity and run the lights on his cabin. After 125 years of generating electricity, you would think that wind would be ready to stand on its own without special favors from the federal government, but apparently it is not.
Wind proponents have been telling us since at least the early 1980s that wind is almost cost-competitive with coal and natural gas. The American Wind Energy Association asserts that wind is "cost-competitive with virtually all other new electricity generation sources." If so, why are wind proponents still asking for help through the Production Tax Credit?
The reason is plain. The PTC is a large portion of the wholesale price of electricity, giving wind producers the incentive to produce electricity even when they have to pay the electrical grid to take the power they generate.
Specifically, the PTC is a credit of 2.2 cents per kilowatt-hour of electricity produced from wind (and other specified sources). The wholesale price of electricity is less than 3 cents per kilowatt-hour in some markets to about 4.5 cents per kilowatt hour. This makes the PTC worth 50 to 70 percent of the wholesale price of electricity.
The law as currently written provides the two things the wind proponents claim they want - certainty and a phase out of the tax credit. As the law stands, the tax credit ends at the end of the year. This is definitely a certain outcome and a phase out.
Wind has a long history and it continues to be expensive, inefficient, and unsustainable. It's about time that Congress ends the Production Tax Credit once and for all.
Thomas Pyle is president of the Institute for Energy Research.

According to the Joint Committee on Taxation ('JCT'

, between 1992 and 2010, the cumulative cost of the PTC was approximately $7.9 billion. In the 2011-2015 budget window, the PTC is estimated to cost American taxpayers another $9.1 billion of which about 75% will be claimed by the wind industry. These costs are in addition to the anticipated $22.6 billion in direct cash outlays under the Section 1603 grant program which expired in 2011.
Aug 08, 2012
A New Analysis of U.S. Temperature Trends Since 1943
By Dr. Roy Spencer
A New Analysis of U.S. Temperature Trends Since 1943
August 6th, 2012
With all of the hoopla over recent temperatures, I decided to see how far back in time I could extend my U.S. surface temperature analysis based upon the NOAA archive of Integrated Surface Hourly (ISH) data.
The main difference between this dataset and the others you hear about is that trends are usually based upon daily maximum and minimum temperatures (Tmax and Tmin), which have the longest record of observation. Unfortunately, one major issue with those datasets is that the time of day at which the maximum or minimum temperature is recorded makes a difference, due to a double-counting effect. Since the time of observation of Tmax and Tmin has varied over the years, this potentially large effect must be adjusted for, however imperfectly.
Here I will show U.S. temperature trends since 1943 based upon 4x per day observations, always made at the same synoptic times 00, 06, 12, and 18 UTC. This ends up including only about 50 stations, roughly evenly distributed throughout the U.S., but I thought it would be a worthwhile exercise nonetheless. Years before 1943 simply did not have enough stations reporting, and it wasn't until World War II when routine weather observations started being made on a more regular and widespread basis.
The following plot shows monthly temperature departures from the 70-year (1943-2012) average, along with a 4th order polynomial fit to the data, and it supports the view that the 1960s and 1970s were unusually cool, with warmer conditions existing in the 1940s and 1950s (click for large version):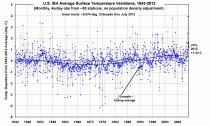 Enlarged
It's too bad that only a handful of the stations extend back into the 1930's, which nearly everyone agrees were warmer in the U.S. than the 40's and 50's.
What About Urban Heat Island Effects?
Now, the above results have no adjustments made for possible Urban Heat Island (UHI) effects, something Anthony Watts has been spearheading a re-investigation of. But what we can do is plot the individual station temperature trends for these ~50 stations against the population density at the station location as of the year 2000, along with a simple linear regression line fit to the data: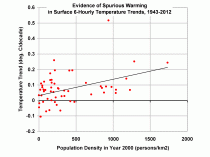 Enlarged
It is fairly obvious that there is an Urban Heat Island effect in the data which went into the first plot above, with the most populous stations generally showing the most warming, and the lowest population locations showing the least warming (or even cooling) since 1943. For those statisticians out there, the standard error of the calculated regression slope is 29% of the slope value.
So, returning to the first plot above, it is entirely possible that the early part of the record was just warm as recent years, if UHI adjustments were made.
Unfortunately, it is not obvious how to make such adjustments accurately. It must be remembered that the 2nd plot above only shows the relative UHI warming of higher population stations compared to the lower population stations, and previous studies have suggested that even the lower population stations experience warming as well. In fact, published studies have shown that most of the spurious UHI warming is observed early in population growth, with less warming as population grows even larger.
Again, what is different about the above dataset is it is based upon temperature observations made 4x/day, always at the same time, so there is no issue with changing time-of-observation, as there is with the use of Tmax and Tmin data.
Of course, all of this is preliminary, and not ready for peer review. But it is interesting.

U.S. Surface Temperature Update for July, 2012: +1.11 deg. C
August 6th, 2012
The U.S. lower-48 surface temperature anomaly from my population density-adjusted (PDAT) dataset was 1.11 deg. C above the 1973-2012 average for July 2012, with a 1973-2012 linear warming trend of +0.145 deg. C/decade (click for full-size version):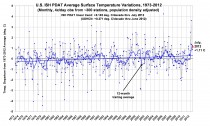 Enlarged
I could not compute the corresponding USHCN anomaly this month because it appears the last 4 years of data in the file is missing (here). Someone please correct me if I am mistaken.
Note that the 12-month period ending in July 2012 is also the warmest 12-month period in the 40 year record. I cannot compare these statistics to the (possibly warmer) 1930s because for the most part only max and min temperatures were reported back then, and my analysis depends upon 4x/day observations at a specific synoptic reporting times.
There is also no guarantee that my method for UHI adjustment since 1973 has done a sufficient job of removing UHI effects. A short description of the final procedure I settled on for population density adjustment of the surface temperatures can be found here.