Jun 04, 2017
U.S. States Defy Trumps Climate Pact Withdrawal - promise compliance - will suffer
By Alejandro Lazo
U.S. States Defy Trump's Climate Pact Withdrawal
After President Trump announces withdrawal from Paris accord, three states say they will form a coalition to uphold treaty
Updated June 2, 2017 10:35 p.m. ET
SAN FRANCISCO - A day after President Donald Trump's decision to pull out of the Paris climate accord, states and cities around the country are vowing to adhere to their own aggressive climate policies, independent of the federal government.
Twenty states and Washington, D.C., have adopted their own greenhouse gas emission targets, according to the Center for Climate and Energy Solutions, and some press beyond the U.S. commitment under the accord, which sought to bring greenhouse emissions 26% to 28% below 2005 levels by 2025.
None, however, have gone further than California, which has emerged as a national 'leader' (Icecap Note: biggest loser with deficits in tens of billions) on climate policy and a potentially powerful counterweight to the Trump administration's efforts to rollback U.S. commitments.
California Gov. Jerry Brown is encouraging states to pursue their own climate standards - developing his own international climate agenda, recruiting other states for climate pacts and pushing tougher standards than the federal government had under the Obama administration.
Following the Thursday announcement, Mr. Brown, New York Gov. Andrew Cuomo and Washington Gov. Jay Inslee said they would form a coalition of states committed to upholding the American side of the Paris treaty deal.
The governors called the coalition the United States Climate Alliance, which they said will "act as a forum to sustain and strengthen existing climate programs, promote the sharing of information and best practices, and implement new programs to reduce carbon emissions from all sectors of the economy."
"California is on the field, ready for battle," Mr. Brown said after Mr. Trump announced the U.S. would leave the deal.
Former New York Mayor Michael Bloomberg, the United Nations Secretary-General's special envoy for cities and climate change, said through an adviser on Friday that those three states, along with a coalition of at least 100 businesses and 30 cities would on Monday submit a letter of intent to the U.N. indicating the coalition would meet the U.S. goals through their own commitments.
In a meeting with French President Emmanuel Macron and Paris Mayor Anne Hidalgo on Friday, Mr. Bloomberg said the U.S. will not need Washington to make good on its commitments.
"In the U.S., emission levels are determined far more by cities, states, and businesses than they are by our federal government," Mr. Bloomberg said. "The fact of the matter is: Americans don't need Washington to meet our Paris commitment, and Americans are not going to let Washington stand in the way of fulfilling it."
On Friday, Mr. Brown leaves for climate talks in China. The California governor will also attend the United Nations Climate Change Conference in Bonn, Germany, "to represent subnational jurisdictions that remain committed to climate action."
Mr. Brown, who has been a sharp critic of Mr. Trump's environmental policies, said in an interview this week that "the president is not going to get very far denying science and denying reality" and says local governments must take the matter into their own hands.
"Obviously states can't do what the federal government can do," Mr. Brown said. "But I will tell you the president's action - his action in undermining the Paris agreement - is going to ignite a prairie fire of activism to take even bolder steps to reduce greenhouse gases than even are being imagined today."
California had a gross domestic product of $2.5 trillion in 2015 and the world's sixth-largest economy - bigger than most of the 190 nations that signed the Paris accord. It is responsible for about 1% of the world's carbon emissions, according to the California Air Resources Board.
Because of the sheer size of its market, and because it has a waiver from the Environmental Protection Agency allowing it to set its own tailpipe-emission standards that nine other states follow, California-emission policies can set the standard for the auto industry nationwide.
The state has the most ambitious greenhouse-gas emission reduction targets in the U.S. with the goal of achieving a 40% reduction in greenhouse gases by 2030, compared with 1990 levels, in part by adding 4.2 million zero-emissions vehicles on this car-centric state's streets and highways.
By 2050, the state's goal is to bring emissions 80% below 1990 levels.
On Wednesday, the California senate passed a bill that would mandate the state gets all of its energy from renewable sources by 2045, which drew praise from environmentalists but criticism from Republicans here who fear the state will lose more business as costs rise in California.
"If new technology can't reach the goals this bill requires, it's going to raise the price of electricity on businesses, which already pay a high cost for utilities and cite that as the number one reason they're leaving California," said Republican State Sen. Jeff Stone, of Riverside, Calif.
Still, Mr. Brown has pushed to extend California's climate influence beyond state lines. Since 2015, Mr. Brown has formed a coalition of entities around the world - cities, states, countries and other jurisdictions - to limit the increase in global average temperature to below 2 degrees Celsius, a key long-term goal of the Paris talks.
Ten states and eight cities have joined Mr. Brown's Under2 Coalition, encompassing about 89 million people, or about 28% of the U.S. population. In April, Canada and Mexico endorsed the measure; with that the coalition grew to include 170 jurisdictions on six continents, Mr. Brown's office said.
Not all states were upset. In West Virginia, Sen. Shelley Moore Capito applauded the withdrawal, saying it would benefit the state's ailing coal industry. "West Virginians have suffered tremendous economic calamity as a result of the Obama administration's anti-coal agenda...," the Republican senator said in a statement. "President Trump is standing with our West Virginia workers and businesses to keep jobs in our state."
California has provided technical advice to Mexico and China to help those countries adopt climate policies. The governor has also forged an agreement with Oregon, Washington state and the Canadian province of British Columbia, formally aligning their climate and clean-energy policies.
"The California model is helping to catalyze global action," said Nathaniel Keohane, vice president for global climate at the Environmental Defense Fund.
California has led on a key goal of climate change activists and scientists for years: developing a functioning cap and trade market, which seeks to reduce carbon emissions by imposing a limit on the amount of carbon dioxide released by industry, and then selling a finite number of permits every quarter for businesses to meet those allowances.
China is now looking to California as a model for how to integrate regional cap and trade-pilot programs it already has launched, said Severin Borenstein, a professor at the University of California, at Berkeley Haas School of Business.
This summer the cap-and-trade program faces a major test with the state legislature poised to debate whether to enact policies protecting and expanding the program from legal challenges after the California Chamber of Commerce sued the state, calling it an unconstitutional tax.
"California's decisions about how to run a cap-and-trade program, or how to set up other greenhouse-gas regulations, have very large impacts on the rest of the country and the world," Mr. Borenstein said.
California's role as the nation's climate leader isn't new: A decade ago it carved out international deals and set policies on global warming without help from the Bush administration.
Since then, California has been joined by other states, including New York and Illinois, as well as cities including Chicago and New York City, in developing shared climate goals.
The state and local efforts will continue despite what the federal government does, but they won't be as effective, said Karen Weigert, senior fellow at the Chicago Council on Global Affairs.
"It is a very different world when you have a White House leading the fight on the environment, or not leading the fight," said Ms. Weigert, who served as Chicago's first chief sustainability officer.
Mr. Cuomo last year signed legislation requiring 50% of New York's electricity come from renewable energy sources like wind and solar by 2030. The state has a goal of reducing emission 80% from 1990 levels by 2050.
In May, Virginia Gov. Terry McAuliffe, a Democrat, signed an executive order taking an initial step in setting state-level standards on cutting carbon emissions. Michigan Gov. Rick Snyder, a Republican, in December signed a measure that requires the state's utilities to lift the amount of electricity they generate from renewable sources to 15% by 2021 from 10% in 2015.
Twenty-nine states have adopted renewable portfolio standards, which require utilities to sell a certain amount, or percentage, of renewable electricity, according to the National Conference of State Legislatures.
"States have been doing this for a long time and long before there has been consideration at the federal level," said Glen Andersen, energy program director at the NCSL. "They are able to act a little more quickly."
Other states are ramping up their renewable-energy generation because prices are competitive and such projects add jobs, said Rachel Cleetus, the lead economist and climate policy manager at the Union of Concerned Scientists, a nonprofit (Icecap: a non-scientific environmental advocacy group sitting on $44M responsible for destroying higher education).
Texas, for instance, has become a leader in renewable-energy production, even without a legislative mandate. The state, which has a quarter of all the wind power in America, is getting 12.6% of its electricity from wind, according to the American Wind Energy Association.
U.S. cities also are adopting their own policies.
Chicago Mayor Rahm Emanuel this week said his city would "work with cities around the country to reduce our emissions in accordance with the Paris Agreement."
Los Angeles Mayor Eric Garcetti this week said the city introduced a motion to adopt the principles of the Paris agreement "as the policy of the City of Los Angeles." Mr. Garcetti is part of a coalition of 61 mayors that has vowed to uphold the agreement.
"We will intensify efforts to meet each of our cities' current climate goals," the coalition said.
----------
Democrats hope to use this issue in 2018 and 2020. A trillion dollars has been spent on this faux issue - (CO2 is not a pollutant but a plant fertilizer, soot is a pollutant but something we have already dealt with with technology in our power plants, factories and automobiles). Advocacy groups like the UCS, globalists and the UN under their control have forced the indoctrination of young and impressionable older people into believing CO2 is a pollutant and the cause of everything natural that is bad.
The democrats use the 'GRUBER' method of keep repeating a lie and "since Americans are stupid people, they will believe it". The regions where they have taken this idea forward are paying the highest prices for electricity in the country (lower 48). In Europe where the green agenda has first been implemented, electricity prices are two to three times higher. You hear the democrats yelling bowing out of Paris will hurt the poor when in fact abiding with the Paris agreement would cause electricity and energy prices to rise significantly which hurts the poor and middle class.
300,000 German households had their electricity turned off for inability to pay and over 25% of UK residents are in energy poverty, many of them pensioners. That is coming here to the cities and states which are going to commit regardless of Trump. It will cost them jobs as industry exits. They will increase already high taxes or cry to DC for help as their deficits skyrocket.
Califronia and the green northeast which established the regional Greenhouse Gas Initiative (RGGI) pay the highest electricity prices in the lower 48 states already.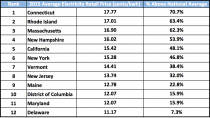 Enlarged
WAKE UP AMERICA.