May 18, 2007
Questioning Ocean Warming
World Climate Report
We just did an internet search on "Ocean Warming" and found an incredible 7.2 million sites! We sampled a few and found exactly what we expected – endless stories of how the oceans of the world are heating up at an unprecedented rate; absolutely anything and everything related to the ocean is currently in peril according to these sites. Even if you live thousands of miles from the sea, ocean warming will negatively impact you given how ocean temperatures influence weather and climate any place on the planet. Our survey of "Ocean Warming" internet sites did not reveal anyone questioning whether or not the oceans are actually warming up – "Ocean Warming" is simply assumed to be a fact.
Well, in a recent issue of theJournal of Physical Oceanography, an article appears entitled "Is the World Ocean Warming? Upper-Ocean Temperature Trends: 1950–2000". Once again, we at World Climate Report are attracted to research that dares to question any of the pillars of the greenhouse scare, and from just the title alone, we knew we would enjoy this article. We were not disappointed.
In their own words, we learn "The ocean neither cooled nor warmed systematically over the large parts of the ocean for the entire analysis period." Also evident in the figure is the oceanic expanse without data for making such any such assessment. Seven million sites declaring that the ocean is warming cannot possibly be wrong? Well, for the record, there are over a million sites for "Ocean Cooling" and 750,000 sites for "Ocean Temperature Unchanged". You be the judge, but don't look for Harrison and Carson to be featured in the 7,000,000 sites claiming that our oceans are warming. See full story here
May 18, 2007
Eco-towns to be Built in UK
The Scientific Alliane, Cambridge, UK
New prime minister (soon), new eco-towns. Gordon Brown has announced the intention to build five new towns of carbon-neutral housing,100,000 houses in total. The first one is to be built near Cambridge, on the current Oakington barracks site, already designated for residential development.
This initiative deserves a warm welcome. Houses in the UK are notoriously less energy efficient than, for example, those in Scandinavia. Any worthwhile energy policy has to have at its heart energy security. Taking serious steps towards more efficient homes is an important part of this. Call them carbon neutral if you will, but the key factor is their efficiency.
May 15, 2007
Hurricanes and CO2 rise
Dr. William Gray, Professor of Atmospheric Science, Head of the Tropical Meteorology Project, Colorado State University
It is now over a year-and-a-half since the media explosion following hurricanes Katrina and Rita's landfalls and several papers saying that the US landfalling hurricanes of 2004-2005 probably had a human-induced global warming component. With this there was an implication that US hurricane landfall and damage would continue to get worse with time as CO2 amounts continued to rise.
Although global mean CO2 and Atlantic surface temperatures have increased between the two 50-year periods (1900-1949 compared with 1956-2005), the frequency of US landfall numbers actually shows a slight downward trend for the later period. It is also to be noted that there were 39 US landfalling major hurricanes (Cat 3-4-5) between 1925-1965 and only 22 in the same length period between 1966-2006 when CO2 amounts were getting higher. It has been estimated that landfalling major hurricanes account for about 80-85 percent of all long period normalized US destruction. This implies that normalized hurricane destruction has been going downward as CO2 gases increase.
The increased Atlantic hurricane activity since 1995 is a result of a speed-up of the Atlantic thermohaline circulation – as occurred also in the 1940s-1950s and the late 19th century. I and a number of my colleagues have been discussing the physics of this multi-decadal Atlantic Ocean thermohaline circulation (THC or Atlantic multi-decadal oscillation – AMO) variation in our forecasts and other venues for many years. We hypothesize it to be driven by Atlantic salinity variations. The advocates of CO2 are either unaware or unaccepting of this plausible explanation.
The large increase in US hurricane-spawned destruction of the 2004-2005 hurricane seasons has not surprised me or my colleagues. We have been anticipating a great upsurge in US hurricane destruction for many years based on an expected shift of the THC, not increased human-induced greenhouse gases.
The facts do not support an upcoming 'peer reviewed' paper that is to be published in a UK journal by two CO2 advocates make the following statements with regards to North Atlantic hurricane activity: "Overall, there has been a substantial 100-year trend leading to related increases of over 0.7oC in SST and over 100% in tropical cyclone and hurricane numbers. It is concluded that the overall trend in SSTs and tropical cyclone and hurricane numbers is substantially influenced by greenhouse warming …" Read Editorial.pdf
May 14, 2007
The Temperature of the Global Ocean
CO2 Science
CO2 Science reviewed "Is the world ocean warming? Upper-ocean temperature trends: 1950-2000" published in the Journal of Physical Oceanography by Harrison and Carson. Harrison and Carson report that the upper ocean "is replete with variability in space and time, and multi-decadal variability is quite energetic almost everywhere." In fact, they found that 95% of the 2° x 2° regions they studied "had both warming and cooling trends over sequential 20-year periods," and that "the 51-year trends are determined in a number of regions by large trends over 20- to 25-year sub-periods."
The two researchers say their results suggest that "trends based on records of one or two decades in length are unlikely to represent accurately longer-term trends," and, therefore, that "it is unwise to attempt to infer long-term trends based on data from only one or two decades." See full review here.
See blog entry about the mulitdecadal cycles in the Pacific and Atlantic and their relationship to US temperatures here.
May 08, 2007
Who or What is the Real Culprit?
Andy, Ho, The Strait times
Come July 7, megastars of the pop music world will hold seven mammoth concerts across the world to bring attention to global warming. This initiative comes on the heels of former US vice-president Al Gore's Oscar for his documentary An Inconvenient Truth. Arguably the most famous layman's account of how human activities are causing global warming that will lead to cataclysmic climate disasters, it has all but settled the debate, fans say. True, average global temperatures have risen 0.2 deg C in the last 30 years or so. Yet when Hollywood gets into the act, red flags should go up. Furiously.
Yes, Minister Mentor Lee Kuan Yew and British premier Tony Blair believe in it. Even US President George W. Bush, the last holdout, gave in to the hype in February. After all, environmental groups, government reports and the media assert that there is virtually unanimous agreement among the best scientists about human-induced global warming. It is now sacrilegious to doubt this theory that the burning of fossil fuels by humans leads to rising levels of carbon dioxide or CO2, said to be the principal greenhouse gas, thus heating up the earth.
In the story , Andy goes on to challenge some of the main tenets of the theory, showing not all experts agree that man is to blame.

May 03, 2007
New Horizon Photos of Jupiter's Second Red Spot and Volcano on Io
Several discoveries have been made from images captured in late February by the New Horizons probe in what NASA scientists called "a real-world fly-by" of Jupiter, 16 months into its mission to Pluto.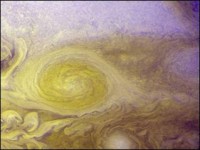 They also got the closest look yet at the "Little Red Spot," an Earth-sized swirling storm that scientists described as a galactic rendition of Vincent Van Gogh's "Starry Night" painting, and dramatic views of volcanic eruptions on Jupiter's moon Io. See New_Horizon.pdf

May 01, 2007
Interview By Marcel Crok Of Roger A. Pielke Sr - January 2007
Climate Science
What are the problems with the surface temperature data?
The main problem is over land where most of the warming has actually occurred. The difficulty is that you have a lot of variation in temperatures over short distances. We have evidence that there is a warm bias in the surface record and that claims like '2005 being the warmest on record etc.' are not valid. The different communities that are collecting these data, the East Anglia group in the UK, the GISS group (NASA) and the group at NOAA, have different analyses, but they are basically extracting their record from the same raw data, which have these biases. We think the surface air temperature is a very poor metric to compare against. Unfortunately that's what the IPCC has chosen.
Is there an alternative?
I have suggested assessing the ocean heat content trends (see), which is a much more robust diagnostic for global warming or cooling. See the full interview here

Apr 30, 2007
Famed hurricane forecaster: Oceans, not CO2, cause global warming
AP International Herald Tribune
The United States' leading hurricane forecaster said Friday that global ocean currents, not human-produced carbon dioxide, are responsible for global warming, and the Earth may begin to cool on its own in five to 10 years. William Gray, a Colorado State University researcher best known for his annual forecasts of hurricanes along the U.S. Atlantic coast, also said increasing levels of carbon dioxide will not produce more or stronger hurricanes.
He said that over the past 40 years the number of major hurricanes making landfall on the U.S. Atlantic coast has declined compared with the previous 40 years, even though carbon dioxide levels have risen. Gray, speaking to a group of Republican state lawmakers, had harsh words for researchers and politicians who say man-made greenhouse gases are responsible for global warming. "They're blaming it all on humans, which is crazy," he said. "We're not the cause of it."
See full story here