Apr 03, 2013
Second snowiest snow season for the Northern Hemisphere on record ( 3 of the top 5 in last 4 years)
Joseph D'Aleo, CCM
The hemispheric snow extent for the November to March snow season was the second highest on record behind only 1977/79. 3 of the top 5 snowiest such periods have occurred in the last 5 years amazingly.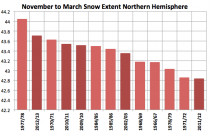 Enlarged
Month by month:
November was the 5th snowiest (47 years):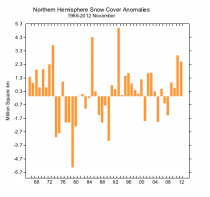 Enlarged
December was the snowiest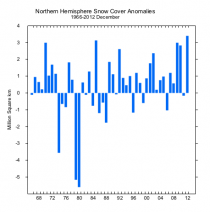 Enlarged
January was the 6th snowiest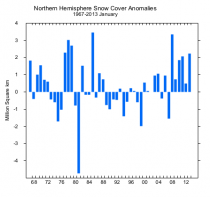 Enlarged
February was the 16th snowiest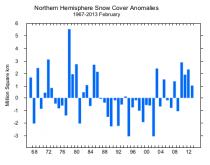 Enlarged
March was the 16th snowiest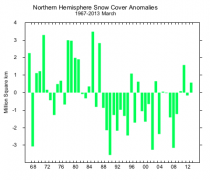 Enlarged
And it continues into April.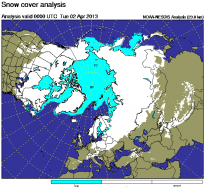 Enlarged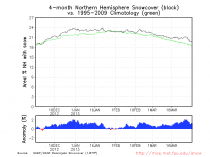 Enlarged
Alarmists who had predicted boldly that global warming would make snow a rare occurrence in years ahead, but with like so many other failed predictions, they quickly scramble to take credit for the opposite extreme. You an expect them to attempt to convince the clueless and compliant media this is due to a demise of the arctic ice with open water introducing heat and high pressure to the polar atmosphere. But the low ice in September quickly gave way to a rather normal ice coverage this winter. It is more likely the result of the warm AMO which trims the eastern edge of the ice and feeds blocking high pressure aloft AND the low sun which has caused each of the last 7 years to show a strong stratospheric warming. These are mainly observed near solar maxes and mins. We have solar max but one with very low sunspot numbers and geomagnetic activity - a throwback to the cycle 5 in 1798 at the start of the Dalton Minimum. Note the stratospheric warmings and the QBO (Quasi Biennial Oscillation) in this diagram from Labitzke et al. 2011/12 had a warming but it was biased to the eastern arctic (why North America was so warm and Eurasia so cold). Note the continuing low solar activity.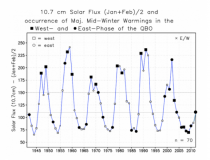 Enlarged
Drew Shindell of NASA shows in 1999 how the low solar of the Maunder Minimum led to cold like we have seen in recent years in Europe and at times North America and favored blocking in the Atlantic. As the sun declines into the minimum of cycle 25 the next 5 years, we might expect more snowy cold winters.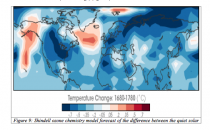 Enlarged