Feb 04, 2010
Solar Cycle 24 Update
By David Archibald on WattsUpWithThat
Solar Cycle 24 was a late starter, about three and a half years later than the average of the strong cycles in the late 20th century and almost three year later than the weak cycles of the late 19th century. It was almost as late as Solar Cycle 5, the first half of the Dalton Minimum. The last few months have seen it ramp up relatively rapidly.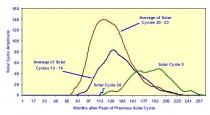 [Note: Solar Cycle 22 and 23 are overlaid on solar cycle 3 and 4 above to show similarity]
Plotting up the last three solar cycles relative to the Dalton Minimum, another solar minimum is not precluded by the data to date (below, enlarged here).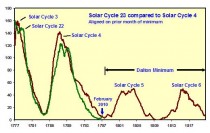 With Solar Cycle 23 ending up at twelve and a half years long, applying Friis-Christenson and Lassen theory to the temperature record of Hanover, New Hampshire (below, enlarged here) results in a two degree centigrade decline in the annual average temperature at this location over the expected twelve years of Solar Cycle 24, from December 2009 to late 2021. Given some record low monthly averages in the northeast US in the recent summer, and the current cold winter, this cooling is well under way.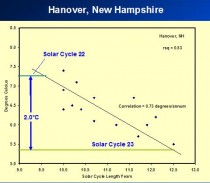 Read story and comments here.
Also shown in this analysis by the Armaugh Observatory in Ireland (below and enlarged here).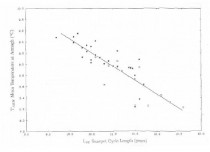 ICECAP NOTE: SNOWCOVER RUNNING WELL ABOVE NORMAL
See also how snowcover this year in the Northern hemisphere has been mainly well above the normal.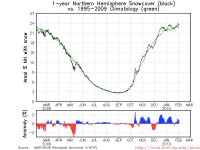 Enlarged here.
See how for the hemipshere it is only surpassed in 1972, 1978 and 2008 in week 5.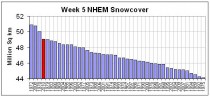 Enlarged here.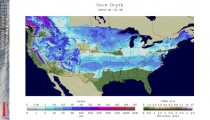 US. snowcover as of 01/31/10 - 69.7% of the United States was snowcovered (enlarged here).
The Weather Channel and Heidi Cullen of Climate Central, who used to haunt the halls at The Weathrer Channel while talking about the frigid cold and snow in most places in mid-latitudes from Europe and Russia to China and the United States, in their infinite ignorance mentioned that global warming did not go away because it was warmer than normal in the arctic regions. Of course, any practicing meteorologist knows this kind of 5 standard deviation nagative arctic oscillation (high latitude blocking) that we have had is what drive cold to mid-latitudes and that comes with warmer higher latitude temperatures (still cold but above normal). TWC is owned by GE which had expected to benefit hugely from global warming and carbon trading, solar and wind power and NBC is the green peacock network and Heidi Cullen now works for George Soros funded Climate Central. GE stock which once was over $40/share is hovering around $15. And as for Climate Central, George you are wasting your money.