Sep 06, 2017
UN flat out lies about climate change impacts - again
See this powerful piece on how the evil forces of George Soros, Jeffrey Sachs and the UN have rope the socialist Pope Francis into their One World Government/Population Control Agenda.

FICTION:
UN chief says natural disasters have quadrupled since 1970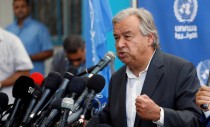 UNITED NATIONS: Secretary-General Antonio Guterres says the number of natural disasters has nearly quadrupled since 1970 and the United States has experienced the most disasters since 1995 followed by China and India.
The UN chief told reporters Tuesday that in recent days the world has seen the "dramatic aggravation" of climate change with "unprecedented events" caused by flooding from Texas to Bangladesh, India, Nepal and Sierra Leone.
He said that last year 24.2 million people were displaced by sudden disasters - "three times as many as by conflict and violence." Guterres said before the current floods, preliminary reports said 2,087 people died this year from natural disasters. He said scientists say "extreme weather is precisely what their models predict will be the new normal of a warming world."
------------
FACT
Extreme Weather Expert: 'World is presently in an era of unusually low weather disasters'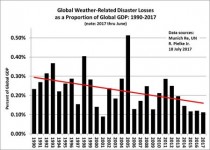 Professor Roger Pielke Jr. of the University of Colorado Boulder: "The world is presently in an era of unusually low weather disasters. This holds for the weather phenomena that have historically caused the most damage: tropical cyclones, floods, tornadoes and drought. Given how weather events have become politicized in debates over climate change, some find this hard to believe...The US has seen a decrease of about 20% in both hurricane frequency and intensity at landfall since 1900...Data on floods, drought and tornadoes are similar in that they show little to no indication of becoming more severe or frequent...Thus, it is fair to conclude that the costs of disasters worldwide is depressed because, as the global economy has grown, disaster costs have not grown at the same rate. Thus, disaster costs as a proportion of GDP have decreased. One important reason for this is a lack of increase in the weather events that cause disasters, most notably, tropical cyclones worldwide and especially hurricanes in the United States."