Thursday, May 09, 2013
In Defense of Carbon Dioxide
NOAA practices advocacy science with major errors / lies about CO2 in official release
Carbon Dioxide at NOAA's Mauna Loa Observatory reaches new milestone: Tops 400 ppm
May 10, 2013
Contact: John Ewald, 240-429-6127
On May 9, the daily mean concentration of carbon dioxide in the atmosphere of Mauna Loa, Hawaii, surpassed 400 parts per million (ppm) for the first time since measurements began in 1958. Independent measurements made by both NOAA and the Scripps Institution of Oceanography have been approaching this level during the past week. It marks an important milestone because Mauna Loa, as the oldest continuous carbon dioxide (CO2) measurement station in the world, is the primary global benchmark site for monitoring the increase of this potent heat trapping gas.nonsense
Carbon dioxide pumped into the atmosphere by fossil fuel burning and other human activities is the most significant greenhouse gas (GHG) contributing to climate change. Its concentration has increased every year since scientists started making measurements on the slopes of the Mauna Loa volcano more than five decades ago. The rate of increase has accelerated since the measurements started, from about 0.7 ppm per year in the late 1950s to 2.1 ppm per year during the last 10 years.
"That increase is not a surprise to scientists," said NOAA senior scientist Pieter Tans, with the Global Monitoring Division of NOAA's Earth System Research Laboratory in Boulder, Colo. "The evidence is conclusive that the strong growth of global CO2 emissions from the burning of coal, oil, and natural gas is driving the acceleration."
Before the Industrial Revolution in the 19th century, global average CO2 was about 280 ppm. During the last 800,000 years, CO2 fluctuated between about 180 ppm during ice ages and 280 ppm during interglacial warm periods. Today's rate of increase is more than 100 times faster than the increase that occurred when the last ice age ended.
NOAA's Mauna Loa Observatory in Hawaii. Thursday, levels of the greenhouse gas carbon dioxide at Mauna Loa surpassed 400 parts per million for the first time since measurements began in 1958. Pre-industrial carbon dioxide levels were 280 parts per million.
It was researcher Charles David Keeling of the Scripps Institution of Oceanography, UC San Diego, who began measuring carbon dioxide at Mauna Loa in 1958, initiating now what is known as the "Keeling Curve." His son, Ralph Keeling, also a geochemist at Scripps, has continued the Scripps measurement record since his father's death in 2005.
"There's no stopping CO2 from reaching 400 ppm," said Ralph Keeling. "That's now a done deal. But what happens from here on still matters to climate, and it's still under our control. It mainly comes down to how much we continue to rely on fossil fuels for energy."
NOAA scientists with the Global Monitoring Division have made around-the-clock measurements there since 1974. Having two programs independently measure the greenhouse gas provides confidence that the measurements are correct.
Moreover, similar increases of CO2 are seen all over the world by many international scientists. NOAA, for example, which runs a global, cooperative air sampling network, reported last year that all Arctic sites in its network reached 400 ppm for the first time. These high values were a prelude to what is now being observed at Mauna Loa, a site in the subtropics, this year. Sites in the Southern Hemisphere will follow during the next few years. The increase in the Northern Hemisphere is always a little ahead of the Southern Hemisphere because most of the emissions driving the CO2 increase take place in the north.
Once emitted, CO2 added to the atmosphere and oceans remains for thousands of years.more nonsense. Tom Segalstad has shown many papers found the lifetime is just 5-7 years. Thus, climate changes forced by CO2 depend primarily on cumulative emissions, making it progressively more and more difficult to avoid further substantial climate change. Direct chemical measurements (90,000) in Europe showed CO2 was higher in the 1940s and 1800s than it is currently.
See compilation of replies in Climate Depot Special Report "CO2 nears 400ppm. Relax it is not global warming end times but only a big yawn"
---------
In Defense of Carbon Dioxide
The demonized chemical compound is a boon to plant life and has little correlation with global temperature.
By HARRISON H. SCHMITT AND WILLIAM HAPPER
Of all of the world's chemical compounds, none has a worse reputation than carbon dioxide. Thanks to the single-minded demonization of this natural and essential atmospheric gas by advocates of government control of energy production, the conventional wisdom about carbon dioxide is that it is a dangerous pollutant. That's simply not the case. Contrary to what some would have us believe, increased carbon dioxide in the atmosphere will benefit the increasing population on the planet by increasing agricultural productivity.
The cessation of observed global warming for the past decade or so has shown how exaggerated NASA's and most other computer predictions of human-caused warming have been-and how little correlation warming has with concentrations of atmospheric carbon dioxide. As many scientists have pointed out, variations in global temperature correlate much better with solar activity and with complicated cycles of the oceans and atmosphere. There isn't the slightest evidence that more carbon dioxide has caused more extreme weather.
The current levels of carbon dioxide in the earth's atmosphere, approaching 400 parts per million, are low by the standards of geological and plant evolutionary history. Levels were 3,000 ppm, or more, until the Paleogene period (beginning about 65 million years ago). For most plants, and for the animals and humans that use them, more carbon dioxide, far from being a "pollutant" in need of reduction, would be a benefit. This is already widely recognized by operators of commercial greenhouses, who artificially increase the carbon dioxide levels to 1,000 ppm or more to improve the growth and quality of their plants.
Using energy from sunlight - together with the catalytic action of an ancient enzyme called rubisco, the most abundant protein on earth - plants convert carbon dioxide from the air into carbohydrates and other useful molecules. Rubisco catalyzes the attachment of a carbon-dioxide molecule to another five-carbon molecule to make two three-carbon molecules, which are subsequently converted into carbohydrates. (Since the useful product from the carbon dioxide capture consists of three-carbon molecules, plants that use this simple process are called C3 plants.) C3 plants, such as wheat, rice, soybeans, cotton and many forage crops, evolved when there was much more carbon dioxide in the atmosphere than today. So these agricultural staples are actually undernourished in carbon dioxide relative to their original design.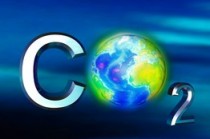 Corbis
At the current low levels of atmospheric carbon dioxide, rubisco in C3 plants can be fooled into substituting oxygen molecules for carbon-dioxide molecules. But this substitution reduces the efficiency of photosynthesis, especially at high temperatures. To get around the problem, a small number of plants have evolved a way to enrich the carbon-dioxide concentration around the rubisco enzyme, and to suppress the oxygen concentration. Called C4 plants because they utilize a molecule with four carbons, plants that use this evolutionary trick include sugar cane, corn and other tropical plants.
Although C4 plants evolved to cope with low levels of carbon dioxide, the workaround comes at a price, since it takes additional chemical energy. With high levels of carbon dioxide in the atmosphere, C4 plants are not as productive as C3 plants, which do not have the overhead costs of the carbon-dioxide enrichment system.
That's hardly all that goes into making the case for the benefits of carbon dioxide. Right now, at our current low levels of carbon dioxide, plants are paying a heavy price in water usage. Whether plants are C3 or C4, the way they get carbon dioxide from the air is the same: The plant leaves have little holes, or stomata, through which carbon dioxide molecules can diffuse into the moist interior for use in the plant's photosynthetic cycles.
The density of water molecules within the leaf is typically 60 times greater than the density of carbon dioxide in the air, and the diffusion rate of the water molecule is greater than that of the carbon dioxide molecule.
So depending on the relative humidity and temperature, 100 or more water molecules diffuse out of the leaf for every molecule of carbon dioxide that diffuses in. And not every carbon dioxide molecule that diffuses into a leaf gets incorporated into a carbohydrate. As a result, plants require many hundreds of grams of water to produce one gram of plant biomass, largely carbohydrate.
Driven by the need to conserve water, plants produce fewer stomata openings in their leaves when there is more carbon dioxide in the air. This decreases the amount of water that the plant is forced to transpire and allows the plant to withstand dry conditions better.
Crop yields in recent dry years were less affected by drought than crops of the dust bowl droughts of the 1930s, when there was less carbon dioxide. Nowadays, in an age of rising population and scarcities of food and water in some regions, it's a wonder that humanitarians aren't clamoring for more atmospheric carbon dioxide. Instead, some are denouncing it.
We know that carbon dioxide has been a much larger fraction of the earth's atmosphere than it is today, and the geological record shows that life flourished on land and in the oceans during those times. The incredible list of supposed horrors that increasing carbon dioxide will bring the world is pure belief disguised as science.
A version of this appeared in the WSJ. Mr. Schmitt, an adjunct professor of engineering at the University of Wisconsin-Madison, was an Apollo 17 astronaut and a former U.S. senator from New Mexico. Mr. Happer is a professor of physics at Princeton University and a former director of the office of energy research at the U.S. Department of Energy.
----------
The once great New York Times in denial on Benghazi is also carrying the water for the liar enviros and psuedo scientists with Justin Gillis's continuing series of liar stories on CO2 impact here. Justin claims CO2 is the highest it has even been in the history of the earth. As you can see numerous studies have shown we are near the LOWEST levels in history. We need to push for higher CO2 to maximize crop production and drought resistance, and minimize water needs.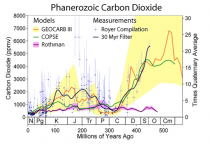 Enlarged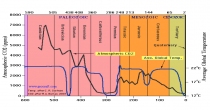 Enlarged
It also shows no convincing evidence of being associated with temperature changes.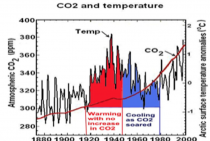 Enlarged
Please bring back Andy Revkin, Gillis is clueless and NYT go back to covering 'all the news thats fit to print' accurately and in an unbiased way or you deserve to fail. And NOAA get back to covering weather and stop your advocacy science. Management nonsense is why employees on the front line gave management in NWS such low grades in survey.
Wednesday, May 08, 2013
Coming Ice Age…According To Leading Experts, Global Mean Temperature Has Dropped 1C Since 1990!
By P Gosselin on 21. April 2013
Climate science/renewable energy critic Rainer Hoffmann has researched the literature on mean global surface temperature.
Stunningly, he shows that something is not right with the figures coming from the world's leading climate experts. The figures tell us the mean global surface temperature has dropped 1C over the last 25 years. At that rate, we'll be in an ice age by the year 2100!
Page 1 of Hoffmann's two-page pdf file shows literature that says the mean global temperature in 1990 was 15.5C. Page 2 shows the literature that says it is now only 14.5C.
Here's a chronology of the global mean surface temperature figures from the leading experts over the last 25 years:
1988: 15.4C
Der Spiegel, based on (untampered) data from NASA (see chart below, enlarged here).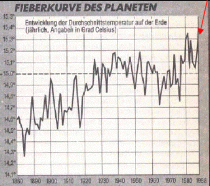 1990: 15.5C
According to James Hansen and 5 other leading scientists; they too claimed the global mean surface temperature was 15.5C. Also Prof. Christian Schonwiese claimed the same in his book 'Klima im Wandel', pages 73, 74 and 136. 15.5C is also the figure given by a 1992 German government report, based on satellite data.
2004: 14.5C
14 years later, the temperature mysteriously drops to 14.5C, according to professors Hans Schellnhuber and Stefan Rahmstorf in their book: "Der Klimawandel", 1st edition, 2006, p 37, based on surface station data from the Hadley Center.
2007: 14.5C
And also according to the Holy Climate Bible, the IPCC WG1 AR4 (page 6 of bmbf.de/pub/IPCC2007.pdf).
2010: 14.5C
Reconfirmed by Professors Schellnhuber and Rahmstorf in their book: Der Klimawandel, 7th edition, 2012, page 37, (see chart below, enlarged here) based on surface station data.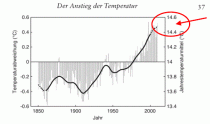 2012: 14.5C
Also given by Prof Mojib Latif, March 20, 2012.
Read much more here.
Sunday, May 05, 2013
Don Easterbrook and Gordon Fulks on the WWU affair - Data, Dogma, and Discovery
by KIM GREENHOUSE on MAY 6, 2013
in ACADEMIA, ENVIRONMENT, SCIENCE & TECHNOLOGY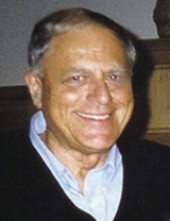 Don Easterbrook
Dr. Don Easterbrook returns to the show after recently testifying before the Senate Energy, Environment & Telecommunications Committee in Olympia, Washington. His testimony supported by 50 years of work in climate change and jam-packed with verifiable facts that stand to alter the picture many have ingested about climate and weather offered mind-blowing insights about the difference between data and dogma. An honest comparison of Dr. Easterbrook's information with the propaganda about climate change will inspire even the most ardent climate change environmentalist to take note. Dr. Easterbrook was subsequently attacked by his own institution (among others), who ran character assassination pieces in Associated Press to frame him as a quack.
After producing over 30 segments on climate change, it is clear that the facts are totally accessible, understandable, and cannot be manipulated to suit a political agenda. Join us as we invite Dr. Don Easterbrook and astrophysicist Dr. Gordon Fulks to discuss recent events and lay out important, current information supporting a whole systems approach to climate change clarity.
LISTEN TO THIS MP3. A must hear.
-----------
Ignoratio elenchi
By Joseph D'Aleo, CCM
The former Weather Channel stuck to its knitting and provided a needed service and quality information. But under brain dead NBC Universal leadership it has become a laughing stock. Outside of a Sandy like event, ratings are in the tank and deserve to be there. Al Roker assigned part-time to lighten up the boring coverage of a network that can't decide whether its National Geographic light or a legitimate real-time information source, when asked about global warming said " I have just two words for you "Superstorm Sandy". I need just one word for you Al why global warming is even in the lexicon "$100B". Governments and leftist enviro groups and individuals have bought the scientists and their organizations.
This video says it all.
Stu Ostro used to be a meteorologist with a balanced view on natural climate change. Then Heidi Cullen became his supervisor and NBC Universal his boss. He appears in this feature blaming arctic warming (5 months after it froze over) for the "long, cold winter". He used Jennifer Francis from Rutgers who had done papers connecting the Atlantic Multidecadal Oscillation warming to reduction of ice in the arctic. She blamed climate change for that warming and the arctic for the weather. I served on the AMS council with her. I credit her for recognizing the already known connection of the ocean temperatures in the Atlantic with arctic warming and ice. I challenge her to make the connection with CO2. See how AMO cycles even as CO2 rises.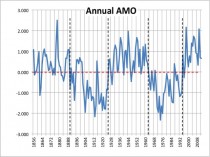 Neither noted that the ice reduction was in the summer and the ice returned by October and the snow started in February and continued into May. That is what Aristotle called an Ignoratio elenchi, an irrelevant conclusion or fallacy of presenting an argument that may or may not be logically valid, but fails nonetheless to address the issue in question.
The word 'oscillation' got lost in their thinking. The IARC at the University of Alaska Fairbanks showed how the cycle in the Atlantic leads to warming and cooling and reduction and recovery of arctic ice historically.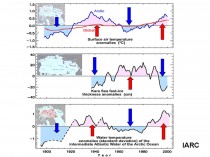 See in this piece how natural factors lead to these cyclical changes in ice and temperatures. The bottom line is that the warm Atlantic causes a reduction of arctic ice in summer and increased high latitude blocking which leads to colder winters in Eurasia and North America. Atmospheric CO2 is irrelevant.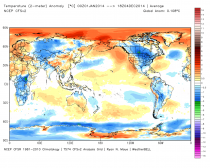 As Joe Bastardi posted on weatherbell.com, look at the pattern in March to May the clueless Ostro and Frances claimed was so unusual and due to climate change but back in the 1950s when the oceans were in the same phase of their 60 to 70 year cycles. 500mb is on the left and surface temperatures the right.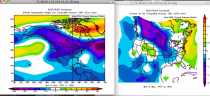 TWC has some credible people too...like Tom Niziol, formerly of NWS in BUF and Tom Moore and few others behind the scenes but the number dwindles.
And as for allegedly the warm arctic regions, take a look at Fairbanks, Alaska since the fall. For the secon stright year, brutal cold.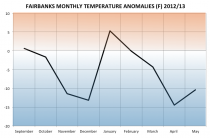 Friday, May 03, 2013
Unprecedented May snowstorm
Joseph D'Aleo, CCM
It's May, time to mow the lawn.
H/T Meteorologist Andre Bernier
Here is a time lapse of 15 inches of snow falling overnight.
All time record snowstorm winds down today after setting May Records from Minnesota to Arkansas.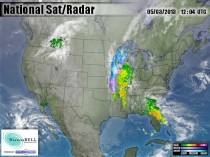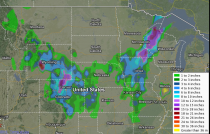 NWS WEATHER PREDICTION CENTER COLLEGE PARK MD
400 AM CDT FRI MAY 03 2013
...UNPRECEDENTED MAY WINTER STORM BEGINNING TO TAPER OFF FROM THE
MIDDLE MISSISSIPPI RIVER VALLEY NORTHWARD INTO THE UPPER MIDWEST…
...IOWA…
CHARITON 12.0
BRITT 11.0
FOREST CITY 2 NNE 11.0
ST ANSGAR 10.9
ALGONA 5 NE 10.5
MONA 10.0
ALLERTON 4 S 10.0
NORTHWOOD 9.7
MASON CITY 9.5
CHARLES CITY COOP 9.0
GARNER 8.5
GRUNDY CENTER 8.0
INDIANOLA 0.8 SSW 8.0
WHITTEMORE 3 NNW 7.3
DUMONT 7.0
MANLEY 3 WSW 7.0
SCHLESWIG 0.4 NE 7.0
OSAGE 7.0
HUMESTON 7.0
RICEVILLE 7.0
DES MOINES INTL 6.9
RINGSTED 6.5
ALTOONA 1 ESE 6.5
SIOUX RAPIDS 4 E 6.2
PARKERSBURG 6.0
FORT DODGE 5.5
NEWTON 3 WNW 5.5
ION 5.5
WEST AMES 5.3
NASHUA 5.1
JOHNSTON 5.0
ELMA 4.9
IOWA FALLS 1 ESE 4.5
MADRID 4.2

...KANSAS…
TRAER 2.5 NNW 5.3
SHARON SPRINGS 10 S 5.1
MANNING 4 NW 5.0
SCOTT CITY 10.7 ENE 5.0
GOODLAND 12.1 NW 4.5
STILLWELL 1 N 3.0
GARDEN CITY 3.0
OVERLAND PARK 2.5
DUNLAP 2.0
LAKIN 2.0
ST. FRANCIS 12 NNW 2.0
ULYSSES 2.0
TOPEKA 7 SW 1.0
...MICHIGAN…
BESSEMER 1 E 13.0
IRONWOOD 11.0
ONTONAGON 6 ESE 6.0
HERMAN 3.2
ISHPEMING 2.7

...MINNESOTA…
BLOOMING PRAIRIE 18.0
GOODHUE 17.5
DODGE CENTER 17.2
RICE LAKE 17.0
ROCHESTER 2.5 W 16.6
BYRON 6 S 16.0
ELLENDALE 15.8
OWATONNA 2 E 15.5
DODGE CENTER 15.4
ZUMBROTA 15.1
ELLENDALE 15.0
OAK CENTER 15.0
CLAREMENT 2.5 SSE 14.9
ROCHESTER 2 SW 14.8
SEELEY 14.2
HAYFIELD 7 WSW 14.0
MAPLE SPRINGS 1 S 14.0
ROCHESTER 14.0
RED WING 13.5
NERSTRAND 4 E 13.4
ELGIN 2 SSW 13.1
SPRING VALLEY 3E 12.9
EYOTA 5 SW 12.0
CHATFIELD 9 ESE 11.9
ELBA 5 SW 11.0
ST CHARLES 5N 11.0
MANTORVILLE 2 ESE 9.0
OSTRANDER 8.5

...MISSOURI… ...MISSOURI…
WARRENSBURG 7S 6.0
CHILLICOTHE 3E 6.0
MILAN 1.2 SW 6.0
PRINCETON 1.5 NE 5.5
BRAYMER 5.5
TRENTON 1.4 N 4.5
CARTHAGE .8 S 4.4
STOCKTON 4.0
UNIONVILLE 4.0
CENTERVIEW 3W 4.0
LOWRY CITY 4.0
NEOSHO 4.0
SE ODESSA 4.0
AURORA 3.5
GARDEN CITY 3.1
CENTERVIEW 3 WSW 3.0
N WINSTON 3.0
CARTHAGE 3.0
SARCOXIE 3W 3.0
BROOKFIELD 10 N 3.0
PINEVILLE 2NNW 3.0
APPLETON CITY 3.0
LEES SUMMIT 2.7
GRAIN VALLEY 2.5
KANSAS CITY 11 SSE 2.5
CEDAR SPRINGS 2.5
WARRENSBURG 7 WNW 2.5
INDEPENDENCE 2.0
PATTONSBURG 2.0
VIBBARD 2.0
HALLTOWN 1W 2.0
ASH GROVE 2.0
GALLATIN 1.5
WINSTON 1.5
SPRINGFIELD 0.6
...WISCONSIN…
STOCKHOLM 3 NE 17.7
MELLEN 19 SW 17.0
RICE LAKE 17.0
ASHLAND 16.3
CAMERON 1 NE 16.0
MENOMONIE 16.0
ELLSWORTH 6 WSW 16.0
HAYWARD 8 S 16.0
MELLEN 2 NW 16.0
STONE LAKE 2 NW 15.5
COLFAX 15.5
BALDWIN 14.7
CHETEK 2 SE 14.3
BARRON 14.0
GRAND VIEW 14.0
MAIDEN ROCK 3 NNW 14.0
RICE LAKE 5 NE 14.0
SPRING VALLEY 3 NW 14.0
ARKANSAS 4 NW 13.5
ELK MOUND 1 NE 13.4
LADYSMITH 2 WNW 12.9
RIVER FALLS 1 SSW 11.0
CORNUCOPIA 10.0
EAU CLAIRE 9.3
NW PRESCOTT 7.8
...ARKANSAS…
DECATUR 2.6 E 5.0
GRAVATTE 3.5
MAYSVILLE 3.0
WEST GENTRY 3.0
BELLA VISTA 2.5
PRARIE GROVE 1 NE 2.0
BEAVER LAKE 1.8
BEAVER 1 S 1.2
SPRINGDALE 1.0
CENTERTON 1.0
CAVE SPRINGS 1.0
WINSLOW 7 NE 1.0
EUREKA SPRINGS 0.8
FAYETTEVILLE 0.5
...OKLAHOMA…
WEST SILOAM SPRINGS 6 W 1.5
MUSE 4 N 1.0
WESTVILLE 1.0

...COLORADO…
BUCKHORN MOUNTAIN 1 E 28.2
PINGREE PARK 3 WNW 24.0
STOVE PRAIRIE 2 WNW 23.0
ESTES PARK 1.8 S 19.4
LIVERMORE 9.9 WSW 19.0
CAMERON PASS 1 NNW 18.0
FORT COLLINS 2 ENE 16.0
TRAIL RIDGE 5 N 16.0
BRECKENRIDGE 2 SSE 15.3
GLEN HAVEN 1.6 NE 15.0
DRAKE 5.3 WNW 14.5
NEDERLAND 4 ENE 14.5
WARD 5 NE 14.5
BOULDER 2 SSW 8.0
DENVER 3 SE 5.0
...NEBRASKA…
DALTON 0.4 SE 8.5
LODGEPOLE 8.1 N 5.7
GERING 10.1 S 5.0
SCOTTSBLUFF 2.7 WNW 4.2
BAYARD 13.5 NNE 4.0
ELLSWORTH 4.0
OMAHA 3.3
BELLEVUE 3.1
ARTHUR 3.0
BENKELMAN 3.0
MULLEN 3.0
VALLEY 3.0
ELKHORN 2.7
VALLEY 1 N 2.4
COLERIDGE 2.0
...SOUTH DAKOTA…
BERESFORD 2 S 6.0
HARTFORD 0.5 N 2.1
SIOUX FALLS 3.4 ESE 2.0
...WYOMING…
WARREN AFB 20.6 WSW 22.3
LANDER 5.7 SW 18.7
CHEYENNE 15 W 15.0
CARPENTER 3.9 NNE 12.0
WHEATLAND 20.0 SW 9.1
PINE BLUFFS 0.8 SW 9.0
SOUTH GREELEY 6.2 SW 9.0
BURNS 6 WNW 8.5
HILLSDALE 0.1 N 8.5
LA GRANGE 4.4 ESE 8.1
YODER 6.5 SSE 7.5
LARAMIE 1 N 6.0
-----------------
ALL-TIME MINNESOTA MAY SNOWFALL RECORD?
At 7 AM Thursday, the cooperative observer in Dodge Center, MN reported 15.4 inches. If this record is confirmed by the Minnesota State Climate Extremes committee, it would surpass the May daily snowfall record for the state of Minnesota. This record currently stands at 12 inches in St Cloud (May 17, 1890), Windom (May 8, 1938), and 8 miles north of Leonard (May 3, 1954).
-----------
RECORD EVENT REPORT
NATIONAL WEATHER SERVICE DES MOINES IA 110 AM CDT THU MAY 02 2013

..RECORD DAILY MAXIMUM SNOWFALL SET AT DES MOINES IA FOR MAY 2ND

A RECORD SNOWFALL OF 3.4 INCHES FELL AT DES MOINES IA ON THURSDAY. THIS BREAKS THE OLD RECORD OF TRACE SET IN 1976.

THE 3.4 INCHES OF SNOW ALSO IS THE HIGHEST SINGLE DAY MAY SNOW TOTAL FOR DES MOINES. THE PREVIOUS RECORD WAS 1.2 INCHES SET ON MAY 3, 1907.
THE TOTAL FOR THE STORM WAS 6.9 INCHES. THIS IS ALSO THE HIGHEST AMOUNT OF SNOW EVER RECEIVED IN THE MONTH OF MAY FOR DES MOINES. THE PREVIOUS RECORD WAS 1.3 INCHES SET DURING MAY OF 1907.

-------------

NATIONAL WEATHER SERVICE LA CROSSE WI 807 PM CDT THU MAY 2 2013

..UNPRECEDENTED SNOWFALL FOR ROCHESTER MINNESOTA

WHAT A STORM FOR THE RECORD BOOKS. THE INFORMATION BELOW SHOWCASES HOW THIS SNOWSTORM RANKS FROM A MAY PERSPECTIVE...AND ALSO THE ENTIRE CALENDAR YEAR.

THE 13.9 INCHES...THROUGH 730 PM...BREAKS THE FOLLOWING RECORDS…

...DAILY RECORD SNOWFALL FOR MAY 2ND / 0.7 INCHES IN 1954 /

...DAILY RECORD SNOWFALL FOR MONTH OF MAY / 1.2 INCHES MAY 5 1944/

...MAY MONTHLY SNOWFALL TOTAL / 2.0 INCHES MAY 1944 /

IT CURRENTLY RANKS AS SIXTH GREATEST ALL-TIME DAILY SNOWFALL. THIS WILL LIKELY RISE ONCE THE OFFICIAL SNOW TOTAL IS REPORTED.

ALL-TIME 1-DAY SNOWFALL RECORDS
ROCHESTER MINNESOTA
1886-2013

RANK SNOWFALL YEAR
---- ------------- -------
1 19.8 INCHES 3/18/2005
2 15.4 INCHES 1/22/1982
3 15.0 INCHES 12/11/2010
4 14.0 INCHES 3/30/1934
4/20/1893
6 13.9 INCHES 5/02/2013
7 13.5 INCHES 2/27/1893
8 13.0 INCHES 4/26/1988
9 12.0 INCHES 11/30/1934

TO PUT THIS SNOWSTORM IN ANOTHER PERSPECTIVE...TODAYS SNOWFALL IN ROCHESTER SHATTERS THE COMBINED TOTAL FOR ALL PREVIOUS MAY MEASURABLE SNOW EVENTS. SINCE 1886...THERE WERE 10 MEASURABLE MAY EVENTS...FOR A TOTAL OF 4.3 INCHES. TODAYS SNOWFALL IS OVER 3 TIMES THAT.

Thursday, May 02, 2013
The Tragedy of Climatism: Resource Misuse on a Global Scale
By Steve Goreham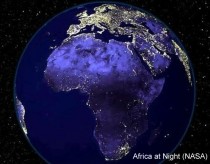 Africa at night
Originally published in The Washington Times.
Last week, thirteen members of the House of Representatives introduced a resolution "recognizing the disparate impact of climate change on women." The resolution implied that man-made climate change was responsible for impacts on global women, stating "food insecure women with limited socioeconomic resources may be vulnerable to situations such as sex work, transactional sex, and early marriage that put them at risk for HIV, STIs, unplanned pregnancy, and poor reproductive health." But the resolution ignores the real tragedy, the tragedy of misguided policies to combat climate change.
Climatism, the belief that man-made greenhouse gases are destroying Earth's climate, has guided world governments since 1992. That year, 41 nations and the European Community signed the Framework Convention on Climate Change (FCCC) at the Rio de Janeiro Earth Summit. The FCCC called for reductions in greenhouse gas emissions to prevent dangerous global warming. For 21 years, world leaders have argued about how and when to reduce emissions. Today, 192 of 193 heads of state say they believe in man-made warming and most are pursing policies to try to stop climate change.
But, rather than beneficial, efforts to "fight" man made climate change actually injure people in developing nations. The ideology of Climatism demands that nations forego the use of fossil fuel, use less energy, and force use of expensive or unreliable wind, solar, or biofuel alternatives. Poverty, lack of jobs, and lack of modern energy foster prostitution in developing nations. Climate change from emissions of carbon dioxide, a trace gas in our atmosphere, is a negligible factor.
The United Nations has long criticized the use of "unsustainable energy." In a 2010 report on Asia, the UN warned, "Asia-Pacific countries must undergo structural adjustment to make key policy changes needed to switch their development mode...Most member countries have followed the industrial model of developed countries, which is the root cause of climate change. This traditional industrial development model results in an unsustainable energy consumption pattern." The paper says nations must "pursue a low carbon development path" and skip a "growth path heavily reliant on pollutants." The report goes on to question whether televisions, computers, and networking through the internet are necessary activities.
Yet, world economies remain overwhelmingly based on hydrocarbons. According to the International Energy Agency, in 2010 hydrocarbons provided 81 percent of the world's energy, while wind and solar provided less than 1 percent. Denying hydrocarbon energy to developing nations is foolish and destructive policy.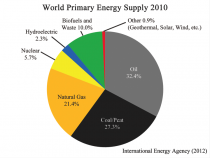 Enlarged
The Equator Principles are ten principles for lending by international banks that work to the detriment of poor nations. Under pressure from environmental groups, Citibank, JP Morgan Chase, Bank of America, and 76 other banks in 32 countries adopted the Principles. These principles demand that banks lend in an "environmentally and socially responsible manner," which sounds good. But a top objective of the Equator Principles is "to promote the reduction of emissions that contribute to climate change." Lending capital is restricted for coal mines, oil refineries, and other hydrocarbon projects desperately needed to build the economies of developing nations.
At the same time, the theory of man-made warming appears increasingly shaky. Hundreds of studies show that Earth was warmer 1,000 years ago than it is today. Water vapor, not carbon dioxide, is Earth's dominant greenhouse gas. Arctic sea ice recently reached a 30 year low, but Antarctic Sea ice is near a 30 year high. More than double the polar bears roam the Arctic today than in 1960. History shows that droughts, floods, and storms are neither more frequent nor more severe than in past decades. Sea levels are rising at only about 7‒8 inches per century. Global temperatures have not risen for more than ten years, contrary to predictions by the leading climate models.
The tragedy of Climatism is a misuse of resources on a vast scale. Over $250 billion is spent each year in a futile effort to decarbonize - twice global foreign aid. The world spent over $1 trillion in the last ten years and is on track to spend another trillion in the next four years in a fight against a climate change phantom.
At the same time, real life and death problems need to be addressed. According to United Nations figures, 25,000 people die from hunger-related issues each day. More than one billion people try to survive on less than $1.25 per day. Two and one half billion lack adequate sanitation, 1.4 billion lack electricity, and almost one billion lack clean drinking water. Every year, two million die from AIDS. Almost one million die from tuberculosis. Malaria, pneumonia, and diarrheal diseases kill millions more.
Suppose we reallocate the billions spent in the foolish fight against global warming toward solving the real problems of humankind?
Steve Goreham is Executive Director of the Climate Science Coalition of America and author of the new book The Mad, Mad, Mad World of Climatism: Mankind and Climate Change Mania.

Wednesday, May 01, 2013
Free market energy policies can end economic malaise
Non-comprehensive, none-of-the-below, Washington-dictated energy policies guarantee decline
By Craig Rucker
"We can't have an energy strategy that traps us in the past," President Obama proclaimed in March 2012. "We need an energy strategy for the future, an all-of-the-above strategy for the Twenty First Century that develops every source of American made energy."
At first blush, this sounds like common sense. The US economy and lifestyle "depend on inexpensive and plentiful energy," the Congressional Research Service noted in a 2005 report, but people tend to forget this until world events cause gasoline prices to spike. Then Washington reacts, CRS continued passing the Energy Policy Acts of 1992, 2005 and 2007. However, the US still does not have a "comprehensive long term energy policy" that balances increasing supply with conservation and defines the proper interplay between government and market forces.
Forty years ago, President Nixon announced "Project Independence," in response to the 1973 oil cutoff by Middle East and other OPEC nations, with the goal of ensuring that "Americans will not have to rely on any source of energy beyond our own." His broad-based strategy begat the trans-Alaska pipeline (to get North Slope oil to Lower 48 markets), expanded onshore and offshore oil drilling, an all of the above strategy for electric power generation that brought lignite mining and natural gas into prominence, and a host of conservation measures, including 55 mph speed limits.
President Carter brought very different thinking to Washington, policies that many believe led to declining US oil and gas production and economic "malaise." President Reagan reversed Carter, but his successors, Congress, courts, environmental activists, regulatory agencies and disparate corporate interests launched American energy policies on a roller coaster ride. This history helps explain why comprehensive long-term energy policies and strategies are less logical and desirable than at first blush.
The term itself suggests policies devised and dictated by Washington, DC politicians, bureaucrats, lobbyists and pressure groups, many of whom have no real knowledge of or hands-on experience with energy, economics, science, technology, business or job creation.
In too many cases, the policies, strategies, laws, programs and regulations are crafted to promote specific ideologies, benefit companies and organizations with the best lobbyists, and secure tax breaks, subsidies and preferential treatment for political cronies, campaign contributors and politically correct ideas.
"All of the above" too often means all of the above ground and little or nothing below the Earth's surface: wind, solar, biofuels and wood, for example but little or no oil, gas, coal or uranium. In fact, more than any other in history, the Obama administration is using its executive powers to delay, obstruct, hyper regulate, penalize and bankrupt the proven energy that is the foundation of modern living standards.
Similarly, the notion that proven energy strategies "trap us in the past" fails to recognize that "past" energy technologies (oil, gas, coal, nuclear and hydroelectric) actually provide 94% of the energy that powers America today; are abundant, reliable and affordable; and represent a monumental improvement over the wind, solar, wood, dung and water wheel power that feebly energized mankind for millennia.
Suggesting that we can abandon these vital 94% energy sources in favor of new variations on antique technologies that Mr. Obama promotes as energy of "the future" ignores the fact that these politically correct sources are expensive, intermittent, heavily subsidized and wholly dependent on fossil fuels. Moreover, any honest and meaningful cradle to grave analysis of wind, solar and biofuel energy reveals that these PC sources are land and resource intensive, environmentally damaging, and unsustainable.
The "comprehensive longterm energy policies and strategies" slogan also ignores where the real progress of recent years has been made: in the private sector, especially the petroleum industry, where revolutionary horizontal drilling and hydraulic fracturing technologies have unlocked centuries of oil and natural gas worldwide. In fact, "fracking" on state and private lands has sent US petroleum production to new heights, even as Washington politics and policies have ensured that production from federally owned and controlled onshore and offshore lands continues to decline.
Hydrocarbon, hydroelectric and nuclear have undeniable problems: oil spills, air and water pollution, radiation and accidents. But laws, regulations, technologies and greater corporate responsibility have greatly reduced their frequency and severity and errors are quickly and severely punished.
By contrast, human health and environmental impacts associated with wind, solar and biofuel energy are routinely and systematically ignored, and almost never punished. The slaughter of millions of birds and bats annually by US wind turbines is a case in point, and when the impacts are considered in the context of the minimal energy produced via these "renewable" technologies, the damage is especially egregious.
These "alternative" technologies ALSO require perpetual subsidies, taken from hardworking taxpayers and productive sectors of our economy, and given to crony corporatists whose schemes slide repeatedly into bankruptcy. They employ rare earth metals and other raw materials that require vast amounts of fossil fuels, monumental earth removal and widespread land degradation to build and operate facilities whose energy is so expensive it kills 2 to 4 jobs for every "green" job created, drives families deeper into poverty, and impairs human health and welfare.
Forty years ago, President Nixon actually sought to develop and utilize "all of the above" energy every practical source on every list. Today, amid an anemic economy and joblessness far worse than official government figures admit, President Obama balks at approving the Keystone XL pipeline, cancels leasing and drilling on federal lands, tells our budget sequestered military to buy $26 to $67 per gallon ship and jet fuel, punishes refineries for not buying cellulosic ethanol that doesn't exist, and happily lets EPA shut down coal-fired power plants and kill countless thousands of mining, utility and other jobs.
Thoughtful Americans find little comfort in these policies. Twelve million still cannot find work in this moribund, DC-dictated economy. Red-state Democrats like Joe Manchin (D WV), Mark Begich (D AK) and Mary Landrieu (D LA) tremble at the prospect of facing voters in 2014. And outrage is properly growing over the massive failures of wind, solar and biofuel startups whose executives (mostly Obama and Democrat campaign angels) skimmed millions of tax dollars for themselves but let their companies go bankrupt and their employees go on unemployment and welfare rolls.
And still President Obama and his minions push for punitive carbon dioxide regulations and carbon taxes, while the European carbon market collapses, EU jobs head to China and India, and thousands die of hypothermia in England. The European emissions trading system is "below junk status," according to The Economist, and the collapse has been felt as far away as Australia, whose political leaders prepare to reap the whirlwind of carbon taxes that are now 5.5 times higher than in Europe. Is this America's "future"?
Will ideology continue to trump sanity in the Obama energy and climate policy arenas? The President is putting all his eggs in the basket of "hope" that Democrats will "change" the House leadership and extend their Senate majority in 2014. He has shown little desire to compromise on energy and climate change.
America does not need "comprehensive" energy policies devised and dictated by Washington. It needs policies that unlock our creative genius and allow free enterprise and private sector innovators to operate on a level playing field, one that applies the same reasonable, responsible environmental, endangered species, tax, subsidy and other laws and standards to all companies, investors and energy technologies.
We need simple laws and policies that let our ultimate energy resource (our creative intellect) work without ideologues, pressure groups and regulators promoting failed, subsidized energy schemes, while continuing to block affordable, dependable energy that actually creates jobs and generates revenues.
------
Craig Rucker is executive director of the Committee For A Constructive Tomorrow (http://www.CFACT.org)
Monday, April 22, 2013
Global warming slowdown - view from space
ICECAP NOTE: ICECAP has reached another milestone, exceeding 40 million page hits. THANK YOU.


Enlarged
Thank you for your continued support through donations which help us pay the monthly maintenance and security. You can support our effort through the donation button (small amounts are welcome) or by joining Joe Bastardi, Ryan Maue and I at Weatherbell.com, where we do multiple daily posts and specialized forecasts.
-------------
By Dr. Roy Spencer
April 16th, 2013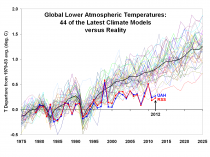 Enlarged
Since the slowdown in surface warming over the last 15 years has been a popular topic recently, I thought I would show results for the lower tropospheric temperature (LT) compared to climate models calculated over the same atmospheric layers the satellites sense.
Courtesy of John Christy, and based upon data from the KNMI Climate Explorer, below is a comparison of 44 climate models versus the UAH and RSS satellite observations for global lower tropospheric temperature variations, for the period 1979 to 2012 from the satellites, and for 1975 to 2025 for the models:
Clearly, there is increasing divergence over the years between the satellite observations (UAH, RSS) and the models. The reasons for the disagreement are not obvious, since there are at least a few possibilities:
1) the real climate system is not as sensitive to increasing CO2 as the models are programmed to be (my preferred explanation)
2) the extra surface heating from more CO2 has been diluted more than expected by increased mixing with cooler, deeper ocean waters (Trenberth's explanation)
3) increased manmade aerosol pollution is causing a cooling influence, partly mitigating the manmade CO2 warming
If I am correct (explanation #1), then we will continue to see little warming into the future. Additional evidence for lower climate sensitivity in the above plot is the observed response to the 1991 Pinatubo eruption: the temporary temperature dip in 1992-93, and subsequent recovery, is weaker in the observations than in the models. This is exactly what would be predicted with lower climate sensitivity.
On the other hand, if Trenberth is correct (explanation #2), then there should be a period of rapid surface warming that resumes at some point, since the climate system must eventually try to achieve radiative energy equilibrium. Of course, exactly when that might be is unknown.
Explanation #3 (anthropogenic aerosol cooling), while theoretically possible, has always seemed like cheating to me since the magnitude of aerosol cooling is so uncertain it can be invoked in any amount desired to explain the observations. Besides, blaming a lack of warming on humans just seems a little bizarre.
The dark line in the above plot is the 44-model average, and it approximately represents what the IPCC uses for its official best estimate of projected warming. Obviously, there is a substantial disconnect between the models and observations for this statistic.
I find it disingenuous for those who claim that, because not ALL of individual the models disagree with the observations, the models are somehow vindicated. What those pundits fail to mention is that the few models which support weaker warming through 2012 are usually those with lower climate sensitivity.
So, if you are going to claim that the observations support some of the models, and least be honest and admit they support the models that are NOT consistent with the IPCC best estimates of warming.
----------
SOLAR INFLUENCE ON GLOBAL TEMPERATURE
Citation: Center for the Study of Carbon Dioxide and Global Change. "Solar Influence on Global Temperature." Last modified April 17, 2013
The claim that anthropogenic greenhouse gas emissions have been responsible for the warming detected in the twentieth century is based on what Loehle (2004) calls "the standard assumption in climate research, including the IPCC reports," that "over a century time interval there is not likely to be any recognizable trend to global temperatures (Risbey et al., 2000), and thus the null model for climate signal detection is a flat temperature trend with some autocorrelated noise," so that "any warming trends in excess of that expected from normal climatic variability are then assumed to be due to anthropogenic effects." If, however, there are significant underlying climate trends or cycles-or both-either known or unknown, that assumption is clearly invalid.
Thursday, April 11, 2013
Oh Brother: U.S. admiral: Global-warming threat dwarfs N. Korea
WASHINGTON - The military officer charged with monitoring North Korea at a time when the rogue nation is threatening to unleash missile attacks worldwide has used a Senate hearing to double down on his claim that it is global warming that is the real danger.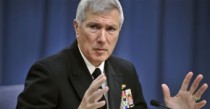 Navy Adm. Samuel Locklear III originally caused a stir just weeks ago when in a speech to scholars at Harvard and Tufts universities in Cambridge, Mass., he said the climate change factor should be the focus of American concern.
At today's hearing before the Senate Armed Services Committee he defended his assessment that global warming is the greatest threat to security in that part of the world.
According to the Boston Globe, Locklear said earlier, "significant upheaval related to the warming planet… is probably the most likely thing that is going to happen ...that will cripple the security environment, probably more likely than the other scenarios we all often talk about."
At today's hearing, Sen. James Inhofe, R-Okla., challenged him, and the admiral doubled down.
Locklear said 70 percent of the world's expected growth will be in East and South Asia and it "will be moving along the coastal centers" it serves as a possible form of regional destabilizing via population displacement because of rising oceans.
But Inhofe pointed out that scientists disagree with the notion that the climate is changing. He furthermore said that such a belief is one that is held by "environmentalist extremists" who "do not believe in" having a large military.
He said he "cannot recall a time where the world was more dangerous" and Barack Obama's military cuts are naive and put the U.S. forces "at risk."
The idea of anthropological climate change has been the focus of many studies and reports in recent years. In 2007, WND reported that a study released by the Danish National Space Center suggested that "the sun still appears to be the main agent in global climate change" rather than by man.
Furthermore, last week WND reported that the scientific journal Science published a report showing dramatic increases in global temperature in the 20th century. While it was touted as a major study, it has now come under scrutiny after scientists involved "quietly admitted that surging temperatures can't be supported by their data."
Inhofe himself has been a leading voice challenging the vast assumptions on anthropological climate change. On a related topic, in 2012 Inhofe spoke to WND, saying that "green extremists" are jeopardizing America's defense by devoting scarce resources to alternative energy, rather than defense development.
Locklear is the chief of the U.S. Pacific Command.
Read more
See this fact checking analysis on the claims being made about severe weather related to warming (which stopped 15 to 17 years ago). (NCA_DAleo_04-12-13.doc)
Wednesday, April 03, 2013
Ex-professor tells senators climate data manipulated
A retired Western Washington University professor testified to a Republican-controlled state Senate committee Tuesday that climate change stopped in 1998 and that human-caused greenhouse gases are not responsible for fluctuations in the Earth's temperatures or melting polar ice caps.
The startling testimony from emeritus professor Don Easterbrook is at odds with an apparent consensus among climate scientists and climate-science literature about human causes behind the the rise in global temperatures over the past century. His testimony came one day after the Legislature sent Gov. Jay Inslee a bill that sets up a legislative work group to study Washington's best strategy for addressing climate change.
Substitute Senate Bill 5802 creates a four-caucus study panel that will hire a consultant to study state options for cutting greenhouse gas emissions to 1990 levels by 2020, and how best to accomplish that at least cost. Republican Sen. Doug Ericksen of Ferndale, who invited Easterbrook to testify at his committee, could become Senate Republicans' representative on that panel.
It is unclear what effect Easterbrook's testimony—and his critique of Inslee's original bill—will have on that bipartisan study work, if any. But the geology professor's statements stunned Democratic Sen. Kevin Ranker of Orcas Island and other Democratic members of the Senate Energy, Environment and Telecommunications Committee who listened with skepticism, if not incredulity.
Ranker and Sen. Andy Billig, D-Spokane, took issue with Easterbrook's assertion that NASA, the National Science Foundation and National Oceanographic and Atmospheric Administration would "manipulate" climate data and create a false impression that climate change is real and that global temperatures are rising. They argued there is an apparent consensus in scientific literature.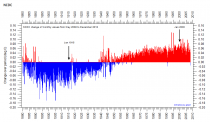 Enlarged. Change in data after 2008 with removal of UHI adjustment and other changes.
"They have frankly tampered with the data ... Mine is the original data," Easterbrook said at one point. Pressed on this by Ranker, he added it wasn't anything "scurrilous" done by the science panels but he insisted that data had been "adjusted" in ways that made it less accurate than his interpretations.
ICECAP NOTE: Here is Davis CA, in Barbara Boxer's district showing the adjustments that created warming from cooling. Then we show the before and after sets with contaminants left in post 1980.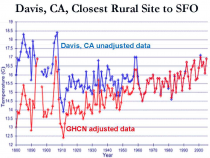 Enlarged.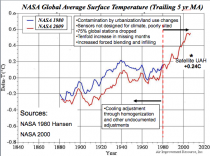 Enlarged.
His own reading of data, Easterbrook said, showed there were 20 periods of global cooling and heating over the past 500 years with the most recent cooling trend beginning in 1998 and likely to last up to 25 or 30 years. He asserted that his work was peer reviewed and indicated that he could provide that information to Ranker.
Among Easterbrook's assertions: that polar ice caps are not melting or shrinking; that sea level not is rising in many places including Neah Bay; that sea water is not becoming acidic due to carbon dioxide, although he said oceanic and Puget Sound waters may be becoming less alkaline as a result of pollutants; and that carbon dioxide is too scarce in the planet's atmosphere to produce climatic change. All were point-by-point refutations of claims Inslee had made in his own testimony on the bill.
But Ranker wasn't buying it and at one point said: "The last 12 years were the hottest on record. That's peer reviewed data I have before me."
"I can't answer why it is different," Easterbrook replied, indicating he was relying on public data he has collected globally. "What I can tell you is this is original data" that had not been adjusted.
Ericksen said before the session that he wanted his committee to operate in an open and fair way and that he believed it is important to hear all sides—and that the public has many views about climate change. He also noted that the presentation comes after Inslee's climate bill was passed. But Ericksen also questioned Easterbrook's data at one point—saying that data for the 1930s, which the professor claimed was the hottest period on record—appeared to be cooler than temperatures today.
But in his closing remarks Ericksen thanked Easterbrook and suggested that there are unsettled questions that require lawmakers to look at "all the data that is available to us to make an informed decision."
"I thought it was a very interesting presentation. I think obviously there are disagreements in Olympia and in the scientific world with regards to the material you presented," Ericksen said.
Ranker said he hoped Ericksen's decisions to hear questionable testimony was not a sign that the governor's climate work group would get derailed. He said the question that needs to be answered is what is the best state response to climate change—not whether it is happening.
"We know conclusively we have had the hottest, days, years, months on record in the last decade or more. It just continues," Ranker said. "The portrayal that this is a conspiracy—he said that three times to me that the data I'm looking at was manipulated by NOAA and NASA and the National Science Foundation—I find that extremely hard to believe."
Thursday, March 28, 2013
Hansen to leave NASA; Climate change skeptics say 'sick' science distorts facts
BREAKING NEWS: Hansen to leave NASA
Justin Gillis, NY Times

James E. Hansen, the climate scientist who issued the clearest warning of the 20th century about the dangers of global warming, will retire from NASA this week, giving himself more freedom to pursue political and legal efforts to limit greenhouse gases.
Marveling at the efficiency of a killer in the skies and NASA's household name on climate change takes his fight for the earth's future into retirement.
His departure, after a 46-year career at the space agency's Goddard Institute for Space Studies in Manhattan, will deprive federally sponsored climate research of its best-known public figure. At the same time, retirement will allow Dr. Hansen to press his cause in court. He plans to take a more active role in lawsuits challenging the federal and state governments over their failure to limit emissions, for instance, as well as in fighting the development in Canada of a particularly dirty form of oil extracted from tar sands.
"As a government employee, you can't testify against the government," he said in an interview.
Dr. Hansen had already become an activist in recent years, taking vacation time from NASA to appear at climate protests and allowing himself to be arrested or cited a half-dozen times. But those activities, going well beyond the usual role of government scientists, had raised eyebrows at NASA headquarters in Washington. "It was becoming clear that there were people in NASA who would be much happier if the 'sideshow' would exit," Dr. Hansen said in an e-mail.
----------
Jeff Montgomery, The (Wilmington, Del.) News Journal 4:36p.m. EDT March 19, 2013
Personal, economic freedom groups sponsor talk about global warming 'scare tactics."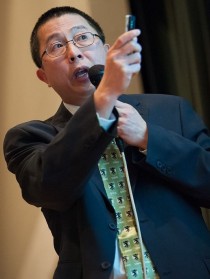 (Photo: Jason Mint, The News Journal, Wilmington, Del.)
STORY HIGHLIGHTS
250 came for the forum with a Harvard-Smithsonian researcher, former Delaware state climatologist
One of them is a member of Delaware's Sea Level Rise Advisory Committee
Natural coastal erosion is a bigger worry than sea level, he says
GEORGETOWN, Del. - One of the nation's more controversial climate-change skeptics dismissed warnings about sea-level rise and global warming as "scare tactics" and "sick" science in a talk here.
Willie Soon, a researcher at the Harvard-Smithsonian Center for Astrophysics, and Professor David Legates of the University of Delaware, a former climatologist for the state, bluntly rejected leading climate change claims during the Monday event organized by two nonprofit groups that promote personal and economic freedoms, the Positive Growth Alliance of Millsboro, Del. and the Caesar Rodney Institute of Dover, Del.
"They're a very sick group," Soon said. "They're not talking about science at all. It is all agenda-driven, science results.""
The comments came during a session that one organizer later said should be a call to oppose efforts to base land-use and other policies on forecasts of significant, long-term sea-level rise.
Director Richard Collins of the Positive Growth Alliance said the program, which drew about 250 people, was planned to counteract "outrageous" claims about global warming and its consequences.
"You're going to find out later that there is deliberate deception going on," Collins said during his introduction of the evening's speakers.
Collins also is a member of Delaware's Sea Level Rise Advisory Committee, a group scheduled to release a plan this summer for adapting to climate change in coming decades.
The group, formed by the state Department of Natural Resources and Environmental Control, based its efforts on forecasts of possible sea-level increases of 1.6 to 5 feet in the next century. It has recommended dozens of policies for consideration.
Legates, asked to step down as climatologist in 2011, said state policymakers never asked his opinion on climate change or sea-level rise while he had the position.
He thinks Delaware should focus on responses to severe, natural coastal erosion rather than strict sea-level rise.
"There is no clear signal of sea-level rise in Delaware," Legates said.
Some environmental groups have pointed to Soon's and Legates' ties to organizations financed by fossil fuel and deeply conservative interests, including the George C. Marshall Institute in suburban Washington and the Chicago-based Heartland Institute.
Queue the P Pielke Jr. convenient button which describes most everything enviro groups and the advocacy group UCS say: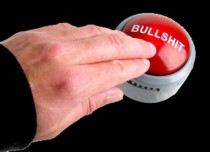 Geologic factors, mainly subsidence in coastal areas, account for the apparent and future long-term sea-level rise, Legates said.
The rise "essentially disappears" once subsidence is accounted for, he said, in contrast to warnings that sea-level increases could reach 6 feet by 2100.
"There's lots of variability," said Legates, who noted that the United Nations' Intergovernmental Panel on Climate Change had steadily reduced its sea-level rise estimates in the past decades.
Legates pointed to North Carolina's recent efforts to develop land-use policies based on accelerating sea-level rise and claimed that developers had used skewed data that eventually undermined the effort.
Secretary Collin P. O'Mara of Delaware Department of Natural Resources and Environmental Control said Thursday that scientific agreement on the process and prospect of global warming, climate change and its link to human activities was "overwhelming."
"We are past this being a theoretical problem," O'Mara said. "We're experiencing exactly what the climate models predict: warming global temperatures, more extreme weather events, sea-level rise." See BS button above.
"Rather than rehashing settled science, we need to focus our efforts on how to reduce emissions most cost effectively, improve the resiliency of vulnerable communities and strengthen our economy in the process," he said.
Maureen Leary, a Georgetown resident who attended the session, said she has doubts about the threat despite U.N. studies warning that some amount of damaging warming and sea-level rise already appears unavoidable.
"I'm not sure that I believe the predictions," Leary said.

Saturday, March 23, 2013
This March could be the coldest of the last 100 years (Europe)
By P Gosselin on 22. March 2013
UPDATE: "This March could be the coldest of the last 100 years," says meteorologist Dominik Jung - See here!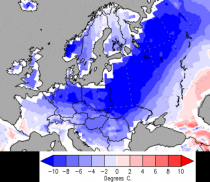 Europe's bitter cold winter refuses to let up!
For some areas we are now hearing that it is being called the "100-year winter".
Temperature forecast anomaly for the next 7 days.
For example, Berlin's online daily Tagesspiegel writes today:
Berlin freezes in 100-year winter.
Lots of snow and bitter cold until the end of March - Berlin hasn't seen this in more than 100 years."
Forget the tall tales spread by Mojib Latif. We haven't forgotten what real winters are. We just haven't seen anything like this since measurements began in 1895!

The Tagsspeigel writes:
'There has never been anything like this in Berlin in the last third of March since snow measurements began in 1895,' says weather expert Friedemann Schenk of the Meteorological Institute for the Freien Universitat (FU)."
The English-language The Local here reports that Germans should not expect spring to arrive anytime soon, as the German Weather Service (DWD) warns that "the record-breaking wintry weather will continue until Easter".
This weekend will be especially cold. T online news site writes:
In the east, temperature readings will drop dramatically - many readings will be -10C, as low as -13C in some spots. "Some cold records for end of March will fall," prophesies Ruhnau."
Germany's RBB forecasts temperatures down to -15C! The extreme cold overall will make this March in Central Europe the coldest and snowiest in over 40 years at least.
The Local adds:
Record-breaking levels of snow fell in other areas of the northeast namely in Laage, Mecklenburg Western-Pomerania, where a blanket of 27 centimetres of snow smashed the region's previous 2005 record for the time of year by six centimetres. "For March 20th, the amounts are impressively high," said Simon Tripper, a meteorologist from the DWD, on Wednesday afternoon.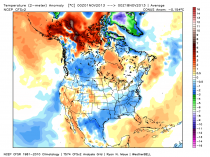 Enlarged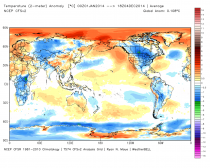 Enlarged
See two part series on climate change and politics with Art Horn and I and Bryan Donavan. Part Ii is shown first.
Alarmists are trying to blame the cold and snowy winter on lack of arctic ice which they claim results in more blocking. Even my friend Tom Skilling has bought into this nonsense. The arctic ice has a strong correlation with Atlantic warm and cold cycles. The current warm cycle which began in 1995 led to gradual decline in arctic ice. The AMO also correlates with blocking. Whats more important is that is summer ice reduction. The ice has recovered to the middle of the pack by late fall.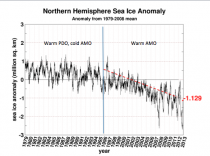 Enlarged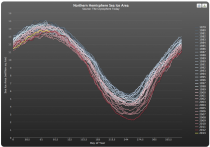 Enlarged
Wednesday, March 06, 2013
Winter ranked # 4 snowiest, November to February #2 for the Northern Hemisphere!
By Joseph D'Aleo, CCM
Rutger's monthly snow data is in. November was 5th snowiest, December was the snowiest ever, January the 6th snowiest and February 16th snowiest. The winter as a whole was 4th snowiest.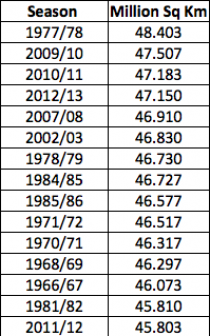 Enlarged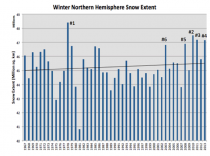 Enlarged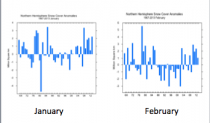 Enlarged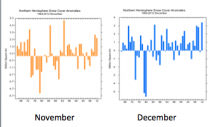 Enlarged
As a whole the winter ranked 4th behind 1977/78, 2009/10, 2010/11, (2012/13) and ahead of 2007/08 and 2002/03. That means 5 of the top six snowiest winters for the northern hemisphere have occurred since 2002/03. When i averaged Novermber to February, 2012/13 jumped to #2.

Enlarged
In the November to February average, 2012/13 jumped to #2.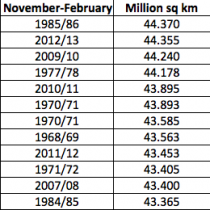 Enlarged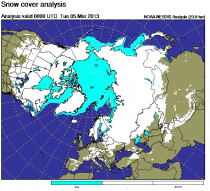 Enlarged
If the snow keeps coming the next few weeks, I suspect November to March will become #1.!!!!
Oh and the arctic ice is near the middle of the pack. Still given the warm AMO, it should be low again next summer. The AMO is the driver for the cyclical changes in ice (see more here).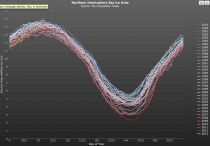 Enlarged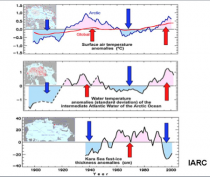 Enlarged
By the way, to counter the alarmist knee jerk claims that this is due to warm air which means more moisture which means more snow, here is the mean precipitable water for the northern hemisphere since February 1, when it turned snowy in the U.S. As you would expect when it gets cold, (necessary for snow), the amount of water vapor in the air drops. Blues are below normal, yellows and reds above.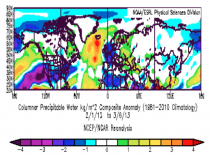 Enlarged
Sunday, March 03, 2013
Impressive negative NAO and AO producing hemispheric cold…links to solar
Update: See this YOUTUBE video with Nir Shaviv on solar vs AGW
By Joseph D'Aleo, AMS Fellow, CCM
The AO and NAO has been predominantly negative this winter continuing a trend sine the 1990s. It has produced a brutal winter in Russia, especially Siberia into northern and sometimes central China with cold spells and snow in Europe and the United States.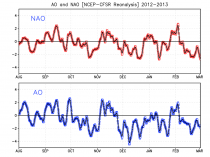 Enlarged
After a rebound last year, we seem to be still on a trend down since 1990. Climate models had indicated an upward trend.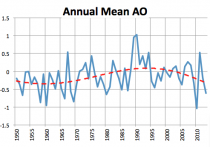 Enlarged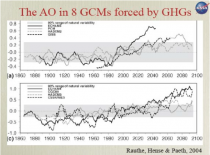 Enlarged
Note how the AO which reached record low levels in 2009/10 winter rebounded late in the 2010/11 winter and stayed higher in 2011/12 before falling again this year.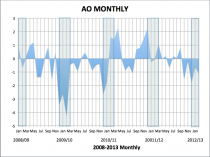 Enlarged
That matches the solar cycle which bottomed out from 2007/08 through 2009/10 before spiking late in 2010/11 and peaking at the start of the 201/12 winter. it has fallen since and February came in with a SSN of just 38, well below the forecast (red).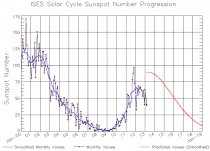 Enlarged
Solar flux too dropped to 104 sfus at a time we are supposed to be near solar max for this cycle.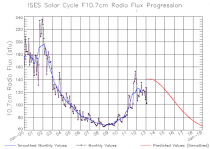 Enlarged
Notice how stratospheric warmings, which produce high latitude blocking and a negative AO and last for 4 to 6 weeks which were rare and mostly near max and min have been almost every years since the sun went 'asleep'.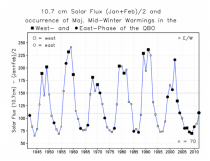 Enlarged
The AO and NAO are forecast to stay very low.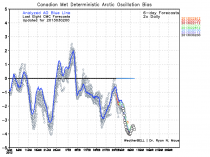 Enlarged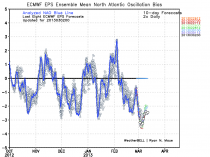 Enlarged
NASA SHOWED A CONNECTION OF THE SUN WITH NAO
Shindell et al in the following NASA Earth Observatory story a decade ago related the Maunder Minimum conditions and blocking to the low solar ultraviolet which through ozone chemistry warms the upper atmosphere in low and middle latitudes. When the sun is quiet the UV which changes 6-8% in the 11 year cycle stays near solar minimum levels. The solar flux is said to be a good proxy for the UV.
See the temperatures their ozone/UV model showed for the Maunder Minimum versus normal solar times. See the - NAO!!


Enlarged
Here is what they wrote:
Many things can change temperatures on Earth: a volcano erupts, swathing the Earth with bright haze that blocks sunlight, and temperatures drop; greenhouse gases trap heat in the atmosphere, and temperatures climb. From 1650 to 1710, temperatures across much of the Northern Hemisphere plunged when the Sun entered a quiet phase now called the Maunder Minimum. During this period, very few sunspots appeared on the surface of the Sun, and the overall brightness of the Sun decreased slightly. Already in the midst of a colder-than-average period called the Little Ice Age, Europe and North America went into a deep freeze: alpine glaciers extended over valley farmland; sea ice crept south from the Arctic; and the famous canals in the Netherlands froze regularly - an event that is rare today.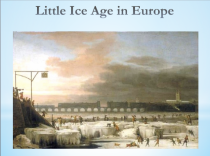 Enlarged
The impact of the solar minimum is clear in this image, which shows the temperature difference between 1680, a year at the center of the Maunder Minimum, and 1780, a year of normal solar activity, as calculated by a general circulation model. Deep blue across eastern and central North America and northern Eurasia illustrates where the drop in temperature was the greatest. Nearly all other land areas were also cooler in 1680, as indicated by the varying shades of blue. The few regions that appear to have been warmer in 1680 are Alaska and the eastern Pacific Ocean (left), the North Atlantic Ocean south of Greenland (left of center), and north of Iceland (top center).
If energy from the Sun decreased only slightly, why did temperatures drop so severely in the Northern Hemisphere? Climate scientist Drew Shindell and colleagues at the NASA Goddard Institute for Space Studies tackled that question by combining temperature records gleaned from tree rings, ice cores, corals, and the few measurements recorded in the historical record, with an advanced computer model of the Earth's climate. The group first calculated the amount of energy coming from the Sun during the Maunder Minimum and entered the information into a general circulation model. The model is a mathematical representation of the way various Earth systems -ocean surface temperatures, different layers of the atmosphere, energy reflected and absorbed from land, and so forth -interact to produce the climate.
When the model started with the decreased solar energy and returned temperatures that matched the paleoclimate record, Shindell and his colleagues knew that the model was showing how the Maunder Minimum could have caused the extreme drop in temperatures. The model showed that the drop in temperature was related to ozone in the stratosphere, the layer of the atmosphere that is between 10 and 50 kilometers from the Earth's surface. Ozone is created when high-energy ultraviolet light from the Sun interacts with oxygen. During the Maunder Minimum, the Sun emitted less strong ultraviolet light, and so less ozone formed. The decrease in ozone affected planetary waves, the giant wiggles in the jet stream that we are used to seeing on television weather reports.
The change to the planetary waves kicked the North Atlantic Oscillation (NAO) - the balance between a permanent low-pressure system near Greenland and a permanent high-pressure system to its south - into a negative phase. When the NAO is negative, both pressure systems are relatively weak. Under these conditions, winter storms crossing the Atlantic generally head eastward toward Europe, which experiences a more severe winter. (When the NAO is positive, winter storms track farther north, making winters in Europe milder.) The model results, shown above, illustrate that the NAO was more negative on average during the Maunder Minimum, and Europe remained unusually cold. These results matched the paleoclimate record.
Note: The Maunder Minimum was followed by quiet periods in the 106 and 212 cycles shown as the Dalton Minimum and the early 1900 quiet era.
A quiet sun leads to more -NAO, more cold winter weather. We may be entering at least a Dalton like Minimum, but even if it was like the early 1900s, it could get very cold after the Atlantic follows the Pacific into its cold phase with the low solar (next minimum due around 2020).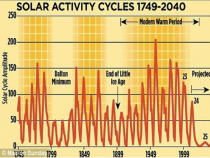 Enlarged
See Niagara Falls in 1911.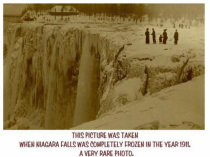 Enlarged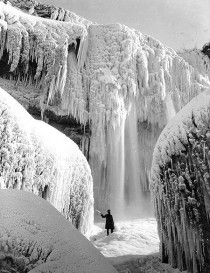 Enlarged
The solar brightness (visible changes only 0.1% in the 11 year cycle), but there are significant amplifiers. We do not have a good estimate of their magnitude but they are much greater than the brightness. They include the UV discussed, the diffusion of cosmic rays which affects the nucleation of low clouds (Svensmark effect) and geomagnetic which produces warming in higher latitudes (ionization visible as the aurora).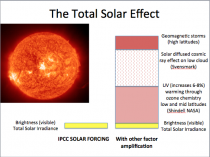 Enlarged
This suggest the IPCC has greatly underestimated the solar effect while the flattening of temperatures for 17 years as per Pachauri and the Hadley center suggest they have seriously overestimated ANY greenhouse warming from CO2. I don't profess to know exactly what the number are but the arrows suggest the direction.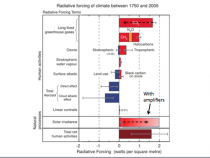 Enlarged
So if the sun continues in its doldrums, we should see more interesting winters. Europe and Asia have had some brutal cold the last 5 years and very heavy snows. Many European scientists are said to be baffled, bewildered and confused by the cold not forecast by their super computer models and some are beginning to believe they don't understand the climate they way they thought they did. We have had 4 of the top 5 snowiest winters for the hemisphere for the last decade. Remember the forecasts that snow would become a rare commodity.
Wait until the AMO follows the PDO negative with the quiet sun for broad North American cold, but it should be interesting and snow should be in the picture most years.
We have not gotten the winter ranking yet, but I would guess 2012/13 will rank high up given December was snowiest ever for the hemisphere and January #6. We were well above in February too.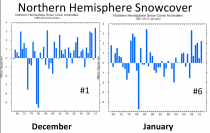 Enlarged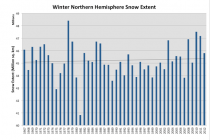 Enlarged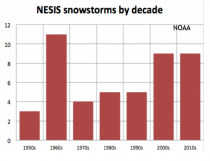 Enlarged
Let's se if we can add another to the NESIS list. I have added the early February blizzard. If we had a comparable list from NOAA for the central, we might have had one or two this past month and maybe another to come.

Thursday, February 21, 2013
Wuebbles gone wild - hilarious claims of 'wall to wall' severe weather on cable news is not science
By Anthony Watts,. Watts Up With That
A couple of days ago there was this PR from the University of Illinois at Urbana-Champaign. Icecap Note: Announcing the continuing ignorance on parade tour Wuebbles has been on even to the equally clueless Boxer committee with equally clueless other speakers
I decided it was just too ridiculous to get any traction. I was wrong, an even more ridiculous press release followed this one. Only one problem; Wuebbles doesn't understand the difference between reality and reporting bias- Anthony
University of Illinois atmospheric sciences professor Donald Wuebbles will present a talk about how climate change is increasing the number of severe weather events at the 2013 AAAS meeting.
Climate change's costly wild weather consequences
CHAMPAIGN, Ill. - Throughout 2012, the United States was battered by severe weather events such as hurricanes and droughts that affected both pocketbooks and livelihoods. Research suggests that in the coming years, U.S. five-day forecasts will show greater numbers of extreme weather events, a trend linked to human-driven climate change.
Donald Wuebbles, a professor of atmospheric sciences

at the University of Illinois at Urbana-Champaign, will discuss extreme weather in a presentation Feb. 15 at the annual meeting of the American Association for the Advancement of Science in Boston.
In recent decades, multi-day heat waves and severe precipitation have become more frequent. For example, in the U.S. in the 1950s, the number of days that set record high temperatures was equal to the number of days that set record low temperatures. By the 2000s, the United States was twice as likely to see a record high as a record low.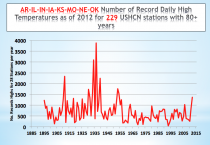 Enlarged
"Human-driven climate change is in fact driving changes in severe weather, and that leads to a lot of potential impacts in both humans and wildlife that end up being costly in many different ways," Wuebbles said.
As the global climate changes, normal weather patterns are altered. This is because the increasingly warmer atmosphere holds larger amounts of water vapor, which energizes storms, Wuebbles said.
The consequences of severe weather are much greater than the disappointment of a missed picnic or the inconvenience of a power outage. Weather-related disasters incur huge expenses, taxing both public funds and private equity. According to the National Oceanic and Atmospheric Administration, 11 extreme weather events costing more than $1 billion each occurred in 2012.
"What we've seen in general is that the number of billion-dollar events has increased over the last three decades," Wuebbles said. "It's not just hurricanes, it's really a number of different types of weather extremes that are increasing, and that's what the worry is."
In his talk, Wuebbles will discuss the current understanding of severe weather in relation to the science of climate change, as well as speak about the issues and uncertainties that will affect the U.S. and world in the coming years.
----------
OK today we have this press release from AAAS:
Scientists Say Wild Weather Is Here to Stay
Cable news junkies, take heart: if you love wall-to-wall coverage of hurricanes, wildfires and superstorms, your future viewing schedules will be jam-packed.
Researchers at the AAAS Annual Meeting said that wild weather events like Superstorm Sandy and the severe Texas drought are the new normal in North America, as human-driven climate change has made these events more intense and more frequent.
This GOES-13 satellite image was captured on Oct. 31 at 1240 UTC as Sandy's circulation was winding down over Pennsylvania. Sandy had been downgraded a remnant low pressure area. Credit: NASA GOES Project
Consider these facts:
- In the 1950s, the number of days that set record high temperatures in the U.S. was equal to the number of days that set record low temperatures. By the 2000s, record highs were twice as likely as record low.
- The amount of precipitation falling in the heaviest rain and snow events in the United States has increased by nearly 20% since the 1950s.
- Since the 1970s, the Atlantic Ocean has seen substantial increases in nearly every measure of hurricane activity, from frequency to storm intensity.
"The scientific analyses are now indicating a strong link between changing trends in severe weather events and the changing climate," said Donald Wuebbles, an atmospheric scientist from the University of Illinois. "Every weather event that happens nowadays takes place in the context of a changed background climate."
"Globally the temperatures are higher, the sea levels are higher, and there is more water vapor in the atmosphere, which energizes storms. So nothing is entirely natural anymore," he said. "The background atmosphere has changed and continues to change due to human activity."
Extreme weather took political center stage earlier this week, when U.S President Barack Obama mentioned Superstorm Sandy and other severe weather events in his State of the Union speech.
However, the president was careful to note that "no single event makes a trend" an idea echoed by the researchers at a AAAS news briefing.
"While a particular heat wave may have still have occurred in the absence of human-induced warming," Wuebbles explained, "it would not have been as hot, or lasted this long, and such events would not occur as frequently."
Ok Bozo explain the dust bowl of the 1930s and the 7 year drought from 1949 to 1956.
Ecologists and wildlife biologists have been steadily compiling evidence that climate change has profound effects on plants and animals, affecting where they thrive and when they breed or flower, among other events. But University of Texas at Austin biologist Camille Parmesan said some of these changes also can be driven by extreme weather events - even just a few days of extreme heat or rainfall.
Climate change interacts with other factors such as pollution and shrinking habitats to affect plant and animal populations, Parmesan acknowledged. But, she said, studies of coral reefs and other natural habitats suggest that "if we reduce these other human stresses, we actually can increase resilience and resistance in natural ecological systems."
It remains to be seen whether humans can be similarly resilient in the face of extreme weather, the researchers said. The past holds several examples of other societies that did not fare so well under severe climate change.
Tree-ring records from the American Southwest, for example, suggest that drought during the 13th century may have driven the residents of Mesa Verde, Colorado to flee their fields and homes. "The historical record shows us a community that may have failed environmentally," said David Stahle, a tree-ring scholar from the University of Arkansas. "We are doing the same thing now in terms of our heavy consumption of water and fossil fuels."
Wuebbles said he has talked with farmers in the American Midwest who are already changing planting times and seed types in response to recent years of severe drought and floods. And other states are grappling with the financial implications of a future of weather extremes.
Texas State climatologist John Nielsen-Gammon has been tracking the fallout from his state's ongoing drought, which he said was triggered more by extreme high temperatures than a lack of rainfall.
Reservoirs are at their lowest levels since the 1990s, and the state legislature will meet this spring to discuss a water plan that ensures supplies for the next 50 years. "But it costs $53 billion," Nielsen-Gammon said, "and there's presently no mechanism to fund it."
"Up until this point, climate change has been largely an abstract concept because some of the United States has not seen a large increase in temperatures until just recently," he added. "The awareness of the importance of dealing with climate change is just now becoming apparent within our state."
Dr. Wuebbles might do well to read and understand how the march of technology has created a reporting bias in "cable news" providing us with "wall to wall coverage":
Read this: Why it seems that severe weather is "getting worse" when the data shows otherwise - a historical perspective
And for his three points, the real facts are in [brackets in blue]:
- In the 1950s, the number of days that set record high temperatures in the U.S. was equal to the number of days that set record low temperatures. By the 2000s, record highs were twice as likely as record low. [Yes, but does Dr. Wuebbles know that most of the weather stations setting new records are NEW stations that have been added since then? See graph below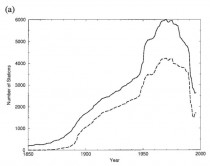 Enlarged
Above is Figure 2a from NOAA/NCDC Peterson and Vose (1997), showing the change in temperature reporting stations over time for daily mean temperatures (solid line) and min/max temperatures (dotted line). Note that the number of stations added after 1950 was the biggest jump, and with so many new stations, it is logical that they'd set new records for their locations. Combine this with the growth of cities (UHI) and spectacularly poor station siting, and it is not at all surprising there are more warm records than cold.]
- The amount of precipitation falling in the heaviest rain and snow events in the United States has increased by nearly 20% since the 1950s. [Again, this can be explained by the addition of more weather stations after 1950, with more stations with rain and snow gauges added, you'll see more events due to better spatial coverage. Rain and snow bands can often be very narrow, particularly from thunderstorms, and so catching these is dependent on a station being under the event]
- Since the 1970s, the Atlantic Ocean has seen substantial increases in nearly every measure of hurricane activity, from frequency to storm intensity. [ This is double plus wrong, see the graphs of Global Accumulated Cyclone Energy and Frequency below: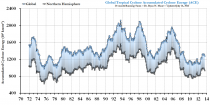 Enlarged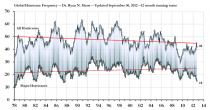 Enlarged
And...finally…
Prof. Roger Pielke Jr. says
Let's take a step back. The science on climate change, extreme events and disaster costs is clear and unambiguous. You don't need to take my word for it, you can find the science well summarized in the IPCC SREX. And if you don't like the IPCC you can find an array of peer-reviewed literature. I am happy to debate this topic with all comers as the data and analyses overwhelming support the claims below.
US floods have not increased over a century or longer (same globally).
US hurricane landfall frequency or intensity have not increased (in US for over a century or longer).
US intense hurricane landfalls are currently in the longest drought (7 years+) ever documented.
US tornadoes, especially the strongest ones, have not increased since at least 1950.
US drought has decreased since the middle of the past century.
US East Cost Winter Storms show no trends (here also).
Disaster losses normalized for societal changes show no residual trends (US, other regions or globally).
The only thing that has increased that is extreme, is Dr. Wuebbles opinions.
Monday, February 18, 2013
No surprise - alarmist psuedo scientists now blame blizzards on warming
See Dr. Richard Keen's excellent response to the AP story now with graphics here.

Another embarrassing moment for the science brought to you by the AMS, HUFFPO and AP's Seth Borenstein.
Climate Change And Blizzards May Be Connected, Global Warming Studies Find

With scant snowfall and barren ski slopes in parts of the Midwest and Northeast the past couple of years, some scientists have pointed to global warming as the culprit.
Then when a whopper of a blizzard smacked the Northeast with more than 2 feet of snow in some places earlier this month, some of the same people again blamed global warming.
How can that be? It's been a joke among skeptics, pointing to what seems to be a brazen contradiction.
But the answer lies in atmospheric physics. A warmer atmosphere can hold, and dump, more moisture, snow experts self annointed but totally clueless say. And two soon-to-be-published studies demonstrate how there can be more giant blizzards yet less snow overall each year. Projections are that that's likely to continue with man-made global warming.
Consider:
- The United States has been walloped by twice as many of the most extreme snowstorms in the past 50 years than in the previous 60 years, according to an upcoming study on extreme weather by leading federal and university climate scientists. This also fits with a dramatic upward trend in extreme winter precipitation - both rain and snow - in the Northeastern U.S. charted by the National Climatic Data Center.
- Yet the Global Snow Lab at Rutgers University says that spring snow cover in the Northern Hemisphere has shrunk on average by 1 million square miles in the last 45 years.
- And an upcoming study in the AMS Journal of Climate says computer models predict annual global snowfall to shrink by more than a foot in the next 50 years. The study's author said most people live in parts of the United States that are likely to see annual snowfall drop between 30 and 70 percent by the end of the century. (How sad how fall the AMS has fallen - now just another environmental advocacy group)
"Shorter snow season, less snow overall, but the occasional knockout punch," Princeton University climate scientist

Michael Oppenheimer said. "That's the new world we live in." Oppenheimer was an environmental advocate with the Environmental Defense Fund but went to Princeton to try and legitimize his status - this has happened at many colleges and universities to the detriment of students
Ten climate scientists say the idea of less snow and more blizzards makes sense: A warmer world is likely to decrease the overall amount of snow falling each year and shrink snow season. But when it is cold enough for a snowstorm to hit, the slightly warmer air is often carrying more moisture, producing potentially historic blizzards.
"Strong snowstorms thrive on the ragged edge of temperature - warm enough for the air to hold lots of moisture, meaning lots of precipitation, but just cold enough for it to fall as snow," said Mark Serreze, director of the National Snow and Ice Data Center. "Increasingly, it seems that we're on that ragged edge." another institutional downgrade
Just look at the last few years in the Northeast. Or take Chicago, which until late January had 335 days without more than an inch of snow. Both have been hit with historic storms in recent years.
Scientists won't blame a specific event or even a specific seasonal change on global warming without doing intricate and time-consuming studies. And they say they are just now getting a better picture of the complex intersection of man-made climate change and extreme snowfall.
But when Serreze, Oppenheimer and others look at the last few years of less snow overall, punctuated by big storms, they say this is what they are expecting in the future.
"It fits the pattern that we expect to unfold," Oppenheimer said.
The world is warming so precipitation that would normally fall as snow in the future will likely fall as rain once it gets above the freezing point, said Princeton researcher Sarah Kapnick.
Her study used new computer models failing bigger every dayto simulate the climate in 60 to 100 years as carbon dioxide levels soar. She found large reductions in snowfall throughout much of the world, especially parts of Canada and the Andes Mountains. In the United States, her models predict about a 50 percent or more drop in annual snowfall amounts along a giant swath of the nation from Maine to Texas and the Pacific Northwest and California's Sierra Nevada mountains.
This is especially important out West where large snowcaps are natural reservoirs for a region's water supply, Kapnick said. And already in the Cascades of the Pacific Northwest and in much of California, the amount of snow still around on April 1 has been declining so that it's down about 20 percent compared to 80 years ago, said Philip Mote, who heads a climate change institute at Oregon State University.what a downgrade from George Taylor. Mote has apparently given up on his winter decline of western snowpack theory that got him a seat at the IPCC. He is focusing now on April. This spring reduced snowpack may be explained by lack of volcanic aerosols the last two decades which allows the spring sun to do its thing. More snow has been falling in late fall and winter thanks to the cold PDO since 1998. Recent big snow winters have seen snow persist into summer.
Kapnick says it is snowing about as much as ever in the heart of winter, such as February. But the snow season is getting much shorter, especially in spring and in the northernmost areas, said Rutgers' David Robinson, a co-author of the study on extreme weather that will be published in the Bulletin of the American Meteorological Society.
The Rutgers snow lab says this January saw the sixth-widest snow cover in the Northern Hemisphere; the United States had an above average snow cover for the last few months. But that's a misleading statistic, Robinson said, because even though more ground is covered by snow, it's covered by less snow.
And when those big storms finally hit, there is more than just added moisture in the air, there's extra moisture coming from the warm ocean, Robinson and Oppenheimer said. And the air is full of energy and unstable, allowing storms to lift yet more moisture up to colder levels. That generates more intense rates of snowfall, Robinson said."
"If you can tap that moisture and you have that fortuitous collision of moist air and below freezing temperatures, you can pop some big storms," Robinson said.
As the stories below show, this will join 4 of the top 5 snowiest winters for the hemisphere that fall only behind 1977/78 - 2009/10, 2010/11, 2007/08,. 2002/03) in the last decade. We have had 18 major impact east coast metro snowstorms since 2000, 11 since 2009. The only decade with more major snows was the 1960s, the coldest decade in the last 80 years coming after a two decade warming. Cooling after a warm period is what produces more snows and storms. Winters as shown here have cooled in the last 15 years in all 9 US climate regions.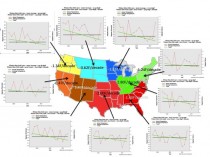 Enlarged
Dr. Richard Keen has commented in some great detail on the Borenstein piece here and had done a wonderful study here that showed that cold winter produce more snows not warm in Philadelphia.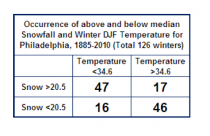 Enlarged