Tuesday, March 10, 2015
A remarkable February 2015
By Joe D'Aleo, CCM
Despite the fact that winters have been cooling in the CONUS (all 9 climate regions) for the last 20 years and snows have been increasing, the Union of Concerned 'Scientists', an advocacy group whose environmentalists have taken over most universities at least here in the northeast have been advising the state goverments that warming was producing less snow and threatening the ski and maple sugar industries. They have been repeating this since at least 2007, ignoring new snow records not only in ski areas but in the big cities. Boston 10 year running mean is at a new high. A lot of bad energy and regulatory policy has been already enacted based on 'failing climate models' on the state and federal level.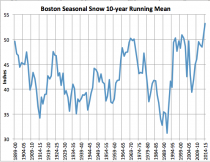 Enlarged
While some democrats with full mainstream media support, are trying to silence scientists who don't accept the so called consensus 'warming' position, mother nature is voting 'Nay'.
Last three years had heavy snows and last March was coldest ever in VT. 2nd coldest in NH, ME, 5th in MA. It was the coldest and snowiest December to March ever in Chicago and snowiest ever in Detroit. NOAA and Enviornment Canada had projected at the end of November 2013 a warm winter for the Great lakes and east in 2013/14. NOAA's winter outlook in October for 2014/15 smarting from a busted 2013/14 headlined the politically correct forecast
"Repeat of last year's extremely cold, snowy winter east of Rockies unlikely."
Note that we have high respect for NOAA forecasters at all levels who strive hard to provide accurate forecasts and life saving warnings. However, the last two years were high confidence cold forecasts based on ocean temperature patterns. I was told over dozen years ago, NOAA seasonal forecasters are not permitted to work with any factors not statistically determined by the universities or labs to be valid. Private sector forecasters can play detective and look at all factors- like ocean warm and cold pools outside the tropical Pacific and solar. See how well the ocean pools and other factors' analog pattern (left) fit the actual November to February mean (through February 27) (right).


Enlarged
After a frigid November, in late December, mild weather got the official winter off to a slow start nationwide. January brought cold to the central and east but the thaw mid month central knocked down the anomalies there. Then came this February. The month has been a remarkable one from the Great Lakes to the Northeast and Mid Atlantic.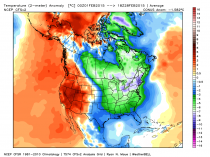 Enlarged
This February has been 2nd coldest winter month EVER in BOS behind only February 1934. BOS had 8 feet of snows since January 24th and will set the all-time record this week (they are now at 102", record 107.6 inches in 1995/96).
In Boston, where they have had 8 feet of snow since January 24th, it was the 2nd coldest February and month ever. It was the snowiest winter (DJF) on record and will be the snowiest season perhaps by Monday. There is some evidence this may be the snowiest year since the Pilgrims were here in 1717.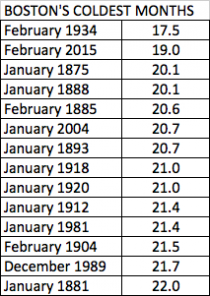 Enlarged
It was the coldest month ever in Worcester and Hartford, 2nd coldest in Providence (like Boston trailing 1934).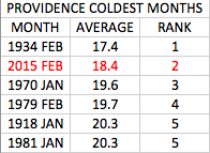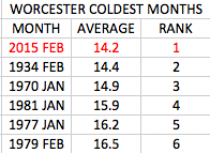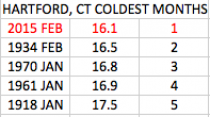 In Concord it was the 2nd coldest February just 0.1F behind 1934. In Nashua the next town west from me, it was the coldest month ever beating out January 1888! Records go back to 1886. Nashua had 18 days at 0 or below and 25 days below freezing, both records for any month. We are foot away from the all time record.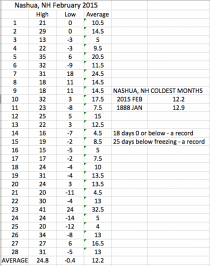 Enlarged
In Chicago where it was the 3rd snowiest February, it was the coldest since records began in 1872. February 2014 was 8th coldest.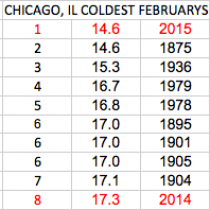 It ranked between 2nd and 5th coldest month in lower Michigan.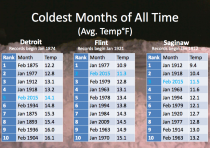 Enlarged
In Cleveland it was the coldest February and trailed only 1977 for the coldest month.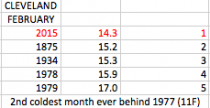 The ice cover has increased to 88.8%. Last year this is when the ice made its run for the gold, topping out at 92.5%. They were 85.4% on the same date.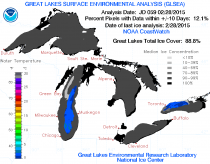 Enlarged
The next 5-10 days, cold temperatures will help challenge the record. As with Antarctica, when the facts are inconvenient, expect the media to dredge up some story that implies the opposite. The last two weeks there were stories that Lake Superior may be warming faster than any other lake in the world. The last two years it has frozen over (rare because it is so deep) and last year ice flows remained into June with lake temperature 7F below normal.
In New York CIty it was the 3rd coldest February and 9th coldest month since records began in 1869.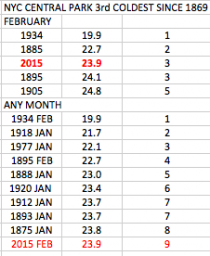 Enlarged

In Baltimore, it was the 5th coldest month since 1871.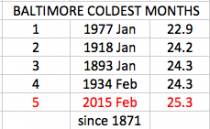 Speaking of icy water, this is from a photographer on Nantucket. It should be looked at from the perspective that some scientists were blaming the snows in Boston on a warm Atlantic pool east of Cape Cod (MMann - as much as 21F above normal). In actual fact specific humidity during the cold period was well below normal and each of the three major snowstorms occurred in Bston with temperatures in the teens.
The waves captured by NBC photographer Jonathan Nimerfroh are so thick with ice that they've drawn comparisons to 'Slurpees' and other frozen beverages, but the texture and shape of the wave also suggest a giant, grey tongue, licking the shores of Nantucket.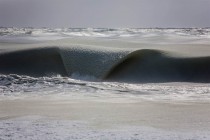 Enlarged
Here's what the photographer had to say about his images: "When I pulled up to the beach I could see the horizon just look strange. When I got to the top off the dunes I saw that beginning about 300 yards away from the shoreline the ocean was starting to freeze. The high temp that day was around 19 degrees. The wind was howling from the southwest which would typically make rough or choppy conditions not so good for surfing, but since the surface of the sea was frozen slush the wind did not change the shape. What resulted was perfect, dreamy, slush waves. Most waves were around 2 feet with some larger sets slushing through around 3 foot or waist high. What an experience to be absolutely freezing on the beach watching these roll in while I mind-surfed them! I wonder if a shaper can make me a special designed slurfboard?"
"The next day I drove up to see if they melted but beginning that same 300 yards away from shore the water had frozen solid and there were no waves at all. I've been asking all the fishermen and surfers I know if they have ever seen such a thing and they have all reported that this is a first, a result of it being the coldest winter we've had in 81 years. I guess the people I asked weren't old enough to remember a colder winter than this!"
One last thought, we hear that warming is why we are seeing more snow because warm air holds more water. Meteorologists know that cold weather produces snow. When it is cold, the atmospheric water content is less. See this prior analysis. Indeed most big snow years are cold years, warm years lean on snow.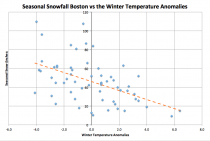 Enlarged