Aug 19, 2019
Baked Alaska - the real causes and how 2012 was forgotten
Joseph D'Aleo, CCM
UPDATE:
Remember all the scary headlines after a warm week in July in Alaska (after storms removed ice early from Bering Sea (which had a record high ice cover in 2012)… don't expect to see this in the enviro media.
Cordova, AK - Lowest September Temperature on record
September 22, 2019 by Robert Felix
Coldest September temp in at least 110 years, maybe more. Not just for the day, but for the entire month.
Intense Arctic cold descended into southern Alaska last week, setting a new all-time monthly Lowest Minimum Temperature.
According NOAA, the mercury plunged to -11.7 C (11 F) at Cordova Airport on Thursday, Sept 12, annihilating the previous record low of -6.7 C (20 F) set back in 1972.
This is the coldest temperature for the month of September ever recorded at the station since it began operating in 1909. Cordova Airport sits at an elevation of 9.4 m (31 ft)
-----------
The AP headlined after July: Alaska's average temperature in July was 58.1 degrees (14.5 Celsius). That's 5.4 degrees F (3 Celsius) above average and 0.8 degrees (0.4 Celsius) higher than the previous warmest month of July 2004, NOAA said. They opined the worse is yet to come.
Here is a plot of Anchorage July temperatures. Note the spike and warming starting in 2013.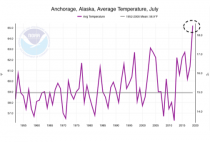 Enlarged
Alaska was above normal but it was warmest to the southeast near Anchorage.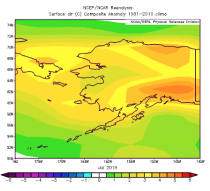 Enlarged
It has been above normal the first 7 months of the year.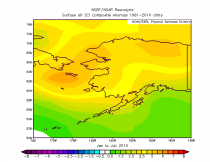 Enlarged
The warm northern Pacific that has dominated since 2013/14 certainly is playing a role.

Enlarged
What was never really covered except on places like Weatherbell and WUWT was the incredible cold in January 2012, when it was warm in the lower 48. Note how Anchorage was more the 14F below normal in January 2012!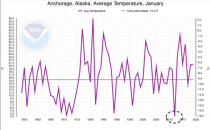 Enlarged
January averaged more than 14F below normal in Anchorage but it was even colder to the west!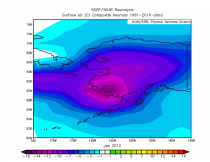 Enlarged
10 months in 2012 were colder than normal in 2012 in Anchorage.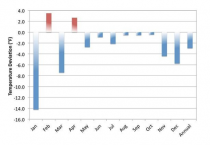 Enlarged Anchorage Monthly Temperatures Departure from Normal 2012
The first 7 months average in 2012.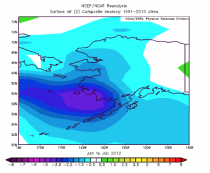 Enlarged
What was different was the cold water in the North Pacific (negative PDO).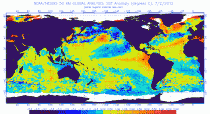 Enlarged
Anchorage set an all-time snow record of 134.5 inches;, topping the old record of 132.6 inches set in 1954-1955. In nearby Valdez, an amazing 437.9 inches fell, 114 inches (35%) above normal.
With the cold came deep sea ice - a record for the Bering Sea.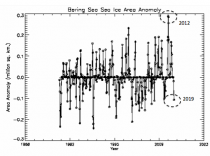 Enlarged
Note this past winter saw a dip below normal as strong north Pacific storms drove the ice out to sea. The lack of sea ice helped sea temperatures warm and favor the warmth on land - reaching 90F in July in Anchorage.
See the Bering Sea in 2012.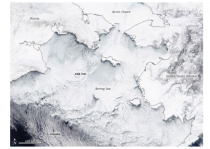 Enlarged
Watch it decrease when the water warmed - PDO rose.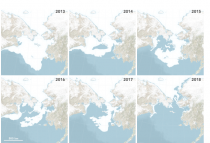 Enlarged
Alaska temperatures track very nicely with flips in the PDO state.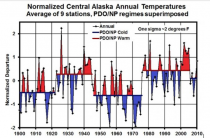 Enlarged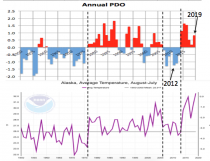 Enlarged
The environmental or funding chasing scientists and media play ambulance chasers - with every extreme a sign of a demise of life as we know it maybe even in a dozen years. When inconvenient weather occurs like record cold and snow or record low areal coverage of drought they either ignore it or blame it on man-made climate change. They have made it an non-falsifiable hypothesis - whether it is hot or cold, wet or dry, stormy or not - we are to blame. And as MIT's Jonathan Gruber told the media, the public is 'stupid' and will believe what we say with the help of the all too compliant media. That is the philosophy of the elitists and globalists. They have indoctrinated our young people to poison the well for the future.
Jack Webb in Dragnet long ago explained how indoctrination and even technology may have corrupted thinking of many of our younger generation.