May 27, 2022
Biased Reporting Overheats Climate Fear, Ignores Cold
By Vijay Jayaraj, Cornwall Alliance
It was a cold May night for many in the city of Bengaluru, India. The mercury dipped to 52 degrees Fahrenheit, a low not witnessed in the last 50 years.
The same week, some Indian cities made global headlines not for unusual cold but for extreme heat. Followers of international news likely have seen reports about heat waves and historic high temperatures in South Asia.
"India and Pakistan are no strangers to extreme temperatures, but the current heatwave stands out for its early-season timing, its rapid onset, its extent, and its severity," reported Vox. "Researchers are now investigating how much human-caused climate change contributed to the severe heat across South Asia."
However, the mainstream media did not report the record cold that occurred in other parts of India during the same week. It left me wondering: Is the media representing reality accurately or intentionally emphasizing hot weather to promote its climate narrative?
Welcome to the journalism of the climate cult - a systematic reporting of any and every extreme heat event as evidence of pending thermal doomsday while cold weather goes unreported or underreported.
India's capital Delhi topped the news when the mainstream media used a heat wave as a vehicle for promoting climate fear. Yet at the same time, Western media ignored the coldest day in 50 years in Bengaluru, where I live.
May 12 was the coldest day for the month in the city since 1972. A weather event that had a high probability of occurring, the cold was partly due to a cyclonic system and proof neither of extreme climate change nor of its absence.
Likewise, the extreme heat was a weather event that cannot be attributed exclusively to the trend in global average temperature - a measure that has been reasonably stable since the beginning of this century.
Delhi is notorious for its urban heat island, where a high density of structures causes a heat pocket and compounds the effect of natural warmth. Little relief is provided by houses lacking windows for ventilation and crammed against each other in narrow lanes. The heat can make you feel like a pizza inside a brick oven.
On May 13, NASA's Jet Propulsion Laboratory tweeted an image of Delhi heat islands, contrasting the city with the cooler countryside. Most cities in India are now experiencing the phenomenon, the likely reason behind increasingly unbearable conditions in summer months.
If international media were to give equal coverage to hot and cold as weather events, their climate narrative would fall to pieces. The same would happen if reporters were to acknowledge the effects of heat islands in cities like Delhi, Gurgaon, and Pakistan's Karachi - oft-used examples of so-called climate change's heat.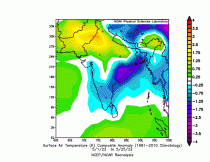 This irresponsible reporting extends well beyond Asia. In the past few weeks, unusually cold temperatures were recorded across the globe with little notice from the media.
Canada's Victoria International Airport set a temperature of 33.4 degree Fahrenheit, the lowest May 12 temperature since 1964. Similarly, in Puerto Rico, Italy, and Spain, the average temperature for April was below normal
In the United States' lower 48, April temperatures were 1.17 degrees Fahrenheit lower than normal. Even with global wheat futures hitting a high amidst a shortage, the media ignored the disruption of the planting season by cold May weather.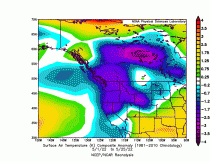 A public brainwashed by a corrupt - or inept - media is ill-equipped to face the real consequences of cold weather while suffering anxiety over a made-up climate emergency.
Vijay Jayaraj is a Research Associate at the CO2 Coalition, Arlington, VA, and holds a masters degree in environmental sciences from the University of East Anglia, UK. He resides in Bengaluru, India.
This commentary was first published at Biz Pac Review May 23, 2022
---------
More
Joseph D'Aleo
By the way each year as Vijay will tell you, the major media will report on the pre-monsoonal heat in India that develops and helps draw in the moisture that drives the seasonal monsoon. (BTW the same behavior/hype is seen here in the southwest US before the summer rains).
See the warmth in northern India into June.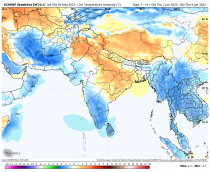 See enlarged.
See the rains arrive.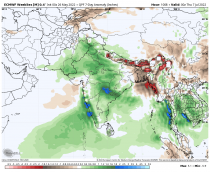 See enlarged.
See the cooling.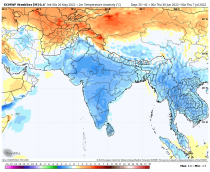 See enlarged.
Expect the media to jump on flooding from the monsoon rains and trying to tie it to greenhouse warming.
See in 2010 here how an Indian PhD scientist, Madhav Khandekar whose career brought him to Canada as a Environment Canada Meteorologist and our very own Wille Soon wrote how the climate modelers and their tinker toy climate models were promising they could predict monsoon success or failure. We could show you the ENSO state (MEI) alone could be used as a skillful predictor.
BTW, Madhav often travels back to India in winter to escape frigid Canada. He reported on Icecap and published papers on how cold in India was the killer not pre monsoonal heat and there were signs that the next cold period may be starting.
This was supported by the India IMD in this story by Down to Earth.
In 2020, human deaths due to cold waves were 76 times more than those due to heat waves, according to the India Meteorological Department (IMD).
As many as 152 deaths were recorded due to cold waves in 2020 in comparison to just two deaths as a result of heat waves, the Envi-Stats India 2021, Vol. 1 by the Ministry of Statistics, mentioned.
In 2020, deaths from cold waves in proportion to that from heat waves recorded officially were the highest in 20 years, the report mentioned. India recorded 99 days of cold waves in 2020, according to IMD.
There has been a nearly 2.7 times increase in the number of cold wave days from 2017-2020, the report showed. Cold waves killed more Indians than heat waves from 1980-2018.
The number of cold wave days have been consistently on the rise since 2017. In 2018, the country witnessed 63 days of cold waves, which increased 1.5 times to 103 in 2019.
India recorded the least deaths due to heat waves in 2020, when the country was under lockdown for months due to the novel coronavirus disease (COVID-19) pandemic.
In 2011, nearly 60-times more deaths were recorded in comparison to heat waves. Cold waves claimed 722 lives and heat waves 12, according to IMD.
And last Saturday:
URGENT - WINTER WEATHER MESSAGE
National Weather Service Portland OR
137 PM PDT Sat May 28 2022
Northern Oregon Cascades-Cascades in Lane County-South Washington Cascades- including the cities of Santiam Pass, McKenzie Pass, Willamette Pass, and Mount St. Helens
137 PM PDT Sat May 28 2022
...WINTER WEATHER ADVISORY REMAINS IN EFFECT FROM 8 PM THIS EVENING TO 11 AM PDT SUNDAY ABOVE 4500 FEET…
* WHAT...Wet snow expected above 4500 feet. Total snow accumulations of 3 to 6 inches for the South Washington, and 5 to 10 inches for the Oregon Cascades with higher amounts expected above 6000 feet. Winds gusting as high as 50 mph on exposed ridges and peaks.
* WHERE...In Oregon, Northern Oregon Cascades and Cascades in Lane County. In Washington, South Washington Cascades.
See here if the earth cools as the next phase of the 60 year +/- cycle goes back cold as was the general opinion was underway at the time:
See how ice cores suggest we may be on the downside of the current interglacial and closer to the next ice age than to a dangerously warm future.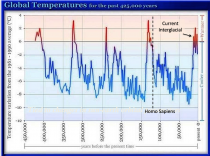 See enlarged.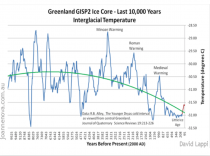 See enlarged.