Mar 17, 2023
California's wild winter
By Joseph D'Aleo
The main lodge at Mammoth Mountain in California has reached 618 inches (more than 50 feet) for the season. The record was 668 inches in 2010/11. At the summit, the seasonal total is at 784 inches (over 65 feet)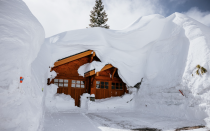 Enlarged


Enlarged
The last time the resort had this much snow was during the 2016/2017 season, making this the second snowiest season for Mammoth Mountain in the last 10 years.
The all-time record for the most snow at Mammoth Mountain was in the 2010/11 Season with 668 inches. The mountain does expect to break that record in the coming weeks.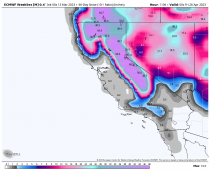 Enlarged
Meanwhile water levels in the reservoirs are rising fast.
Winter storms across California have significantly improved drought conditions and filled state reservoirs that had held less than a third of their capacity.
Drone photos from the California Department of Water Resources show just how big a difference a recent series of storms, brought on by 11 major winter storms has made.
The image below shows Lake Oroville in Butte County, California's second-biggest reservoir. The first image was taken Dec. 21. The second image was taken Jan. 12, after several storms had begun to refill the reservoir. The last image was taken March 8 and shows a dramatic improvement in the water level.
In the first image, the lake was at just 29% of its capacity. In the second image, the level had jumped to 51%. And by the third photo, the figure was up to 75%.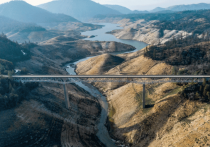 Enlarged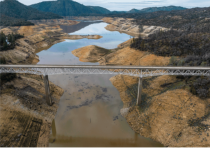 Enlarged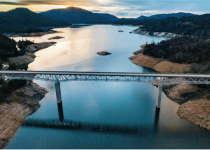 Enlarged
As of Tuesday, Folsom Lake was at 63% of its capacity, in line with the historical average level.
The winter storms have eased drought conditions across the state and prompted authorities to lift mandatory water restrictions for millions of Southern California residents.
This story originally appeared in Los Angeles Times.
Precipitation total forecasts to May 1: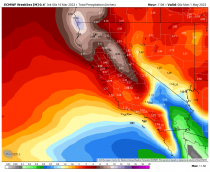 Enlarged
The trend since 1890 for winter precipitation is just -0.01 inch per decade with ups and downs.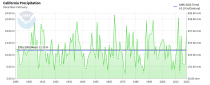 Enlarged