Jun 22, 2019
Climate Apocalypse? Ireland To Ban Private Cars, Import 1M Third-World Migrants
Drivers will be forced off the roads in Ireland and the population packed into "higher density" cities under a long-awaited climate plan which will 'revolutionise' people's lifestyle and behaviors, according to local media.
"Nudge" policies such as huge tax hikes, as well as bans and red tape outlined in the plan, will pave the way to a "vibrant" Ireland of zero carbon emissions by 2050 according to the government, which last year committed to boosting the country's 4.7 million-strong population by a further million with mass migration.
In order to avert a "climate apocalypse", the government plans to force people "out of private cars because they are the biggest offenders for emissions", according to transport minister Shane Ross whose proposals - which include banning fossil fuel vehicles from towns and cities nationwide - are posed to cripple ordinary motorists, local media reports.
Launching the plan in Dublin, leader Leo Varadkar outlined his vision for an Ireland of 'higher density' cities consisting of populations whose lifestyles and behaviors have been totally transformed by 'carrot and stick' policies outlined in the climate plan.
"Our approach will be to nudge people and businesses to change behavior and adopt new technologies through incentives, disincentives, regulations, and information," the globalist prime minister said.
"We are going to change how electricity is produced and consumed, how our homes and workplaces are heated; the way we travel; the types of vehicles we purchase; and how food is produced.
'Put an Empty Space to Better Use': Irish Urged to House Migrants in Spare Beds
Irish Urged to House Migrants in Spare Beds
Homeowners in Ireland have been asked to pledge spare rooms as part of the government's Irish Refugee Protection Programme.
"It's about vibrant, populated city centers, liveable, with excellent amenities and transport as we embrace higher densities."
The document, which was unveiled on Tuesday, features more than 180 measures to decarbonize the Irish economy including making private car ownership prohibitively expensive - with petrol and diesel car sales banned by 2030, a date by which it says general carbon tax will be increased from Euro20 a tonne to "at least" Euro80.
In addition, the plans demand that coal and peat-fired power stations are replaced with wind farms and other "green" energy sources in order to meet the requirement that 70 percent of electricity will be generated from renewables by 2030.
Irish People Fear Country 'Changing Too Quickly', 'Too Politically Correct'
While Ireland's establishment backs "social justice" and open borders, a poll reveals most citizens feel uneasy about its transformation.
But plans to dramatically slash carbon emissions by ditching tried and tested energy sources such as coal and nuclear in favor of renewables will necessarily result in a collapse in living standards according to scientists including Cambridge engineering professor Michael Kelly, who has previously explained that such proposals "represent total madness".
"In energy terms the current generation of renewable energy technologies alone will not enable a civilized modern society to continue," he asserted in a peer-reviewed paper published in 2016, pointing out that renewables such as solar, wind, and hydropower supply just seven per cent of electricity needs globally while "the rate at which fossil fuels are growing is seven times that at which the low carbon energies are growing."
The Hughes Medal-decorated physicist cautioned:
"The call to decarbonize the global economy by 80% by 2050 can now only be described as glib in my opinion, as the underlying analysis shows it is only possible if we wish to see large parts of the population die from starvation, destitution or violence in the absence of enough low-carbon energy to sustain society."
------------------
See the effect of offshore wind farms off Ireland on bird populations here.
Isle Of Man Seabird Populations Plummet As Wind Farms Overwhelm The Irish Sea
Herring Gulls are down 82%, European Shag down 51%, Razorbills down 55%. The list goes on....
* The world's biggest offshore wind farm is just a few miles away.
* Isn't there a conspicuous connection?
The Isle Of Man wildlife charity Manx Birdlife has reported a shocking 40% decline in the populations of many species of sea birds around the island's coast.
The worrying figures emerged following a comprehensive census that took place over two years. Whatever the reason for the sharp decline of the birds, it illustrates that something has gone very wrong.
I've noted with interest that this unprecedented drop in populations, of several of the island's maritime species, coincides with the proliferation of wind farms in the Irish Sea - something which has worried me during the past few years, as I have witnessed the frenzied development of the wind industry in the waters off the western coasts of England and Wales.
World's Biggest Offshore Wind Farm just a few miles away…
We know that offshore turbines kill birds and bats, though it is almost impossible to estimate the number of casualties because there are no retrievable carcasses to count at sea....
It is also highly likely that wind farms adversely affect many marine mammals.
The world's largest offshore wind farm is now in operation off the Cumbrian coast at Walney, just 40 miles or so from the Isle of Man, and, with the news that nearby bird populations are in free-fall, we must seriously ask whether the huge turbines might be killing more birds than we ever anticipated.
The Isle of Man study was, ironically, partly supported by the Walney Extension Offshore Wind Farm Project. How paradoxical would it be to find that the project itself, with its giant 640 feet turbines, was responsible for the plummeting numbers of sea birds.
The report is full of depressing statistics. Herring Gulls are down 82%, European Shag down 51%, Razorbills down 55%. The list goes on.
Marine Protected Areas "may not necessarily be major barrier to new projects..."
I've been increasingly concerned at the feverish pace of industrial offshore wind farm development in this country and especially in the Irish Sea. Such a high density of turbines in a confined area - an area renowned for its wildlife - has been watched with dismay by many environmentalists, especially since large parts of the sea have been designated Marine Protected Areas (MPA's), supposedly limiting the scale of industrial development in precious areas that provide important habitat for so many species.
Alas, development has been allowed in vast parts of the sea that fall just outside the protected zones - and there have even been hints that the MPA's themselves may not be off limit for future wind farm expansion. Last year, a report carried out for the Welsh government suggested that 'this protection may not necessarily be a major barrier to new projects"' - which sounds shockingly irresponsible to me.
Isle of Man plans might seriously threaten birds' survival
Though the Isle Of Man currently has none of its own offshore wind farms, their government is reportedly close to approving industrial wind development off the island's coast as early as next year. Such plans might seriously threaten the survival of species already struggling to cope with the industrialization of their habitat.
Wind energy companies might flaunt their green ideologies for all to see - but their industry nevertheless hides a grim reality. Their 'green' energy kills wildlife.
Money Vs Wildlife…
Speaking about the alarming drop in bird populations, managing director of Manx Birdlife, Neil Morris, suggested that "there are a number of causes for these declines and the solutions, such as protecting nesting sites, restoring food chains and mitigating climate change, will be challenging."
It will be interesting to see whether more research will be carried out into just how many birds are being killed by the Irish Sea wind farms. My hunch is that many people would rather keep that information under their hats. So much money invested in offshore wind means that bad publicity would be very unwelcome and it is common for critics of the industry to be ridiculed.
​It seems likely that vast swathes of our coastal seas are likely to be further industrialized by the wind giants - even if it is at the expense of wildlife.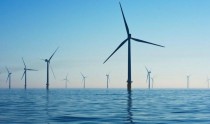 ------------------
See how Washington plans for a carbon tax would affect you here:
https://cei.org/content/cei-releases-new-video-explaining-how-carbon-tax-would-punish-american-families