Apr 22, 2022
Happy Earth Day - Real Air Pollution issues solved, CO2 a benefit not a danger
It is perfectly reasonable to work to ensure clean air and water and towards conservation of our resources. I have always considered myself a conservationist and environmentalist. In the post war boom, we had problems with air pollution from factories, coal plants, cars, inefficient home heating systems and incinerators in apartments. We had air quality issues with pollutants like soot, SO2, ozone, hydrocarbons, NOx, and lead, We set standards that had to be met by industry and automakers. We have the cleanest air in my lifetime and in the world today.
The term "carbon pollution" is a deliberate, ambiguous, disingenuous term, designed to mislead people into thinking carbon dioxide is pollution. It is used by the environmentalists to confuse the environmental impacts of CO2 emissions with the impact of the emissions of unwanted waste products of combustion. The burning of carbon-based fuels (fossil fuels - coal, oil, natural gas - and biofuels and biomass) converts the carbon in the fuels to carbon dioxide (CO2), which is an odorless invisible gas that is plant food and it is essential to life on the planet.
Because the burning of the fuel is never 100% efficient, trace amounts of pollutants including unburnt carbon are produced in the form of fine particulates (soot), hydrocarbon gases and carbon monoxide. In addition, trace amounts of sulfur oxides, nitrogen oxides and other pollutant constituents can be produced. In the US, all mobile and industrial stationary combustion sources must have emission control systems that remove the particulates and gaseous pollutants so that the emissions are in compliance with EPA's emission standards. The ambient air pollutant concentrations have been decreasing for decades and are going to keep decreasing for the foreseeable future because of existing non-GHG-related regulations.
-------------------------------------------
To ensure that the air is safe to breathe, the Clean Air Act (CAA) requires the EPA to set National Ambient Air Quality Standards (NAAQS) for the most harmful ubiquitous air pollutants. The NAAQS are set at levels requisite to protect human health and welfare with an adequate margin of safety. These ubiquitous pollutants are called the Criteria Air Pollutants and include: fine particulates (PM2.5), larger particulates (PM10), carbon monoxide, sulfur oxides, nitrogen oxides, lead, and ozone (O3). The CAA also required States to develop plans to manage the emissions and concentrations of these pollutants so that the NAAQS are attained in every part of the US.
As a result, most areas of the US attain the NAAQS for all the pollutants most of the time. The ambient concentrations have been decreasing for decades (see charts below) and are going to keep decreasing for the foreseeable future because of existing regulations. For the few areas of the US that are in violation of a NAAQS, the States have (or are in the process of) developed plans to attain them in the near future.
It needs to be noted that the current healthy air quality in the US has been achieved with existing regulations that have nothing to do with climate or CO2 regulations.
The EPA and the environmentalists have claimed that the co-benefits of CO2 reductions justify the enactment of CO2-reduction regulations. These co-benefits assume that deaths and other health effects due to exposures of PM2.5 and O3 will be avoided. This assumption is erroneous because the relationships that EPA uses to calculate the purported health effects are based on epidemiology studies that used flawed statistical methods. When the proper methods are used, no causal relationship is found between either PM2.5 or O3 and premature mortality or other serious health effects at levels currently measured in the US.
The environmentalists also claim that rising temperatures caused by increasing CO2 levels will exacerbate PM2.5 and O3 air pollution. This claim is flawed for a number of reasons.
First, as detailed elsewhere, there is no convincing evidence that increasing CO2 levels has caused global temperatures to rise. Second, there is no consistency in EPA model predictions that increasing temperatures will actually cause PM2.5, which is purported to cause most of the health effects and mortality, to increase. In fact, the country by country PM2.5 from NASA and the WHO shows the U.S. with reliance on clean natural gas shows the lowest small particulate count along with Scandinavia and Australia in the world.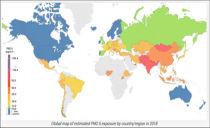 Enlarged
Although there is general agreement that higher temperatures will cause increased O3 formation, that only occurs if emissions of O3 precursors remain unchanged. The reality in the US is that O3 precursors have been and will continue to decrease for the foreseeable future. EPA has shown ozone has actually decreased decreased 33% since 1980 and PM2.5 decreased 41% since 2000.
In addition, if for any reason, concentrations of any Criteria Pollutant ever went up so as to exceed its NAAQS anywhere in the Country, the CAA provides mechanisms that are already in place requiring the States to revise their plans to offset any increases.
Finally, as discussed above, the basic premise that PM2.5 and O3 are causing serious health effects in the US at their current levels is simply false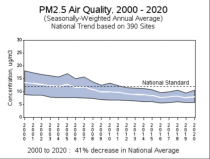 Enlarged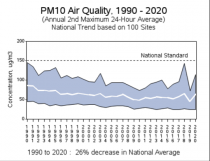 Enlarged
Sulfur dioxide was a few decades ago in the news for its implication in acid rain. When sulfur dioxide reacts with rain or fog, sulfuric acid forms and becomes acid rain or mist (smog). Smog event in Donora PA in 1948 - 7,000 of the 14,000 population experienced damaged lungs, 20 died. The incident led to a series of clean air regulations and culminated in the US Clean Air Act of 1970. Acid rain continued to be a concern into the 1980s before measures were invoked that reduced SO2 by 94%., an environmental success story.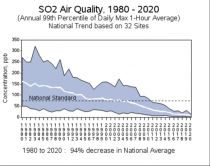 Enlarged
Significant improvements with other pollutants were observed with a 64% reduction for nitrogen oxides, 86% for lead and 81% for carbon monoxide.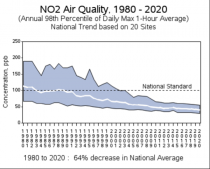 Enlarged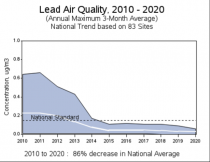 Enlarged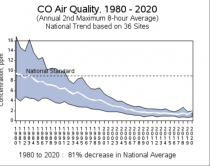 Enlarged
CARBON DIOXIDE THE GAS OF LIFE
Note that carbon dioxide is not listed as a criteria pollutant. It is essential for all plant life. We breathe in 400ppm CO2 and breathe out 40,000 ppm. It is pumped into greenhouses. A greening of the planet has occurred as a result of the increases the last century. The Sahara desert has shrunk by 8%!
This image shows the change in leaf area across the globe from 1982-2015.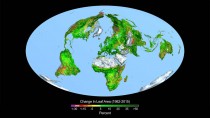 Enlarged
Credits: Boston University/R. Myneni
Carbon Dioxide has blessed the world with increased food.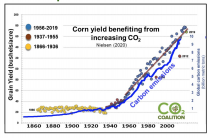 Enlarged
Dr. Craig Idso in Master Resource writes "Perhaps the most well-known and significant biological benefit of Earth's rising atmospheric carbon dioxide (CO2) concentration is enhanced plant production. Over the past five decades literally thousands of laboratory and field-based studies have been conducted to examine growth-related responses of plants at higher levels of atmospheric CO2. These CO2-enrichment studies, as they are called, are near unanimous in what they have found - increased levels of CO2 significantly enhance plant photosynthesis and stimulate growth."
The use of fossil fuels to help regulate heat and cold, has led to greater prosperity and reduced poverty. Deaths from weather extremes have declined since 1920.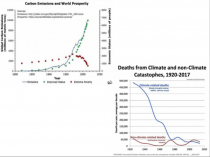 Enlarged

By the way, perversely, when families can't afford to pay for the energy (heating oil, gas or electricity) to heat their homes in winter as will be the case with the forced change to unreliable wind and solar, they revert to burning wood. This introduces the particulate matter and other 'pollutants' we have worked so hard to remove at the source. Some use kerosene heaters and some deadly fires result.
"In searching for a new enemy to unite us, we came up with the idea that pollution, the threat of global warming...would fit the bill...It does not matter if this common enemy is "a real one or....one invented for the purpose." Quote by the Club of Rome "First Global Revolution" 1991.
"We have got to ride the global warming issue. Even if the theory of global warming is wrong, we will be doing the right thing in terms of economic policy and environmental policy." Timothy Wirth, U.S. Senator, president of the United Nation's Foundation.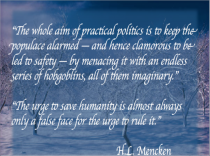 Enlarged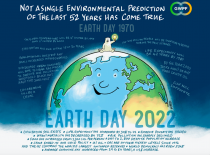 Enlarged