Jul 28, 2019
Inconvenient facts about the heat this summer
Joseph D'Aleo, CCM
UPDATES: See Larry Bell's post 'Hottest Temps Ever' Alarms Reveal Ignorance of History' here.
According to the banner headline in an Aug. 2 article in The Hill, "July was Earth's hottest month ever recorded." That's certainly newsworthy, considering that "ever" unquestionably dates back a very long time.
The claim was based on provisional data provided by the EU's Copernicus Climate Change Services (C3S), highlighting that their then-predicted July temperatures were "on a par with, and possibly marginally higher" than the previous high of 2016 - purported by them to be 2.16 degrees Fahrenheit more than pre-industrial levels.
AccuWeather founder and CEO Joel Myers posted an August 7 blog article challenging those claims titled "Throwing cold water on extreme heat hype."
Myers reports that "there is no evidence so far that extreme heat waves are becoming more common because of climate change, especially when you consider how many heat waves occurred historically compared to recent history."
New York City, for example, has not had a daily high temperature day above 100 degrees Fahrenheit since 2012, and only five such days since 2002. By comparison, in a previous 18-year span from 1984 through 2001, New York City had nine days at 100 degrees or higher.
Meyers adds, "When the power went out in New York City earlier [last] month, the temperature didn't even get to 100 degrees - it was 95, which is not extreme. For comparison, there were 12 days at 99 degrees or higher in 1999 alone."
Or take Kansas City, Missouri - another example - which experienced an average of 18.7 days a year at 100 degrees or higher during the 1930s, compared to just 5.5 a year over the last 10 years.
As AccuWeather further clarified, "over the last 30 years, Kansas City has averaged only 4.8 days a year at 100 degrees or higher, which is only one-quarter of the frequency of days at 100 degrees or higher in the 1930s.""
As a matter of fact - here in America - 26 of the 50 states set high temperature records during the 1930s which either still stand or have since been tied. An additional 11 state all-time-high temperature records were set before 1930, and only two (South Dakota and South Carolina) that were set in the 21st century.
AccuWeather concludes, "So 37 of the 50 states have an all-time high temperature record not exceeded for more than 75 years. Given these numbers and the decreased frequency of days of 100 degrees or higher, it cannot be said that either the frequency or magnitude of heat waves is more common today."
And as Ross McKitrick points out in a July 23 Vancouver Sun article, "Reality check - there is no 'climate emergency' in Vancouver" either. Amid the ordinary variability of nature, today's weather is about the same as it's been for as far back as the records go (since 1896).
McKitrick reports, "Looking at the 100 years from 1918 to 2018, February and September average daytime highs rose slightly at about 1.5 degrees per century, while the other 10 months did not exhibit a statistically significant trend."
Since 1938, no month exhibits a significant upward trend in average daytime highs, while four months slightly declined. From 1958 to present, only four months slightly warmed, while annual average daytime high temperatures evidenced no significant trend.
The decade with the most daily average temperatures over 86 degrees Fahrenheit (seven) occurred in the 1960s, followed by six in the 2000s. So far, the present decade has known only one. The most in a single year (four) was 2009, followed by 1960 and 1942 which both had three.
As reported on July 28 by Joe D'Aleo of WeatherBell Analytics, "in the last 7 and 30 days, there were more U.S. record lows than highs."
D'Aleo, who previously served as the first Weather Channel director, added, "The heat wave in what has been a cool and wet spring and summer was intense but brief and mainly notable for the elevated nighttime temperatures."
Regarding a World Meteorological Organization (WMO) preliminary announcement that 2019 may have been the hottest month globally, University of Alabama climatologist Roy Spencer asks us to treat that claim with great skepticism.
Spencer's website notes, for example, that unusual warmth in western Europe (France) was offset by unusual cool of eastern Europe and western Russia.
Even these recording comparisons are skewed by notorious and well-documented recording errors resulting from badly compromised urban temperature measurement locations, inconsistent calibration methods, and long-standing patterns of warm-biased surface and ocean temperature data "tuning adjustments" by NOAA.
Nevertheless, London's The Telegraph ran an article headlined, "Give heat waves names so people take them more seriously, say experts, as Britain braces for hottest day" (as is done for winter storms).
So okay, I'll volunteer to give this latest one a name.
How about calling it "summer?"
-------
See also Dr Roy Spencer post - July 2019 was not the warmest on record here.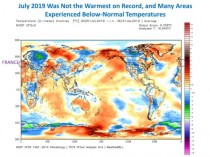 Enlarged
And Tony Heller's Erasing America's Hot Past
-------------

Inconvenient facts about the heat this summer
By Joseph D'Aleo, CCM
In the last 7 and 30 days, there were more US record lows than highs. The heat wave in what has been a cool and wet spring and summer was intense but brief and mainly notable for the elevated nighttime temperatures. That nighttime warmth is consistent with the very wet first 6 months of 2019. Water vapor is by volume by far the most significant and potent greenhouse gas. Note the large number under HIGH MIN the last 30 days. There were also more DAILY and MONTHLY record lows than highs year to date.

Enlarged
For all-time records - year to date there were more than 3 times as many all time record lows than highs.


Enlarged
The last 4 months have been colder than normal for much of the United States and Canada.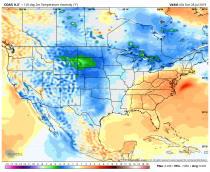 Enlarged
As for Europe's heat, it was a surge of Sahara air ahead of a eastern Atlantic trough in a pattern that was very amplified for this time of year (characteristic of cooler regimes earlier this century).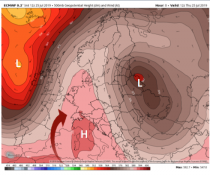 Enlarged
Indeed all the continental all-time records were long ago (source WMO).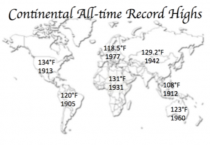 Enlarged
Europe's all-time heat record was in 1977 (also very hot in the summer in the US but surrounded by two brutal winters that had the media talking ice age). The heat wave of 2003 had a similar jet stream scenario. Though proclaimed to be the new climate norm, they had to wait 16 years to see it repeat.
Climatologist Dr. John Christy shows heat here in the U.S. has been declining since the 1930s.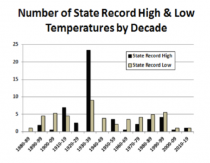 Enlarged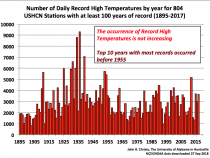 Enlarged
The politically driven NCA boondoggle produced a chart that finessed the issue by doing a ratio of heat records to cold records. Both are declining but nighttime lows are elevated by the urban heat island as most stations are now city or airport and so the record lows have declined faster.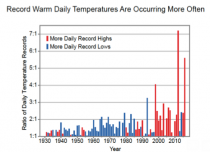 Enlarged
The CSSR showed how annual maxima declined the last 100 years: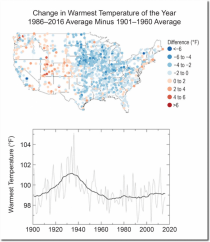 Enlarged