Nov 16, 2007
Por qué no te callas Al Gore ?
By Alexandre Aguiar, MetSul Weather Center (Brazil)
During a summit in Chile King Juan Carlos of Spain told the president of Venezuela Hugo Chavez to shut up: "Por qué no te callas" (Why do you not shut up?). Someone must tell Al Gore the same or invite him to visit this corner of the world. It is a never ending winter here in South America. "What a hell is happening this year with a seven-month winter", asked a famous TV journalist about the unusual climatic winter of 2007 that began with fury in May and still persist in November. Buenos Aires recorded this Thursday (November 15th) the lowest temperature for the month of November in 90 years. Temperature in the Downtown weather station reached 2.5C. Since records began more than a century ago, only two days had colder lows in November. It was in 1914 (1.6) and 1917 (2.4). And ninety years ago the urban heat island effect was much less pronounced than nowadays, what turns the temperature observed today remarkable.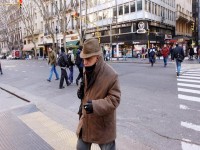 In the southernmost state of Rio Grande do Sul in Brazil temperatures fell to 2.3ºC degrees in several towns near the border with Uruguay on Thursday. Wind and cloud cover prevented lower temperatures in the higher altitudes, but earlier in the week several towns in the Sierras region recorded temperatures near zero Celsius and frost. In Sao Joaquim, the low was 1.6 below zero with moderate frost on Monday (November 12th).
Further south, the problem is the excessive ice. The Brazilian Base Comandante Ferraz (file image above) in Antarctica is rationing water. Never in the last twenty years the weather was so cold and snowy this time of the year in the Brazilian post in the South Pole. The nearby lakes that provide water to the base are frozen since September. The heliport that allows the arrival of food and bottled water by air is under three meters of snow. Water for human consumption is limited to the fifty Brazilian researchers in the region and the situations turns more dangerous each day. So, por qué no te callas Al Gore ? Read more here.