Nov 24, 2023
The Elephant in The Climate Change Space
By Kim Greenhouse, It's Rainmaking Time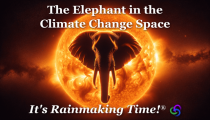 Enlarged
The Grand Solar Minimum is a time when The Sun goes into a kind of hibernation, where Planet Earth will not be receiving the heat it normally depends on to carry out most of life's necessities. Solar Cycles run every 11 years, some have lasted 6 cycles.
Major challenges will be arriving all at once, such as finding, growing, cooking, and storing food. Many of us will be faced with not being able to receive power from the standard electric & gas companies that we totally depend on.
Transportation infrastructure will be affecting supply chains and basic levels of transportation such as buses, trains, and cars. Heating our homes will be imperative!
Dr. Valentina Zharkova, founder of ZVS Research Enterprise Ltd, at Solargsm.com. is a Solar Physicist, Mathematician, Teacher, and professor, who joins us to share her scientific findings about our main star, The Sun.
She shares how and the Suns' Activity has impacted life in the distant past and why our ability to measure it is so advanced, that we will have a front-row seat at this Earthly Cycle.
This interview is about leaving you with a totally different framework in which to clearly understand the importance of this Solar Cycle & why it's urgent that we understand how the Sun works, and how measuring it has totally changed over the last 2-300 years. You and your loved ones still have time to prepare for this upcoming Solar Cycle.
It's advisable to have paper and pen with you so that you don't miss the key distinctions that you would ordinarily not receive in ordinary climate science data and discussions.
Must see interview here..
Share this with everyone you know and care about. Don't miss this Special!
----------
It's Rainmaking Time Weather and Climate stories here
Dr. Valentina Zharkova's recent talks at the international meetings about the modern grand solar minimum (2020-2053) and the role of orbital motion of the Sun on the temperature increase on Earth and other planets (with ppt files)
* Presentation at the International Conference in Astrophysics, 23-25 May 2023, Kyiv, Ukraine: Comparison of solar activity indices: sunspots and eigen vectors and the modern Grand Solar Minimum in progress (2020-2053) download
* Presentation at the International Conference in Astrophysics, 23-25 May 2023, Kyiv, Ukraine: Periods of solar activity and orbital asymmetry of solar radiation deposition into the terrestrial atmosphere download