Aug 01, 2018
Over-reliance on computer models causes a forecast for extreme heat to be retracted
From the "heat on the computer brain" department (h/t to Joe D'Aleo)
Portugal's Met Office has retracted its prediction that temperatures in the country could reach 50C - the hottest ever recorded on mainland Europe - this week, drastically revising the forecast down by 10 degrees.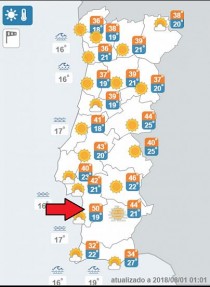 Facebook/ Comentadores
In a statement, the IPMA said forecasts published to its website and app on Tuesday had been "overestimated" for the region between Melides and Vila Nova de Milfontes, and in particular the city of Sines, where temperatures were predicted to reach 50C on Thursday and 46C on Friday.
The forecasts were the result of a "statistical method" applied to numeric models, it said.
The IPMA said the actual temperatures expected for these days were between 40C and 42C.
"This situation arises from the exceptional temperature episode above the normal values ​​predicted for the beginning of August, after a long period of below-normal temperatures for the time of year," the statement said.
ICECAP NOTE: See the cool summer to date in southern Portugal near Sines.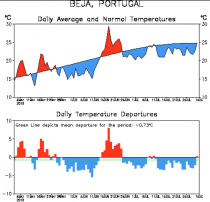 Full story here. Tony Heller compares the fake news heat record to the record heat of 1881 here.