Apr 17, 2021
Coldest February since 1989 and fifth coldest since the Dust Bowl era, behind 1960, 1978, 1979, 1989
The Arctic invasion that recently swept the United States was truly historic, and the record books prove it. First see this NOAA February map and the very large areas with -12F or greater cold anomalies in pink.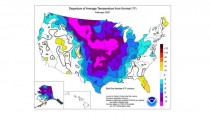 Enlarged

Enlarged
For the nation, it was the 19th-coldest February in the 127-year record. The nation's monthly average temperature of 30.6F was 3.2F below the 1901-2000 mean, the coldest February since 1989 and fifth coldest since the end of the Dust Bowl era, behind 1960, 1978, 1979, and 1989.
According to NOAA, 10,127 record low mins and maxes were observed, 703 monthly record low maxes and mins and 200 all time record low maxes and mins (year -to-date) dating back 100+ years. Note also the 3514 record snow reports too this year to date.
Dalles has ts coldest ever three day assault, beating out 1983 and the incredible 1899.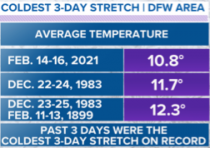 Enlarged
A new all-time never-before-witnessed benchmarks often in record books dating back 100+ years.
NOAA said the "cold snap" peaked between Feb. 14-16, during which time approximately 30% of available U.S. sites set cold-maximum records, and about 20% set cold-minimum records: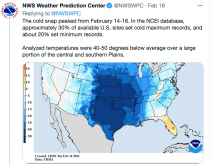 Enlarged
The severity of the polar cold was extreme, unexpected, and ill-prepared for the western world has been instructed to brace for catastrophic warming for going on 4 decades now: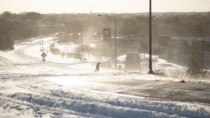 Enlarged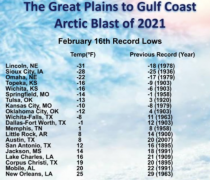 Enlarged
---------
A Closer Look at What Happened in Texas During the Deep Freeze:
WUWT Reposted from Chris Martz Weather
BY CHRIS MARTZ on 9 MAR 2021
"By failing to prepare, you are preparing to fail."
Benjamin Franklin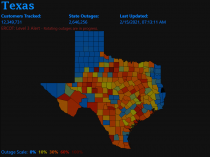 Enlarged.png" title="Enlarged">Enlarged
Meteorological Analysis
Three weeks ago, a major cold snap and series of winter storms enveloped the southern plains and parts of the Mississippi River Valley, sending temperatures below zero as far south as central Texas. According to NOAA NCEI, a total of 8,632 daily record low temperatures - including both maximums and minimums - were set or tied from February 10-20, as opposed to only 262 daily warm records. Additionally, a whopping 693 monthly record lows were set, 199 of which were all-Time record lows.
According to the NOAA Weather Prediction Center, over 30% of all of the official weather stations in the United States set at least record low maximum temperatures between February 14 and 16. Without a doubt, this was the coldest 10-day period that this part of the country had experienced in over a century.
The animation HERE conveys just how widespread the cold was between February 10 and 20. Locations approaching or surpassing daily, monthly, and/or all-time record lows; February 10-20, 2021 - coolwx.com.
While no statewide records were broken, some of the records that were reported were quite shocking to say the least. The two coldest days were Monday, February 15 and Tuesday, February 16, where temperatures were some 40-50F below average across Oklahoma and Texas. Between February 11 and 18, temperatures across much of the Heartland averaged some 30F below average (Figure 2). Temperatures this cold for such a sustained period can lower the monthly and seasonal average by a wide margin.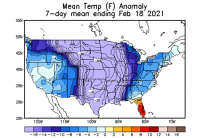 Figure 2: 7-day 2 meter air temperature anomaly (F) with contour lines labeled; February 11-18.
On Monday, February 15, Oklahoma City only rose to 4F (-15.6C), which was colder than the daily record low of 7F (-13.9C) set in 1909! San Angelo, Texas dipped to a bone-chilling -1F (-18.3C), which tied with December 29, 1983 and February 2, 1985 for the city's second coldest temperature, only behind the reading of -4'F (-20C) set on December 23, 1989. That was also the only subzero reading for the date, smashing the old record of 16F (-8.9C) from 1909. Houston, Texas dipped to 16F on Monday the 15, which was their coldest temperature since December 24, 1989, when it plunged to 11F (-11.7C). That also broke the old daily record of 18F (-7.8C) from 1918.
Kansas City, Missouri plunged down to -10F (-23.3C), breaking the old record of -6F (-21.1C) from 1936, while the high of -1F smashed the old record of 8F (-13.3C) from 1900. According to the local National Weather Service office, a wind chill of -32F (-35.6C) was recorded, the coldest wind chill there since 1989.
The following morning, Tuesday, February 16, even more notable record lows were set. Oklahoma City once again set a record low, this time falling to a jaw-dropping -14F (-25.6C), which not only obliterated the old daily record of 4F (-15.6C) set in 1903, it was the coldest reading there in over 120 years, only second to the -17F (-27.2C) recorded on February 12, 1899. Oklahoma City also recorded its longest stretch of temperatures at or below 20F (-6.7C), at 210 consecutive hours, surpassing 1983. Meanwhile, Tulsa dropped to -13F (-25C), tying the city's coldest temperature on record, originally set on January 12, 1918.
Dallas, Texas even dipped to -2F (-18.9C), which matched January 31, 1949 for the second coldest temperature ever recorded there, just behind February 12, 1899, when it dipped to a bone-chilling -8F (-22.2C). Tyler, Texas broke their all-time coldest temperature of -3F (-19.4C) from January 18, 1930, dipping to six below zero. Hastings, Nebraska tied their all-time coldest temperature of -30F (-34.4C), originally set on January 12, 1912. It also obliterated the old daily record low of -13F set in 1979.
In Arkansas, Fayetteville fell to -20F (-28.9C), which not only anihilated the old record of 7F from both 1958 and 2007, it was their all-time coldest temperature, and only nine degrees short of the statewide record set on February 13, 1905 in Gravette.
Perhaps the most impressive record that was set was in Bottineau, North Dakota, approximately ten miles from the Canadian border. On the morning of February 13, the mercury dove to an incomprehensible -51F (-46.1C), which not only crushed the previous daily record of -37F (-38.3C) from 1936, it also broke the towns prior all-time record low of -50F (-45.6C) set on February 3, 1893, a record that stood for over 128 years! This reading was only nine degrees off the statewide record, set on February 15, 1936 in Parshall. Other impressive readings were temperatures as low as minus 20 as far south as northern Texas.
Now that we have flipped the calendar to March, to really shed some light on how large of an impression the Arctic outbreak had on the monthly outcome, last month was the coldest by departure from average in the Continental United States since December 2000 (Figure 3) and third coldest since December 1989.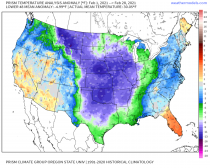 Figure 3. PRISM temperature anomaly analysis for February 2021 - weathermodels.com.
Major cold snaps that impact the southern plains all share similar characteristics with respect to their meteorological evolution. While the event itself was arguably predictable with moderate confidence as early as two weeks out, something my friend meteorologist Joe Bastardi over at WeatherBELL.com was very bullish -and ultimately correct - on from over ten days out, the threat for such cold became elevated within weeks following the sudden stratospheric warming event which was the primary cause of the stratospheric polar vortex (SPV) displacement.
Winter Rolls on for Denver
By the way, a blizzard left behind 27.1 inches of snow in Denver this weekend, the 4th largest snow in the history back to 1881.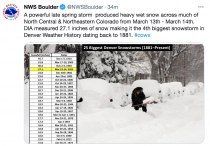 Enlarged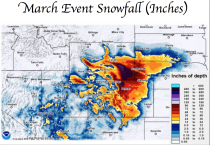 Enlarged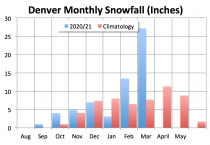 Enlarged
Also see A CLIMATE AND ENERGY PRIMER FOR POLITICIANS AND MEDIA by contributing author Allan MacRae Allan is a highly respected energy leader in Canada who has worked with true climate experts and has helped make Alberta the shining star of Canadian energy over the decades. There too the politicians and media and the public have been programmed by false claims and green energy frauds and are willing to toss the low cost clean fossil fuel energy legacy out and replace it with unreliable and expensive green energy. Greens expect population to adapt its consumption to the available supply and simply come to accept rationing and power interruptions, of the sort that are unfortunately still common in underdeveloped countries. They insist that is the necessary price for averting the phoney climate apocalypse.