Feb 03, 2019
Wake up young people
Despite the failure of predictions (Gore's 10 claims all failed here) and the top 11 climate alarmist claims (updated rebuttal here), democrats and weak kneed republicans are exploring carbon sequester solutions and energy limitations and some even the Green New Deal.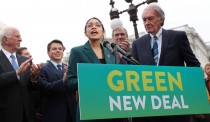 It is a political hoax and it endangers our future. Electricity prices would rise 3 to 5 fold and more and gasoline prices if the UN suggested carbon taxes were imposed would be $50/gallon.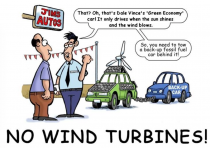 Enlarged
Good bye prosperity.
See the results where it has already been tried here (northeast states Regional Greenhouse Initiative and California environmental mandates) and abroad.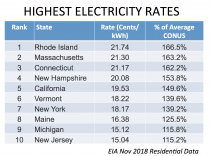 Enlarged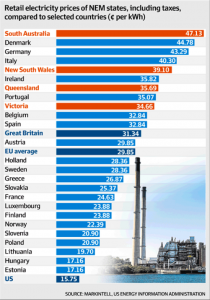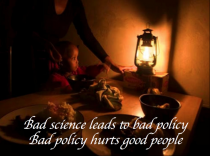 ------------------
I have two grown children and three grandchildren. I was fortunate to have been brought up in America. Europe has been the first globalization - one world government and anti fossil fuel experiment. it has failed on many levels. You will never hear about it in the MSM which has strong socialist tendencies..
Unemployment reached a new high in Europe in 2013. Joblessness in the 17-nation EU currency area rose to 12.2 percent in the spring, EU statistics office Eurostat said, marking a new record since the data series began in 1995. The risk is high that will be your future unless you open your mind and...do your homework on government and the economy.
Deepening unemployment crisis is a threat to the social fabric of the euro zone. Almost two-thirds of young Greeks are unable to find work, exemplifying southern Europe's 'lost generation'. In France, Europe's second largest economy, the number of jobless rose to a record in April, while in Italy, the unemployment rate hit its highest level in at least 36 years, with 40 percent of young people out of work. In Spain, the overall unemployment reached a record 27.2% due to a combination of the progressive big government anti-business policies and the enviro pushed green energy subsidies. This green push (wind power is not only a health hazard to humans and deadly to birds (killing millions worldwide including many endangered species like eagles and condors), but among the most inefficient of all energy sources) caused energy prices to skyrocket, shutting businesses or forcing manufacturers overseas.
In Spain, 2.2 jobs were lost for every green job created and only 1 in 10 green job was permanent. In Italy it was 3.4 jobs lost for every temporary green job, Spain ceased subsidization, but the damage has been done. In Germany where electricity prices have doubled, 800,000 homes had their electricity turned off during the last brutal winter, the 5th straight such throwback winter to the Little Ice Age. In the UK 25 to 50% are still in energy poverty. Many pensioners have had to choose between heating and eating. Bet you did not hear about the many tens of thousands of deaths in the cold. The German government remarked that solar provide 0% of the electrical needs that winter. In December 2010, when the UK had the second coldest December since the Little Ice Age in 1659, the massive wind farms produced less than 0.5% of their energy needs.
Sadly, even as Europe has soured on the green dream and are furiously building coal and gas power plants, our government was using Europe as a model. After you graduate with the burden of tens of thousands or in some cases well over $100,000 in college loans, you will find it difficult getting the job you need and deserve and the home you dream about. You can thank your liberal progressive teachers and professors and the last progressive administration for misleading you into the direction this country should head and for the way you voted. Academics have tenure and don't have to worry about losing their jobs. They are ideologues who refuse to concede the policies they and the administration in Washington (mostly Academics without real world experience) support, have caused the number of people working today to be lower than in 2008, and will limit the hiring of graduates in the foreseeable future. When I was a college professor, I taught my students how to think not what to think. Is that happening at your school? If not you are not being educated, just brainwashed.
Votes have consequences. The health care bill hurting the middle class (insurance was not down $2,500 as promised but up by that amount for most families for less coverage). You will bear the cost of this monstrosity in the future. You will pay for it big time or if you opt out, you paid a penalty. And you will be burdened with supporting social security and medicare because the government already used the deductions to pay for its spending spree. Retirees paid for their support but that money is long gone. The ACA took social security and medicare to a whole new level.
Despite what you have been told, corporations big and small are not evil. Entrepreneurs are demonized for being successful, but they are the job creators. Penalizing them diminishes the potential you have for getting a rewarding job and successful career. You have been lied to since elementary school in your science classes with the liberal green curriculum on climate change that demonizes fossil fuel energy. It is perfectly reasonable to be green minded and work towards conservation of our resources. But CO2 has been incorrectly blamed for the natural cycles of temperatures and weather extremes of drought, flood, hurricanes, tornadoes, heat and cold. It has been called carbon pollution, a term that really should apply to particulate matter, largely removed from even coal plant effluence with scrubbers.
In fact, EPA's own charts show a 30% decline in these small particles and ozone the last three plus decades. Natural gas burns clean. The US is exporting fuel oil but no thanks to the administration, which has blocked drilling on all federal lands and offshore and has blocked the Keystone Pipeline. It is the heavy drilling and fracking in states on private land that has made the US as big as OPEC. After destroying the coal industry, the radicals at the EPA wanted to stop this and block natural gas by blocking the long used fracking process. The last administration admitted openly they want $8 gasoline and heating oil to make their renewables cost seem less onerous.
Instead of a health hazard (inconceivable since every breathe you take emits 100 times more CO2 than is present in the atmosphere), CO2 is plant food and has helped greatly improve global crop yields and feed the increasing population. In future stories, we will show you how all the claims made demonizing CO2 have been falsified by real data (see this rebuttal of 11 top alarmist claims here).
But isn't there a consensus of scientists on global warming? Sure among the scientists and modelers on the receiving end of some of the hundreds of billions in grants - worldwide $2 trillion is spent on this scam. The Green New Deal would cost more than our entire budget - $32 trillion the next decade that would bankrupt our country (especially if combined with Medicare for all) for no benefit and great pain with unreliable, unaffordable energy supply, brownouts and blackouts, a huge rise in taxes, unemployment, a collapsed health care system.
But among those not feeding at the trough. 31,487 American scientists have signed a petition, including 9,029 with PhDs that concluded "There is no convincing scientific evidence that human release of carbon dioxide, methane or other greenhouse gases is causing or will in the foreseeable future, cause catastrophic heating of the earth's atmosphere and disruption of the earth's climate. Moreover, there is substantial scientific evidence that increases in atmospheric carbon dioxide produce many beneficial effects upon the natural plant and animal environments of the earth."
The great author and medical doctor Dr. Michael Crichton said about consensus:
"Historically, the claim of consensus has been the first refuge of scoundrels; it is a way to avoid debate by claiming that the matter is already settled. Whenever you hear the consensus of scientists agrees on something or other, reach for your wallet, because you're being had. Let's be clear: the work of science has nothing whatever to do with consensus. Consensus is the business of politics."
This is a critical time for our country. Please help support our efforts to get the truth to the decision makers and save our Country. DONATE button on the left takes you to Paypal. We are working overtime pro bono to try and get the truth exposed, with no help from the media.