Jan 04, 2009
Where Thermometers Go To Die - How Not to Measure Temperature
By Anthony Watts, WattsUpWithThat
In my 30 years in meteorology, I never questioned how NOAA climate monitoring stations were setup. It wasn't until I stumbled on the Marysville California fire station and its thermometer that that I began to notice just how badly sited these stations are. When I started looking further, I never expected to find USHCN climate monitoring stations placed at sewage treatment plants, next to burn barrels, or in parking lots of University Atmospheric Science Departments, or next to air conditioning heat exchangers. These were all huge surprises. I didn't think I'd be surprised anymore. I thought I'd seen the weirdest of the weird, and that I would not be surprised again with bad station placement examples. Then I saw this station, submitted from Fort Scott, Kansas: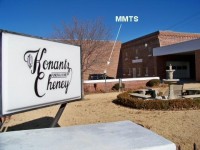 Yes, your eyes do not deceive you. That is an official NOAA USHCN climate monitoring station at a funeral home in downtown Fort Scott, KS. From a wider perspective, you can see all the things around it. Not only do we have a fountain (extra humidity), a nearby brick wall, a large concrete driveway that curves around the station, a tree for shade in the late afternoon, a big brick building with a south facing brick wall, but we also have cobblestone streets and convenient nearby parking. This location has everything needed, except a BBQ. See the complete photo gallery here. It seems that that station was moved into this location from the previous one about a block away on April 4th, 2008. Upon first examination. it appears that it "may" have been cooler at the previous location, once you get past the spike of the 1998 El Nino it seems the elevated step function remains. Though since the location was also downtown, about a block away, perhaps the UHI of the downtown has overwhelmed the station change.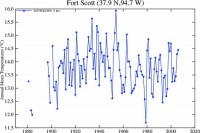 Larger image here
From what I can tell of the towns history, most of the growth in buildings occurred during the first half of the 20th century. Many of the downtown buildings seem to date from that time. Certainly it appears cooler around 1900. No worries though, GISS has "fixed the temperature to reflect a cooler past: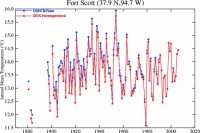 Larger image here
"A beautifully undulating prairie". "An almost precipitous decent of fifty feet". "A flat spur of high prairie". "A small clear-water creek". In 1852, Assistant Surgeon Joseph Barnes used all of these phrases to describe the landscape surrounding Fort Scott. Yes it probably was cooler in Fort Scott's past, when it looked like this, when it was founded: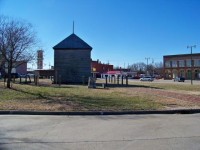 Read full post and comments here.