May 30, 2013
Would you believe ski areas plead for effort to combat climate change
By Joseph D'Aleo, Weatherbell Analytics
I picked up the paper and read this this morning, less than a week after Whiteface and Green Mountains were buried in a record late 36" snow.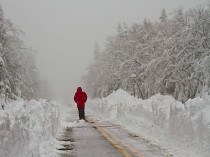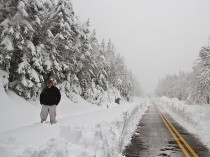 Thursday, May 30, 2013
N.H. ski areas join petition to fight climate change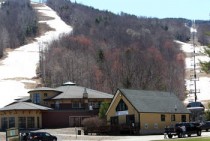 The Mount Sunapee Ski Area, shown Tuesday, April 30, 2013, in Newbury, is among 108 alpine ski areas around the country to sign the Climate Declaration, a document calling for policymakers to address climate change. (AP Photo/Jim Cole)
BOSTON - Seven New Hampshire ski areas are among 108 alpine areas from across the U.S., as well big firms like GM and Levi Strauss, to sign the Climate Declaration, which calls upon federal policymakers to address climate change. New Hampshire ski areas that signed are Attitash, Cranmore, Gunstock, Loon Mountain, Mount Sunapee, Ragged Mountain and Waterville Valley.
The petition, at www.climate declaration.us, does not call for specific legislative or other action. It argues that "tackling climate change is one of America's greatest economic opportunities of the 21st century. It is obvious that the success of ski business operations depends greatly on climate, which is why we are so invested in programs that keep our slopes sustainable. But our actions alone won't be enough without strong policies," said Brent Giles, chief sustainability officer for Powder Corp., of Utah, parent company to Park City Mountain Resort in Utah, Copper Mountain in Colorado and Killington Resort in Vermont. "We welcome legislative and regulatory initiatives that will reduce carbon emissions, incentivize renewable energy development and help improve our resiliency in the future."
Ski areas in the U.S. employ approximately 160,000 people and generate approximately $12.2 billion in annual revenue, according to the National Ski Areas Association, which calculates that visitors to U.S. ski areas spent $5.8 billion at those resorts a year ago.
"The past ski season was a banner year for our guests and for our resort, but we can't gamble on the weather in an uncertain climate. We have to take action," said Jerry Blann, president of Jackson Hole Mountain Resort in Wyoming.
-------------------------------
TO WHICH I COMMENTED BACK:
It is a money making scheme. Some ski areas have figured how to get credits or offsets (money) for being green (recycling water for snow making, wind turbines (Jiminy Peak), using methane (cow farts) to power gondolas (Killington), etc). Never mind that this November to April period for the hemisphere ranked #1 all-time for snow extent beating out 1977/78.
And for the winters (December to February), the ranking is 1977/78 #1, 2009/10 #2, 2010/11 #3, 2012/13 #4, 2007/08 #5. Spot a trend?
The idea that climate change will put an end to the industry was advanced by the UCS in 2007 before the snowiest winter on record in northern New England (Concord, Caribou) and the winter with record snows from Alaska to Oregon to Colorado to New England.
They were silenced until 2011/12 when the US had a down year and this year in winter they felt it safe to repeat it again before record later winter and spring snows made them look foolish. Last weekend (Memorial Day Weekend) a record late 36" snowfall occurred at Whiteface Mountain and 1 to 3 feet in the higher Green Mountains. They waited to release their scare story for the first warm spell of the summer. Sorry not buying it. As meteorologist/climatologist in the business for 40 years, my advice is to ignore the hoax. We can explain all the climate changes with natural factors. And they point to very cold and snowy winters most years for the next few decades. Don't waste a nickel on climate change remedies. Make sure we have the energy we need to keep warm at a price we can afford.
As a former major ski area PR person wrote me this am:
Doesn't surprise. There are certainly people in the industry who buy the nonsense; these include Austen Schendler at Aspen, and Aspen management (who apparently aren't bothered by their well-heeled clientele's tendency to park their private jets at the local airport and run their APUs nonstop for the weekend), and the editor and publishers of the industry's leading trade magazine (they ARE nice people, I'd add, even if they refuse to get it). And there are those who have made heavy investment in wind or other alternative energy - Jiminy Peak in Massachusetts has gotten lots of nice ink for its windmill, and Killington boasted this winter that the K1 gondola is powered by cows (methane credits). However, the bulk of the industry is, I suspect, quietly skeptical of the AGW premise and is simply going along to get along. A fair percentage of ski industry's clientele is sufficiently ignorant to buy into the theory, and the industry would prefer not to risk pissing them off. I rather suspect the industry would be delighted to see AGW get the knockout punch it so richly deserves - this stuff is a PITA - but believes it has other battles to fight that are more important than this one.