Nov 20, 2007
Global Warming, Or Global Con?
Nov 19, 2007
The IPCC Under the Spotlight
By John McLean
For some odd reason the Intergovernmental Panel on Climate Change (IPCC) is seen as an impartial organization - it's not - whose reports are accurate - very doubtful -, written by experts - not all authors - and the predictions credible - impossible because the IPCC knows the models are incomplete. These reports are claimed to be examined by 2,500 reviewers - only in total - who are impartial - far from it - and these reviewers are unanimous in their agreement with the IPCC - only 5, none very credible, agreed with the major claim.
It's high time people took a hard look at the organization whose charter requires it to "assess ... the risk of human-induced climate change". That's right. If the IPCC declared there was no risk then its reason for its existence would disappear. Shouldn't that make you suspicious from the outset?
See the recent papers and stories calling into question the IPCC, its methods and motivations here.

Nov 18, 2007
Challenges to Both Left and Right on Global Warming
By Andrew Revkin, NY Times
The left says global warming is a real-time crisis requiring swift curbs on smokestack and tailpipe gases that trap heat, and that big oil, big coal and antiregulatory conservatives are trashing the planet. The right says global warming is somewhere between a hoax and a minor irritant, and argues that liberalsí thirst for top-down regulations will drive American wealth to developing countries and turn off the fossil-fueled engine powering the economy.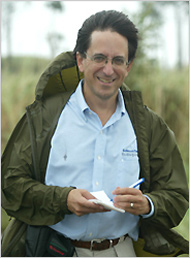 But in three recent books, there seems to be a bit of a warming trend between the two camps. Instead of bashing old foes, the authors, all influential voices in the climate debate with roots on the left or the right, tend to chide their own political brethren and urge a move to the pragmatic center on climate and energy. Read more here.