Aug 18, 2007
The Politics of Environmentalism
Scientific Alliance Newsletter, August 17, 2007
The environmental movement has achieved much over the last few decades. Much of this can be dated from the publication of Rachel Carson's Silent Spring in 1962, and the formation of Greenpeace in 1971 marks the effective birth of organised, high profile activism. From these beginnings, in less than half a century, environmentalism has become mainstream. In the industrialised world, air and water quality has improved tremendously, recycling rates have steadily improved, and European farmers are paid for conservancy work rather than just growing food. By any standards, this degree of change is a major achievement.
But successful organisations don't just fold when they have achieved their aims: they find new causes and new goals. Having established their influence, they are loathe to lose it.
Big Environmentalism represents vested interests every bit as much as does the business lobby. Their motives may be different but they are no purer. At heart, they want power and influence so that they can shape policy to their liking. They are politicians by any other name, but they remain unelected. Despite the good things the movement has helped to achieve in the past, their influence now is surely too strong if we want rational, balanced policymaking to be the norm. Read more here.
Aug 18, 2007
Patriot Perspective - Debunking the Gullible Warming Gorons
Patriot Post
Most of the evidence concerning U.S. temperature trends is collected by NOAA's National Climatic Data Center, which gathers information from about 1,200 weather observation stations across the nation. These stations are small wooden sheds with thermometers, which are read at intervals, mostly by volunteers. Many are located in sprawling urban and industrial centers, known as "heat islands," and are subject to higher readings than stations in rural areas where temperatures are subject mostly to "land use effects."
Most of the recent global-warming alarmists use 1998 as the benchmark for the hottest year on record, but it turns out that their reporting is flawed, the result of a math blunder.
In fact, 1934 was the hottest year on record, and four of the ten hottest years in the U.S. were recorded in the 1930s. The second hottest year on record was 1998, but the third hottest was 1921, not 2006. Notably, six of the ten hottest years occurred prior to 90 percent of the economic growth associated with increased greenhouse-gas emissions.
H. Sterling Burnett, a senior fellow at the National Center for Policy Analysis, reports, "Much of the current global-warming fear has been driven by [NASA scientist James] Hansen's pronouncements, and he routinely claims to have been censored by the Bush administration for his views on warming. Now that NASA, without fanfare, has cleaned up his mess, Hansen has been silent—I guess we can chalk this up to self-censorship."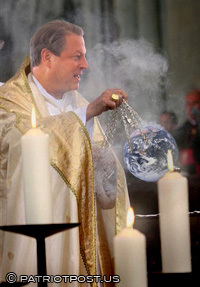 See much more on Hansen, Gore and recent new findings here..
Aug 15, 2007
Newsweek Burns Truth in Global Warming Story
By Roger Aronoff in Accuracy in Media
The extremists committed to the man-made global warming theory-that humans are causing the world to get hotter and that we have to drastically raise taxes and/or ration energy in response-are on the run. How else does one explain the sensational Newsweek cover story with the provocative headline, "Global Warming is a Hoax,*" over a photo of a boiling sun?
Newsweek, a Washington Post property, claims to be telling us "The Truth About Denial," and to make sure everyone gets the point, it uses some form of the word "denial" 20 times, including "denial machine" 14 times. The article, which is the worst kind of advocacy journalism, is a shoddy attempt to suggest that those skeptical of the theory are like holocaust deniers.
The asterisk in the Newsweek headline leads to a smaller note connecting the "hoax" charge to "well-funded naysayers who still reject the overwhelming evidence of climate change." Newsweek tells its readers that its cover story is about "the denial machine" -those against the theory. Senate staffer Marc Morano, a long-time conservative journalist and activist, points out that while those skeptical of the man-made global warming theory have received some $19 million, the forces favored by Newsweek have taken in closer to $50 billion, much of it from American taxpayers and channeled through federal and global agencies. This figure, of course, doesn't include the dollar value of all of the media coverage in support of the theory.
Where's the Fairness Doctrine when we need it? We should know by now that the concept of "fairness" is only supposed to apply to those who disagree with liberals. We are supposed to be "fair" to them by presenting their view-and only their view-as the truth. In truth, they are the mud-slingers with a political agenda that threatens the American way of life. This is the fact that they are so desperate to conceal. Read full story here.