Nov 28, 2017
Climate models fail on seasonal and long term basis - should not be used for decision making
By Joseph D'Aleo, CCM, AMS Fellow
CLIMATE MODELS
Climate models used operationally for monthly and seasonal forecasts and for long term climate forecasts have a serious warm bias that make them not trustworthy.
MONTHLY/SEASONAL CLIMATE MODELS
These are models or model ensembles that are run monthly or in some cases even updated multiple times a day that look at upcoming months and 3-month seasons as far as 15 months into the future. Unlike the operational models used by forecasters for the daily forecasts out a week or two, these models are coupled atmospheric/oceanic models which mean they allow the ocean anomalies to change as the atmosphere does and vice versa. The operational shorter range models don't need to do that as the ocean changes slowly on those time ranges. The new NNME model is an 8 model blend of forecasts by month and seasons.


Enlarged
Here are what the component models and the blend looked like for November from October.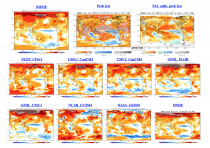 Enlarged
This was a close up look at the blended forecast for November from October. For land, there is only a small speck (the size of Queens) that is below normal in east central Africa.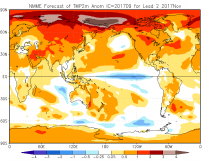 Enlarged
Here is the actual November anomalies (with two days to go). Cold covers most of South America, Africa, eastern Australia, northern India, eastern Asia, Europe and central North America.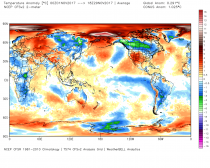 Enlarged
Here is a forecast from WeatherBELL's Pioneer statistical model with 24 inputs (solar, ENSO other oceanic and atmospheric) for November. It is not perfect but had the right idea most places.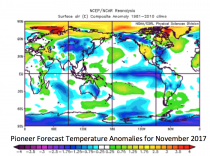 Enlarged
We hear that all the climate modelers need is faster computers so they can run the models in higher resolution. I think that just will produce higher resolution garbage until they do a better job including natural factors and oscillations etc.
BTW, here is what our statistical model suggest for this winter: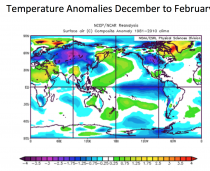 Enlarged
Here is what the NNME blend says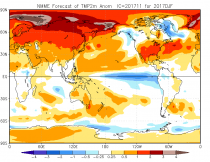 Enlarged
--------
ULTRA LONG TERM CLIMATE MODELS
These models run out many decades into the future and have a strong input from greenhouse gases but do not properly account for solar and natural ocean cycles.
John Christy writes about these models in testimony to congress.
"When the "scientific method" is applied to the output from climate models of the IPCC AR5, specifically the bulk atmospheric temperature trends since 1979 (a key variable with a strong and obvious theoretical response to increasing GHGs in this period), it can be demonstrated that the consensus of the models fails the test to match the real-world observations by a significant margin. As such, the average of the models is considered to be untruthful in representing the recent decades of climate variation and change, and thus would be inappropriate for use in predicting future changes in the climate or for related policy decisions.
The IPCC inadvertently provided information that supports this conclusion by (a) showing that the tropical trends of climate models with extra greenhouse gases failed to match actual trends and (b) showing that climate models without extra greenhouse gases agreed with actual trends. A report of which I was a co-author demonstrates that a statistical model that uses only natural influences on the climate also explains the variations and trends since 1979 without the need of extra greenhouse gases. While such a model (or any climate model) cannot "prove" the causes of variations, the fact that its result is not rejected by the scientific method indicates it should be considered when trying to understand why the climate does what it does. Deliberate consideration of the major influences by natural variability on the climate has been conspicuously absent in the current explanations of climate change by the well-funded climate science industry." U.S. House Committee on Science, Space & Technology 29 Mar 2017 Testimony of John R. Christy
When greenhouse climate models fail, there is no effort to rethink the theory. Instead agencies responsible for the data, search for and often find reasons to adjust the data to fit model projections.
All data today is adjusted with models with a goal of addressing data errors, changes in location or instrumentation or addressing changing distribution or to fill in for missing data or station closures. Once you start this adjustment process, it becomes increasingly possible to the find ways to mine from the data the desired results.
With the climate models there is an increasingly large divergence with balloon, satellite and surface reanalysis data sets the last 20 years. The one model that follows best the temperature is a Russian model that has roughly half the greenhouse forcing and improved ocean modeling.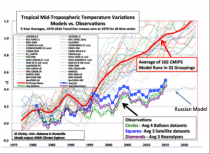 Enlarged

John Christy 2017 has shown models without extra greenhouse warming agreed perfectly with atmospheric (tropical) observations.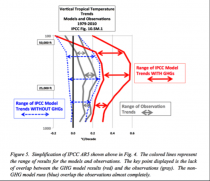 Enlarged
John Christy noted: "Incredibly, what figure 5 shows is that the bulk tropical atmospheric temperature change is modeled best when no extra GHGs are included - a direct contradiction to the IPCC conclusion that observed changes could only be modeled if extra GHGs were included.
See Tim Ball and Tom Harris's piece on "Would you bet your paycheck on a weather forecast?" - UN climate forecasts are consistently high… consistently wrong ... and used to drive policy
Nov 05, 2017
Scientific Critique of USGCRP's 2017 Climate Science Special Report
Update: See Gordon Fulks's 'Climate Science Special Report' Great Science Fiction? - Poor Science Fact! here
See how the previous cooling that climatologists all agreed on in the 1940s to 1970s, was eliminated to support the claim that CO2 was the only control knob (eliminating natural cycle in this excellent summary and paper review by Pierre Gosselin at Not a Lot of People Know That.
By Joe Bast
The Climate Science Special Report, "volume one of the Fourth National Climate Assessment," was released a few minutes ago. The entire report can be found here.
But in August the Trump administration disbanded the interagency committee that was working on the report.

Not sure why it was nevertheless released..probably the deep state at work. Here were my reactions to this report, from my earlier review of the draft back in August.

Scientific Critique of USGCRP's 2017 Climate Science Special Report

The U.S. Global Change Research Program (USGCRP) is a joint program of 13 U.S. national government agencies charged with developing a program to "understand, assess, predict, and respond to" global climate change. It produces reports to Congress every four years titled "National Climate Assessment." The three reports released to date have all exaggerated the amount of global warming, the human role in that warming, the negative impacts of the same, and the certainty of the science surrounding the causes and consequences of climate change. For example, a team of climate scientists led by Patrick Michaels of the Cato Institute said of the Third National Climate Assessment:

"This National Assessment is much closer to pseudoscience than it is to science. It is as explanatory as Sigmund Freud. It clearly believes that virtually everything in our society is tremendously dependent the surface temperature, and, because of that, we are headed towards certain and inescapable destruction, unless we take its advice and decarbonize our economy, pronto. Unfortunately, the Assessment can't quite tell us how to accomplish that, because no one knows how."

The latest (June 28) draft of the Fourth National Climate Assessment is similarly flawed. This brief critique makes ten points which track the content and organization of the assessment:

1. The report is a legacy product of a political regime that captured and "weaponized" this government agency to advance its agenda, much as it did to the IRS, Justice Department, and other departments. The report was written by hold-overs from the Obama administration, and represents only the very biased and politicized perspective of a small clique of government scientists on a complex issue.

2. The report fails to provide an objective and comprehensive review of the available literature. Contrary to media reports, the report was not made available to respected climate scientists for peer reviewed. Several scientists report that their requests for drafts were rejected. [Soon and Happer, others?] The final draft shows no evidence of being informed by the efforts of critics of the Obama administration's legislative agenda or even a single reference to the multiple reports of the Nongovernmental International Panel on Climate Change (NIPCC).

3. The report relies on past reports by the United Nation's Intergovernmental International Panel on Climate Change (IPCC), which the Trump administration properly rejects. The report refers to the IPCC's 2013 report as "rigorously-reviewed international assessments," when in fact the IPCC is controversial, scandal-ridden, and its procedures fall far short of the requirements of the Data Quality Act. [Why Scientists Disagree, pp. 38-44]

4. The report's most frequently quoted conclusion, "that it is extremely likely that human influence has been the dominant cause of the observed warming since the mid-20th century," is only a restatement of the opinions of activists and advocates in the field of global warming, and not a statement about the underlying science, which remains incomplete and uncertain. This is the same flawed reasoning and semantic games as used by the IPCC to make the same statement. It is not a statement of scientific fact, but rather of "some experts' opinions" without any basis in probability analysis or scientific forecasting. [InterAcademy Council Audit, p. 61ff]
5. The report denies the existence of the "pause" in global warming during the past 18 years or longer, something even the IPCC admits. It cites manipulated and unreliable databases when superior databases are readily available, apparently in an effort to once again "hide the decline."

6. The report ignores at least 27 peer-reviewed articles saying climate sensitivity is lower than the amount assumed by IPCCC and EPA. Climate sensitivity is the amount of temperature change likely to result from a doubling of the concentration of CO2 in the atmosphere from pre-industrial times. If the climate is less sensitive to CO2 than we thought four years ago, this report ought to reflect that fact. [Cited in Monckton, Soon, Legates, and Briggs 2015; reproduced in Why Scientists Disagree pp 66-69]

7. The report denies extensive evidence that weather is not becoming more extreme over time and physical evidence explaining why it will be less extreme in a warmer world. It recites Al Gore's litany of extreme weather predictions even though IPCC and independent scholars have thoroughly debunked it. [Chapter 7 of CCR-II: Physical Science]

8. The report repeats false claims about the loss of arctic sea ice - falsifying trends and causes and making false forecasts - in order to support its narrative of catastrophic man-made global warming. Arctic sea ice is not at historic low levels, it varies naturally due to known and unknown external forcings and internal variability, and it is not evidence of a human impact on climate. [Chapter 5 of CCR II: Physical Science]

9. The report misrepresents scenarios and computer-based simulations of future climate conditions as scientific forecasts of future climate conditions, when in fact it is well known among scientists that future climates cannot be predicted. Prof. Scott Armstrong, the world's leading authority on scientific forecasting, and coauthors have shown conclusively that the predictions made by the IPCC, EPA, and other government agencies are merely the opinions of some experts, not scientific forecasts, and cannot provide a reliable basis for public policy.

10. The report misrepresents sea-level rise and changes in ocean pH levels, portraying both as dire catastrophes resulting from man-made global warming, when in fact there is considerable evidence that sea level has not accelerated from its historic rates and considerable evidence that higher pH levels have positive as well as adverse effects on ocean life. [Chapter 6 of CCR-II: Physical Science]

Joe

Joseph Bast
Chief Executive Officer
The Heartland Institute

Nov 02, 2017
Exposed - the Liberal Astroturfers Behind the Global Warming Scare
by JAMES DELINGPOLE 24 Nov 2017415
In order to drain the swamp, President Trump must first destroy the Green Blob.
This is the only logical conclusion to be drawn from a series of data leaks and Freedom of Information (FOI) revelations exposing the relationship between left wing campaigners and the great climate change scam.
Global warming, it becomes clear, is primarily a left-wing political issue, not a scientific one. Green is the new red.
These leaks show how rich liberal backers - left-wing institutions like the Rockefeller Foundation, eco hedge-fund billionaires like Tom Steyer, and the various socialistic Geek Emperors of Silicon Valley - are funneling millions of dollars into sock-puppet environmental organizations both to undermine Trump's economic agenda and to finance his political opponents both in the Democratic Party and the GOP.
U.S. Climate Alliance
This poses as "a bi-partisan coalition of states THAT is committed to the goal of reducing greenhouse gas emissions consistent with the goals of the Paris Agreement." Or so the website says. But anyone can set up a website.
The truth, as the Competitive Enterprise Institute (CEI) has discovered through Freedom of Information Act (FOIA)-requested email correspondence, is that U.S. Climate Alliance is just a front. Its real purpose is to enable the richly funded green lobby to buy up Democrat governors - and one, token, squishy Republican governor: Gov. Charlie Baker (MA) - by effectively bribing them with free office, research and staffing facilities which they can run off books.
There is nothing actually illegal in any of this. But to appreciate how ethically dubious it is, just consider how the liberal media would respond if the roles were reversed and it were conservative politicians being provided with all these off-books services by, say, the fossil fuel industry.
Chris Horner, who initiated the FOIA for the CEI, put it like this in the Washington Times:
Mr. Horner asked how the media would react if, for example, the Koch brothers provide staffing on behalf of a Republican governor.
"This would unleash a tsunami of Pulitzers and hysteria if the political parties or priorities were changed," said Mr. Horner. "Here is a real test for 'good government' activists - is this all right if the 'right' politicians and donors pushing the approved agenda outsource government?"
What the emails show is the intimate relationship between the liberal donors, green sock puppet organizations and Democrat politics.
Energy in Depth Climate reports here on some of the details:
Climate activist groups, most notably Climate Nexus - a sponsored project of the Rockefeller Philanthropy Advisors -act as the press arm for these governors' offices at no charge. They also operate as a "shadow staff" to support climate change communications efforts, and supplied research later promoted by these state governors as their own. This includes at least one for-profit contractor, raising the question who its actual paying client is.
The three main Democrat governors fronting the U.S. Climate Alliance are Washington Gov. Jay Inslee, California Gov. Jerry Brown and New York Gov. Andrew Cuomo.
But the people actually running it are green lobbyists and activists, doing the bidding of their wealthy anonymous donors in liberal strongholds like Silicon Valley, as well as the usual liberal suspects such as the Rockefeller and Hewlett Foundations. One prominent figure is Jeff Nesbit, Executive Director of a green organization called Climate Nexus. In the emails he is revealed in close discussion with Sam Ricketts, director of Jay Inslee's Washington DC office.
According to the Washington Times:
"How come governors aren't even listed on the website?" Mr. Ricketts asked in a June 5 email.
Mr. Nesbit replied: "They will be! I promise. It's controlled by WWF [apparently referring to the World Wildlife Fund]. They're melting down over there. I'll make sure the 9 governors are listed ASAP."
Mr. Nesbit also wore the hat of press secretary, saying he needed to send a joint statement from Mr. Inslee, Mr. Brown and Mr. Cuomo to The New York Times.
"Do you have it? Is it approved? Is Inslee available to talk to the NYT and others today before Trump does his Rose Garden ceremony at the WH?" Mr. Nesbit asked in the June 1 email.
According to Mr. Nesbit, Climate Nexus, a sponsored project of the Rockefeller Philanthropy Advisors, provided its services free of charge and without a contract.
What becomes clear from the emails is the extent of sock puppetry - which the Green Blob uses to give the impression of representing many disparate groups, when in fact they are all just a small group of the same people wearing different hats. There is no shortage of money to support this scam.
According to the Washington Times:
Even before Mr. Trump announced his intention in June to exit the 2015 Paris climate accord, state employees in California, New York and Washington had discussed enlisting the help of outside advocacy groups.
Aimee Barnes, senior adviser to Mr. Brown, proposed reaching out to the Georgetown Climate Center, Under2 Coalition and others, saying that "it can't always be us staff running around trying to corral each other for sign on."
"We are fortunate that at the moment there are many resources keen to be at our disposal to support us further, but in order to make the best use of them, we need to tell them what we need," Ms. Barnes said in a May 5 email.
Mr. Ricketts responded in a May 9 email by noting, "There's of course a plethora of advocate and funder interest," adding, "We can approach the different groups (G-town, Rhodium, UNF, whomever) about which of them will play a roll."
A week later, Georgetown Climate Center Deputy Director Kathryn Zyla provided an update in an email sent to state staffers and climate change advocates.
"We also wanted to let you know that we are working with the Georgetown IT department to develop a platform that can assist this group with communications and shared resources, and will keep you posted. (Please let us know if you have any thoughts on key features for that platform.)," Ms. Zyla said in a May 16 email.
GCC spokesman Chris Coil said the group had no contract with the states. "We support state engagement on climate change (as we have done on a bipartisan basis for many years) free of charge," he said.
Inslee senior adviser Chris Davis put in a plug for Ann McCabe and her team at the Climate Registry, calling them in a June 5 email, "Great partners who've covered our costs for COPs and provided extraordinary on site services and support."
Inevitably, there is a Clinton connection to all this skullduggery:
In another instance, the Alliance released a report about economic output and greenhouse gas emissions. Although branded as their own research, it turns out that the report relied almost exclusively on data compiled by the Rhodium Group - an organization headed by a former Hillary Clinton energy and climate advisor, Trevor Houser.
Indeed, given that the central focus of the emails obtained by CEI is tapping the "plethora of advocate and funder interest" in providing support functions which were beyond the ability of the governors' offices, it seems far more likely this pricey gift was provided to the governors by the for-profit Rhodium Group. What isn't yet clear is which clients paid for this glossy product of a high-priced consultancy.
It's unsurprising that the Rockefellers have found a way to exert their influence inside state governors' offices. Climate Nexus has also been heavily involved in promoting the #ExxonKnew campaign for the Rockefellers. When the RICO 20 - a group of professors who petitioned the Obama administration to bring racketeering charges against those who disagreed with the president's climate agenda - faced enormous backlash for their efforts to silence dissent, Climate Nexus rushed in to clean up the mess. You see, the RICO 20 was suggesting that the government prosecute individual climate skeptics, which got in the way of the Rockefellers' plans to have the government go after energy companies.
Climate Nexus also receives funding from the Energy Foundation and the Rockefeller Brothers Fund, two other groups heavily involved in backing the #ExxonKnew campaign.
The Great Republican Carbon Tax Myth
Earlier this year I reported here and here for Breitbart News on the bizarre spectacle of various Republican elder statesmen - including Reagan-era Secretary of State George Shultz -campaigning to "combat climate change" by agitating for a carbon tax. Naturally the New York Times got very excited at the idea that conservatives were starting to see the light.
The truth: there is next to zero support, anywhere within the GOP, for something as stupid and frankly socialistic as a carbon tax.
- During the 2016 Presidential campaign, every major Republican candidate with the exception of Lindsay Graham opposed a carbon tax May 2016, prospective GOP nominee Donald
- Trump publicly tweeted his opposition to a carbon tax in response to a news story
- June 2016, House Republicans, led by Rep. Steve Scalise, passed a resolution opposing a carbon tax
- July of 2016, the RNC adopted changes to the Republican platform opposing a carbon tax
- 2016, state GOP parties began adopting resolutions in advance of the Cleveland Convention opposing a carbon tax
- August 2016, candidate Donald Trump responded in writing to a candidate questionnaire opposing both a carbon tax and the concept of social cost of carbon
So why does this zombie concept keep clawing its way out of the grave?
Because, yet again, we're being played by the usual suspects: a handful of extremely well-funded lobbyists using their money and influence to give the impression of widespread, cross-party demand for what is in fact only the preoccupation of such paid-up Green Blob members as Elon Musk. They planned this far in advance.
This is clear from two leaked campaign documents dating back to 2015.
One is from the National Wildlife Federation. Its strategy explicitly states that its plan is to co-opt conservatives into its carbon tax scheme:
The Wind Energy Foundation, National Wildlife Federation (NWF), EDP Renewables North America (EDPR), Renewable Energy Systems Americas Inc. (RES), Pattern Energy, and Tesla Motors are working in a cross-sector coalition to enact a federal price on carbon pollution.
We believe that a carbon tax or similar price on carbon pollution is achievable in Congress within five years as part of a grand political bargain on tax and fiscal policy. The key to this success will be the effective deployment of business and conservation leaders and their networks, who will create a non-threatening, non-ideological space for conservative decision makers to engage on climate policy. We anticipate that this campaign will be complemented with efforts in the political sphere to hold accountable those who are unresponsive to our network members or to defend those who are responsive.
Note the presence of Tesla on this list: Mr President - Elon Musk is not your friend!
The other is another 2015 strategy document, floated among D.C. think tanks, created with the aim to "Engage Congress on Carbon Pricing."
Again, the tactic used to achieve this was to reposition a carbon tax as an essentially free-market, pro-business solution in order to attract conservative support.
"Carbon Funded Tax Cuts" will stimulate GDP growth, create jobs, make U.S. companies more competitive in the global market place, make the tax system fairer, and result in dramatic climate change benefits.
Did you see what they just did there? These people are sneaky.
And the money for these campaigns - coordinated by think tanks and lobby groups like RStreet and RepublicEn - is in turn funneled via organizations like the Energy Foundation.
Here is the Energy Foundation giving hundreds of thousands of dollars to RStreet.
Here it is donating $200,000 to another lobby group Niskanen.
There's nothing illegal about this. Just something very dishonest and deliberately misleading.
It's called Astroturfing.
The Green Blob wants you to believe that, right now, there are a heap of disparate groups of sincere campaigners all of which just happen to share the same worthy and noble mission to combat climate change.
Except they're really not. They're just a bunch of liberal sock puppets, bankrolled by plutocrats on a mission to allay their rich-guilt by splashing money on "saving the planet" and green industry rent-seekers who want to rig the market in favor of their renewable energy interests.
This is not about saving the planet. This is about greed- and left-wing politics.
If President Trump is to drain the swamp he must destroy the climate industrial complex.
-------------

Trump Vindicated: Now Even the UN Confirms That the Paris Climate Accord Was a Complete Waste
James Delingpole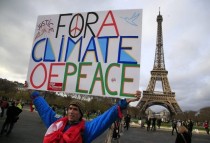 The United Nations has officially confirmed what many of us, including President Trump, knew already: the Paris climate accord was a complete waste of space.
As UN Environment admits in its latest Emissions Shortfall report, even when you add up all the CO2 reduction pledges made by all the signatory nations at Paris, it still comes to only a third of what is supposedly necessary to stop the world warming by more than 2 degrees C by the end of this century.
According to UN Environment's head Eric Solheim, the world is heading for disaster:
"One year after the Paris Agreement entered into force, we still find ourselves in a situation where we are not doing nearly enough to save hundreds of millions of people from a miserable future. Governments, the private sector and civil society must bridge this catastrophic climate gap."
Another way of looking at it, though, is that President Trump's decision to pull out of the Paris accord is now fully vindicated. Had the Agreement been ratified, the U.S. would have handed countries like China and India a huge competitive advantage over the American economy. But - as even the UN now admits - it would have made no discernible difference to the alleged problem of "global warming." So what, exactly would have been the point?
Here is a pretty graph prepared by the BBC that gives an idea of this "catastrophic" emissions reduction shortfall: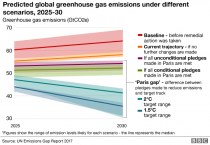 Enlarged
The so-called 'Paris gap' is just a figment of the UN's/BBC's imagination. It gives the false impression that all those carbon reduction promises (known as INDCs: Intended Nationally Determined Contributions) made by the various signatory nations in Paris are going to make a difference.
In fact, as Skeptical Environmentalist Bjorn Lomborg calculated at the time, they dont amount to a hill of beans.
If - extremely unlikely though it is - the Paris signatories stick to their INDCs then it may reduce the world's temperatures by the end of the century by 0.170 degrees C.
That, remember, is the optimistic scenario.
The pessimistic scenario is that will avert a mere 0.048 degrees C of warming.
Or not: let's not forget that the margins of error in these calculations are significantly larger than these fractions of one degree.
A little understood point of the UN Paris agreement is that it left countries like India and China to increase their CO2 emissions even as the U.S. was forced to rein in its own emissions by adopting more expensive, inefficient, 'bat-chomping, bird-slicing clean' energy. That's why India and China signed: they're not stupid. It would have given them an enormous competitive advantage over the U.S.
This graph shows how toothless the Paris agreement was: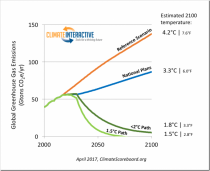 Enlarged
See: despite all the airy good intentions expressed in Paris, the countries of the world have no desire to reduce their carbon dioxide emissions just to appease a Green Goddess no serious person genuinely believes in.
But then, saving the planet was never the point of Paris. Rather it was, as Rupert Darwall describes in his excellent new book Green Tyranny, a scheme designed permanently to weaken the U.S. by forcing it to operate on the same constricting terms that the environmental left has imposed on Europe. Liberty-loving, free (-ish) market, democrat America is anathema to the eco-fascists and their many sympathizers within the European Union.
That's why, had Hillary been elected and Obama's dirty plan to sign up to Paris without Senate approval been fulfilled, it would have been game over for America's status as the Land of the Free.
Enviro-activist billionaire Tom Steyer described Trump's decision to pull out of Paris as "a traitorous act of war against the American people."
Funny way of describing a decision which: lowered energy bills; created real jobs (as opposed to subsidized Potemkin jobs like the ones in the wind and solar industries); reduced the cost of living; boosted economic growth; freed Americans from the shackles of the kind of bureaucratic, technocratic, communitarian tyranny which now applies across the EU.
As Darwall notes:
The United States is now the world's hydrocarbon superpower. Thanks to fracking it has surpassed Saudi Arabia and Russia to become the world's top energy producer. This abundance of hydrocarbon energy made the United States the biggest loser from the Paris Agreement. Quitting Paris turns the United States into the biggest winner from Paris. Access to cheap energy gives American businesses and workers a colossal competitive advantage in world markets as other nations increasingly burden themselves with high-cost, unreliable wind and solar energy.
We'll come back to this. It's important. Unless you've understood that global warming is - and always was - just a pretext for an economic takeover by the globalist left, you really haven't understood the problem.
------------
Icecap Note: One of the 21 rebuttals to commonly heard claims is that "Renewables are becoming much more economically competitive, so the time has come to move away from fossil fuels"
Facts:
Not by a long shot. They are marginally competitive only because of huge subsidies and mandates - and the electricity they provide is still more expensive than coal, gas or nuclear power...and importantly, unpredictable and unreliable. It is often least available when it is most needed: on the coldest and hottest days of the year.
Fossil fuels provide the abundant, reliable, affordable energy that powers civilization...and makes our industries, livelihoods, healthcare, nutrition, living standards, leisure time and life spans possible.
Over 80% of all US and global energy still comes from fossil fuels. Most of the 'renewable energy' employed worldwide is wood, grass and animal dung - the fuels of poverty, misery, disease and early death. Another large portion is hydroelectric. Barely 1% is wind, solar and bio-gasoline.
There is no valid reason to subsidize and mandate renewable energy. The fracking revolution in the US has produced an abundance of oil and gas and has slain fears of "peak oil." Nor is there any evidence that installation of renewables has the slightest effect on global temperatures. The only demonstrated effect of adoption of renewable energy is to raise energy prices to consumers and businesses.
According to the International Energy Agency, 25 years from now, total global energy demand will be 25% greater than it is today...and 75% of that world energy will still be fossil fuels.

Claims of dangerous manmade climate change is being used to drive anti-fossil fuel, pro-renewable energy agendas that cause skyrocketing energy prices in developed nations, which in turn bring lost jobs and lower living standards. Energy restrictions prevent people in poor countries from improving their living standards.

The more the move to renewable, the greater the cost to ratepayers and the more unreliable the power-supply because the wind does not always blow or sun shine.
Wind energy is also raising the electricity rates of US residents. According to data from the US Energy Information Administration, the US average retail electricity price increased only 4.8 percent from 2008 to 2016. But electricity price increases in nine of the twelve top wind states, California, Colorado, Indiana, Iowa, Kansas, Minnesota, North Dakota, Oregon, and Washington ranged from 13 percent to 37 percent over the eight-year period. Wind systems are typically located far from cities and towns, requiring construction of new electricity transmission facilities, boosting the retail price of electricity.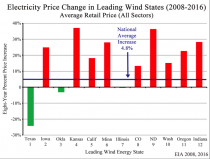 Sadly, imposed energy restrictions prevent people in poor countries from improving their living standards. Climate change and renewable energy claims are being used by politicians, activists and crony corporate interests who want to dictate energy use, economic growth and living standards… and get richer and richer in the process. Someday someone will invent real, working alternatives to fossil fuels. But that day has not come.