Apr 11, 2007
Global Warming Cure Found - Dire IPCC Reports
It seems we have found the cure for global warming. Have the IPCC issue a dire report about global warming every other month. In February when they issued the Summary for Policy Makers, it was the coldest February since 1979 in many parts of the central and east. Now with their April release, Mother Nature is showing "its not nice to fool Mother Nature" by slamming us with winter weather in April. So far April is tracking as the coldest in 113 years. The four day period from April 6th to April 9th brought 156 record lows to a large part of the nation east of the Rockies. 13 were ALL TIME April lows. Snow fell in places as far south as Dallas, Texas and Mobile, Alabama and a heavy snowstorm cancelled an entire four game baseball series in Cleveland.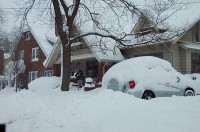 Easter in Chagrin Falls, OH courtesy of Andre Bernier
See larger image here Easter Snow
See the long list of records here Global_Warming_Cure_Found.pdf
Apr 06, 2007
Delegates Approve Report After Much Wrangling
An international global warming conference approved a report on climate change Friday, chairman Rajendra Pachauri said, after a contentious marathon session that saw angry exchanges between diplomats and scientists who drafted the report. See USATODAY Story. Also Rueters reports Scientists clashed with government officials at a U.N. panel on climate change on Friday over how strongly global warming is affecting plants and animals and the degree to which humans are causing temperatures to rise. See Reuters Story

Mar 31, 2007
24% Consider Al Gore A Global Warming Expert
March 24, 2007

Al Gore Former Vice President Al Gore (D) received a warm welcome on Capitol Hill last week for his testimony on the environment and Global Warming. However, while his film is now an Academy Award winner and he is a celebrity activist, just 24% of Americans consider Gore an expert on Global Warming. A Rasmussen Reports national telephone survey of 1,000 adults found that 47% say he is not an expert on the topic (see crosstabs).
In fact, just 36% of Americans say that Gore knows what he is talking about when it comes to the environment and Global Warming. Thirty-one percent (31%) say he does not know what he is talking about while 33% are not sure. Women, by a 2-to-1 margin, say Gore knows what he is talking about. Men, by a similar margin, say he does not.
Appearing before a Congressional Committee, Gore said that Global Warming is "not a partisan issue; it's a moral issue." However, polling data suggests that among the general public it's a very partisan issue. By a 65% to 9% margin, Democrats say that Gore knows what he's talking about. By a 57% to 11%, Republicans say he does not. Those not affiliated with either party are evenly divided.
A survey conducted in December found that 45% of Americans consider Global Warming a Very Serious issue. But, there are partisan divisions visible throughout the data. Fifty-six percent (56%) of Democrats say human activity is the cause while 51% of Republicans identify long-term planetary trends as the culprit. Overall, 47% see a conflict between environmental protection and economic growth. Twenty-nine percent (29%) do not. Earlier surveys by Rasmussen Reports have found that Americans strongly prefer development of alternative energy sources rather than conservation efforts. Most also support development of new nuclear power plants.
Thirty-seven percent (37%) of Americans say that Gore is likely to run for President in 2008. Fifty-four percent (54%) say he is not likely to run.
In addition to tracking key issues Rasmussen Reports provides continuous updates on Republican and Democratic Presidential candidates. You can also check out favorables for Congressional Leaders, Journalists, and other Political Figures. Gore is viewed favorably by 50% of Americans, unfavorably by 47%.