Jul 31, 2017
Mainland US and Florida Hurricane 'drought'
Joseph D'Aleo, CCM, AMS Fellow
WeatherBELL Analytics, LLC
A weak tropical storm Emily came ashore in Florida this morning.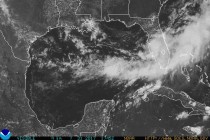 Enlarged
It will cross into the Atlantic and maintain tropical storm intensity according to NHC.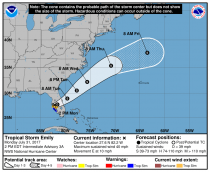 Enlarged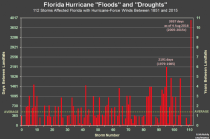 Enlarged
The chart above shows the intervals between major hurricane landfalls in Florida as of August 4, 2016. A year later, we will be now at an amazing 4302 days, twice the original record.
You can see cycles in Atlantic hurricane intensity.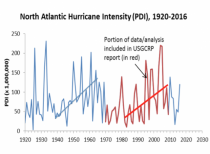 Enlarged
The hurricane activity in the Atlantic is tied to cycles of the Atlantic AMO warm and cold modes.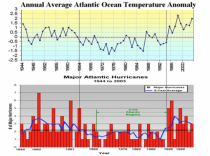 Enlarged
See the frequency of major hurricanes and landfall in the warm and cold modes.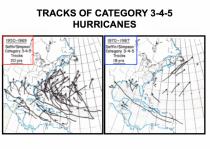 Enlarged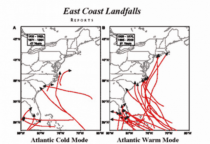 Enlarged
Florida peninsula escaped a major landfall during the first 9 summers of the latest warm mode starting in 1995.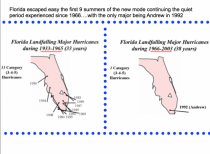 Enlarged
Then came 2004 with three storms and in the panhandle Ivan and then Wilma in 2005.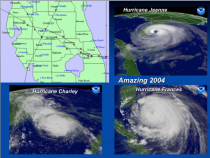 Enlarged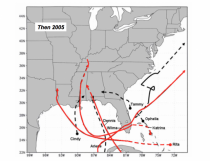 Enlarged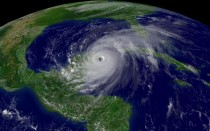 Enlarged
The four significant hurricanes hurt citrus like 1960s and 1989s devastating freezes.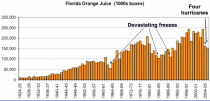 Enlarged
The current SSTA pattern in not like 2004 in the North Pacific though it was similarly Modoki-like in the tropics and somewhat similar in the Atlantic.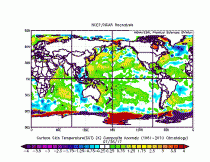 Enlarged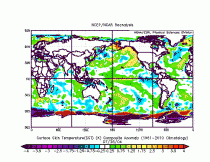 Enlarged
See the difference.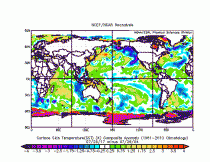 Enlarged
We will battle Saharan Dust a while longer. Usually Atlantic pressure changes diminish that by mid August. The season rises quickly to a peak around September 10.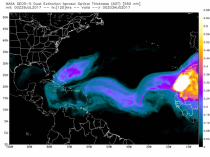 Enlarged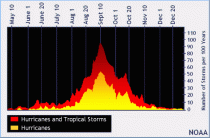 Enlarged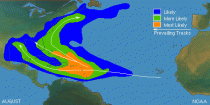 Enlarged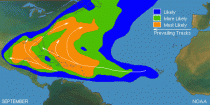 Enlarged
See the western Atlantic and Caribbean are primed with high ocean heat content, typical of the late summer.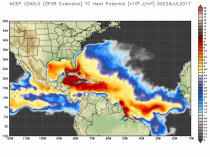 Enlarged
Jul 15, 2017
The annual corn crop scare
By Joseph D'Aleo, CCM, Co-Chief Meteorologist, WeatherBELL Analytics
You can count on it most years about this time. Summers are rarely 'steady as she goes'. The meanderings of the MJO will cause some dry periods and transient heat in every summer. There is nervousness among farmers at critical times like when the corn is pollinating in July. There are always forecast groups that make the headline by putting a drought gloom and doom scare into the market.
Last year this very time there was a rally based on forecasts of a withering crop due to high heat and futures corn price forecasts of $6+. Two warm days and a spike to $4.40 were followed by showers and cooling and a record crop and low corn prices (below $3.20.). See the current levels far right.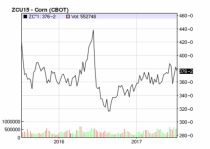 Enlarged
Yes we have been covering almost daily the dryness in the north central that has seriously hurt spring wheat and to a lesser degree corn and beans and made note of the borderline excessive rains in parts of the central Ohio Valley and southern Missouri.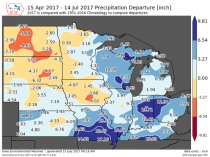 Enlarged (ISU)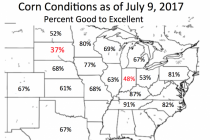 Enlarged
Last year on this date, see the dryness from Iowa through the Ohio Valley.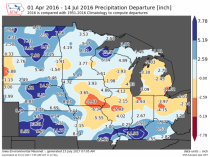 Enlarged (ISU)
See how the same level of abnormal to moderate drought was reported in southeast Iowa this time of July as is currently the case. Last year, you can see the reason for the concern with the dryness in southeast Iowa into Illinois (the top 2 corn states). Actually a little dryness with an adequate deep soil moisture profile encourages deeper root systems that help plants get by transient heat stress. That was the case last year and is this year in the southern Iowa deficit area.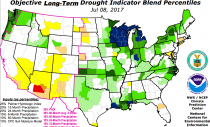 Enlarged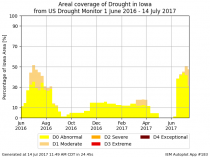 Enlarged (ISU)
But the heat that worried the market was transient as WeatherBELL forecast and the rains came to all the prime areas. In the eastern Ohio Valley, the late rains made for a better bean crop which is more drought hardy and which has its critical phases in August.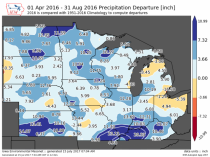 Enlarged (ISU)
James McCune, an Illinois farmer and his team did crop tours for us and he and we and very soon after the USDA NASS predicted a record crop. HIs reports can be found here and here. See how all but the eastern Corn Belt ended up normal to above for rain.The reason they recovered last year and will this year is the seasonal thunderstorm complex season last year did and this year should deliver even into the more serous drought areas of the north central.
Some forecast groups and analysts are warning the heat and 'drought' could cause yields to drop to 4 to 5% below long term trend lines and corn prices to spike to $6. We have expressed opinions when asked that the yields will fall short of last year (too dry in the Dakotas and too wet in spots in central Indiana and western Ohio) but with a good crop elsewhere including prime areas of Iowa, Illinois, Wisconsin and Minnesota should be above the trend line.
Here is the 16 day forecast of rainfall anomalies. As you can see not all models show the dryness as the forecasters warned. Note on WeatherBell we show the high res, more skillful EC forecast out to 46 days but I can't show it on general non commercial sites. It is wetter still (and cooler).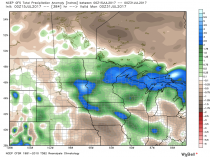 Enlarged
See how southeast Iowa has had normal GDDs and SDD (stress degree days) and slightly below normal rainfall. It is better in thee regards than 2016 at this time there.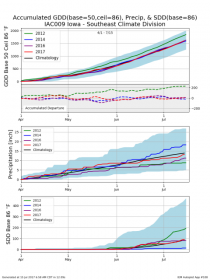 Enlarged
See how yields for corn have increased as the extent of heat has declined, rains have slightly increased and CO2 fertilization (CO2 also reduces water needs).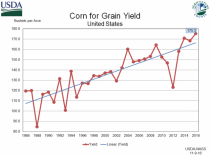 Enlarged (USDA)
Jul 10, 2017
Looks Like Global Action On "Climate Change" Is Dead
As a basic starting point, I suggest that on any story of political importance in the New York Times, the truth is probably exactly the opposite of what they report. Consider that lead story on the front page of yesterday's Sunday print edition: "World Leaders Move Forward on Climate Change, Without U.S." Scary! The U.S. is getting completely isolated from the world community!
In a final communiqué at the conclusion of the Group of 20 summit meeting in Hamburg, Germany, the nations took "note" of Mr. Trump's decision to abandon the pact and "immediately cease" efforts to enact former President Barack Obama's pledge of curbing greenhouse gas emissions 26 to 28 percent below 2005 levels by 2025. But the other 19 members of the group broke explicitly with Mr. Trump in their embrace of the international deal, signing off on a detailed policy blueprint outlining how their countries could meet their goals in the pact.
You can definitely count on Pravda not to look into what these other 19 countries have promised to do and let you know if there is any substance to it. So the hard work falls once again to the Manhattan Contrarian. If you just Google the letters "INDC" ("Intended Nationally Determined Contribution") along with the name of a country, you can find out exactly what that country has promised to do as part of the Paris Agreement. So let's take a look at what a few of the big countries are up to.
China. We already know that answer from my post just last week. China, through its companies, is planning to build over the course of the next decade or so well more than double the number of coal power plants that the U.S. has today. It's INDC calls for its proceeding to increase carbon emissions as much as it wants through 2030, and only then (when everyone in China presumably has electricity and a couple of cars) to level things off. By that time its emissions will probably be at least triple those of the U.S.
India. India's INDC openly admits that it intends to increase its electricity supply by more than triple between now and 2030, with no commitment whatsoever as to how much of that will come from fossil fuels. Oh, they say that they plan to lower the "emissions intensity" of their energy generation, and greatly expand (useless) wind and solar capacity, as well as nuclear. Whoopee!
Indonesia. These things get more comical the more of them you read. The first thing you learn in reading Indonesia's INDC is that the large majority of its emissions come from burning down the rain forest ("most emissions (63%) are the result of land use change and peat and forest fires") and very little from using fossil fuels for energy ("fossil fuels contribute[e] approximately 19% of total emissions"). So they'll promise to burn down less of the rain forest, and nothing whatsoever as to reducing use of fossil fuels for energy. Their (completely illusory) "reduction target" of 29% by 2030 is not against a fixed amount of past usage (like the United States' benchmark of 2005 emissions), but rather is against what they call a "business as usual" scenario of projected future emissions that are a multiple of today's.
Russia. What, you didn't know that Russia was a member of the G20? What is the chance that Russia would make an honest promise about emissions reductions? Their INDC calls for reducing emissions by 25-30% below 1990 by 2030. Impressive! Wait a minute! The Soviet Union collapsed in 1991. Then they closed down all that inefficient Soviet industry. According to a graph at Climate Action Tracker here, by 2000 their emissions were down by almost 40% from the 1990 level, and they have only crept up a little from there since. In other words, Russia's supposed "commitments" again represent increases from today's level of emissions. Yet another total scam.
Germany. Germany is part of the supposed EU commitment to reduce emissions by 40% below 1990 levels by 2030. Oh, but now that Germany has gotten its electricity production from renewables up to about 30%, it seems that it has hit a wall, and its carbon emissions have actually gone up for both of the last two years (2015 and 2016), according to Clean Energy Wire. Exactly how do they plan to meet their goal? Excellent question.
In other words, this whole thing is a total farce. The G20 "climate" thing—let alone New York Times reporting on same—is nothing more than an international effort to bully the United States into crippling its economy while everyone else goes right ahead and uses fossil fuels exactly as they please. Whatever else you might say about President Trump, he seems to be unusually immune to this kind of bullying.
Without the U.S. in the game, all the biggest players are going to be increasing emissions, not decreasing them. In reality, the whole "global action on climate change" thing is completely dead.
I can't leave this subject without mentioning this great quote from former Obama State Department official Andrew Light:
"[T]he U.S. has isolated itself on climate change once again, and is falling back while all other major economies step up and compete in the clean energy marketplace created by the Paris Agreement estimated to be worth over 20 trillion dollars," said Andrew Light, a senior climate change adviser at the State Department under Mr. Obama.
As you can see, knowledge of basic economics was not a requirement to work at the Obama State Department. Andrew apparently has no understanding that the forced use of less efficient energy sources destroys wealth.