Aug 26, 2017
Harvey downgraded but flooding rains to continue for days as it meanders
By Joseph D'Aleo, CCM, WeatherBELL Analytics LLC Meteorologist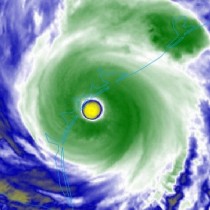 Enlarged
Harvey came ashore as a major hurricane overnight but was down to 75mph in the late morning advisory and downgraded to a tropical storm early this afternoon. It was the first hurricane this decade in Texas and the first major hurricane since Alicia for Texas in 1983.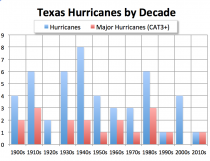 Enlarged
This put an end to the record lull of major landfalling storms that reached 4326 day (almost 12 years). The last major storm was Wilma in October of 2005. The previous record lull was around 8 years in the 1860s.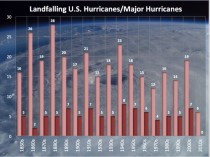 Enlarged
Hurricanes are no stranger to Texas. From 1980 to the present, at least 70 tropical or subtropical cyclones affected the U.S. state of Texas.

On September 8, 1900, the port city of Galveston in the U.S. state of Texas was struck by a Category 3 or 4 hurricane which resulted in the deaths of at least 8,000 people. It is the deadliest natural disaster in the history of the United States and the third costliest hurricane ever to strike the mainland.


Enlarged
According to David Roth of the Weather Prediction Center, a tropical cyclone makes landfall along the Texas coastline about three times every four years, and on any 50 mile segment of the coastline a hurricane makes landfall about once every six years. His analysis was used to create the above graph of decadal hurricane and major hurricane landfalls in Texas.
Already over 20 inches of rain has fallen in a few spots as of early Sunday.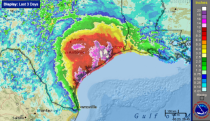 Enlarged
See how far reaching the spiral bands around Harvey extend with heavy rains even to Louisiana.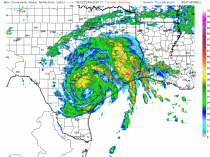 Enlarged
See the storm surge continue with the continued southeast flow and the feeder bands.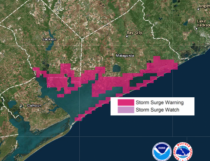 Enlarged
See the major river and stream flooding.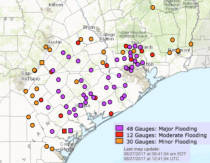 Enlarged
With the storm not forecast to leave the state until perhaps late next week, it seems likely to rank high among the record rainfall events and maybe challenge Amelia's record of 48 inches in the week long rains in Medina, TX in July 30-August 5, 1978.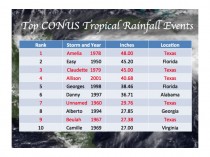 Enlarged
Tornadoes frequently occur new the tropical storm bands as higher winds aloft get carried down in downdrafts in thunderstorms, spinning up vortices (usually EF0 or EF1 though some EF2 to EF4 tornadoes have occurred). 26 have occurred so far with more to come.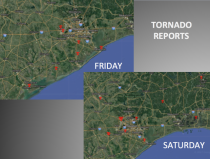 Enlarged
----------
NHC note: Harvey is expected to produce total rain accumulations of 15 to 30 inches and isolated maximum amounts of 40 inches over the middle and upper Texas coast through Thursday. During the same time period Harvey is expected to produce total rain accumulations of 5 to 15 inches in far south Texas, the Texas Hill Country and southwest and central Louisiana. Rainfall of this magnitude will cause catastrophic and life-threatening flooding.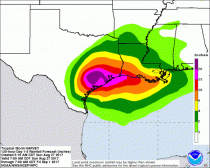 Enlarged
-------
Note: You can see cycles in Atlantic hurricane intensity.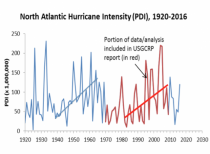 Enlarged
The hurricane activity in the Atlantic is tied to cycles of the Atlantic AMO warm and cold modes.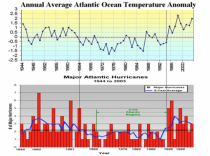 Enlarged
See the frequency of major hurricanes and landfall in the warm and cold modes.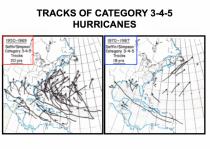 Enlarged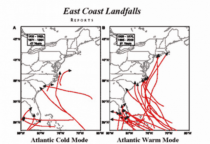 Enlarged
The current warm mode may have peaked in 2005, when we ran out of storm names. That was the year of Katrina and Rita and Wilma.
One last point - why did Harvey stall? With amazingly cool high pressure for August spread to the north, Harvey was blocked from recurving like most storms. The top 10 wet storms listed above were all trapped and long lived events. The biggest snowstorms come from storms that get captured and stall. CO2 plays no role in storm movement. A quiet sun though tends to produce more persistence.