Jul 01, 2012
Is there a derecho in here?
By Joe D'Aleo
The Storm Prediction Center continued to receive damaging wind reports Saturday and upped the total for the 'derecho' to 1060.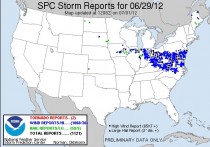 Enlarged
The storms fed off the intense heat in the heat ridge and bowed out Friday and expanded as it crossed Ohio and West Virginia into Virginia including the nation's capitol.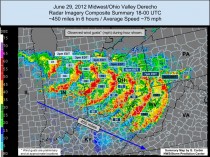 Enlarged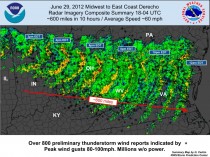 Enlarged
It delivered needed rains for the northern Ohio Valley and doused the extreme heat for Saturday. But a literal drop in the bucket this very dry year.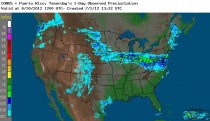 Enlarged
WHAT IS A DERECHO?
A derecho is a long-lived straight line wind storm. The word derecho comes from the Spanish word meaning straight. These storms are generally associated with severe thunderstorms and occur most frequently along a squall line, especially in "bowing" sections. This means that while most of the line may be straight, there will be areas that bow out. It is in these areas, where we see the strongest winds and derechos occur. Derechos are most common in the summer months, but can occur at any time of the year and at any time of the day. Derechos can travel for several hundred miles and can typically last for over six hours.
Derechos differ from typical severe thunderstorms in several ways. One, derechos move at a rate of increasing forward speed. Secondly, derechos are unusually long, typically about 250 miles in length. The maximum winds within derechos are typically in excess of 80 or even 100mph. Derechos rarely form tornadoes, most of the damage is caused by straight line winds.
One of the most famous derecho events include the Memphis Summer Storm of 2003, which is also known as Hurricane Elvis. The storm hit Memphis with winds will over 100mph killing seven and leaving over 300,000 people without power for up to two weeks.
The term derecho has been around for a long time. It was first described by Gustavus Hinrichs in 1888. The term was later revived by Robert Johns and William Hirt in 1987. Although derechos in other countries can happen, Johns and Hirt identify areas from the upper Midwest to the Ohio valley as particularly prone to these wind events. Occasionally, these storms will move into the Appalachia regions.
Dr. Ted Fujita first coined the term "bow echo" to describe the bow shaped path of mesoscale convective systems (thunderstorms). Derechos usually evolve from a bow echo formation and have become somewhat synonymous with the term "long-lived bow echo". The storm that caused Fujita to coin the term "bow echo" had a derecho event that affected Northern Wisconsin known as the The Independence Day Derecho of 1977.
CLIMATOLOGY OF DERECHOES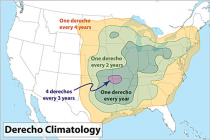 Enlarged
THE GREAT ADIRONDACK DERECHO OF 1995 (NOAA)
THE JULY 15 1995 DERECHO THAT RAVAGED MUCH OF EASTERN NEW YORK AND WESTERN NEW ENGLAND. A DERECHO IS A WIDESPREAD AND LONG LIVED WINDSTORM THAT IS ASSOCIATED WITH A BAND OF RAPIDLY MOVING THUNDERSTORMS.
IN 1995...A LINE OF DAMAGING THUNDERSTORMS DEVELOPED IN THE NORTHERN GREAT LAKES DURING THE NIGHT OF JULY 14 AND QUICKLY STRENGTHENED AS IT MOVED INTO NORTHERN NEW YORK BY 4 AM ON JULY 15...AND THEN INTO SOUTHERN NEW ENGLAND BY 8 AM. ESTIMATED PEAK WIND SPEEDS IN EXCESS OF 100 MPH OCCURRED IN THE ADIRONDACKS AND THE STORMS THEMSELVES COVERED OVER 800 MILES (FROM ONTARIO PROVINCE TO CAPE COD) IN LESS THAN 12 HOURS...MOVING AT AN AVERAGE FORWARD SPEED OF 67 MPH.
THIS DERECHO RESULTED IN FIVE DEATHS AND 11 INJURIES AND CAUSED DAMAGE TO NEARLY ONE MILLION ACRES OF TREES IN THE ADIRONDACKS. ALSO, IT WAS ONE OF THE COSTLIEST WINDSTORMS IN EASTERN NORTH AMERICA...WITH NEARLY A HALF BILLION DOLLARS IN DAMAGES.
That 'heat wave' summer produced 4 derechos as outlines by NOAA here.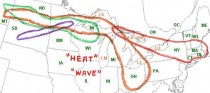 Enlarged
The Ontario-Adirondacks Derecho of July 14 and 15, 1995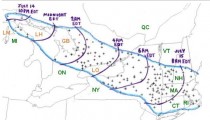 Map of the Ontario-Adirondacks Derecho (courtesy of NOAA)

The Ontario-Adirondacks Derecho got its start near the straits of Mackinac on Friday evening July 14, 1995. At the Mackinac Bridge connecting the Upper and Lower Peninsulas of Michigan, 100 mph winds were detected and sustained winds above 80 mph continued on the bridge for 10 additional minutes. After crossing the open waters of Lake Huron/Georgian Bay, the storm raced southeastward into central southern Ontario. Several brief tornadoes were reported. An F1 tornado struck the Balsam Lake Trailer Park near Kirkfield, flipping over vehicles, destroying several trailers and sending ten people to hospital with non life-threatening injuries. One trailer was thrown over 250 meters. Across the lake from the trailer park, straightline winds caused extensive damage in the cottage community of Long Point. Further east, near Peterborough, an F2 tornado hit Bridgenorth damaging or destroying 20 homes and a marina with winds estimated upward of 200 km/h (120 mph/h). To get an idea of the straight line wind damage over a wide area, a sustained wind gust of 136 km/h (84 mp/h) was recorded just north of Toronto at the Buttonville Airport, which was located on the far southern periphery of the main derecho.
Many thousands of trees were blown down across the province severing power lines, blocking roadways, and damaging homes. One person was killed, and dozens of people were injured. Eight people trapped in flipped houseboat in Pigeon Lake near Peterborough were rescued hours after the storm. Power was not restored to some affected areas for up to a week after the event. The derecho caused $53 million in damage (Canadian dollars).
The storm entered New York state at around 4 A.M. The storm slammed into the Adirondacks felling 900,000 acres (3,600 km˛) of forest. The value of the loss of timber was estimated at over $200 million (1995 dollars).
The derecho passed through the Syracuse airport with a 76 mph wind gust. A parked Boeing 727 was blown into another plane. A 77 mph wind gust was recorded at Albany. It moved into New England a little after sunrise producing 70-90 mph wind gusts in several towns in Massachusetts. Fifty people were left homeless after the derecho blew the roof of an apartment building in Holyoke, Massachusetts.
The Ontario-Adirondacks Derecho was the strongest of the Derecho events of the previous days and is among the costliest thunderstorms in US/Canadian history. It caused $500 million US dollars in damage. Altogether, the four derecho events caused nearly $1 billion in damage.
Another Derecho was captured in picture by David Berry on a bow echo derecho on May 27, 2001 and posted on the SPC site. Dave was located at the big X at the time of the photo, which he appropriately named Mothership.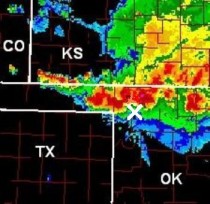 Enlarged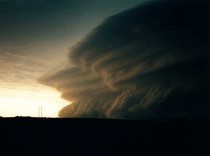 Enlarged
Like in 1995, as long as the heat ridge continues shuttling back and forth, we are subject to more ring-of-fire convection, thunderstorm complexes and yes derechos.
By the way. Joe Bastardi and I do stories like this (and videos) daily for our premium clients at Weatherbell (weatherbell.com) and our staff of 4 meteorologists provide detailed forecasts for energy, ag, insurance, marine and retail. Dr. Ryan Maue has joined us and is putting together a dynamite model product page and will do some posting on hurricanes and climate. We have a top notch former TV meteorologist and PSU grad and an energy market analyst. Please join us and help us grow to do more.