Jan 22, 2018
In Memory of John Coleman
By Joseph D'Aleo

During the latter stages of co-authoring a book honoring the Weather Channel Pioneers (coming soon), John Coleman sadly passed away January 20th at age 83 at his home in Las Vegas surrounded by friends and family. John Coleman retired in 2014 after nearly 61 years in weather broadcasting.
John learned to love weather and nature from his dad, a college professor who had been raised on a farm in Alpine, Texas. John never stopped learning, combining self and college classroom study, observation, and knowledge gained from all the people he worked with.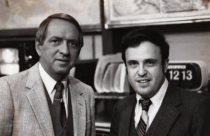 I had the profound privilege to work closely with him at Good Morning America and then at the cable TV Weather Channel. For GMA, John often worked all through the night, helping to put together a quality product for the viewers including a minute feature with the goals of informing and educating. He believed the more the viewers understood, the more capable they would be of utilizing the weather to their benefit.

The seeds of 'The Weather Channel' was a dream I first heard about in 1980 that became more and more real in the stillness of the night as while we worked together at Good Morning America in 1980 and 1981. I cherish the memory of long discussions and the promise of a mission that seemed, at times impossible. But John was driven to see his dream happen.
Some days he would board a plane after the shows to see a venture capitalist about funding his idea, returning in the evening, showering, changing clothes and heading back to work. His sleep was often a nap on the plane and maybe a half hour at his desk. Talk about dedication.
His dream of a national service with localized weather information was realized with The Weather Channel in 1982 when Frank Batten at Landmark and John came to an agreement on a cable weather service. John worked tirelessly on helping us others hire the right staff and detailing the product and programming.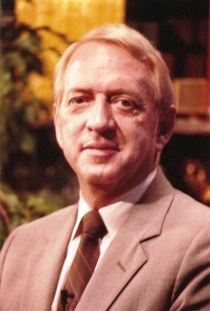 Many of the Weather Channel Pioneers came to The Weather Channel because of John. He was a TV weather rock star. He inspired and coached them in those hard early days as we all were feeling our way in a business for which there was no blueprint or precedent. He wondered whether he was too hard at times on his staff, which he loved dearly. But he felt it was his obligation to make sure they knew what we had to do differently being everyone's local weather source.
John and many of the original pioneers chronicle how the Weather Channel evolved in this upcoming book. Those founding members of The Weather Channel had a reunion in 2012 in Atlanta and we were so pleased John celebrated with us there.
So many of our Pioneers responded to his sudden death with expressions of great sadness and recognition of him as a visionary who changed TV weather forever (first day responses).
His family honored his wishes to have no services but to issue a eulogy on his life. Here is an excerpt:
Pioneer, scientist, and meteorologist are all words that were John Coleman. Husband, father, grandfather, great grandfather, friend, mentor were the more important words that defined him.
Coleman's first job in broadcasting was during his time as a high school student. He hosted a radio show on WCIL in Carbondale Illinois. In 1953, while he was a student at the University of Illinois he got his first TV job at WCIA in Champaign, Illinois doing the early evening weather forecast and hosting a local bandstand show called "At The Hop." After receiving his degree in 1957, he became the weather anchor for WCIA's sister station in Peoria, Illinois. Over his career, Coleman was meteorologist in Omaha and Milwaukee and then for 20 years he was the weather anchor for the ABC affiliate WLS-TV in Chicago.
During his time at WLS his pioneering in the broadcast world accelerated. He and his team at WLS developed a format that was coined "happy talk news" where the on-air personalities interacted with each other, a format used frequently today. In 1972, Coleman and his stage crew at WLS-TV created the first chroma key (green screen) weather map, a format used almost universally in TV weather forecasts today.
In 1975 Coleman became the original meteorologist when ABC launched its new morning show, Good Morning America. He stayed seven years with this top-rated program.
In the early 1980's, John had a vision for 24-hour TV weather which he took from concept to reality in 1981 and which he named "The Weather Channel." He served as its first CEO and President when The Weather Channel launched in 1982. It was during this time, he was honored by the AMS for "Outstanding Service by a Broadcast Meteorologist."
After his time at The Weather Channel, Coleman returned to local TV in New York, Chicago, Palm Springs and then to KUSI in San Diego, where he was chief meteorologist for 20 happy years. John loved forecasting the "gorgeous" San Diego weather and it was the perfect end to an outstanding 61-year professional career.
During his time in San Diego and into his retirement, John was committed and passionate in his effort to educate the public about the false science behind claims of global warming. He spoke at conventions, narrated videos, wrote a popular blog, and never missed an opportunity to present the science debunking the climate change movement. His blog can be found at https://johncolemanblog.com/ . Coleman was also a policy advisor to The Heartland Institute, one of the world's leading free-market think tanks promoting solutions to social and economic problems.
John was an energetic and passionate man about all he loved, including cards, especially poker. He loved life and was a lifelong learner. He will be remembered as a kind, funny, intelligent man who loved his profession, science and his family and friends. His mantra to his family members came from one of his favorite artist's songs, Nat King Cole's Nature Boy, "The greatest thing you'll ever learn is just to love and be loved in return."
------
John I wish we could tell you again how much we appreciate what you did for all of us who joined you on your impossible dream ride.
As Winston Churchill said "We make a living by what we get, but we make a life by what we give." John, you gave so much to give your dream life.
From the Man of La Mancha song "Impossible Dream" these excerpted lyrics apply.
This is my quest
To follow that star
No matter how hopeless
No matter how far

And I know if I'll only be true
To this glorious quest
That my heart will lie peaceful and calm
When I'm laid to my rest

And the world will be better for this
That one man, scorned and covered with scars
Still strove with his last ounce of courage
To reach the unreachable star
Your heart should lie peaceful and calm. The world is a better place because you strove with your last ounce of courage to reach the unreachable star.
Jan 13, 2018
Frigid holiday season, snow bomb, now what?; French Alps hit by 'once-in-a-generation' snow storms
Frigid holiday season, snow bomb, now ?
I am sure you will agree we just had one of the coldest early winter holiday stretches in recent memory.
The two weeks starting Christmas had 12 days with lows below zero and no days exceeding the freezing mark.
Here is a plot from nearby Concord Airport of the daily highs and lows from Christmas day through Sunday, January 7th. The temperatures in this period averaged almost 18F below normal.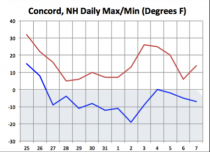 Enlarged
The cold was punctuated by the big nor'easter. The 12 to 17 inches of snow in our region with the January 4th storm was driven by powerful winds making the brutal cold feel even more intolerable.
This new thermal infrared image shows stunning detail of the powerful 'bomb cyclone' that struck the East Coast of North America on Jan. 2-3, 2018.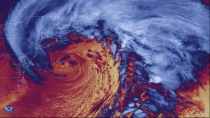 Enlarged
The powerful winter nor'easter delivered snow and ice, 50 to 80 mph wind gusts, and strong surf from northern Florida to Nova Scotia, Canada. Due to its rapid intensification (the barometric pressure at the center of the storm dropped 59 millibars in 24 hours), the storm ranks among the strongest ever observed along the East Coast.
The term 'Bomb' was coined by Professor Fred Sanders of MIT half a century ago. It refers to rapid intensification of winter storms in winter when both dynamic and thermodynamic factors combine to cause rapid storm development in a short period of time. I actually did my Master's Thesis on Explosive Development in East Coast storms. They are most likely in very cold weather patterns like this one.
The cold and the snow brought some flashbacks to February 2015, which was the coldest month in the record books for Nashua and many other places in the northeast though this briefer stretch of very intense cold came with one significant snowstorm, 2015 had four in just over 5 weeks.
This year's storm was likened to the Blizzard of 1978 though there were differences. Actually this storm was stronger storm with more wind, but snowfall amounts were less because the 1978 was a longer duration snow event. The tidal surge on the coast with this storm slightly exceeded the 1978 record levels but part of that was due to lunar factors. We had just before the storm experienced what was called Supermoon 2018 – when the moon was closest to the earth in its orbit (called Perigee), which made it visibly larger and 30% brighter. The resulting increased gravitational factors were already inducing higher tides.
A WIDESPREAD COLD
The cold was not confined to New England. The week from Christmas to New Year's Eve was the second coldest December 25-31 on record for Chicago. In Chicago below 0F lows occurred on 10 of the 14 days starting after Christmas. Madison and Milwaukee Wisconsin had their second coldest December 25 to January 6th behind only 1886/87. See three areas had averages of 18F or greater below the normal. Only the southwestern states were warmer than normal this period. This pattern is very much like the one we predicted for the winter in the fall.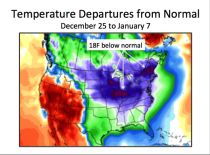 Enlarged
In cold winters, we often see the atmosphere take a break sometime from mid to late January before cold returns. That is called the January thaw.
It comes as Pacific air, which is blocked from entering the country during the cold period, invades from west to east, bringing mountain and northern tier snows but warmer temperatures and rains elsewhere. I remember in the winter of 1995/96, a winter with similarities to this one in the factors we use to forecast monthly and seasonal weather, we had a lot of early cold and snow and a blizzard on January 6-8th that deposited heavy snows from the Mid-Atlantic to southeastern New England.
It was followed by a January thaw and a heavy rainstorm that wiped out all the snow. The snow came back in February and March into April that left over 60 cities including Boston with all time seasonal snow records, broken here in the northeast in 2014/15.
The thaw has started this week and mild weather will continue on and off until late in the month or very early February when the cold pattern returns. Storms that occur during this interlude period will bring rain, wet snow of the threat of freezing rain. Our own model, which got the first part of winter right, has this for February and March.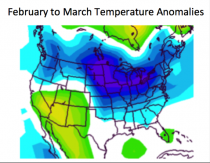 Enlarged
For large version go to page 10 here and click to enlarge.
------------

French Alps hit by 'once-in-a-generation' snow storms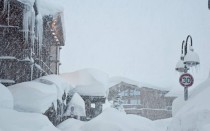 Parts of the French Alps have been hit by the kind of snowfall that only comes once every 30 years. These images show ski resorts buried in the snow.
Schools, nurseries have been closed and roads cut off in the French Alps after the Savoie department was placed on red alert—the highest warning—for avalanches on Monday.
Near the French-Italian border, in Haute Maurienne and Haute Tarentaise snow levels reached up to 80-90 centimetres in just 24 hours with the "maximum intensity" of the snowfall hitting on Monday evening.
"We will have had 2.40 m of snow in 48 hours," said the mayor of Bonneval-sur-Arc Gabriel Blanc on BFMTV on Monday night.
The ski resorts of Tignes and Val d'Isere were in lockdown with the pistes closed until further notice.
The region remained on alert on Tuesday as it struggled to deal with the spell of snowfall that had an "unusually high intensity," according to national weather agency Meteo France.

Preventative releases of avalanches will be set in motion as soon as the helicopters can take off, local authorities have said.

This shot was taken at the ski resort of Bonneval sur Arc.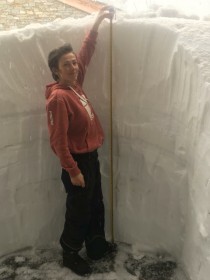 Jan 11, 2018
New York City mayor seeks billions from oil companies, blames them for climate change
By Valerie Richardson - Washington Times - Wednesday, January 10, 2018
A week after a brutal snowstorm froze New York City, Mayor Bill de Blasio delivered a one-two punch Wednesday in the name of climate change, announcing he will seek billions in damages from five major oil-and-gas companies while moving to divest from fossil fuels.
"It's time for them to start paying for the damage they have done," Mr. de Blasio said at a press conference at the Manhattan Youth Center. ''it's time for Big Oil to take responsibility for the devastation they have wrought.'
The two-front attack was promptly pilloried by industry groups as a cynical political stunt, even as it put New York City at the forefront of the environmental movement's campaign to recruit local governments as allies in the climate change fight.
Flanked by municipal leaders and top climate activists, the Democratic mayor said his goal is to divest the $189 billion public-pension funds from fossil fuels by 2022, which he said would make New York the first major U.S. city to do so.
Mr. de Blasio also announced that the city has filed a lawsuit against five top energy producers, blaming the companies for greenhouse-gas emissions that he said have produced disasters such as Hurricane Sandy in 2012.
"I remember those days after Sandy in the Lower East Side. I remember how desperate it was. I remember how much fear and confusion there was," said Mr. de Blasio. "And this was a tragedy that was wrought by the actions of the fossil-fuel companies. Let's be clear: That's where it came from."
The lawsuit seeks unspecified bill"ons from five companies - BP, Chevron, ConocoPhillips, ExxonMobil and Royal Dutch Shell - to fund a proposed $20 billion infrastructure project that would "build resilience against rising seas, more powerful storms, and hotter temperatures."
"The City of New York is taking on these five giants because they are the central actors, they are the first ones responsible for this crisis, and they should not get away with it anymore," said Mr. de Blasio.
Pushing back were oil-and-gas and industry representatives, who accused the mayor of doing more to curry favor with environmentalists than address human-caused global warming.
"This lawsuit is factually and legally meritless, and will do nothing to address the serious issue of climate change," said Chevron spokesman Braden Reddall. "Reducing greenhouse gas emissions is a global issue that requires global engagement. Should this litigation proceed, it will only serve special interests at the expense of broader policy, regulatory and economic priorities."
The legal action comes on the heels of lawsuits filed in the last six months by seven California localities, including Oakland and San Francisco, demanding billions from oil companies in order to build higher seawalls and other climate-driven infrastructure projects.
"Similar to recent lawsuits in California, this headline-seeking stunt is an absurd attempt to politicize natural disasters, rather than a good-faith effort at securing meaningful change," said Linda Kelly, senior vice president and general counsel of the National Association of Manufacturers.
"De Blasio is showing where his priorities really are by choosing to make his announcement flanked by controversial environmental activists." she said.
"Ironically, this attack on energy manufacturers comes at a time that New Yorkers have depended on natural gas and heating oil to carry them through the recent extreme cold."
Those backing the mayor at the press conference included climate activist Naomi Klein, Greenpeace's Naomi Ages and 350.org's Bill McKibben, who called the event "one of the most important moments" in the 30-year-old climate-change movement.
"New York City got very, very real today," said Mr. McKibben. "Today, the mightiest city on our planet takes on its most powerful industry, its richest and most powerful and most irresponsible industry."
Companies countered that the courts are the wrong venue to decide public policy issues like climate change.
"Climate change is a complex societal challenge that should be addressed through sound government policy and cultural change to drive low-carbon choices for businesses and consumers, not by the courts," said Shell spokeswoman Natalie Gunnell.
ExxonMobil spokesman Scott Silvestri said the firm "welcomes any well-meaning and good faith attempt to address the risks of climate change," but that lawsuits :filed by trial attorneys against an industry that provides products we all rely upon to power the economy and enable our domestic life - simply do not do that."
The theory championed by Mr. de Blasio - that climate change makes storms and other weather events worse - has been hotly contested in academic circles.
University of Colorado professor Roger A. Pielke Jr. released a chart Monday showing that global weather-related losses as a proportion of GDP actually declined from 1990 to 2017.
"The most important caveat: don't use disasters to argue about trends in climate. Use climate data. Duh," Mr. Pielke said in his post on Climate Fix.
What's more, no hurricane made U.S. landfall from 2005-2016 during the so-called "hurricane drought,: the longest on record. Hurricane Sandy degraded to a post-tropical storm before hitting the eastern seaboard.
Debate over divestment
The fossil-fuel divestment campaign has faltered in recent years amid decisions by universities to retain their investments in the name of fiduciary responsibility, but New York City has a recent history of using its pension funds to make political statements.
In 2016, the city's employee pension fund announced it would sell its holdings in three sporting-goods retailers that sell firearms.
New York City Comptroller Scott Stringer said the city would submit a resolution Thursday on divestment and insisted that it could be accomplished without jeopardizing the pensions of police, teachers, firefighters and other public employees.
Divesting from fossil fuels would pull roughly $5 billion from the city's five public pension funds, and would represent the largest municipal divestment in U.S. history, according to the mayor's office.
"We're going to crunch the numbers and make a plan so that we get New York City's pension funds in the business of making our planet cleaner and greener with our investments, and we're going to do it while maintaining our fiduciary responsibilities," Mr. Stringer said.
New York Gov. Andrew Cuomo proposed last month pulling fossil-fuel investments from the state's retirement fund, prompting state Comptroller Tom DiNapoli to reiterate that "there are no immediate plans to divest our energy holdings."
Matt Dempsey, spokesman with the pro-industry group Divestment Facts described Wednesday's announcement as a "prime example of 'ready, fire, aim.'"
He said the process of divesting from co-mingled funds necessitates "extensive transaction fees and ongoing management fees," which have the power to "rob endowment funds of as much as 12 percent of a fund's total value of a 20-year time frame."
"When pressed on the details of divestment, both officials ran into real trouble: In addition to being a costly and ineffective effort, divestment is also not something that happens overnight but a long and costly process resulting in little more than a feel-good headline," said Mr. Dempsey.