Nov 20, 2015
"Massively Altered"…German Professor Examines NASA GISS Temperature Datasets!
P Gosselin, No Tricks Zone
Veteran journalist Gunter Ederer* writes a piece reporting that massive alterations have been found in the NASA GISS temperature data series, citing a comprehensive analysis conducted by a leading German scientist. These results are now available to the public.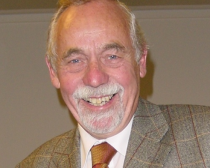 Professor Dr. Friedrich Karl Ewert. Source: University of Paderborn
Ederer reports not long ago retired geologist and data computation expert Professor Dr. Friedrich Karl Ewert began looking at the data behind the global warming claims, and especially the datasets of NASA's Goddard Institute of Space Studies (GISS).
Ewert painstakingly examined and tabulated the reams of archived data from 1153 stations that go back to 1881 - which NASA has publicly available - data that the UN IPCC uses to base its conclusion that man is heating the Earth's atmosphere through the burning of fossil fuels. According to Ederer, what Professor Ewert found is "unbelievable":
From the publicly available data, Ewert made an unbelievable discovery: Between the years 2010 and 2012 the data measured since 1881 were altered so that they showed a significant warming, especially after 1950. [...] A comparison of the data from 2010 with the data of 2012 shows that NASA-GISS had altered its own datasets so that especially after WWII a clear warming appears - although it never existed."
Ederer writes that Ewert particularly found alterations at stations in the Arctic. Professor Ewert randomly selected 120 stations from all over the world and compared the 2010 archived data to the 2012 data and found that they had been tampered to produce warming.
The old data showed regular cycles of warming and cooling over the period, even as atmospheric CO2 concentration rose from 0.03% to 0.04%. According to the original NASA datasets, Ederer writes, the mean global temperature cooled from 13.8C in 1881 to 12.9C in 1895. Then it rose to 14.3C by 1905 and fell back under 12.9C by 1920, rose to 13.9C by 1930, fell to 13 by 1975 before rising to 14C by 2000. By 2010 the temperature fell back to 13.2C.
But then came the "massive" altering of data, which also altered the entire overall trend for the period. According to journalist Ederer, Ewert uncovered 10 different methods NASA used to alter the data. The 6 most often used methods were:
* Reducing the annual mean in the early phase.
* Reducing the high values in the first warming phase.
* Increasing individual values during the second warming phase.
* Suppression of the second cooling phase starting in 1995.
* Shortening the early decades of the datasets.
* With the long-term datasets, even the first century was shortened.
The methods were employed for stations such as Darwin, Australia and Palma de Mallorca, for example, where cooling trends were suddenly transformed into warming.
Ewert then discovered that NASA having altered the datasets once in March 2012 was not enough. Alterations were made again in August 2012, and yet again in December 2012. For Palma de Majorca: "Now because of the new datasets it has gotten even warmer. Now they show a warming of +0.01202C per year."
Using earlier NASA data, globe is in fact cooling
The veteran German journalist Ederer writes that the media reports of ongoing global warming are in fact not based on reality at all, but rather on "the constantly altered temperatures of the earlier decades." Ederer adds:
Thus the issue of man-made global warming has taken on a whole new meaning: Yes, it is always man-made if the data are adjusted to fit the theory. The meticulous work by Ewert has predecessors, and fits a series of scandals and contradictions that are simply being ignored by the political supporters of man-made climate change."
Ederer also brings up the analysis by American meteorologists Joseph D'Aleo and Anthony Watts who examined 6000 NASA measurement stations and found an abundance of measurement irregularities stemming in large part from serious siting issues. According to Ederer the findings by Professor Ewert are in close agreement with those of Watts and D'Aleo.
Ederer writes of the overall findings by Professor Ewert:
Using the NASA data from 2010 the surface temperature globally from 1940 until today has fallen by 1.110C, and since 2000 it has fallen 0.4223C (...). The cooling has hit every continent except for Australia, which warmed by 0.6339C since 2000. The figures for Europe: From 1940 to 2010, using the data from 2010, there was a cooling of 0.5465C and a cooling of 0.3739C since 2000."
Ederer summarizes that in view of the magnitude of the scandal, one would think that there would be in investigation. Yet he does not believe this will be the case because the global warming has turned into a trillion-dollar industry and that that too much is tied to it.
All datasets are available to the public at any time. The studies by Prof. Ewert may be requested by e-mail: ewert.fk@t-online.de.
*Gunter Ederer is a former journalist for ARD and ZDF German Television and has won numerous awards internationally.
----------
Nov 18, 2015
Meet the $400-Billion-a-Year Global Warming Industrial Complex
For those who claim there's no money in global warming, a new report by the Climate Policy Initiative (CPI) shows the private sector and governments spent $391 billion in 2014 on "low-carbon and climate-resilient growth."
Governments mostly in Western Europe, East Asia and the U.S. spent $148 billion backing green energy and leveraging $243 billion in private sector funding, according to a report by CPI. The group says some $13.5 trillion in green energy schemes is needed for countries to comply with pledges to cut carbon dioxide emissions.
"There is more money than ever before being invested in low carbon and climate resilient action," CPI's Barbara Buchner told Climate Change News. "At the same time, more needs to happen."
CPI says $16.5 trillion in spending is needed to meet the United Nations' goal of limiting future warming to 2 degrees Celsius by 2100. The report underscores just how much money there is in the "global warming" industry, which contrasts claims made by activists that there's only money in promoting fossil fuels.
"If countries get their domestic policy frameworks right, that really can trigger a big change in making money flow," Buchner said.
"The first step to addressing the climate crisis is to stop funding the problem," said 350.org executive director May Boeve. "Ending fossil fuel subsidies and other dirty finance is the clearest way that G20 countries can help build momentum for the climate talks in Paris. As hundreds of institutions continue to join the fossil fuel divestment movement itís time for governments to follow suit and stop funding climate destruction."
For years, activists have claimed governments across the world spend hundreds of billions of dollars subsidizing fossil fuels every year - a recent report says governments spent $452 billion on fossil fuels this year.
Environmentalists hope that highlighting the scale of fossil fuels subsidies will build support for using that money to fund green energy and other global warming programs. Even United Nations officials have jumped on the bandwagon by pushing for ending fossil fuel subsidies and funding green programs.
"The first step to addressing the climate crisis is to stop funding the problem," May Boeve, head of the activist group 350.org, said of fossil fuel subsidies. "Ending fossil fuel subsidies and other dirty finance is the clearest way that G20 countries can help build momentum for the climate talks in Paris."
Even if it's true fossil fuels get $452 billion in subsidies a year, activists are hesitant to point out to the growing size of the global warming industry. Funding for global warming programs rose 18 percent in 2014, while fossil fuel subsidies have fallen 42 percent since 2012.
Activist groups have also been raking in more cash than groups skeptical of global warming as the issue gains more prominence in national policy debates.
Global warming skepticism only raised "$46 million annually across 91 conservative think tanks," according to The Daily Caller News Foundation's Andrew Follett. "That's almost 6 times less than Greenpeace's 2011 budget of $260 million, and Greenpeace is only one of many environmental groups.
Nov 12, 2015
Keystone: Obama's Disdain for Working People is Evident,' He's 'A Pompous, Pandering Job Killer'
By Michael W. Chapman | November 12, 2015 | 1:47 PM EST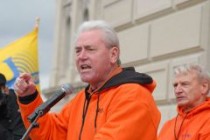 LiUNA President Terry O'Sullivan.
(CNSNews.com) In reaction to President Barack Obama's decision to not allow the Keystone XL pipeline to be built, Terry O'Sullivan, the president of the Laborers' International Union of North America (LiUNA!), said Obama had "once again" thrown "hard-working, blue-collar workers under the bus" while "doing little or nothing to make a real difference in global climate change."
"His actions are shameful," said O'Sullivan in a press release. "The president may be celebrated by environmental extremists, but with this act, President Obama has also solidified a legacy as a pompous, pandering job killer."
Last week, President Obama announced his decision to kill the pipeline proposal because Secretary of State John Kerry and the State Department had informed him that Keystone XL "would not serve the national interest of the United States."
Obama also stressed the necessity for America to "transition" to a "clean energy economy," and added, "America is now a global leader when it comes to taking serious action to fight climate change. And frankly, approving this project would have undercut that global leadership. And that's the biggest risk we face—not acting."
LiUNA's President Terry O'Suillivan said, "President Obama today [Nov. 6] demonstrated that he cares more about kowtowing to green-collar elitists than he does about creating desperately needed, family-supporting, blue-collar jobs. After a seven-year circus of cowardly delay, the President's decision to kill the Keystone XL Pipeline is just one more indication of an utter disdain and disregard for salt-of-the-earth, middle-class working Americans."
"We are dismayed and disgusted that the president has once again thrown the members of LIUNA, and other hard-working, blue-collar workers under the bus of his vaunted 'legacy,' while doing little or nothing to make a real difference in global climate change," said O'Sullivan. "His actions are shameful."
O'Sullivan also criticized Obama's remarks about Keystone XL that the construction jobs it would create are "temporary, and added, "Ironically, the very temporary nature of the president's own job seems to be fueling a legacy of doing permanent harm to middle- and working class families."
"From this decision on the Keystone XL, to the attack on quality healthcare through the so-called 'Cadillac Tax,' to his efforts to ship good jobs overseas through the Trans-Pacific Partnership, Barack Obama's disdain for working people is evident," said LiUNA's O'Sullivan.
"The President may be celebrated by environmental extremists, but with this act, President Obama has also solidified a legacy as a pompous, pandering job killer," said O'Sullivan.
The Keystone XL pipeline would have run from Canada down through the Midwest United States to refineries in Texas and Illinois, and to a distribution center in Oklahoma.
According to the American Petroleum Institute, construction of the Keystone XL pipeline "could support 42,000 jobs and put $2 billion in workers' pockets."
LiUNA, the Laborers' International Union of North America, was founded in 1903 and currently has 557,999 members. It is affiliated with the AFL-CIO. Terry O'Sullivan has been president of LiUNA since 2000.
----------
See Patrick Moore, co counder of Greeenpeace address the GPWF on the misguided demonization of CO2.