Sep 16, 2009
Opinion: Something Rotten
By Chris Horner, Planet Gore
Uh oh. First President Obama pointed to Spain and Germany as models for how the U.S. could create a robust "green jobs" economy that even would lift us out of our current - an increasingly approriate term - malaise.
Confronted by meddling academics who analyzed the Spanish situation and laid out the monitory lesson of its green-jobs regime, the White House quickly pivoted and said, uh, look to Denmark and Germany, yeah, that's it, Denmark.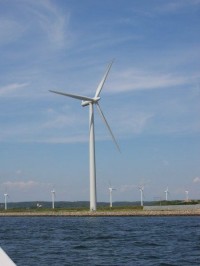 OK. That's been done - by the establishment think tank CEPOS, and you can read it here. The answer is that the president's (repeat) claim that "Denmark produces almost 20 percent of their electricity through wind power" is false. Denmark actually produces much less of its own electricity from wind, as low as 4 percent depending on the year, with the recent average of 9.7 percent. This despite a massive buildout of what they flatteringly call the "wind carpet," on some of the most hospitable terrain for wind power in the world.
It is also in return for its households paying the highest eletricity rates in Europe. With a substantially lower per-capita energy use. That means, to get half of what Obama seeks, the U.S. would have to carpet itself twice over - which means lots of windmills where birds fly and Kennedys live - and pay Danish-style rates.
Oh. Wait. That still won't do it. Apparently Denmark's experience isn't even scalable to Scanadanavia. It turns out that, if the Norwegians and Swedes tried to replicate Denmark's expensive folly, well, it would blow the system up. Here's why. Denmark took advantage of long-since-paid-for interconnectors between Jutland and Norway, and the island on which Copenhagen sits and Sweden. It made a political decision that windmills would be their "national champion" industry, and as you will hear to no end throughout the Copenhagen COP, a big part of their national identity. So they built a lot of windmills, and started a mythology.
This buildout was only possible because the Norwegians and Swedes use enormous percentages of hydropower and nuclear, both of which can be dialed up or down according to the whimsy of the wind. When the wind does deign to blow, Denmark sends fully half of its very expensive, ratepayer subsidized wind power to its neighbors at cut rates, in return for said neighbors indulging Denmark's wind mill image-making by dialing up or down its hydro power or nukes at other times (which, most of the time, means "up").
When the wind picks up, the story gets worse. On top of subsidizing their neighbors' electricity and allowing them to go without building more of their own, it turns out that increases in wind generation, under the current buildout, are shipped nearly 100 percent and at a considerable below-cost discount right out of the country. With its politicians now vowing to massively increase installed wind ("50 percent of our elecricity" - how about getting to 20 percent first?), that means Denmark will be sending even more domestic wealth to its neighbors.
Because it is displacing carbon-neutral electricity - as a condition precedent even to deploying the machines, mind you, so this is not something that can be changed - you can kiss claims to massive CO2 reductions (or reduced fuel use) goodbye.
When it comes to Obama's claim that Denmark, not discredited Spain, is the model to follow: waiter, the food was horrible, and the portions too small. You can't replicate Denmark's model - and its a good thing, too.
Although, I'm informed that the Danish wind industry admitted the problems to the media this morning before muttering about needing further (ratepayer) investment, expect the American wind power industry to spin wildly in coming days. Which, incidentally, is more than we can say about their products.
Read full story here.