Dec 26, 2008
Statewide Emergency Declared by Governor Gregoire
By KHQ-TV
On Christmas Eve, Gov. Chris Gregoire proclaimed a state of emergency in Washington due to the state's ongoing series of winter weather and storms. Gregoire notes snowfall has reached record or near-record level in 30 of Washington's 39 counties.The proclamation enables the state to respond quickly to local requests for emergency support and assistance arising from new storms.Prior to the Governor's declaration the Board of County Commissioners (BOCC) convened an emergency meeting Wednesday to discuss current conditions and the forecast for two major winter storm systems that could bring another 18 inches of fresh snow to the region. Seattle photo shown.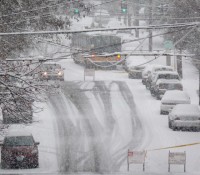 The County Commissioners were also briefed that road crews have finished plowing primary arterials and emergency routes, and are currently working on secondary arterials and well-traveled hills. With more snow in the forecast through Monday, residential areas may not be serviced for several days. Read more here. Also Seattle's use of sand on icy roads called more environmentally harmful than salt. Read more here.
As Tom Nelson's blog post indicates, this is a source of major embarrassment to the governor who on the first day of the 2008 legislative session, Gov. Chris Gregoire announced a multifaceted climate change bill that could dramatically reshape the state's economy. Despite the time squeeze, Gregoire urged action on the global warming bill. "The future of our economy, the future of our great state is at stake," she said. King County Executive Ron Sims and Seattle Mayor Greg Nickels joined Gregoire at Monday's media event held at McKinstry Co., a Seattle business lauded for its environmentally friendly approach to mechanical construction and engineering."
Icecap Note: According to a Seattle resident who wrote Icecap, more snow has fallen in the Seattle area recently than any other time except the winter of 1942-43. "I am a Seattle native and 78. I had a paper route in 1942 and had to slog through snow 2 to 3 feet deep dragging a sled. This snow pack remained for four or five weeks." He continued "The real stupidity by far is that of Mayor Nickels, who prohibited the use of salt on roads because it might harm fish in Puget Sound (salt water). The spin from the mayor is that rubber edges on plow blades that pack the snow on the roads rather than remove it is used in NY and Chicago, both of which have flat terrain while Seattle's is more hilly than SF. Nickels and the entire city council should be recalled for stupidity."
Greg Nickels recall proclaimed in 2007 a 50% reduction the Pacific Northwest snowfall based on the bogus study by State Climatologist Phil Mote published by the AMS which cherry picked the start and end time of the snowpack analysis - choosing the very snowy 1950 to start. We noted that in a story, given the flip back to the cold PDO, the snow drought may be over and indeed the last two years have seen record or near record snowpacks. No word from Mote or Nickels. Perhaps they are snowed in.
Our Seattle emailer also noted "Gregroire's pride is enacting the Western Climate Initiative (Little Kyoto cap and trade system) involving 7 states and 4 Canadian Provences. Already a hundred or so employees are busy inventorying emission levels and determining the CO2 emission quotas for all emitters notwithstanding the fact that WA has one of the smallest carbon footprints in the nation. A $6.5 billion deficit is anticipated for the current budget cycle, that is large enough to bankrupt the state. They seem determined to ruin the economy while solving non-existent problems.