Jan 07, 2014
What is a 'polar vortex' and why is it so dangerous?
By Matt Pearce, Time Magazine
January 6, 2014, 1:33 p.m.
As of Monday afternoon, the Midwest was battling uncommonly frigid weather that threatened to break some all-time-low temperature records. January is typically cold, but not this cold, with several Midwestern cities such as Chicago gripped by daytime temperatures well below zero.
So what's happening?
A huge mass of arctic air has slipped away from the North Pole, settled over the U.S. and made everything really, really cold, meteorologists told The Times. You may know the phenomenon by a phrase you've seen in headlines lately: the ominous-sounding "polar vortex."
"It's not really a phrase I like—it makes it sound a lot worse than what it actually is," said Todd Heitkamp, a warning coordination meteorologist for the National Weather Service in Souix Falls, S.D. "This has happened before." Most recently in the 1990s, he said.
What is a polar vortex?
Ryan Maue, a Florida-based meteorologist for the private weather service WeatherBELL (where he partners with Joe Bastardi and Joe D'Aleo), described it as a "lobe" of dense, cold air that's normally bound in by a jet stream; this one detached from over the North Pole and brought a whole lot of wind with it.
"The polar vortex isn't this entity like a hurricane or nor'easter that develops and goes away. It's a normal feature that's part of the polar climate," Maue told The Times.
Over the North Pole, Maue explained, cold air typically forms at night where clear skies allows heat to escape into space.
"Day after day after day, these pools of air form" near the pole, Maue said. 'There's always cold air up there, if the Arctic is left to its own devices."
And, because of a "multitude of factors," Maue said, a mass broke south and headed toward the U.S..
ICECAP/Weatherbell NOTE: The key this year is a warm pool of water that was northwest of Hawaii the last few years moving into the Gulf of Alaska. It helped to deflect the jet stream north and pick up Siberian air and join it with frigid Canadian arctic air and form a vortex that settled south.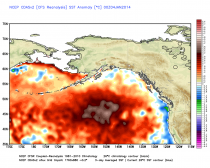 Enlarged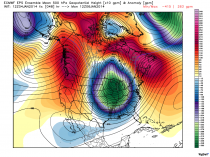 Enlarged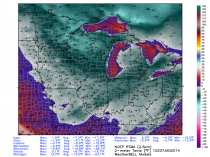 Enlarged
The lower 48 states, when averaged out, reached a low of 13.8 degrees overnight Monday, according to calculations by Ryan Maue of Weather Bell Analytics. An estimated 190 million people in the U.S. were subjected to the polar vortex's icy blast.
Images from weatherbell.com
The National Weather Service's Heitkamp likened the effect to a large mass of cold building up over the North Pole and getting "flushed" south.
"The jetstream just shifts enough," Heitkamp said, and a high-pressure front "just moves in over the upper Midwest, and it just sits in place, and it allows the cold air to spread over the entire upper Midwest."
Wind has accompanied the cold: On Monday morning, the National Weather Service forecast wind chills of more than 30 degrees below zero to sweep an area as far west as Montana, as far east as New York and as far south as Missouri.
Why is this all so dangerous?
At those temperatures, Heitkamp warned, exposed flesh can freeze in five minutes, and some vehicles may not start.
"If a person isn't dressed properly, and they don't have a winter survival kit in their vehicle, and if they aren't prepared, they'll have to deal with the consequences thereafter," Heitkamp said. "We have a lot of vehicles right now that are not starting."
While those kind of precautions may be familiar to upper Midwesterners, they may come as a surprise to Americans used to warmer Januaries.
"It affects people that aren't used to cold right now. I'm in Florida right now, and they're issuing a wind chill advisory because it's going to go below freezing," said Maue, speaking by phone from Tallahassee and calling it a once-in-a-decade event.
When will it be over?
The polar mass is expected to warm slightly as it moves over the East Coast by Monday night, before finally blowing out to sea.
"It's like flipping the switch and we're back to more mild conditions for January," Maue said.
Heitkamp added, "We're just telling people to minimize their time outdoors, pay attention to the forecast, and this too shall pass."
Icecap Note: After a couple more cold days, moderation will take place but note that winter when the cold does this, it often repeats and models indicate it may after 10 days, probably extending a little further east.
Join us at weatherbell.com and read about the threat. We correctly forecast this cold winter and this outbreak many days in advance.