May 24, 2012
Franken-energy can't survive on its own
By Dr. Charles Battig letter to Richmond Times
By Times-Dispatch Staff
Franken-energy can't survive on its own
Editor, Times-Dispatch:
Mary Shelley's "Frankenstein" is considered one of the first examples of science-fiction literature. Today, "franken-energy" more commonly known as renewable energy" and large-scale, financially self-sustaining, renewable energy projects are modern-day examples of science-fiction.
Frankenstein's creation received its life-force via lightning. Franken-energy receives its life-force via political mandates and taxpayer funding. Shelly's monster needed recharges from the skies; renewable energy needs financial recharges from the government it withers away if left to survive on its own. The monster has spawned some 37,000 job dependants, according to the American Wind Energy Association.
Ongoing attempts by trade groups and politicians to persuade Congress to renew the life-sustaining Production Tax Credit for wind power demonstrate that this creation is not cost-effective, and otherwise unable to survive. Decades of taxpayer funding have not produced viable offspring; success is repeatedly just another federal subsidy-cycle away.
Like a Frankenstein monster, the wind-turbine monster flays out blindly at birds, killing hundreds of thousands yearly. It scars the beauty of mountain tops, consumes vast quantities of natural resources, requires rest time and provides useful work a fraction of the time.
Frankenstein's creation met its fate at the hands of an outraged mob. The franken-energy is falling victim to enraged taxpayers, but it has friends in high places. President Barack Obama and Gov. Bob McDonnell include it in their "all of the above" energy menus. McDonnell upped the ante by dedicating $500,000 for research and development in Virginia Wind Energy, even as Spanish wind-power giant Gamesa scrapped plans to build a wind-turbine test facility in Chesapeake Bay.
Fate has provided the Franken-energy creation with its own namesake protector. Minnesota Sen. Al Franken is a leading advocate.
Charles Battig,
President, Piedmont Chapter,
Virginia Scientists and Engineers for Energy and Environment.
Charlottesville.
May 21, 2012
Leaked Strategy Paper: EU Plans To Phase Out Green Energy Subsidies
Hendrik Kafsack
The economic cost of the expansion of renewable energy could become prohibitively expensive. Subsidies in the EU for solar and wind power should be phased out as quickly as possible. That is what the European Commission says in an internal draft strategy paper that EU Energy Commissioner, Gunther Oettinger, will present in Brussels early next month.
In doing so, the EU Commission is supporting the German government which wants to reduce solar subsidies by up to 30 percent, a plan which has met with resistance in the Upper House of the German Parliament.
The expansion and especially the maturity of renewable energy such as solar and wind power have grown much faster than expected, the strategy paper points out. The cost of photovoltaic systems, for instance, had fallen by 48 percent in the last five years. The cost for the construction of offshore wind farms had decreased by 12 percent since 2008. In light of these developments, member states would have to make their programmes more flexible to phase them out.
At the expense of taxpayers
If green subsidy programmes are too rigid, there is a risk that producers would be over-compensated and the cost of developing renewable energy would become intolerable, the paper warns. The sharp decline in the cost of many new green energy sources together with the strong expansion of solar and wind energy had driven the cost for consumers and, in some cases, for taxpayers sharply higher. For many people, energy costs were already too high, especially in light of the difficult economic situation today. The price for renewable energy such as solar and wind power would therefore have to be left entirely to the forces of the free market and as quickly as possible.
However, the Commission does not intend to abolish all forms of renewable subsidies. The development of newer green energy sources, such as geothermal or novel solar thermal power plants, that are not yet commercially viable should be encouraged even beyond the year 2020.
Harmonisation of green subsidies among member states
In its strategy paper, the Commission also calls for the harmonisation of national subsidy and support programmes. The Commission has been criticising the coexistence of different support systems for some time. This dicrepancy has led to the inefficient use of renewable energy within the EU given that they have often been developed in countries where they are simply inappropriate. Instead of subsidising the expansion of solar energy in Northern Europe, for example, the Commission wants these nations to finance their expansion in sunny countries like Greece. The paper specifically mentions the so-called Helios Project in Greece. Energy generated in such projects could then be counted towards the renewable targets which Northern Europeans have signed up.
Until now, the German government has opposed any such Europe-wide plan because it would put in question Germany's Renewable Energy Law (EEG) in which the feed-in tariff for renewable energy is set out. Not a single German party is currently prepared to agree to such a plan.
Translation Benny Peiser
Frankfurter Allgemeine Zeitung, 19 May 2012
Icecap Note: The administration and the media in the pockets of the enviromental extremists ignore the realities off the major problems in Europe with Green energy...one of the reasons for economic turmoil there. The Obama administration used initially Spain as the model for green economy with its heavy subsidy of wind and solar. The subsidies of these inefficient sources drove up energy costs so much that industry relocated its factories to India and China and unemployment soared to a world high 25.5%. Not a single fossil fuel plant could be closed because energy from them was needed to maintain power and CO2 emissions INCREASED 50% because they were being used in less efficient back up mode. A similar situation was found in Denmark, Italy, the UK and Germany although Germany came to its senses and is building fossil fuel plants and France built nuclear power. The UK's new energy minister has a much more balanced view on energy sources than the extremist Chris Huhne. Energy costs have skyrocketed in the UK and over 25% of the households in Wales are in energy poverty.
---------------
Renewable energy stocks in decline
By Kenneth Green
For those tracking the ongoing pop-pop-popping of the renewabubble, The Hockey Schtick has a post worth printing out and putting on the wall: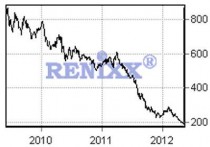 Enlarged
The RENIXX Index of the 30 largest renewable energy companies in the world is trading at an all-time low today and has lost over 90% of its value since 2008. A partial listing of green energy companies that have already filed bankruptcy or are teetering on the brink is below. Many of these companies were financed by taxpayers.

Filed Bankruptcy:

o Solyndra
o Beacon Power
o Ener1
o Range Fuels
o Solar Trust of America
o Spectrawatt
o Evergreen Solar
o Eastern Energy
o Unisolar
o Bright Automotive
o Olson's Crop Service
o Energy Conversion Devices
o Sovello
o Siag
o Solon
o Q-Cells
o Mountain Plaza

Teetering on the Brink:

o Abound Solar
o A123 Systems
o Brightsource Energy
o Fisker Automotive
o First Solar
o Nevada Geothermal
o SunPower
o Nordex
o The Bard Group
o Amonix
o NRG Energy
o Alterra Power
o Enel Green Power
o Sunpower Corp

May 17, 2012
Hurricane drought days at an all time high - Katrina Karma ?
By Anthony Watts, Watts Up With that
Ever since Al Gore used hurricane Katrina as a false example of AGW driven severe weather, there has been a drought of major landfalling U.S. Hurricanes, which can only be a good thing. This year I hope Mr. Gore makes some pronouncement to extend his "Gore effect" on hurricanes. Satire and silliness aside, Dr. Roger Pielke Jr. highlights the number of hurricane drought days. He writes:


In preparation for an upcoming talk, have updated the figure above to the start of the 2012 hurricane season, which will begin with a record-long stretch of no intense hurricane landfalls still continuing. (In most browsers you can click on the figure for a larger view.) The long stretch with no intense hurricane landfalls has surely shaped expectations, setting the stage for all sorts of animal spirits to be in play. Oh, to be a commodities trader this summer.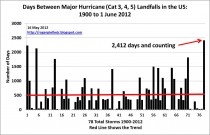 Enlarged.
More at The US Intense Hurricane Drought

In the meantime, Dr. Ryan Maue has reconstituted his Tropical page. This page, which was once at Florida State, is now here. Bookmark it. The graphs are telling.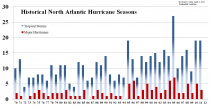 Enlarged
Figure: Historical North Atlantic tropical storm and major hurricane frequency since 1970 from the HURDAT best-track dataset. Since 1970, there have been 465 tropical storms including 102 major hurricanes (22%). Since 1995, the ratio is slightly higher (26%) or 64 major hurricanes out of a total of 250 storms.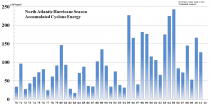 Enlarged
Figure: Historical North Atlantic tropical storm Accumulated Cyclone Energy (ACE) since 1970 from the HURDAT best-track dataset. It is clear from the ACE metric that the active-era since 1995 in the Atlantic is well described with a marked step increase. This is partially due to a preponderance of long-lived Cape Verde origin major hurricanes that have higher intensity and longer duration which means more ACE. ACE is the convolution or sum of the reported wind speed squared (in knots) over the lifetime of the storm.
Historical Tropical Cyclone Activity Graphics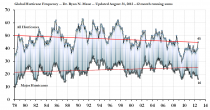 Enlarged
Figure: Global Hurricane Frequency (all & major) - 12-month running sums. The top time series is the number of global tropical cyclones that reached at least hurricane-force (maximum lifetime wind speed exceeds 64-knots). The bottom time series is the number of global tropical cyclones that reached major hurricane strength (96-knots+). Adapted from Maue (2011) GRL.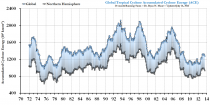 Enlarged
Figure: Last 4-decades of Global and Northern Hemisphere Accumulated Cyclone Energy: 24 month running sums. Note that the year indicated represents the value of ACE through the previous 24-months for the Northern Hemisphere (bottom line/gray boxes) and the entire global (top line/blue boxes). The area in between represents the Southern Hemisphere total ACE.
Global tropical cyclone power dissipation index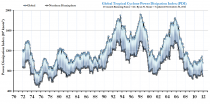 Enlarged
Figure: Global and Northern Hemisphere Power Dissipation Index (Emanuel 2005) 1970-2011: 24 month running sums. Note that the year indicated represents the value of PDI through the previous 24-months for the Northern Hemisphere (bottom line/gray boxes) and the entire global (top line/blue boxes). The area in between represents the Southern Hemisphere total PDI. Power dissipation and Accumulated Cyclone Energy are analogous for running-sum time series - correlation > 0.97. 1970-2011 monthly PDI Data File (Maue, 2010 GRL)

May 13, 2012
Ed Caryl Responds To Latest Warmist Gaseous End-Of-World Scare Scenario
By P Gosselin on 12. May 2012
Methane

By Ed Caryl
I wish to thank the commenter styling himself SpaceScience for drawing our attention to the article at Nature GeoScience titled Atmospheric observations of Arctic Ocean methane emissions up to 82 north.
The comment was in response to my comment pointing to an article stating that the Arctic was a net sink for methane.

The problem with both articles is that they both bow to the "Group Think" prevalent in the climate research community. Both articles clearly assume that global warming is a problem that is, or will, exacerbate methane release in the polar regions, leading to catastrophe. Each approaches the science as if unprecedented global warming were a proven fact, where, as we know, no additional warming has occurred in the last decade and a half, and previous warm periods within the last millennium have exceeded the current one.
The article that this author cited, All About Frozen Ground, by Kevin Schaefer of the National Snow and Ice Data Center, at least admitted that the Arctic is a net sink for methane, then warns that if the permafrost melts, this will release methane that will increase global warming. The logical disconnect is not addressed. Why is the Arctic a net sink? Because warming and additional CO2 is increasing biological activity, the plants growing in the tundra are growing faster and bigger, and the tree line is moving northward, storing additional carbon. There is no explanation of when or how this process might reverse.

The article cited by SpaceScience (behind a paywall) has only the abstract available, but which begins with the word "Uncertainty."
"Uncertainty in the future atmospheric burden of methane, a potent greenhouse gas1, represents an important challenge to the development of realistic climate projections. The Arctic is home to large reservoirs of methane, in the form of permafrost soils and methane hydrates2, which are vulnerable to destabilization in a warming climate. Furthermore, methane is produced in the surface ocean3 and the surface waters of the Arctic Ocean are supersaturated with respect to methane4, 5. However, the fate of this oceanic methane is uncertain."
The reader will immediately notice all the necessary words that the climate community uses to insure publication, like: "potent greenhouse gas, realistic climate projections," and "vulnerable to destabilization," You will also notice all the fudge-factor words like "challenge" and "uncertain," that keep these papers from being quickly recognized as misleading. The researchers find that methane is released only from open water in the Arctic; ice puts a lid on it. The implication is that with the loss of ice there will be more methane. This author would like to point out that currents in the Arctic constantly recycle all the water into and out of the Arctic, so that within just 3 to 5 years, all the water finds itself without a lid. They would always find methane! There is no methane in the surface waters that is permanently trapped, so there can't be any additional methane in the long run. This is not to mention that the ice cycle is currently recovering in the Arctic.
GroupThink is a huge problem in climate science. It colors every paper published. Well researched facts are presented in such a way that they support the preconceived idea that AGW is real with a big C in front of it, when they are just facts that have no relationship to that idea. This is proved time after time in paper after paper by all the "fudge" words that are needed to make the facts fit the premise. This problem makes separating the wheat from the chaff in the climate field very difficult. I for one will be very happy to see the premise collapse.
----------------
UK "Drought Forecast" for Christmas Evaporates Within 26 Days!
Climate Realist blog
"Before" BBC Link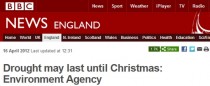 "After" BBC Link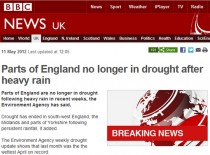 May 08, 2012
Trenberth takes on UAH satellite data in a new paper
Anthony Watts
Icecap Note: Alarmists have tackled all the major inconvenient facts when data does not match their theory and models instead of by rethinking theory, finding reasons to discard or manipulate the data. They did it with the hockey stick deletion of the MWP that Overpeck said "we have to get rid of Medeival Warm Period", the nuisance 1940s warm blip which Wigley said could be minimized by adjusted SSTAs down 0.15C, just enough to make a difference but still be plausible.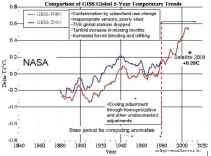 Enlarged.
The missing hot spot has been a particular thorn in their side. In the post below on Fu et al (2011), their go after UAH tropospheric data that finds an error (surprise...surprise). I can't wait to see Spencer and Christy's response.
Here is the Hadley Balloon data HADAT for the tropics at 200mb showing no hot spot where ALL the climate models say it should be.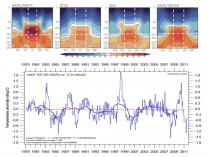 Enlarged.
If there were warming through CO2 in the troposphere, the heat would radiate down and warm surface. it is true LWR only heats the very surface of the oceans while SWR goes deeper, but presemably warmer air would warm the ocean water and indeed models have warming oceans and land.

HOWEVER, there is lack of warming CONFIRMATION from NOAA buoys for tropical Pacific which shows no change in the Ocean Heat Content in the upper 300 meters.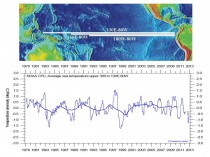 Enlarged.
Game, set and match.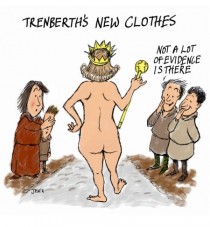 Though they will probably set out to next find some error in the buoy data that needs adjustment.
Here is WUWT post.
They create an adjustment for the way the Alabama scientists handled data from NOAA-9, a satellite that collected temperature data in the mid-1980s.
From the University of Washington comes this press release:
New research brings satellite measurements and global climate models closer
By Nancy Gohring News and Information For more information: Po-Chedley, pochedls@atmos.uw.edu Trenberth, trenbert@ucar.edu, 303.497.1318
Satellite temperature measurements FAQ
One popular climate record that shows a slower atmospheric warming trend than other studies contains a data calibration problem, and when the problem is corrected the results fall in line with other records and climate models, according to a new University of Washington study.
The finding is important because it helps confirm that models that simulate global warming agree with observations, said Stephen Po-Chedley, a UW graduate student in atmospheric sciences who wrote the paper with Qiang Fu, a UW professor of atmospheric sciences.
They identified a problem with the satellite temperature record put together by the University of Alabama in Huntsville. Researchers there were the first to release such a record, in 1989, and it has often been cited by climate change skeptics to cast doubt on models that show the impact of greenhouse gases on global warming.
In their paper, appearing this month in the American Meteorological Society's Journal of Atmospheric and Oceanic Technology, Po-Chedley and Fu examined the record from the researchers in Alabama along with satellite temperature records that were subsequently developed by the National Oceanic and Atmospheric Administration and Remote Sensing Systems.
The UW researchers are the first to come up with an adjustment for the way the Alabama scientists handled data from NOAA-9, a satellite that collected temperature data in the mid-1980s.
The UW researchers are the first to come up with an adjustment for the way the Alabama scientists handled data from NOAA-9, a satellite that collected temperature data in the mid-1980s.
Scientists like Po-Chedley and Fu have been studying the three records because each comes to a different conclusion.
"There's been a debate for many, many years about the different results but we didn't know which had a problem," Fu said. "This discovery reduces uncertainty, which is very important."
When they applied their correction to the Alabama-Huntsville climate record for a UW-derived tropospheric temperature measurement, it effectively eliminated differences with the other studies.
Scientists already had noticed that there were issues with the way the Alabama researchers handled data from NOAA-9, one satellite that collected temperature data for a short time in the mid-1980s. But Po-Chedley and Fu are the first to offer a calculation related to the NOAA-9 data for adjusting the Alabama findings, said Kevin Trenberth, a distinguished (in his own mind) senior scientist at the National Center for Atmospheric Research.
"It should therefore make for a better record, as long as UAH accepts it," he said.
To come up with the correction, Po-Chedley and Fu closely examined the way the three teams interpreted readings from NOAA-9 and compared it to data collected from weather balloons about the temperature of the troposphere.
They found that the Alabama research incorrectly factors in the changing temperature of the NOAA-9 satellite itself and devised a method to estimate the impact on the Alabama trend.
Like how a baker might use an oven thermometer to gauge the true temperature of an oven and then adjust the oven dial accordingly, the researchers must adjust the temperature data collected by the satellites.
That's because the calibration of the instruments used to measure the Earth's temperature is different after the satellites are launched, and because the satellite readings are calibrated by the temperature of the satellite itself. The groups have each separately made their adjustments in part by comparing the satellite's data to that of other satellites in service at the same time.
Once Po-Chedley and Fu apply the correction, the Alabama-Huntsville record shows 0.21 F warming per decade in the tropics since 1979, instead of its previous finding of 0.13 F warming. Surface measurements show the temperature of Earth in the tropics has increased by about 0.21 F per decade.
The Remote Sensing Systems and NOAA reports continue to reflect warming of the troposphere that's close to the surface measurements, with warming of 0.26 F per decade and 0.33 F respectively. Note the theory suggests tropospheric warming would be 20% greater than the surface not 20% less
The discrepancy among the records stems from challenges climate researchers face when using weather satellites to measure the temperature of the atmosphere. The records are a composite of over a dozen satellites launched since late 1978 that use microwaves to determine atmospheric temperature.
However, stitching together data collected by those satellites to discover how the climate has changed over time is a complicated matter. Other factors scientists must take into account include the satellite's drift over time and differences in the instruments used to measure atmospheric temperature on board each satellite.
The temperature reports look largely at the troposphere, which stretches from the surface of the earth to around 10 miles above it, where most weather occurs. Climate models show that this region of the atmosphere will warm considerably due to greenhouse gas emissions. In fact, scientists expect that in some areas, such as over the tropics, the troposphere will warm faster than the surface of the Earth.
The paper does not resolve all the discrepancies among the records, and researchers will continue to look at ways to reconcile those conflicts.
"It will be interesting to see how these differences are resolved in the coming years," Po-Chedley said.
The research was supported by the National Science Foundation and NOAA.
May 07, 2012
Amount of ice in Bering Sea reaches all-time record; sea levels to change less than 4 inches by 2100
By Lewis Page, The Register
The amount of floating ice in the Arctic's Bering Sea - which had long been expected to retreat disastrously by climate-Cassandra organisations such as Greenpeace - reached all-time record high levels last month, according to US researchers monitoring the area using satellites.
The US National Snow and Ice Data Center announced last week that ice extent in the Bering for the month of March has now been collated and compared, and is the highest seen since records began. The NSIDC boffins said in a statement:
As winds from the north pushed Arctic ice southward through the Bering Strait, the ice locked together and formed a structurally continuous band known as an ice arch, which acts a bit like a keystone arch in a building. The ice arch temporarily held back the ice behind it, but as the winds continued, the arch failed along its southern edge, and ice cascaded south through the strait into the Bering Sea. Sea ice also piled up on the northern coast of St Lawrence Island, streaming southward on either side of it.
This contrasts sharply with the grim future for the Bering predicted by Greenpeace. Thirteen years ago in 1999, the hippies had this to say:
The first regions to be affected will be ice-dependent seas near but outside the Arctic Ocean proper, including the Bering Sea ... These areas are currently covered in seasonal winter ice, which could vanish altogether with continued warming.
Walruses, which travel long distances on floating sea ice that allows them to feed over a wide area may be particularly vulnerable ...
Many species of seal are ice-dependent, including the spotted seal, which in the Bering Sea breeds exclusively at the ice edge in spring; the harp seal, which lives at the ice edge all year; the ringed seal, which give birth to and nurse their pups on sea ice; the ribbon seal and the bearded seal.
Polar bears would be threatened by any decline in ringed seal populations, their main food source.

Which now looks alarmist to say the least.
The NSIDC boffins add, however that overall the Arctic ice - while up on recent years - is below the average seen since records began in 1979. In fact, according to the Cryosphere Today website run by the Polar Research group at Illinois uni, it's down by 443,000 square km. However the sea ice around the Antarctic coasts is above average by 452,000 km2, so overall the planet's sea ice is at the moment slightly above average in extent - and in the Bering Sea, the walruses, seals and polar bears can quite literally chill out in comfort.
Standard Bootnote on Why Greenpeace are Definitely Hippies
*We've had various mail and comments from people who object to the characterisation of Greenpeace as a bunch of hippies. We would refer you to the words of Greenpeace International's Director of Information Technology & New Media, Brian Fitzgerald, a multi-decade veteran of the organisation and its top worldwide mouthpiece and IT expert. In an induction speech for new Greenpeace people which he has given "again and again and again" he says:


Greetings, hippies!

Aha, I see a few of you cringing - but you're in Greenpeace now ... Which means you're hippies ...

And if you, dear hippies, are going to make a difference in this organization, you're going have to embrace that madness. You're just gonna have to honor your hippy roots, find your inner mystic…

So, welcome hippies ... hold on to your hippy heart.
If you work for Greenpeace, you're a hippy - it's compulsory. This is just a fact, and one confirmed by the organisation itself. QED - Greenpeace are a bunch of hippies.
-----------------
Greenland glaciers not set to cause disastrous sea level rises - study
US government funded scientists have measured the speed of glaciers in Greenland as they move down to the sea over the past ten years, and discovered that - while the glaciers have speeded up somewhat - there's no indication that this will mean major sea level rises.
"Observed acceleration indicates that sea level rise from Greenland may fall well below proposed upper bounds," write the boffins, who are based in Seattle and Ohio.
There's a lot of interest in Greenland's glaciers, as opposed to the rest of the Arctic ice cap, as they rest on solid land and thus - if they should all slide off - sea levels would rise seriously around the globe. Just a few years ago, the fearmongering hippies at Greenpeace were bandying a wild figure of seven metres about, adding:
That's bye-bye most of Bangladesh, Netherlands, Florida and would make London the new Atlantis.

In the real world, scientists had thought that - if the glaciers accelerated faster and faster as some models predicted - melting Greenland ice might cause 19 inches of sea-level rise by the year 2100. Other scenarios pointed to a lower figure, of four inches. Combined with melting from the Antarctic and mountain glaciers around the world - though many of these latter don't appear to be melting at all, according to recent research - this could still mean greater rises than the normal 6-7 inches as seen in the 20th century.
Hence the new effort to get a handle on glacier movement in Greenland, the results of which have now been published. The study involved building a decade-long record of the speed at which 200 Greenland glaciers moved towards the sea, using records generated by the Canadian Space Agency's Radarsat-1 satellite, Germany's TerraSar-X satellite and Japan's Advanced Land Observation Satellite.
In short, the study indicates that even the four inch prediction is now looking very much on the high side. We are told:

The scientists saw no clear indication in the new research that the glaciers will stop gaining speed during the rest of the century, and so by 2100 they could reach or exceed the scenario in which they contribute four inches to sea level rise. Read more here.
Apr 16, 2012
Obama's Eco-Lies
By Alan Caruba
As Earth Day approaches on April 22--the birthday of Vladimir Lenin--my blog (http://factsnotfantasy.blogspot.com) better known as "Warning Signs" will devote the week ahead to an examination of environmentalism's roots and deceptions. You are welcome to visit the blog and share any or all of its commentaries.—Alan Caruba

The week begins with the commentary below.
As the nation and the world closes in on Earth Day, April 22nd, a tsunami of Green propaganda will overwhelm us with all the usual lies about global warming - now called climate change - and calls to reduce the use of all fossil fuels in order to reduce "greenhouse gas" emissions.
This Big Lie ignores the fact that there is no relationship between carbon dioxide (CO2) and the climate. CO2 reacts to climate change. It does not drive it. The Big Lie ignores the fact that the Earth has been cooling for fourteen years.
The past three and a half years of the having Barack Obama as President have been filled with constant crisis, not the least of which was the nation's financial crisis which he constantly reminds us he "inherited." He has not, however, solved it with proven ways to put millions back to work and turn around a stagnant economy.
Instead he devoted his best efforts to a takeover of one-sixth of the nation's economy, the healthcare industry. His administration has waged a steady war on access to energy reserves vital to the nation's economy. The result of these policies are being felt at the gas pump as prices rise to historic highs while billions of barrels of oil in the U.S. remain underground.
His devotion to all the eco-lies was seen in the millions wasted on "green jobs" with his failed "stimulus" and loans to "green industries", primarily wind and solar power. Other schemes included high-speed trains where none are needed or wanted. To this day Amtrak has never made a profit. And electric cars remain impractical and unaffordable.
His environmental commitment was perhaps best seen and heard when Obama attended a United Nations Conference of Parties in Copenhagen in March 2010. His speech to the delegates and world press contained all the lies associated with "climate change" and the failed policies he was pursuing two years ago and earlier.
"We come together here in Copenhagen because climate change poses a grave and growing danger to our people. You would not be here unless you - like me - were convinced that this danger is real. This is not fiction, this is science," said Obama.
Aside from the fact that the climate has always been in a state of change for Earth's 4.5 billion years, the science employed to frighten people about such change does not bear any resemblance to real science which is an impartial blend of data based on replicable experiments.
Real science does not have a political agenda. The bogus science of global warming was revealed in November 2009 when the world learned that a handful of Intergovernmental Panel on Climate Change (IPCC) "scientists" had systematically distorted the scientific process, conjuring up false computer models that ignored significant elements of climate history. The revelations would be dubbed "Climategate."
Never one to not criticize America, Obama reminded the delegates that America was "the world's second largest emitter" of greenhouse gases even though such gases do not function as a greenhouse, trapping and holding heat. If they did, how would one explain the fact that the Earth has been in a natural cooling cycle since around 1998?
What is the mark of a developing or successful economy? It is the use of energy!
Obama promised that the U.S. would work "to phase out fossil fuel subsidies" and promised "historic investments in renewable energy" and his intention to put Americans "to work increasing efficiency in our homes and buildings; and by pursuing comprehensive legislation to transform to a clean energy economy."
Such a transformation is ludicrous. America runs on oil, on coal, on natural gas, on hydroelectric and nuclear power. The investments in wind and, in particular, solar power, have wasted millions of taxpayer dollars. Combined, wind and solar provide less than two percent of the nation's electrical power while coal provides nearly half. It has been the use of coal that the Obama administration's Environmental Protection Agency has been determined to reduce or end, falsely claiming CO2 is a "pollutant."
Typically, Obama said "There is no time to waste." In reality the Obama administration has wasted every opportunity to increase access to America's vast energy reserves. Even when bragging about oil production, Obama never admits that it is occurring on private land. His administration has virtually shut down access to exploration and extraction on federally owned and managed land.
Environmentalism is the mask of communism, concentrating ownership of all property and productivity in the hands of the government. Even when addressing the need to ensure clean air and water, it has been used as a blunt instrument of power to limit economic development.
These are well established environmental lies and they are Obama's environmental lies.
The Copenhagen conference came to a hasty end as the world's leaders fled the city to avoid being trapped there by a massive blizzard. The global warming they all warned against in 2010 was not occurring and is not occurring.
ICECAP NOTE: Obama supports the UN request that the US provide to the UN 2.5 Trillion dollars over the next decade to support global 'sustainability', the already failed global green agenda. Obama supports this globalization effort and this expenditure. This is a wealth transfer mechanism and has little to do with climate change or environmental issues as admitted by IPCC official Ottmar Edenhofer in November 2010 "one has to free oneself from the illusion that international climate policy is environmental policy." Instead, climate change policy is about how "we redistribute de facto the world's wealth..." We would cede soverienty in the process, enabling the UN to impose laws that we are obliged to follow and global taxes we are obliged to pay. Instead of supporting the UN, we should kick their useless asses out of the US and convert the UN towers to low income housing. Let the UN find another sucker for a world HQ, (some have suggested Obama's birthplace - An internal bulletin from the Kenyan National Security Intelligence Service, or NSIS, states that the Kenyan government in 2009 commissioned a cultural museum in the Obama home village of Kogelo to honor the "birthplace of President Barack Obama" and rededicate the tomb of his father, Barack Obama Sr. See) and use the 2.5 trillion to pay down our national debt.
Apr 09, 2012
The Environmental Terrorizing of Children
By Alan Caruba
In many ways, the worst aspect of environmentalism is why Greens not only feel free to terrorize children with doomsday scenarios, but feel compelled to do so.
I have been reviewing books for some fifty years and with the publication of Rachel Carson's "Silent Spring" in 1962 and books such as Paul Ehrlich's "Population Bomb" have been offering scenarios intended to move people and governments to take action that, in retrospect, were based on bad "science" and absurd doomsday predictions.

If you were fooled by global warming, they are counting on you to be fooled again by "sustainability", their reworking of Marx's communism in the form of a grandiose scheme to control all of the Earth's bounty. In June the United Nations will hold a Rio+20 conference that will declare that governments exist to ensure "sustainable well-being and happiness." The Declaration of Independence offers the opportunity to pursue happiness. It does not guarantee it, nor does it suggest that it is government's job to provide it.

A key element of the Green's endless indoctrination schemes has been to reach children, the most vulnerable among us and for this reason our schools have been turned into Green prisons where their version of the Earth is pumped into the minds of children here and around the world.
Their primary teaching tool is fear. Fear that the oceans will rise and wipe out entire cities. Fear that the rainforests are disappearing. Fear that entire species are being destroyed by the hand of man. Fear that the use of any kind of fuel, coal, natural gas, and oil is despoiling the planet.
I have reviewed books for some fifty years at this point and I could not put a number on the books for children that hammer home these and other terrifying themes. One crossed my desk the other day, "Our House is Round: A Kid's Book About Why Protecting Our Earth Matters" by Yolanda Kondonassis and illustrated by Joan Brush. It has been called "the perfect children's introduction to environmental issues" by Fred Krupp, the president of the Environmental Defense Fund.

The author is not a biologist, a geologist, a meteorologist, or any other kind of scientist. She is a Grammy-nominated classical harpist. A harpist!

"Our Earth has gotten messy. What should we do?" she asks her young reader. What does she mean by "messy"? Her answer is that "cars, trucks, and factories make pollution, a kind of dirty gas or liquid that goes out into the air and into our rivers, lakes, and oceans." This book is written for children age five to nine!
Imagine now what it must be like to be that age and be told that the air is polluted and the water is as well. This verges on child abuse.

"Pollution goes up into the sky and forms a blanket of gas that holds heat within Earth's atmosphere. That makes our whole Earth warmer and leads to unclean air for breathing, melting polar ice caps, rising sea levels, and extreme weather patterns. Scientists call this warming of our Earth's temperature CLIMATE CHANGE."

It is a LIE. The Earth has been cooling for fifteen years.

Carbon dioxide is not a pollutant. It is a gas as vital to all life on Earth as oxygen is to the life of living creatures. Without it, not a single blade of grass or tree or the vegetation we call "crops" would not grow. Livestock and wildlife depend on that vegetation. If you are age five to nine, you likely are unaware of this.

This book and all the others that incorporate these lies are a form of psychological terror.
The same week I received "Our House is Round", I also received "The Big Green Book of the Big Blue Sea" and "Earth-Friendly Buildings, Bridges, and More." You could stack all the environmentally-themed children's books I've seen and it would reach up several stories.

They are a corruption of geophysical and biological science. They have nothing to do with "saving the planet" and everything to do with distorting children's understanding of the real world.

It does not matter that the Ms. Kondonassis thinks she is serving humanity. The great lie of communism is that it will create a collectivist utopia. In reality it has always depended on terror to maintain itself and it has failed wherever it has been tried. Environmentalism is its latest permutation.

It is the same reason that communism derides religion for its emphasis on life and morality.
It is the same reason Americans are being subjected to government imposed limitations on energy and transportation, and coerced social change, altering and secularizing our society.

I have devoted my life to freedom of the press, freedom to publish, freedom to speak out, and to urge participation in the life of the greatest nation on Earth, but some books like "Our House Is Round" are the worst kind of mental pollution.

Envionmentalism, like all tyrannies, begins by indoctrinating children.

Editor's Note: In 1974 Alan Caruba was a founding member of the National Book Critics Circle.