Tuesday, October 11, 2016
A reply to Hillary Clinton and Al Gore on climate and weather
By Anthony Watts, WattsUpWith That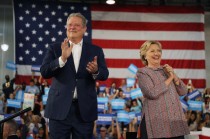 Democratic presidential nominee former Secretary of State Hillary Clinton and former Vice President Al Gore campaign together at the Miami Dade College on Tuesday in Miami. (Photo by Joe Raedle/Getty Images)

Hillary Clinton later made the statement on Twitter:
Our next president will either step up our efforts to address climate change or drag us backward and put our whole future at risk.
We've always had destructive hurricanes, but Hurricane Matthew was likely more destructive because of climate change.
Followed by Al Gore saying:
"from a tropical storm to a Category 5 hurricane in just 36 hours, that's extremely unusual"

IMHO, HillaryClinton is the right choice in this election if we care about solving the climate crisis
.
What crisis? The worst hurricane ever to hit the USA was The Great Galveston Hurricane in 1900, which killed up to 6000 people, long before CO2 ever became an issue.
Today, we have an 11 year hurricane drought of Cat3 or greater failing to make landfall on the USA. The previous drought record was 8 years set in the 1860s!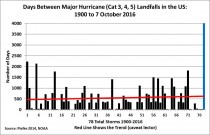 Enlarged
We have hurricane damage losses which are down: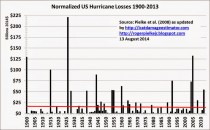 Enlarged
We have hurricane and tropical storm frequency which is flat to slightly down.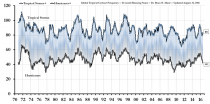 Figure from Dr. Ryan Maue: Last 4-decades of Global Tropical Storm and Hurricane frequency - 12-month running sums. The top time series is the number of TCs that reach at least tropical storm strength (maximum lifetime wind speed exceeds 34-knots). The bottom time series is the number of hurricane strength (64-knots+) TCs.
And Tornado deaths are down too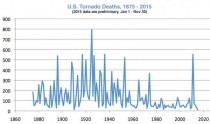 Enlarged
Pardon my french, but WHAT CLIMATE CRISIS as they view it in weather terms? Their pitch of a load of bollocks!
-------
Lets also remember in the words of Christopher Booker:
Al Gore in his Oscar-winning film An Inconvenient Truth went much further, talking of 20 feet, and showing computer graphics of cities such as Shanghai and San Francisco half under water.
But if there is one scientist who knows more about sea levels than anyone else in the world it is the Swedish geologist and physicist Nils-Axel Morner, formerly chairman of the INQUA International Commission on Sea Level Change. And the uncompromising verdict of Dr Morner, who for 35 years has been using every known scientific method to study sea levels all over the globe, is that all this talk about the sea rising is nothing but a colossal scare story.

Indeed instead of the dramatic use of a lift to show the 20 foot rise, Gore could have instead used the Manhattan Yellow pages to demonstrate the rise coming. Recall also in the UK, a court ruled if Al Gore's science fiction horror movie was shown in the schools, the teacher would have to read the 9 major errors (just the tip of the iceberg). Gore and Clinton make a perfect pair.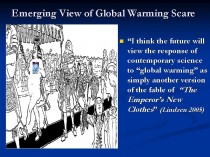 Enlarged
See Patrick Micheals USATODAY post Today's Weather is Hardly Unusual! here.


Perspective on Matthew in the Rear-View Mirror Now
Joseph D'Aleo, CCM
Matthew first became a storm on September 28 east of the islands in the Atlantic. It moved into the Caribbean where it intensified to a major hurricane. After sparing Jamaica, Matthew turned north pounding eastern Cuba and Haiti. Haiti was hardest hit with 145 mph winds and torrential flooding rains that resulted in an estimated 1000 deaths.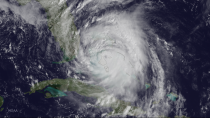 Haiti is the poorest country in the Americas with a population of 10 million. Matthew is the latest devastating event to affect Haiti with rainfall of 15 to 20 inches and as much as 40 inches in the mountains and a storm surge on the south coast of up to 10 feet.
Haiti is especially vulnerable to hurricane disasters given its location, topography and poverty. In 1963, Hurricane Flora struck the coast of Haiti causing a 12-foot storm surge that killed an estimated 7,000. In 2004, heavy rains sparked flooding that killed more than 1,000. Just four months later, Hurricane Jeanne struck the northern coast causing flooding that killed around 3000. In 1994, Hurricane Gordon caused in 1,790 deaths from mudslides and flooding. In 2008, three hurricanes and a tropical storm targeted Haiti in less than four weeks in August and September causing 800 deaths and devastating crops.
Matthew after leaving Haiti rolled through the Bahamas and then teased the Florida east coast. The storm weakened as it neared Florida to a Category 2 storm and tracked just off the east coast, sparing the population from the worst possible outcome. The storm's eyewall passed over Cape Canaveral with a report of a wind gust to 107 mph. The strongest official station wind gust in Florida was 68 mph at Daytona Beach. However, tropical storm force winds, heavy rains and the storm surge caused property damage, lengthy power outages and what has been described as extensive beach erosion.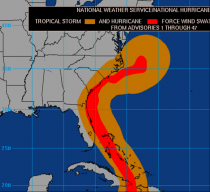 Matthew's rains increased as it moved north dumping 12 to over 18 inches of rainfall from Savannah, Georgia and Hilton Head Island to Charleston in South Carolina. 96 mph wind gusts were reported near Tybee Island, Georgia and 88 mph at Hilton Head Island Airport. Matthew made landfall as a Category 1 near McClellanville, South Carolina Saturday and soon after was downgraded but still rains fell in North Carolina to the Tidewater area in Virginia, recently flooded by rains from Julia.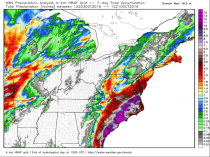 Matthew hooked up on a cold front that was dropping through the northeast and brought some much needed rainfall (about 0.6 inches here in southern New Hampshire) and near the coast, locally damaging winds. The peak wind was 58 mph in Aquinnah, Massachusetts.
Though the storm was a major hurricane out at sea in the Caribbean, when it eventually made landfall on the mainland, it was a category 1 storm. This continues the record of almost 11 years (short now by about a week) without a major hurricane landfall on the mainland. The last major hurricane was Hurricane Wilma in late October 2005. The old record of 8 years was set in the 1860s.
MIT's Dr. Kerry Emanuel called Hurricane Matthew a 'run-of-the-mill' hurricane. Indeed in the history of the hurricane giants, it was not extraordinary though like with most hurricanes affecting the islands and mainland in any way, there was certainly angst, pain and suffering. That is and always was a part of our weather and climate. Here is a compilation of 30 peer reviewed studies show no connection between climate change and hurricanes.