Monday, April 20, 2009
AMO and PDO- The Real Climate Makers In United States?
Guest Post by Matt Vooro
For decades we have been urged to urgently prepare for unprecedented global warming or there will be gloom and doom for the world. Yet only few years after the issue of the IPCC reports, exactly the opposite is happening. Matter of fact the cooling already started after 2002. The climate data from 3 different major organizations [GISS, UAH and RSS] that monitor temperatures all confirm this cooling trend as shown below.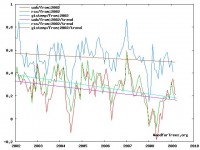 See larger image here.
Graph of monthly global temperature anomalies 2002-2009
Notice the steady decline since 2002. IPCC predicted unprecedented warming and projected 0.21C in each of the next two decades. The planet is actually cooling at a trend rate of -0.195/decade since 2002.
So what went wrong with the AGW science? It seems that despite IPCC claims carbon dioxide does not seem to be a major climate changer. Ocean currents, ocean surface temperatures and ocean heat sinks are. The most significant being the AMO or Atlantic Multivariate Oscillation and PDO or Pacific Decadal Oscillation.
1900-1925 COOL- AMO AND PDO BOTH NEGATIVE OR COOL
1926 -1944 VERY WARM - AMO AND PDO BOTH POSITIVE OR WARM
1964- 1976 VERY COOL- AMO AND PDO BOTH NEGATIVEOR COOL
1994 2007- VERY WARM- AMO AND PDO BOTH WARM [so called global warming period
2009 - COOL- AMO AND PDO BOTH NEGATIVE OR COOL
Graph of US SURFACE ANNUAL AIR TEMPERAURE ANOMALY, GISS [C] 1964-1976
This was the last period when both PDO and AMO were in the negative or cool mode. Notice that most of the temperature anomalies were negative (below average).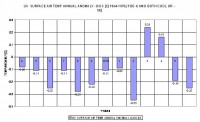 See larger image here.
Graph of US SURFACE ANNUAL AIR TEMPERAURE ANOMALIES, GISS[C] 1976-2008
This is the period of so called "global warming". This was caused by having both the PDO and the AMO in the warm or positive mode. PDO was in the warm mode throughout the period. AMO was positive 1994-2009. Notice the rapid rise in the temperature anomalies especially after 1994.
There was a similar warming period in 1926-1944. So global warming existed well before manmade green house gases started to rise after the 1940's.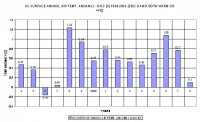 See larger image here.
PDO AND AMO BOTH IN COOL PHASE – IS GLOBAL COOLING AHEAD?
Similar graphs can be prepared for Canada and the globe as a whole. It would appear that with the PDO and AMO now both in the cool phase again and this cycle can last up to 20-30 years, we are headed for global cooling. We seem to be in the same climate cycle that we were back in 1964-1976.The last two winters have been very similar to those we had back then with all the extra snow and cold temperatures. Could the flooding of the Red River this year due to the extra snow and cold temperatures be a warning of cooler weather to come?
To advise people and the nation to prepare for global warming when global cooling is underway and expected to continue for many more decades is truly tragic when we have so many other more pressing problems. This cooling is exactly what Professor Don Easterbrook of WESTERN WASHINGTON UNIVERSITY also predicts. See his power point presentation here.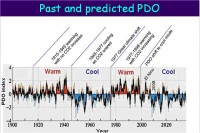 See larger image here.
See Matt's full post here.