Thursday, February 07, 2008
Another Major Snowstorm For the Upper Midwest
By Joseph D'Aleo, CCM
It has been at times a harsh and overall very snowy winter over areas north and west, typical of La Nina.
This is already the snowiest winter in Chicago in almost three decades. The heaviest snow in the latest fell northern suburbs of Chicago north and west. 21 inches fell in Ordvillee, north of Beloit. See Tom Skilling's blog on the snowfall. Madison, Wisconsin with a foot of snow actually is closer to 74 inches now for the season with the additional snow last evening, roughly running 225% of normal. Just over 20 inches of snow fell in Saukville and 19 inches at Jackson, both north of Milwaukee. Occasional brief periods of blizzard-like conditions developed along the Lake Michigan shoreline from Milwaukee to Kenosha as the snowfall picked up Wednesday, said meteorologist Rusty Kapela of the National Weather Service's Sullivan office. (see the Wisconsin storm story). In Wisconsin it was the worst storm since January1999, another La Nina winter.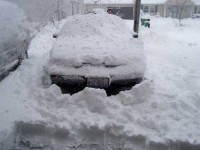 Photo in Antioch, Illinois by Carl Frystak on Tom Skilling blog
Schools and universities canceled classes in parts of Kansas, Iowa, Illinois, Wisconsin and Michigan, where up to 14 inches of snow fell north of Detroit. The Detroit area got a mix of rain, snow and sleet. See the Lower Michigan totals here.
Southeast Iowa was hard hit. Brad Small, a forecaster with the National Weather Service, called this winter Iowa's "coldest and snowiest" since 2000-01, also a La Nina winter. The harshness has led to shortages of road salt in many cities, including Tipton, in eastern Iowa. Getting more will be difficult because a frozen Mississippi River has blocked barge traffic.

The snow extended into northern New York State and New England with as much as 15 inches in Burlington, Vermont. Expect more of thr same in the weeks ahead but with areas to the east getting more of their share.