Wednesday, December 19, 2012
Another snowjob from UNH and NRDC
By Joseph D'Aleo, CCM
UPDATE: 75% or more of the nation will be snowcovered by end of year (64.4% as of December 27). The hemisphere has again been well above normal w/r snow. For the US, two major snowstorms this week and a frigid new Year's Eve.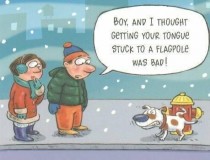 Snows will fall west south and east. Another storm in early January.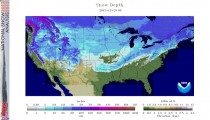 Enlarged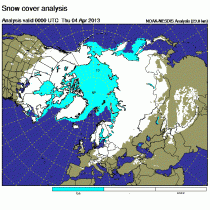 Enlarged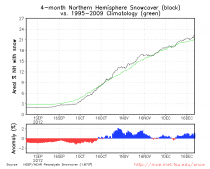 Enlarged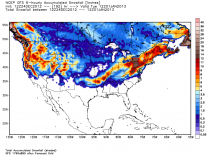 Enlarged
Join us at Weatherbell.com for model maps for the US and globally and much more. Daily discussions and videos. Great for the enthusiasts as well as those requiring specialized commercial services.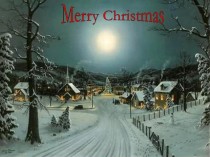 -----------------
Another bout of nonsense from UNH/UCS and NRDC environmental activists who never really look at the data. Back in 2007, the Union of Concerned Scientists (UCS), an environmental advocacy group that has seeded the once great universities with alarmists, had a meeting atop Mt. Washington where they warned ski areas that snow would vanish as global warming accelerated and the maple sugar industry would also suffer as maple trees packed their bags and retreated to Canada.
That very next winter set all types of snow records in the northeast and across all the country west to Colorado and north to Alaska. Across almost all of North America, 2007/08 was the best, or one of the best seasons ever for those who enjoy winter sports. Practically every ski area from Alaska across Canada in the Western U.S. - the Midwest and New England saw plenty of snow; some places reporting all-time record snow. Michael Berry, President of the National Ski Areas Association told the AP that "This could very well be the record year".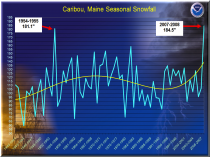 Enlarged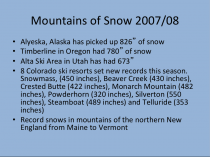 Enlarged
Two years later, another enviro terrorist, RFK Jr., lamented that children in DC would no longer be able to enjoy winter sports like sledding because of global warming. The following winter 2009/10 set all-time snow records for the Mid-Atlantic with sled and snowshoes and skiis the best way to get around.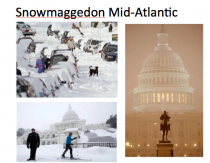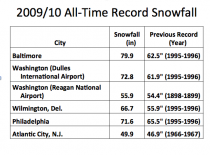 Enlarged
In 2010/11 major snows hit the nation again. Chicago had a blizzard (first photo). The east was buried in snow (second below New Hampshire, third Ohio churches). NYC had their third snowiest year and second snowiest month (behind February 2010).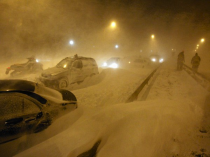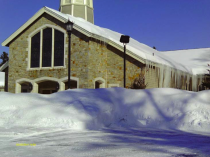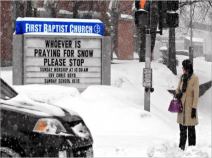 A major blitz of heavy snowstorms occured in the east in the big cities of the east Since 2000, we have had 17 major east coast storms among the 46 major impact storms NOAA has cataloged in the 56 years of the record, a full 10 such storms since the first ludicrous UNH/UCS press release.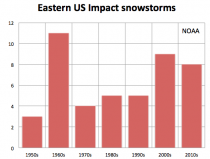 Enlarged
In the hemisphere, 2009/10 had the second highest snow extent behind 1977/78. 20010/11 was third, 2007/08 4th and 2002/03 fifth. So 4 of the 5 snowiest years on record for the hemisphere have occurred in the last decade.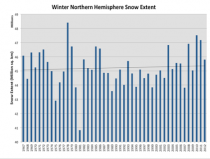 Enlarged
In an ironic twist, instead of greenhouse effect producing less snow, too much snow collapsed greenhouses in China this fall!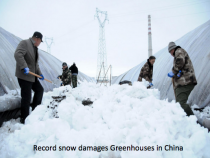 Whats more there has been no warming in any US region in the last 15 years, even with the warm winter last year.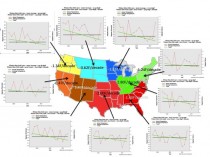 Enlarged
The Concord Monitor in a ridiculous editorial this week fed by the lefty friends at the UNH and NRDC which took advantage of the overdue warm winter last year to try again.
Last winter, fewer people visited the nation's ski areas that at any time in the past 20 years. Half of 100 resorts surveyed opened later than normal, and 48 percent of them closed early. This winter may not be any snowier. The past decade has been the warmest on record, and temperature increases and the greenhouse gas emissions that are driving them show no sign of abating. That could doom the ski industry, and the tourism and recreation economies that depend on it, according to a new study by researchers at the University of New Hampshire, the Natural Resources Defense Council and the group Protect Our Winter.
I expect, like the Gore Effect, these clowns will be proved wrong again. It looks like many feet of snow will fall the next few weeks in the mountains. I look forward to the day when we can purge our colleges of those who are polluting the minds of our young people with their dogma. When I was a college professor for 9 years, I used to teach my students how to think not what to think. In the liberal universities today thought, that no longer happens. Unfortunately the left controls the curricula at the elementary, middle and high school levels in science and other major topics and the brainwashing begins early. We live in the"Misinformation Age". I gave a lecture on climate factors in a Boston area school in recent years and a student stood up and said he was mad....not at me but at his school. He said he played plenty for his tuition but in two courses supposedly covering climate, he had not heard anything about the factors like multidecadal ocean cycles and the various ways cycles on the sun affect climate only greenhouse gases. Another teacher at another school who teaches a weather and climate course - in which he presented a balanced picture including all the theories and factors, was told by his environmental department head to not talk anymore about climate only weather because his students were starting to ask questions about factors he knew little about. Art Horn and I will have more to say about steps we are taking to change this including talks and courses and local cable access programming. Much of this is volunteer, so your support, no matter how small is always appreciated.
Here is an interview I did for Nashua CTV Speakupnh. I will addd the Hudson video I did with Art Horn when it is released.
UPDATE: Dr. Don Easterbrook writes:

In Washington state we have our own version of "ski areas will be a thing of the past". For the past several years, the Univ of Wash climate group has been posting bogus claims of severe snow drought in the Cascades despite above average snowfall. They just posted another prediction that skiing will be a thing of the past, and shortly thereafter we got 80 inches of snow in 7 days, so much that it toppled about 100 tress across the road and closed the road to the ski area. We now have 176 inches, reportedly ahead of the world record year of 1100 inches.

So much for the end of skiing!

Don