Monday, January 21, 2008
Antarctica and Volcanism
Thanks to John McLean for a link to this site tracking Antarctic temperatures since 1955 by Ole Humlum, UNIS, Department of Geology, Svalbard, Norway. They conclude the existing Antarctic surface air temperature records 1960-1998 reveal periods of persistent (multi-year) and geographically extensive temperature trends towards cooling in the interior and warming in the coastal regions. The spatial and seasonal patterns of these trends are, however, not quite simple and appear to change with time; that is, the temperature relationship between specific locations is not temporally consistent. Within the Antarctic Peninsula a warming trend has, however, persisted, with exception of the spring season. The cooling has been modest in coastal East Antarctic regions, but more pronounced at the Amundsen-Scott Base and at the South Pole.
The observed temperature changes since 1957 has been difficult to simulate by Global Climate Models (Connolley and O'Farrell 1998) and is not yet fully understood. The observed spatial pattern of temperature variations may, however, indicate that the consecutive warming and cooling throughout the decades was part of a large-scale circulation pattern that exhibits long-term persistence. There is some observational evidence suggesting that under present conditions cooler conditions on the Antarctic Plateau are associated with stronger zonal westerlies around the Antarctic continent, causing warmer conditions in the Peninsula regions penetrating north into the zone of enhanced westerlies.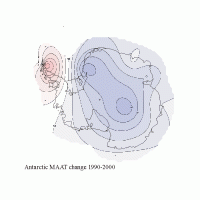 5 Year running annual mean temperatures 1988 to 2002. See full size image here
Western Antarctica and the peninsula is also a region of volcanic activity which may be contributing at times to upwelling of warmed water and icemelt. That was confirmed this week in an article in Nature Geoscience and in the National Science Foundation site.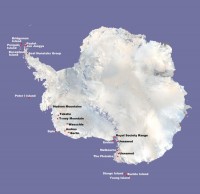 Thanks to Alan Siddons for this image of Antarctic volcanoes. See full size image here. See this spectacular image of the hot spots and the cold continent from satellite from 1982 to 2004 here.
By the way, the Gakkel ridge under the Arctic is volcanically active right now and together with the recent inflow of warm water from the Pacific and Atlantic in their multidecadal warm modes may be contributing factors to recent icemelt there as well in recent years.