Saturday, February 03, 2018
Attorneys Accuse California Cities of Bond Fraud After Climate Change Lawsuits Filed
Michael Bastasch on February 1, 2018
A libertarian think tank has notified the Securities Exchange Commission (SEC) that California cities and counties may have inadvertently admitted to securities fraud in their global warming lawsuits against oil companies.
The Competitive Enterprise Institute (CEI) attorneys pointed out that localities' suing a group of oil companies for current and future damages allegedly caused by global warming may have misled municipal bond investors.
"A number of California cities and counties have recently filed lawsuits against several oil and gas companies, claiming that these companies failed to disclose the alleged risks of climate change," CEI attorneys Sam Kazman and Devin Watkins wrote to the SEC.
"However, in these lawsuits the plaintiff cities and counties apparently describe these climate risks in ways that are far different than how they described them in their own bond offerings. In our view, this inconsistency raises serious questions of municipal bond fraud," the attorneys added.
So far, nine U.S. localities have filed lawsuits against oil companies for damages from extreme weather and sea level rise, which the plaintiffs allege were made worse by manmade warming.
A handful California localities have sued, alleging that oil companies "knowingly" sold products that cause global warming all while trying to suppress the scientific evidence. Richmond became the most recent city to sue over the climate.
"After being warned by their own experts of the potential damage, the fossil fuel industry could have taken steps to transition to a lower carbon future, but they didn't," Richmond Mayor Tom Butt said in a statement.
However, ExxonMobil, one of the companies being sued, noted in its legal filings that California cities and counties suing over global warming didn't disclose climate risks in bond offerings.
"[I]n their lawsuits many of the municipalities claim to be able to accurately be able to predict sea level rise caused by climate change," Kazman and Watkins wrote. "However, some of the bond offerings of these municipalities state that such predictions were not possible."
For example, San Francisco's lawsuit predicts "0.3 to as much as 0.8 feet of additional sea level rise by 2030," which could cost $5 billion in the long-term. But the city told investors they were "unable to predict whether sea-level rise or other impacts of climate change or flooding from a major storm will occur, when they may occur."
"Either the City can predict such sea-level rise, as it tells the court, or it cannot, as it tells investors," CEI's attorneys wrote.
Representatives for Sher Edling, the law firm handling six localities' climate suits, did not respond to The Daily Caller News Foundation's request for comment.
------------
The NOAA/ NASA data fraud
Francis Menton has been chronicling this very well in 17 posts on this can be found here.

In one of the posts he links to the below analysis from Icecap. The claims there are still valid. The 'professional' societies like AMS and AGU, NOAA and NASA climate agencies continue their lying crusade to validate their failing models. The Union of Concerned Scientists and other grant toting liberal university seat warmers who never made a forecast in their lives are given the keys to write the National Climate Assessments which are laughable. They continue to claim every weather event - heat or cold, wet or dry, no snow and blizzards, hurricane lulls and a rebound year are all due to warming from CO2. They have made AGW an unfalsifiable hypothesis.
They adjust data from surface stations, buoys and satellites and weather balloons to fit their models instead of rethinking their model theories as the scientific method requires when data conflicts.
What concerns it is it has supported bad policies like the one Michael Bastasch reports on above or the enviro writing campaign that blocked Northern Pass hydro power electricity to the northeast where we are already paying the highest electricity prices in the nation for electricity thanks to RGGI. this hurts families and industry. These same people who fought first a natural gas pipeline and this past week the Northern Pass powerline (partially underground) because it would hurt the look of the beautiful scenery. Yet these same enviro fanatics favor wind power where the ugly and unhealthy wind turbines and all the power lines required to take the energy to the grid would be 1000 times worse in that regard criss crossing the mountains, never mind that the wind had been proven in Europe to not be there often when needed the most (on calm sub zero nights and hot sultry summer days) driving up energy prices 3 to 5 fold.
Here was a post from a few years back.
The data games - the transition from real data to model/data hybrids

You probably have been following the saga about USHCN data fabrication/estimation at WattsUpWiththat summarized here and illuminated by Judith Curry.

Anthony finds himself agreeing with Steve Goddard aka Tony Heller who deserves the credit for the initial findings including: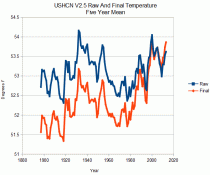 Enlarged
Anthony continues: "Paul Homewood deserves the credit for taking the finding and establishing it in a more comprehensible way that opened closed eyes, including mine, in this post entitled Massive Temperature Adjustments At Luling, Texas.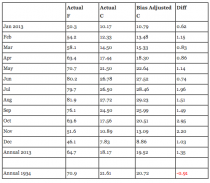 Enlarged
Along with that is his latest follow up, showing the problem isn't limited to Texas, but also in Kansas. "
It appears in summary:
Approximately 40% of the data has been estimated, even though they have a lot of good data in hand. The data isn't making the migration for the RAW to the FINAL USHCN file due to some error in the data flag.

Also, there's the issue of "Zombie weather stations" Closed stations like Marysville, CA that closed due to may expose' in 2007 are still reporting data in the FINAL USHCN file because the FILNET program is "infilling" them with estimated data based on surrounding stations.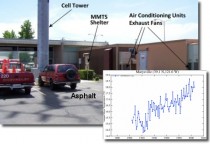 Enlarged

Since 80% of the network has compromised siting, the data used to infill is compromised.

It's a real mess.

Anthony adds "So far just USA for this error, we don't know about GHCN yet."
ICECAP NOTE: I have posted that I had downloaded from NCDC Climate at a Glance the Maine state Annual temperatures in 2013 for a talk and it showed no warming since 1895! (the trend was shown as -0.03/decade). Well after NOAA announced a transition to the CLIMDIV version of USHCN at the end of this brutal winter, I decided to download the new plot. The new CLIMDIV data was supposed to resolve issues with recent station moves, transition to airport, to new MMTS technology and UHI and siting issues with improvements late in the record, we were very surprised to see the biggest changes to the early data set. 1913 went from the warmest year in the record to the middle of the pack with a cooling of close to 5F!. The log term average dropped over 1F. The long term trend rose to +0.23F/decade, the largest of the 50 states.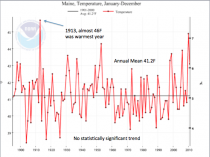 Enlarged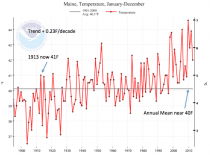 Enlarged
Basing government energy and tax policy on corrupted data ensures nothing but pain for only government gain.
Please help continue our work which has been pro bono. We are working behind the scenes to refute the false claims and comment back to the government oversight agencies and eventually the courts. Use the donate button in the left column. Any amount is appreciated.