Friday, June 19, 2015
The Scientific Pantheist Who Advises Pope Francis
"People will believe a big lie sooner than a little one, and if you repeat it frequently enough, people will sooner or later believe it."
Walter C. Langer
--------
The scientist who influenced Laudato Si, and who serves at the Vatican's science office, seems to believe in Gaia, but not in God.
By William M. Briggs
St. Francis of Assisi's hymn Laudato Si' spoke of "Brothers" Sun and Fire and "Sisters" Moon and Water, using these colorful phrases figuratively, as a way of praising God's creation. These sentimental words so touched Pope Francis that he named his encyclical after this canticle (repeated in paragraph 87 of the Holy Father's letter).
Neither Pope Francis nor St. Francis took the words literally, of course. Neither believed that fire was alive and could be talked to or reasoned with or, worse, worshiped. Strange, then, that a self-professed atheist and scientific advisor to the Vatican named Hans Schellnhuber appears to believe in a Mother Earth.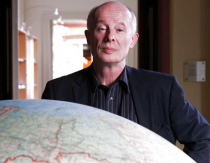 Gaia
The Gaia Principle, first advanced by chemist James Lovelock (who has lately had second thoughts) and microbiologist Lynn Margulis in the 1970s, says that all life interacts with the Earth, and the Earth with all life, to form a giant self-regulating, living system.
This goes far beyond the fact that the Earth's climate system has feedbacks, which are at the very center of the debate over climate change. In the Gaia Principle, Mother Earth is alive, and even, some think, aware in some ill-defined, mystical way. The Earth knows man and his activities and, frankly, isn't too happy with him.
This is what we might call "scientific pantheism," a kind that appeals to atheistic scientists. It is an updated version of the pagan belief that the universe itself is God, that the Earth is at least semi-divine - a real Brother Sun and Sister Water! Mother Earth is immanent in creation and not transcendent, like the Christian God.
What's this have to do with Schellnhuber? In the 1999 Nature paper "'Earth system' analysis and the second Copernican revolution," he said:
Ecosphere science is therefore coming of age, lending respectability to its romantic companion, Gaia theory, as pioneered by Lovelock and Margulis. This hotly debated 'geophysiological' approach to Earth-system analysis argues that the biosphere contributes in an almost cognizant way to self-regulating feedback mechanisms that have kept the Earth's surface environment stable and habitable for life.
Geo-physiological, in case you missed it. Cognizant, in black and white. So dedicated is Schellnhuber to this belief that he says "the Gaia approach may even include the influence of biospheric activities on the Earth's plate-tectonic processes." Not the other way around, mind you, where continental drift and earthquakes effects life, but where life effects earthquakes.
He elaborates:
Although effects such as the glaciations may still be interpreted as over-reactions to small disturbances - a kind of cathartic geophysiological fever - the main events, resulting in accelerated maturation by shock treatment, indicate that Gaia faces a powerful antagonist. Rampino has proposed personifying this opposition as Shiva, the Hindu god of destruction.
Mother Earth gets the flu and instead of white blood cells and a rise in temperature to fend off the infection, it sends white ice and a decrease in temperatures. How? Geophysiologically! I remind the reader that our author, writing in one of the world's most prominent science journals, does not use these propositions metaphorically. He proposes them as actual mechanisms.
Schellnhuber echoes the theme of a cognizant, i.e. self-aware, planet in another (co-authored) 2004 paper in Nature 2004, "Climbing the co-evolution ladder," suggesting again that mankind is an infection, saying that mankind "perturbs ...the global 'metabolism'" of the planet.
Tipping Points
Schellnhuber, a one-time quantum physicist who turned his attention to Mother Earth late in his career, was also co-author of a 2009 Proceedings of the National Academy of Sciences paper "Imprecise probability assessment of tipping points in the climate system," which asked select scientists their gut assessment about the arrival of various "tipping points." Tipping points are a theme of Schellnhuber's research (see inter alia this and this).
Tipping points are supposed moments when some doom which might have been avoided if some action had been taken, is no longer possible to avoid and will arrive no matter what. Tipping points have come and gone in climate forecasts for decades now. The promised dooms never arrive but the false prophets never quit. Their intent is less to forecast than to induce something short of panic in order to plead for political intervention. When the old tipping point is past, theorists just change the date, issue new warnings and hope no one will notice.
One of the tipping points Schellnhuber asked about was the melting of the Greenland ice sheet, depending on what the temperature did. All of the selected experts (who answered the questions in 2004 and 2005) gave moderate (~15-25%) to quite high probabilities (50-80%) for this event to have occurred by 2015. The ice did not melt.
Schellnhuber Michelangelo Gaia
From a paper for the Pontifical Academy of Sciences by Hans Schellnhuber and Maria Martin, illustrating the idea of a methane tipping point. As a modification of Michelangelo's iconic image from the Sistine Chapel, Earth replaces God, and Adam puts Earth at risk of descending into a fiery abyss.
Schellnhuber presented more tipping points to the Pontifical Academy of Sciences in 2014 in the co-authored paper, "Climate-System Tipping Points and Extreme Weather Events." In that paper, Schellnhuber has a "scientific" graph with Michelangelo's Sistine Chapel Adam "flicking" a planet earth over a methane tipping point, such that the earth would roll down into a fiery pit labeled the "Warming Abyss." Hell on earth.
The Problem of People
Schellnhuber is most famous for predicting that the "carrying capacity" of the earth is "below" 1 billion people. When confronted with this, he called those who quoted him "liars." But he then repeated the same claim, saying, "All I said was that if we had unlimited global warming of eight degrees warming, maybe the carrying capacity of the earth would go down to just 1 billion, and then the discussion would be settled." And he has often said that this temperature tipping point would be reached - unless "actions" were taken.
The man is suspicious of people. In that same interview he said, "If you want to reduce human population, there are wonderful means: Improve the education of girls and young women." Since young women already know where babies come from, and since this knowledge tends neither to increase nor decrease population, the "education" he has in mind must be facts about how to avoid the consequences of sex. Austin Ruse discovered a 2009 talk in which Schellnhuber said the earth "will explode" due to resource depletion once the population reaches 9 billion, a number that the UN projects in 2050. Presumably he wants earth to avoid that fate, so he must support the population control that Pope Francis so clearly repudiated in his encyclical.
Bad Religion
Confirmation bias happens when a scientist manipulates an experiment so that he gets the outcome he hoped he would get. When Schellnhuber invites only believers in tipping-points-of-doom to characterize their guesses of this doom, his view that the doom is real will be confirmed. And when he publishes a paper that says, "Scientists say world is doomed" the public and politicians believe it. Scientists skeptical of the doom are dismissed because they are skeptics. This isn't good science. It's really bad religion, and a pagan one at that.
Global warming research is characterized by an insider's club. If you believe, you're in. If you doubt, you're out. This is also so at the Pontifical Academies of Science where Schellnhuber was appointed by Bishop Marcelo Sanchez Sorondo. The bishop locked scientists with contrary views out of the process, scientists he has repeatedly dismissed as "funded by the oil industry." Given this, how likely is it that the Holy Father was fully aware of the views of the chief scientist who advised him.
----------
Biden: If You Don't Believe in Manmade Global Warming, You Must "Deny Gravity" As Well
By Philip Hodges
Yeah, well, if you do believe in manmade global warming, you probably also believe that bailing out the green industry and bankrupting other energy sectors will convince the weather to stop being so "unpredictable."
John Kerry said something similar not too long ago, that manmade global warming is an "elementary truth" like gravity. I don't think it's quite the same thing. Gravity has been observed since the beginning of time. People may have not had all the equations that described it, but everyone knew it was there. Everyone knew that if you dropped an apple, it would fall to the ground. No one disputed it.
The fact that there is such scientific opposition to the idea of manmade global warming, and the fact that so much of the data have been "adjusted" in order to yield more "suitable" dire global warming predictions, shows how unsettled it is. It's the opposite of something like gravity. And like one commenter noted, "I'd think we'd have noticed if gravity had just stopped for over 18 years."
Manmade global warming is not science. It's mostly politics, mixed in with unfounded assumptions and just enough scientific half-truths that people believe in it.
The Blaze reported:
In his first public speech since the death of his son, Vice President Joe Biden tore into skeptics of man-made climate change.
Biden criticized the House Republican budget he said would cut the Energy Department's renewable energy budget by 40 percent.
"As hard as it is to believe, many of these same people continue to deny the reality of climate change," Biden said Tuesday at the White House Clean Energy Investment Summit. "They also deny gravity. But they also deny there is such a thing as climate change. That's the problem. The point is the safety and security of the United States of America and every community across the country."
"As a consequence of this, many investors are pulling back from early-stage research in clean energy, labs and startups," Biden said. "There has been an 85 percent decline in traditional state early stage venture capital investment in clean energy over the last seven years."
He noted the reports of a leaked Vatican document from Pope France calling for action on climate change and blaming human activity.
"The front page of the Washington Pope Post," Biden corrected himself and joked. "They sometimes think they are pope."
He read the headline and quoted from the article that said the leaked encyclical said, "The poor of the earth are shouting." They will be screaming if your administration gets their way.
Biden warned the United States was a threshold for taking action.
"This is a critical moment for our country - not only for us but for our children and grandchildren," Biden said. He's right, their future will be dim if we follow the scientifically illiterate ideologically driven prescriptions of the administration.
He later added, "By 2025 we expect to double fuel efficiency to 54.5 miles per gallon -saving American families $1.7 trillion at the pump."
He's worried about green energy investors. I wonder how much he's got invested. It's in his best interest to get as many people jumping on the green energy bandwagon so that his investments and those of his liberal buddies grow. That's what this whole global warming thing is about. Everyone knows it's not science. It's about investments and "market trends." The EPA's Gina McCarthy admitted the EPA policy is not about ecology but an 'investment'.
Read more
-----------
EPA Clean Power Plan Will Hit Blacks And Hispanics Hardest
By Harry Alford, Investor's Business Daily
The Obama administration, the Environmental Protection Agency and environmental activists frequently claim that climate change will disproportionately affect poor and minority communities.
This, they argue, justifies unprecedented environmental regulations like the EPA's soon-to-be-finalized "Clean Power Plan" to cut U.S. greenhouse gas emissions by 30% by 2030.
But what effect will the regulation itself have on minority communities? A new study commissioned by my organization, the National Black Chamber of Commerce, answers this question.
The Clean Power Plan will lead to lost jobs, lower incomes and higher poverty rates for the 128 million blacks and Hispanics living in America. This should serve as a warning to federal and state lawmakers as they prepare for this sweeping regulation to go into effect in the coming months.
The underlying economics explain why this regulation will inflict the most severe harm on our communities.
The study estimates that restructuring America's energy grid, which the EPA's rule will require, will lead to $565 billion in higher annual electricity costs by 2030, when the regulation will be fully implemented.
With blacks and Hispanics spending a larger share of their income on energy than whites, the burden of higher costs will fall hardest on minorities. We will be hurt again through job losses, as businesses take steps to mitigate the damage of higher overhead.
The study estimates that this single regulation will cause cumulative job losses for blacks and Hispanics of roughly 7 million and 12 million, respectively, over the next 20 years. Over the same time period, black families can expect their annual incomes to fall by $455, while Hispanics will take home $515 less per year.
This regulation will also impose higher costs of living, which again hit minority families the hardest. Today, blacks spend 10% more of their income on housing, 20% more on food, 40% more on clothing and 50% more on utilities than do white families.
Similar disparities exist for Hispanics: 5% more on housing, 10% more on utilities, 40% more on clothing and fully 90% more on food.
By raising energy prices, EPA's rule will make these essential items more expensive - knocking minority communities down another rung on the economic ladder.
These factors - fewer jobs, lower incomes and higher costs of living - threaten to impoverish millions. The study estimates that the regulation will increase black and Hispanic poverty by 23% and 26%, respectively. We work hard to provide a better future for our children, yet this regulation only pushes the American dream even further out of reach.
The only good news is that it doesn't have to be this way. There are ways that states can mitigate, or altogether avoid, this regulation's impending impact.
Already, more than a dozen states have sued the EPA over the rule, which faces legal opposition from experts on both sides of the aisle. Other states should join this suit.
State leaders could also refuse to implement the plan altogether. As currently written, the regulation calls on unelected state environmental agencies to draft their own state plans and submit them directly to the EPA for review and approval. Oklahoma Gov. Mary Fallin has signed an executive order blocking her state's environmental agency from submitting a plan. Other states have introduced legislation to the same effect.
The grim reality is that the EPA wants states to do their dirty work for them. By submitting a plan, states will become complicit in the agency's plan to shut down reliable power plants, impose higher energy costs and plunge minority families deeper into poverty.
For the sake of their constituents, elected officials have an obligation to fight this federal takeover of state authority.
Lawmakers in Washington and state capitals should act soon. The EPA is scheduled to release its final regulation next month, kicking off a one-year period before states will be forced to comply. As this deadline approaches, our elected officials should determine how best to confront - and resist - the Clean Power Plan. They should remember that the well-being of millions of minorities hangs in the balance.
Alford is president and CEO of the National Black Chamber of Commerce.