Friday, July 31, 2009
Big Apple's Cold Summer - It and Many Other Cities Ranking Among Coldest Ever
By Joseph D'Aleo
Many cities in the east and central reported the coldest July on record and some cities a top 5 coolest June and July period. Here is one of the latter - New York City's Central Park.
With an average daily temperature of 72.7...3.8 degrees below normal… This is the sixth coolest July on record at Central Park.
Daily average temperatures have been at or below normal every day but two this month (the 28th and 30th)...for 46 of 48 days dating back to June 13th...and for 54 of the 60 days since June 1st.
Central Park has had only one day reach above 85 degrees so far this summer (86 on July 17th). This is the fewest number of days above 85 on record at Central Park since records began being taken in 1869. The old record was 7 in 1996.
Central Park has yet to reach 90 degrees this summer...for only the second time on record. The only other year not to have at least one 90 degree day in June or July was 1996.
For the months of June and July...the average temperature in 2009 is 70.1 degrees, making this the third coolest June and July on record in 151 years at Central Park. See story NWS here and NY Times here.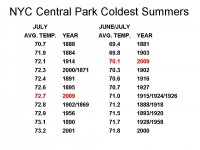 Larger image here.
It is also the second wettest June and July on record and on track to become perhaps the wettest summer in history. PDF here.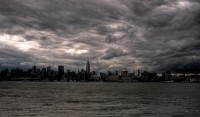 Photo by Bob Jagendorf
Also Boston is coming in with the fourth coldest June/July period since records began in 1872. It averaged 69.15 in June/July ranking it behind only 1903, 1881 and 1902. Notice all the other years in the top ten were in the 1800s and early 1900s.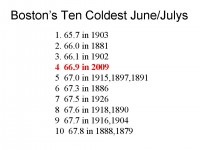 Larger image here.
It was the coldest May through July period in Marquette, MI.
RECORD COLD JULYS
Also note the record cold July in Rockford, IL here. Also in other areas of northwest IL and northeast IA here. In fact for the state of Iowa as a whole, it was the coldest July on record with an average of just 68F below the previous record 0f 68.3F in 1901.
July 2009 will go down as the coldest in recorded history for Madison, Wisconsin (records go back to 1869). The previous record was July 1891. The highest temperature recorded in July 2009 was 82 degrees. This is also a record. The previous record was 84 in July 1869. It was also the coldest ever in Rhinelander, Appleton and Stevens Point, WI. It was the coldest ever July in International Falls.
It was the second coldest in Indianapolis, IN, and coldest in several other locations in northern Indiana including Fort Wayne. It was coldest ever in Peoria and Lincoln, IL. It was the coldest ever in Grand Rapids, MI. It was record cold also in Flint, Saginaw and Benton Harbor. It may be the coldest July ever statewide in Iowa. It was the third coldest summer in Kansas City. It was the coldest ever in Jackson, KY and Huntington, WV.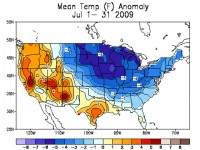 See larger image here.
In the Pacific Northwest due to their version of the Santa Ana downslope winds and large northwestern ridge associated with the developing El Nino, Portland, Oregon came in with their second warmest July behind 1985. This same ridge has kept the north central and east cold. This west ridge and east trough pattern is also consistent with low solar, high latitude volcanic summers. The Arctic and North Atlantic Oscillations (AO and NAO) have been persistently negative (see the oranges and reds in the Arctic, Greenland representing anomalously high pressure) which helps anchor this pattern.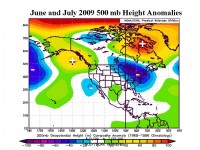 See how well the factors predicted this cool north central and eastern summer even back in May here.
By the way, the South Pole had an average temperature of minus 86.8 degrees F, breaking the July record set back in 1965.
See what poster Mark Vogan thinks of the extreme July, the quiet start to the tropical season and the sun's odd behavior here.