Wednesday, January 28, 2015
Blizzard 2015: What Went Wrong With the Forecasting?
By Robert Lee Hotz, Wall Street Journal
National Weather Service experts misjudged the path and impact of the blizzard that struck the Northeast on Monday and Tuesday, in large part because they trusted the wrong forecasting model, several independent meteorologists said.
Rather than rely on their own forecasting system-upgraded in recent weeks - the federal experts placed their faith instead on a well-regarded European computer model that predicted the worst of this storm would squarely hit New York City. That system earlier had outperformed the U.S. forecasting system in predicting the path of superstorm Sandy.
This time, the European forecasting model was wrong, several commercial forecasters said. That model, one of four complex computer simulations normally used to calculate weather patterns along the Eastern seaboard, predicted that the heaviest snow would fall between 50 and 100 miles farther west than actually occurred. Still, it correctly calculated the broader outlines of the blizzard. As predicted, the storm pounded parts of Long Island, Connecticut, Rhode Island, Massachusetts and Maine, with winds in excess of 50 mph and snow in some locales up to 30 inches deep.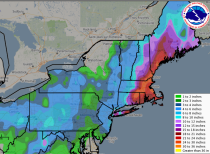 Enlarged
See amounts across the New York area and New England here.
Experts predicted the blizzard nicknamed Juno could dump record snow amounts on New York City. This timelapse view of Manhattan during the storm shows that the reality was far less impressive. Other parts of the Northeast received record snowfalls.
"Too much trust was based on a single model, and there was not enough emphasis on uncertainty," said Jeff Masters, chief meteorologist at Weather Underground, a commercial forecasting service. "The European model was about 100 miles off. That is a big deal for a heavy snow situation".
The National Weather Service had recently improved its own system, called the Global Forecast System, and its forecast correctly predicted that the storm would go farther out to sea, away from New York City.
Joe D'Aleo, one of the chief forecasters at Weatherbell Analytics LLC, a commercial forecasting company based in New York, said the revamped system was perhaps still too new to be considered completely reliable. "It has not been battle-tested," he said.
Even so, some uncertainty is the norm. "The models are very rarely exactly on track," Mr. D'Aleo.
The National Weather Service in Washington, D.C., didn't respond to an inquiry about its forecasting models today. In a statement this morning, the service's New York office said, "The science of forecasting storms, while continually improving, still can be subject to error, especially if we're on the edge of the heavy precipitation shield. Efforts, including research, are already under way to more easily communicate that forecast uncertainty."