Friday, January 11, 2008
Breaking News- Snow in the Middle of the South America Summer
You think the weather has been wild and extreme here in the United States the last 10 days. Take a look at this!!!
Metsul Weather Center
The weather went crazy. This is the most read sentence in the press of Buenos Aires at this moment. The central and northern areas of Argentina are experiencing a brutal heat wave that brought the electrical grid of country to near a collapse point. The temperature soared to 39C (102F) in Buenos Aires with a heat index of 42C (108F), but in some provinces of Argentina the heat index reached 54C (129F) yesterday. This morning it snowed in several locations of southern Argentina as the famous resort of Bariloche in the Andes Mountains. It even snowed in downtown Bariloche (photo), a rare event for January. Local press described the snow blanketed the Cordillera of Chubut, an unusual event for January. "I do not know if I use my plastic swimming pool or the skis", told a local resident that saw snow this morning and just few hours earlier suffered with much above average temperature reaching 30C (86F) in the Patagonia region. Snow was also reported in San Martins de Los Andes. Tourists in the regional, used to see snow in the colder months of the years, could not believe the white thing was falling in the middle of January. Just like this week in the United States (winter storm in the West and unusually warm in the East), the northern areas of Argentina were under very warm weather warnings at the some moment it was snowing in the southern provinces.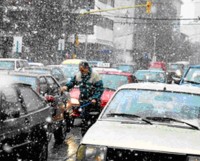 See full size image here. See video of snow in Bariloche, Argentina here.
Icecap Note: This is even more unusual than a July snow in Denver, a mile high (5,278 feet) city at about the same latitude. Bariloche is at just 2,772 feet elevation.